The Winter Storm of 2004 - And so it begins
Sunday, December 19, 2004
I told everyone earlier in the fall and late summer that I thought this winter had the potential to be similar to that of the late 70s! We shall see how that prediction pans out.
If the latest computer models are correct then we could be seeing a major winter storm later this week.
Now I know that getting my hopes up for a major winter storm in this region can prove to be futile. The last time Western KY had a snowstorm with more than 10 inches of snow was in 1978! So what are the chances and odds that this next winter storm is going to be ANYTHING close to that? If you believe the different computer models then you come to the conclusion that we have at least a shot at breaking that. Unfortunately we are going to be on the snow and rain line. But if you want a big snowstorm...well that is the place to be!
So currently the thinking is that a low pressure area will develop across the Southlands and move northeastward into the Tennessee Valley. A classic winter storm track for Western Kentucky and Southern Illinois.
The National Weather Service has not issued any winter weather watches as of Noon Sunday. The event probably wouldn't start until Wednesday Morning and then continue into Thursday.
There is the potential for more than 6 inches of snow and ice across the Paducah Region. One office is suggesting that snow may be measure in feet not inches across portions of Missouri and Illinois.
-------------
I went to the movies tonight to see the new Jim Carey Movie. It was great! Julie and Danny along with my mother and grandmother, Ricky, Mariah and her friend Kiki all were there. We went to Ryans afterwards.
Julie and Danny bought me some Quik Snow - Snow in a can. You make your own snow!!!! I guess if I get desperate for some snow. I can always reach for this stuff! It works great, we made some snow and sprinkled it around the tree.
You have to add water to the powder and WAAALAAAA SNOW!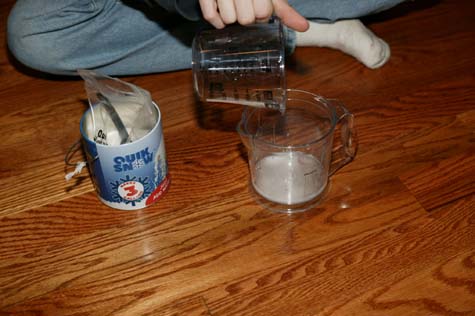 :) There you have it! Quick-Snow.
Now if I can just get that Backyard Blizzard Machine...that makes real snow! :) I will be in BUSINESS!!!!!!
Monday, December 20, 2004
Major winter storm brewing for the Ohio Valley. Winter Storm Watches have been issued for the entire Paducah area. Snowfall amounts could exceed six inches in most areas. There is a CHANCE that there could be local amounts of over 8-10 inches. But let's not get ahead of ourselves.
The precipitation should start as a mixture of rain and sleet on Tuesday Night. This will change to all snow and frozen precipitation by Wednesday Morning. There could be significant travel problems across our entire area. Stay tuned
Tuesday Morning...7 am
Ambulance is picking mother up, she is in a lot of pain and bleeding. We are all on our way to Lourdes Hospital.
LONG day here...
Was at the hospital most of the day. Mother has been through a series of tests. As of 9 pm tonight we are not sure what is wrong. She is having severe pains. They believe she has a blood clot in her bladder and a number of other problems. It might be tomorrow before we know anything.
Grandmother has been brought to my house, Mariah is here, Dione is at the hospital, Deena may spend the night here (due to the big snowstorm) and there there is the sitter and Ricky and I. We are going to get food around midnight from Wal-Mart.
Snowstorm is starting already, we are having heavy rain right now. That should all change to snow and ice by morning. The forecast is suggesting this will be one of the biggest snowstorms since 1994 and perhaps the late 70s. Could be a doozy.
Wednesday, December 22nd
Major winter storm moving through. Some locations in Southern Illinois have recorded up to 13 inches of snow. We have between 4-5 inches here in Lone Oak and Paducah. Strong winds are causing blowing and drifting. This same storm is moving towards Toronto. So all my friends up there are going to get snow as well.
The second storm is on its way. More heavy snow and ice likely this afternoon and tonight.
Here are a couple of pics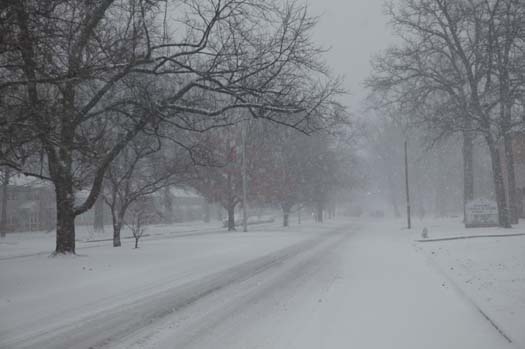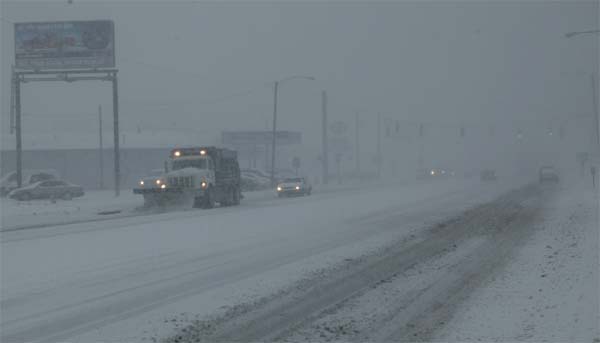 No new updates on mother. I just got back from the hospital and I am getting ready to go back. They are doing some more tests this afternoon.
Ok this is crazy...we have had a historic snowstorm here in Western Kentucky and Southern Illinois.
This is Deena's car at the hospital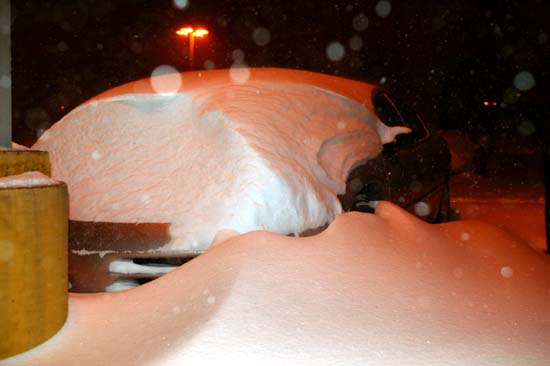 DEENA'S CAR AT THE HOSPITAL HERE IN PADUCAH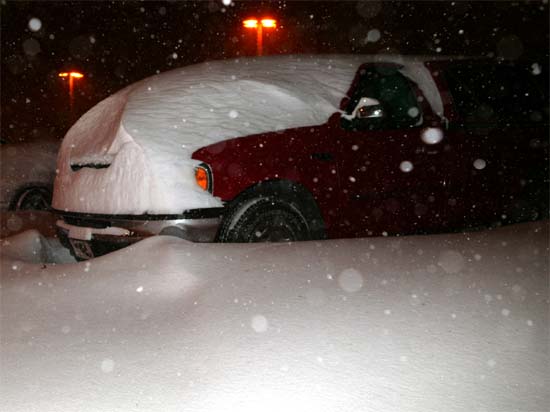 TRUCK AT THE HOSPITAL IN PADUCAH

CAR IN THE PARKING LOT AT THE HOSPITAL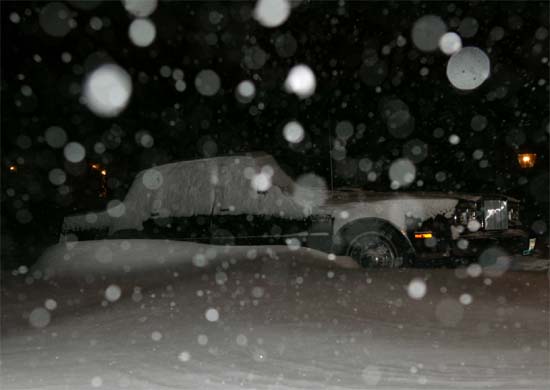 THIS IS MY DRIVEWAY HERE IN ASHCREEK!!!!
-------------------------------------------------------
Mother had surgery this afternoon. She is resting this evening at the hospital and will fully recover. We are not sure exactly what happened but she had a hole in her bladder. They did surgery around 3 pm today. She will have a few more tests over the next few days to make sure we don't have any other problems.
THURSDAY - DECEMBER 23, 2004
THIS IS FROM MASSAC COUNTY

Snow is 1/4 up the door. Gail will never get out! (Gail sent me this photo)
Willl post a lot more photos later today and tonight.
NEWS FROM HERE
Massive Rescue Effort Underway...BREAKING (snowbound cars stuck on KY highways)
NBC 6 Paducah KY | 12/23/04 |
Cheetah1
HUNDREDS OF CARS STRANDED ON I-24
NEWS MEDIA IS REPORTING THE NATIONAL GUARD HAS BEEN CALLED OUT.
THOUSANDS OF PEOPLE IN CARS.
ONE STRETCH OF I-24 HAS FORTY MILES OF CARS BACKED UP.
THIS IS THE MAIN ROAD THROUGH THIS ENTIRE REGION.
News Media is having people call in from cars. Serious situation here in Western KY. Temperatures are falling into the lower teens and single digits. They are attempting to get people out.
We have 14 inches of snow. This is the most snowfall ever recorded in Paducah, KY. Drifts are up and over cars.
Never seen anything like this here.

Some photos...

Front of my house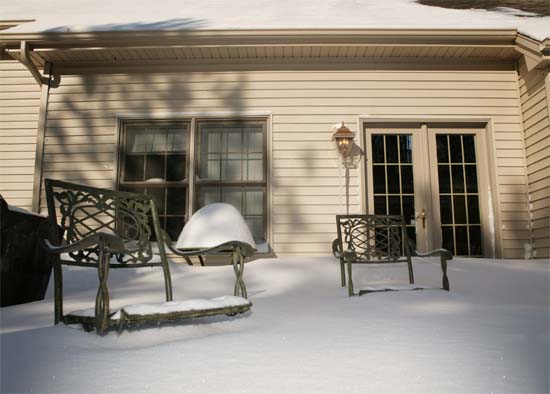 Back patio behind my house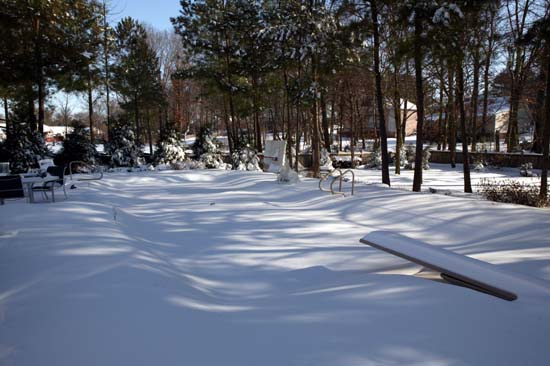 Swimming pool at Beau's House
These are a series of structures that have collapsed in Paducah. Greenhouses.


Look at the drifts in front of them, up to the gutters.

Snow to the ROOFS!!!!!

Paducah, KY - Blizzard 2004

Snowdrifts in Paducah.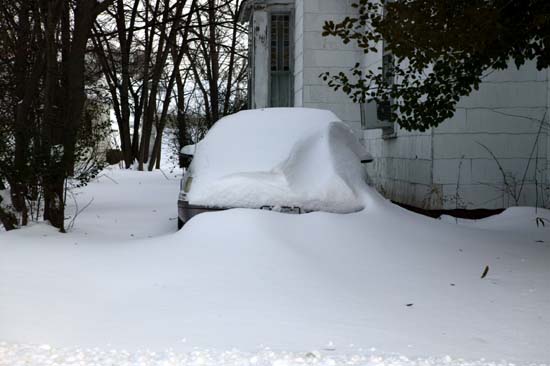 Metropolis, Illinois Snow Drifts!



Metropolis, Illinois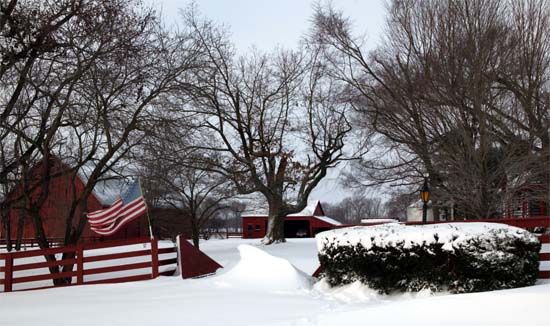 Massac County, Illinois



Truck in Massac County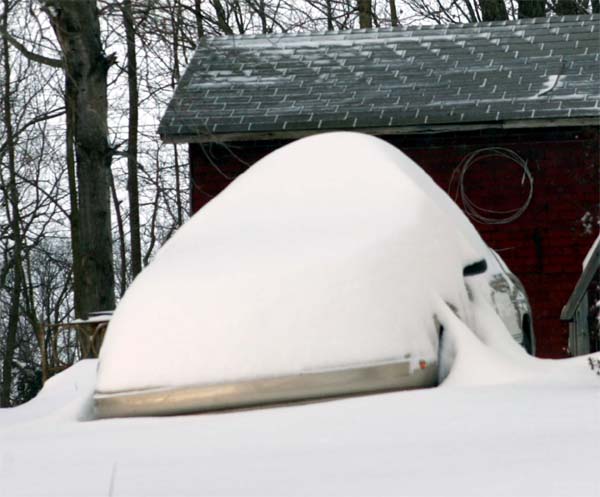 Car in Massac County



Kay and Billy Comer's House -Massac County

Western Massac County. Photo sent in from Gail

Downtown Paducah, cleaning up from the storm

Downtown Paducah

WPSD - TV 6 NBC

Drifting snow in Lone Oak, Kentucky


Interstate 24 in Paducah, Kentucky.

North Avenue in Massac County, plowing the roads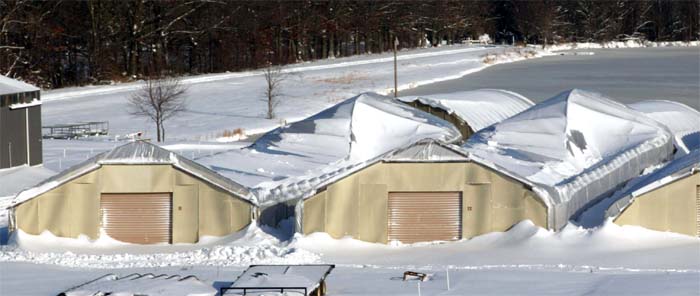 Collapsed structures - Paducah, KY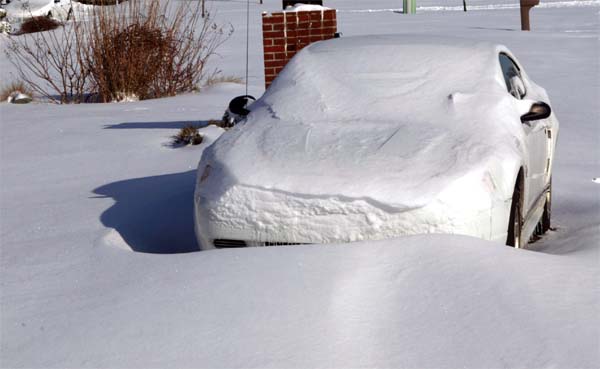 Ashcreek Road, Lone Oak, Kentucky!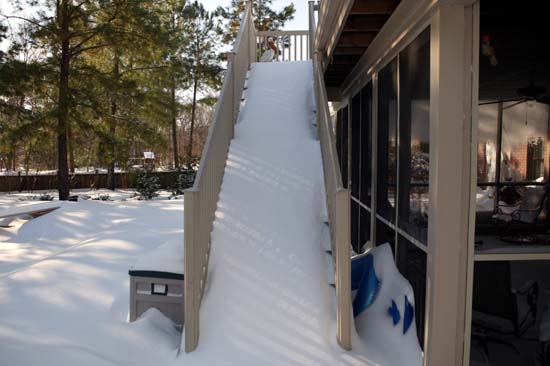 The stairs going up to my patio!!!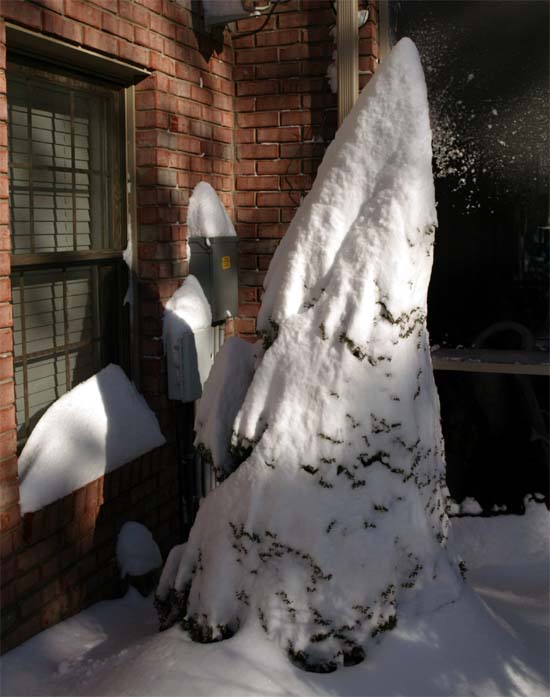 Tree in the back of my house - draped in snow!


Plowing the streets of Paducah


Lone Oak, Kentucky
The Paducah Sun is going to publish several of my photos from the storm. :)

Ok this page is WAY too long CLICK HERE FOR CHRISTMAS EVE 2004

------------------------------------------------------
RETURN TO HOME PAGE

RETURN TO AUGUST 1-17th
RETURN TO AUGUST 18th-31st
RETURN TO SEPTEMBER 1-9th
RETURN TO SEPTEMBER 10-30th
RETURN TO OCTOBER 1-15th
RETURN TO OCTOBER 15-31st
RETURN TO NOVEMBER 1-15th
RETURN TO NOVEMBER 16th
RETURN TO NOVEMBER 17-30th
RETURN TO DECEMBER 1st-15th
RETURN TO DECEMBER 16th-22nd
RETURN TO DECEMBER 23rd-31st
RETURN TO JANUARY 1st-8th
RETURN TO JANUARY 9th-26th
RETURN TO JANUARY 26th-31st
RETURN TO FEBRUARY
RETURN TO MARCH 1st-9th
Return TO March 10th-27th
Return TO March 28th-30th
RETURN TO APRIL 1-11th
Return to April 12th-18th
RETURN TO APRIL 18th-27th
RETURN TO APRIL 28th-30th
RETURN TO MAY 1st-5th
RETURN TO MAY 6th
CLICK HERE TO MAY 7th-16th
RETURN TO MAY 17th-29th
RETURN TO MAY30th-June 1st
RETURN TO JUNE 2nd - June 11th
RETURN TO JUNE 11th-17th
RETURN TO JUNE 18th-26th
RETURN TO JUNE 27th-30th sunsets :)
RETURN TO JULY 1st-3rd - 2004
RETURN TO JULY 4th - 2004
RETURN TO JULY 4th-7th - 2004
RETURN TO JULY 7th-10th - 2004
RETURN TO JULY 11th-22nd - 2004
RETURN TO JULY 22nd-31st - 2004
RETURN TO AUGUST 1st-12th - 2004
RETURN TO AUGUST 13th-25th - 2004
RETURN TO AUGUST 26th-31st - 2004
RETURN TO SEPTEMBER 1st - 5th - 2004
RETURN TO SEPTEMBER 6th - 15th - 2004
RETURN TO SEPTEMBER 15-17th - 2004
RETURN TO SEPTEMBER 18th-26th - 2004
RETURN TO SEPTEMBER 27th - 29th - 2004
RETURN TO SEPTEMBER 30th-OCTOBER 2nd 2004
RETURN TO OCTOBER 3rd - 7th, 2004
RETURN TO OCTOBER 7th-8th
RETURN TO OCTOBER 9th - 15th
RETURN TO OCTOBER 16th-18th
RETURN TO OCTOBER 19th-23rd
RETURN TO OCTOBER 24th-26th
RETURN TO OCTOBER 27th - 28th
RETURN TO OCTOBER 27th - November 19th
RETURN TO NOVEMBER 20th - 27th
RETURN TO NOVEMBER 28th-30th
RETURN TO DECEMBER 1st - 14th
------------------------------------------------------

Email: beaudodson @ usawx.com (remove spaces)