Here come the DEBATES :) and October!
September 30th
Can September really be over?
The debates are tonight. I am definitely going to be watching! Being as I am an undecided voter - just kidding. :)
Earthquakes continue in California...a number of 5.0 quakes have hit since the initial 6.0 quake. Not unusual other than the fact that some of these quakes have been a bit further away from the original one. Still to be expected though.
Mt. St. Helens continues to see rumblings. The earthquakes have become more numerous and stronger today. Scientists believe that an eruption could occur at any time.
We shall see...
AND
Out FIRST CHILLY WEATHER is on the way! Temperatures into the 30s by Sunday and into next week! Those would be lows overnight. First frost? There is at least a chance.
Our first RAIN chance is tomorrow night. THANKFULLY! We need rain! THUNDERSTORMS possible.

Friday, October 1, 2004
Bush is going to sweep this election. I have been saying this for more than a year. The American Public is not going to get into that voting booth and push the button for Kerry. IT WON'T HAPPEN. Not under the current state of world affairs.
-------------
Rain is finally in the forecast here. Not much, but we will take anything we can get!
The first cold wave of the season is on the way! Frost and freeze advisories have been issued for portions of Illinois and Missouri. These are the first of the season.
-----------------------------------
Mt. St. Helens hiccups :) More eruptions will likely be on the way...



Mt. St. Helens Spews Steam and Ash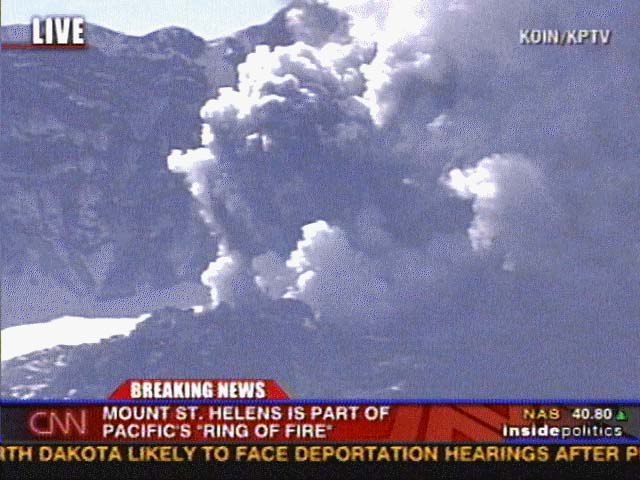 ALSO
Mexico's "Volcano if Fire" is erupting


Oh when I say "sweep" for the election I don't mean Bush will win every state. He will win enough of them to win a second term. Mark my words. He will win again.
Internal polls are showing Bush ahead anywhere from 8-20%
It will be difficult for him to lose.
We still wait to see if there is an October Surprise.
BREAKING NEWS - THIS IS FASCINATING
NASA Tracks Three Space Bursts, Says Stellar Explosions Imminent
Three powerful bursts of energy from different regions of space could presage spectacular explosions of huge stars, astronomers just announced.
The eruptions are likely imminent.
Scientists around the world are scrambling to track the blasts, NASA officials said last night. There is no danger to Earth from the expected stellar explosions, called supernovas.
Yet never before have astronomers had such advance warning of the faraway explosions. In fact, they don't even know if their forecasts are right.
What is clear is that as the flashes develop into explosions -- or not -- knowledge of how stars die is likely to grow.
'Beautiful' bursts
A blast of X-rays was spotted Sept. 12, and another on Sept. 16. Each came from a different location in the sky and from galaxies far beyond our own. A more powerful eruption was detected Sept. 24 from yet another spot in the sky. This third flash, importantly, was on the verge between an X-ray eruption and a more energetic gamma-ray burst, which involves a more powerful form of radiation.
X-rays and gamma rays are types of light, just like less powerful visible light and lowly radio waves. All are part of the electromagnetic spectrum.
The three high-energy flashes were each discovered by NASA's orbiting High-Energy Transient Explorer (HETE- 2) observatory. There is no reason to suspect there's any connection between the three blasts.
"We think it's just a strange coincidence," George Ricker, of the Massachusetts Institute of Technology, said in a telephone interview today.
Telescopes around the world have since raced to track each event.
"Each burst has been beautiful," Ricker said. "Depending on how these evolve, they could support important theories about supernova[s] and gamma-ray bursts."
Ricker told SPACE.com the stars will likely go supernova 10 to 20 days after the initial bursts that were spotted.
The initial events have faded beyond the visibility of small professional telescopes and are now being monitored by some of the world's largest ground-based observatories. Backyard astronomers likely could not find the bursts, Ricker said.
This is big news. Something that perhaps we have NEVER before witnessed since mankind has been on earth. There is the CHANCE that we will actually be able to witness some of this. There is GREAT uncertainty though.
It is something I will be watching, mainly because I love space!
2005-06-07 should prove to be very interesting years.
--------------------
A VERY little shower tonight :) We picked up 0.01 from the first one and about 0.20 from the second!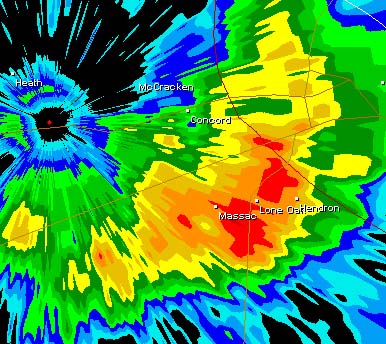 Paducah Radar - I am in Lone Oak there
Saturday, October 2nd
Back to the space subject
There is a CHANCE that we will be able to see this. It would be an extremely rare event for the world to see. These things happen in space all the time. The thing is they are never within our sight. This would be a once in a lifetime event, many lifetimes IF IF we get to see anything at all.
I will post more info as this unfolds. Odds are against anything happening. If it does though it could be interesting.

------------------------------------------------------
RETURN TO HOME PAGE

RETURN TO AUGUST 1-17th
RETURN TO AUGUST 18th-31st
RETURN TO SEPTEMBER 1-9th
RETURN TO SEPTEMBER 10-30th
RETURN TO OCTOBER 1-15th
RETURN TO OCTOBER 15-31st
RETURN TO NOVEMBER 1-15th
RETURN TO NOVEMBER 16th
RETURN TO NOVEMBER 17-30th
RETURN TO DECEMBER 1st-15th
RETURN TO DECEMBER 16th-22nd
RETURN TO DECEMBER 23rd-31st
RETURN TO JANUARY 1st-8th
RETURN TO JANUARY 9th-26th
RETURN TO JANUARY 26th-31st
RETURN TO FEBRUARY
RETURN TO MARCH 1st-9th
Return TO March 10th-27th
Return TO March 28th-30th
RETURN TO APRIL 1-11th
Return to April 12th-18th
RETURN TO APRIL 18th-27th
RETURN TO APRIL 28th-30th
RETURN TO MAY 1st-5th
RETURN TO MAY 6th
CLICK HERE TO MAY 7th-16th
RETURN TO MAY 17th-29th
RETURN TO MAY30th-June 1st
RETURN TO JUNE 2nd - June 11th
RETURN TO JUNE 11th-17th
RETURN TO JUNE 18th-26th
RETURN TO JUNE 27th-30th sunsets :)
RETURN TO JULY 1st-3rd - 2004
RETURN TO JULY 4th - 2004
RETURN TO JULY 4th-7th - 2004
RETURN TO JULY 7th-10th - 2004
RETURN TO JULY 11th-22nd - 2004
RETURN TO JULY 22nd-31st - 2004
RETURN TO AUGUST 1st-12th - 2004
RETURN TO AUGUST 13th-25th - 2004
RETURN TO AUGUST 26th-31st - 2004
RETURN TO SEPTEMBER 1st - 5th - 2004
RETURN TO SEPTEMBER 6th - 15th - 2004
RETURN TO SEPTEMBER 15-17th - 2004
RETURN TO SEPTEMBER 18th-26th - 2004
RETURN TO SEPTEMBER 27th - 29th - 2004
------------------------------------------------------

Email: beaudodson @ usawx.com (remove spaces)