November - Thanksgiving Week
Sunday, 21st of November - 2004
David and I went to see a Mennonite Church this morning. There were more than a hundred horses and buggies around the church.

Horse and buggies outside of the church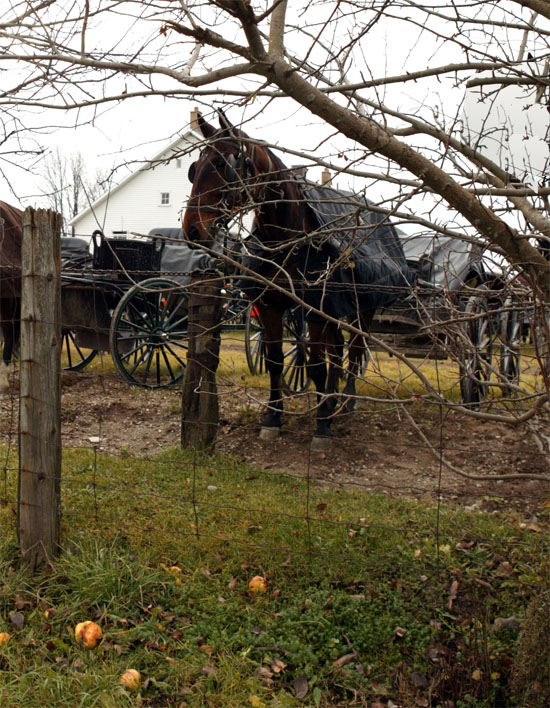 Horse outside of the church

---------
Dangerous storm heading for the Southern United States on Tuesday. There could be a significant outbreak of strong tornadoes and severe thunderstorms. Hopefully this will stay mainly south of the Paducah area.
We could see snow here in Ontario! I am hoping for snow. As always.
November 23rd
Cloudy and foggy here.
The well advertised storm is tearing through Texas this evening. NUMEROUS damaging tornadoes have already been reported across Texas, Louisiana, Arkansas, and Alabama. More are going to hit through tonight. Long night ahead for them.
Snow is in the forecast up here in Waterloo. Hopefully we get enough to white the ground!
Rain and strong winds for the Paducah and Metropolis Area. I still think Paducah and Metropolis will miss the severe weather, it will be a close call though.
Colder air behind this storm for everyone.
Having fun up here in Canada visiting with friends. I will be heading home later this week or this weekend.
More later...
FORTY TORNADOES SO FAR TONIGHT ACROSS THE SOUTH. SEVERAL PEOPLE HAVE BEEN KILLED. NUMEROUS TOWNS AND CITIES HIT HARD.
NOVEMBER - 24th SNOW DAY

YAYAYAYAY
It is snowing here in Waterloo at 12 noon! The snow is mixed with rain. I am hoping we get several inches!!!!!
Here is a photo from Kansas City, Missouri. That area had thunderstorms and snow last night...VERY NICE :)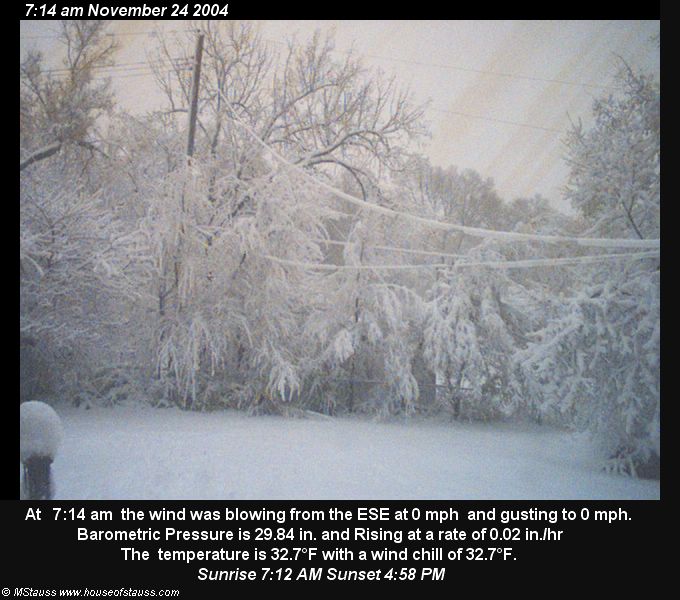 News Photograph (not my photograph)
KANSAS CITY, MISSOURI THIS MORNING!!!!! WOW

THIS STORM COVERS THE EASTERN HALF OF THE
UNITED STATES. FROM RAIN AND STORMS IN THE
SOUTH TO SNOW UP NORTH.

First Snow (other than the Toronto flurries) For Me Of The Season!!!! YAY I took this
photo this morning.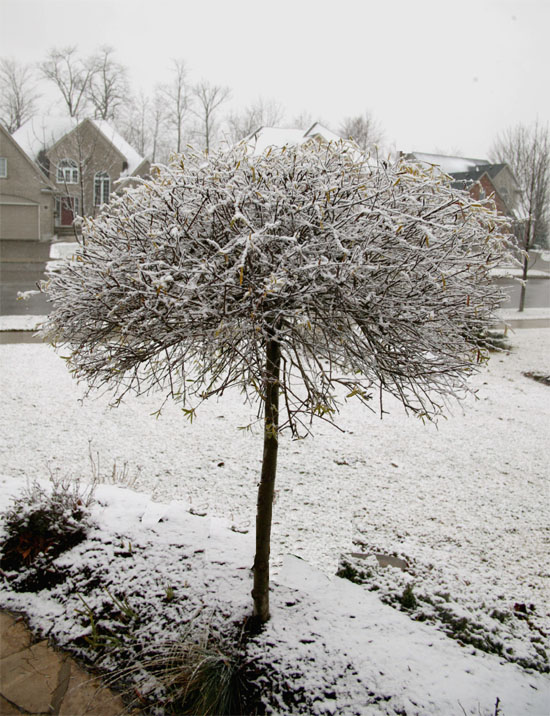 Tree in front of the house


SNOWSTARS!!!


Heading home in the horse and buggy

Burning Bush Road, Waterloo, Ontario - first real snow of the season.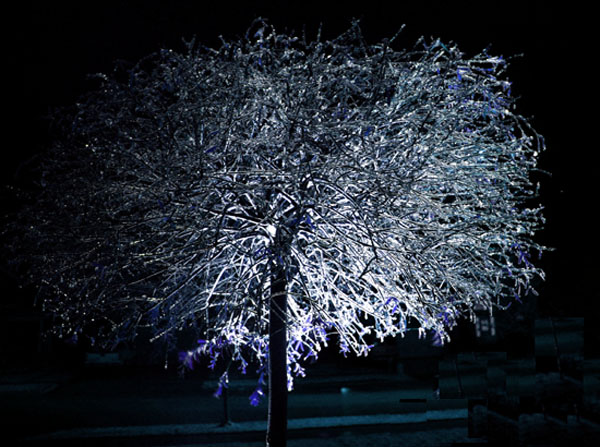 Now we have an ice storm :)
November, 25, 2004
HAPPY THANKSGIVING EVERYONE!!!!
We are making a gingerbread house here!

Building a gingerbread house :)

My friend Ricky is decorating the house
and the finished product :)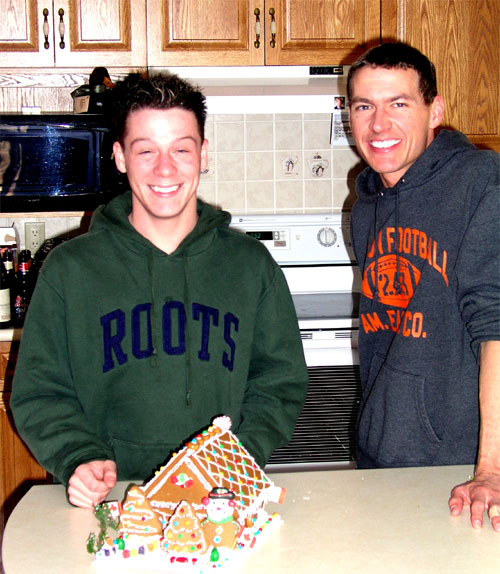 The gingerbread house :)

")

The Canadian Snowman :)
This little guy was in the backyard.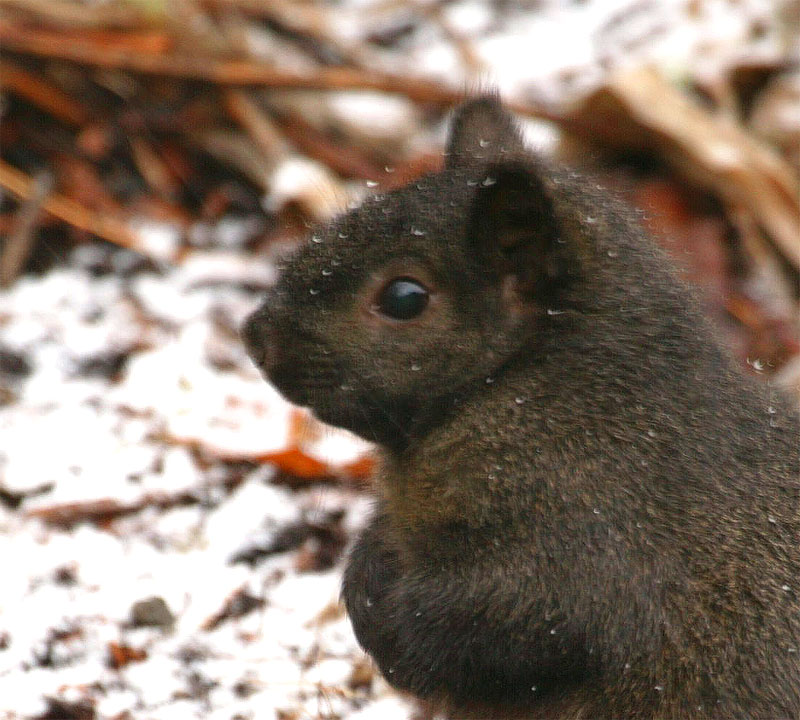 Happy Thanksgiving :)
November 26-27th
I made it home, it was a long drive. We drove all the way. Rained most of the way. Very tired, but trying to get everything done around here. Being gone three weeks leaves a few things for you to do when you return home. ;)
Raining here in Paducah, LOTS of rain. My rain gauge has had 7.25 inches from the time I left until this afternoon! That is a lot of rain.
No snow though :) At least not here.
El Nino pattern - could be a stormy winter.

------------------------------------------------------
RETURN TO HOME PAGE

RETURN TO AUGUST 1-17th
RETURN TO AUGUST 18th-31st
RETURN TO SEPTEMBER 1-9th
RETURN TO SEPTEMBER 10-30th
RETURN TO OCTOBER 1-15th
RETURN TO OCTOBER 15-31st
RETURN TO NOVEMBER 1-15th
RETURN TO NOVEMBER 16th
RETURN TO NOVEMBER 17-30th
RETURN TO DECEMBER 1st-15th
RETURN TO DECEMBER 16th-22nd
RETURN TO DECEMBER 23rd-31st
RETURN TO JANUARY 1st-8th
RETURN TO JANUARY 9th-26th
RETURN TO JANUARY 26th-31st
RETURN TO FEBRUARY
RETURN TO MARCH 1st-9th
Return TO March 10th-27th
Return TO March 28th-30th
RETURN TO APRIL 1-11th
Return to April 12th-18th
RETURN TO APRIL 18th-27th
RETURN TO APRIL 28th-30th
RETURN TO MAY 1st-5th
RETURN TO MAY 6th
CLICK HERE TO MAY 7th-16th
RETURN TO MAY 17th-29th
RETURN TO MAY30th-June 1st
RETURN TO JUNE 2nd - June 11th
RETURN TO JUNE 11th-17th
RETURN TO JUNE 18th-26th
RETURN TO JUNE 27th-30th sunsets :)
RETURN TO JULY 1st-3rd - 2004
RETURN TO JULY 4th - 2004
RETURN TO JULY 4th-7th - 2004
RETURN TO JULY 7th-10th - 2004
RETURN TO JULY 11th-22nd - 2004
RETURN TO JULY 22nd-31st - 2004
RETURN TO AUGUST 1st-12th - 2004
RETURN TO AUGUST 13th-25th - 2004
RETURN TO AUGUST 26th-31st - 2004
RETURN TO SEPTEMBER 1st - 5th - 2004
RETURN TO SEPTEMBER 6th - 15th - 2004
RETURN TO SEPTEMBER 15-17th - 2004
RETURN TO SEPTEMBER 18th-26th - 2004
RETURN TO SEPTEMBER 27th - 29th - 2004
RETURN TO SEPTEMBER 30th-OCTOBER 2nd 2004
RETURN TO OCTOBER 3rd - 7th, 2004
RETURN TO OCTOBER 7th-8th
RETURN TO OCTOBER 9th - 15th
RETURN TO OCTOBER 16th-18th
RETURN TO OCTOBER 19th-23rd
RETURN TO OCTOBER 24th-26th
RETURN TO OCTOBER 27th - 28th
------------------------------------------------------


Email: beaudodson @ usawx.com (remove spaces)