October Comes To An End
Sunday, October 24, 2004



The morning bee in the front yard :)

BZZZZ BZZZ BZZZZZ BZZZ

Cheetah modeling for the camera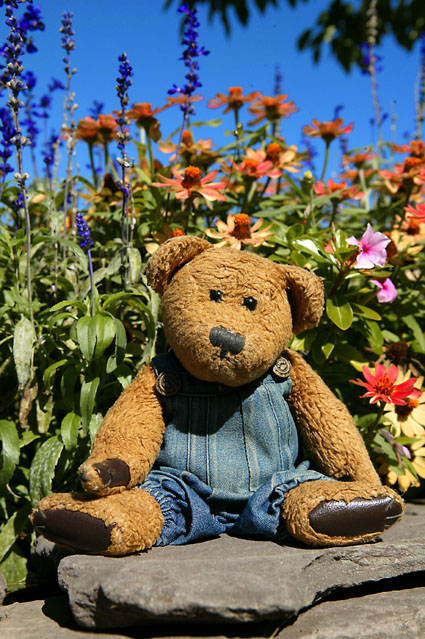 Cheetah out front


Ducks and geese at the park today



:) I think these two are together

Rick feeding a goose



Noble Park



Mother Goose :)

Colorful trees in the park.

Beautiful Trees in Noble Park this afternoon.
A beautiful fall day here in Western Kentucky :) Only thing that would make it better is if it were snowing. :)
This time next week I will be in Toronto.
:)

Monday, October 25th
Ok dokie, sunny here in Paducah today. A few clouds moving in though. :) Rain is on the way (I hope).
Ran errands and cleaned the carpets today - real exciting I know. :)
Still no visa :( sooooo I am at a loss as to what to think anymore. I am getting frustrated and worried. I am calling the attorney in Toronto tomorrow (if I can't get in touch with immigration in the morning).
Had a great time visiting with Julie and Danny on Saturday. They are doing really well. Julie tells me that they are going to be building back on the same site. Danny says he is RUNNING FOR PRESIDENT (as a republican) LOL :) I told him I would vote for him!!!!!
DANNY FOR PRESIDENT - 2032 :) We will have to come up with a running mate though!
Tuesday, October 26, 2004
No Visa #&%*&# :) Hmmm, I called my attorney up in Toronto and was told that they are way behind in getting the applications processed. So I don't know how long it will be until I hear something. This sucks since I am leaving Friday. Not sure what to do - hmmm
Raining here this morning. Trying to get my lightning data up and running, online that is.
Ok have to go see grandmother and run errands!
More later!
Tornadoes to the west here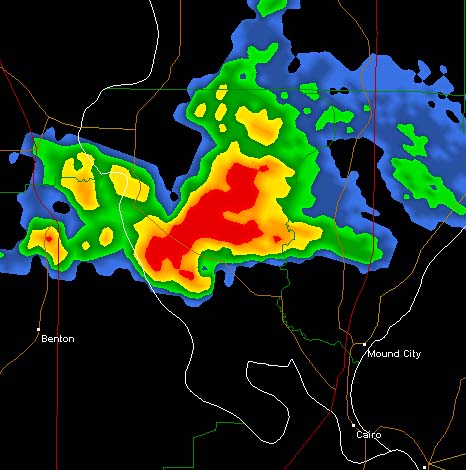 Tornadic storm west of Paducah now

Tornadic Storm moving right towards us as we are spotting. We are just north of the mall entering
Massac County a few minutes after this shot.
THIS IS THE BACK EDGE OF THE STORM - WALL CLOUD AND ROTATING STRIATIONS.

Looking to the west/northwest into Northern McCracken County this is about
to cross the Ohio River - I am one mile south of the Ohio River spotting.

back of the storm, this is where you see the hook on that radar image above...

This is just a couple of miles to my north, lightning illuminates everything

This is an 8 second exposure, it is night out. Total darkness.
This is the tail of the storm...inflow you can see several lowerings along the rain free base
to the left of this photo are 2 wall clouds. Tried to get photos...just left the camera going
and got what I got. This one isn't too bad though.

Large wall cloud in the center here to the right is the tail/inflow. This is looking
into Pope County.


Wall Cloud in Pope County, Illinois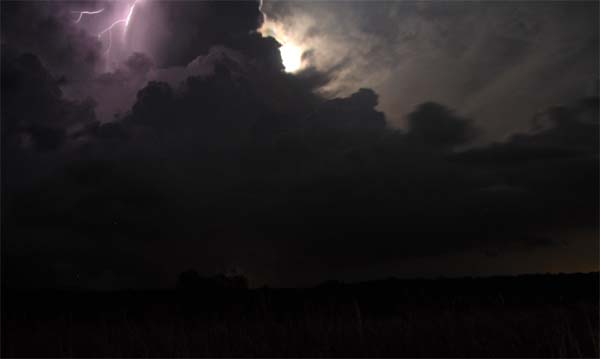 Lightning as the moon comes out - looking into Pope County

Lightning and lowering - Pope County

Pope County




Pope County...Thunderhead
SCARY IMAGE

HOOK MOVING TOWARDS METROPOLIS
VERY FORTUNATE TONIGHT.
We dodged a bullet tonight, that is for sure. Everyone over in Massac County were in their shelters. Scary night again, I hate these nighttime events. Just too scary for everyone involved. Spotting is very difficult also.
Thankful tonight.

------------------------------------------------------
RETURN TO HOME PAGE

RETURN TO AUGUST 1-17th
RETURN TO AUGUST 18th-31st
RETURN TO SEPTEMBER 1-9th
RETURN TO SEPTEMBER 10-30th
RETURN TO OCTOBER 1-15th
RETURN TO OCTOBER 15-31st
RETURN TO NOVEMBER 1-15th
RETURN TO NOVEMBER 16th
RETURN TO NOVEMBER 17-30th
RETURN TO DECEMBER 1st-15th
RETURN TO DECEMBER 16th-22nd
RETURN TO DECEMBER 23rd-31st
RETURN TO JANUARY 1st-8th
RETURN TO JANUARY 9th-26th
RETURN TO JANUARY 26th-31st
RETURN TO FEBRUARY
RETURN TO MARCH 1st-9th
Return TO March 10th-27th
Return TO March 28th-30th
RETURN TO APRIL 1-11th
Return to April 12th-18th
RETURN TO APRIL 18th-27th
RETURN TO APRIL 28th-30th
RETURN TO MAY 1st-5th
RETURN TO MAY 6th
CLICK HERE TO MAY 7th-16th
RETURN TO MAY 17th-29th
RETURN TO MAY30th-June 1st
RETURN TO JUNE 2nd - June 11th
RETURN TO JUNE 11th-17th
RETURN TO JUNE 18th-26th
RETURN TO JUNE 27th-30th sunsets :)
RETURN TO JULY 1st-3rd - 2004
RETURN TO JULY 4th - 2004
RETURN TO JULY 4th-7th - 2004
RETURN TO JULY 7th-10th - 2004
RETURN TO JULY 11th-22nd - 2004
RETURN TO JULY 22nd-31st - 2004
RETURN TO AUGUST 1st-12th - 2004
RETURN TO AUGUST 13th-25th - 2004
RETURN TO AUGUST 26th-31st - 2004
RETURN TO SEPTEMBER 1st - 5th - 2004
RETURN TO SEPTEMBER 6th - 15th - 2004
RETURN TO SEPTEMBER 15-17th - 2004
RETURN TO SEPTEMBER 18th-26th - 2004
RETURN TO SEPTEMBER 27th - 29th - 2004
RETURN TO SEPTEMBER 30th-OCTOBER 2nd 2004
RETURN TO OCTOBER 3rd - 7th, 2004
RETURN TO OCTOBER 7th-8th
RETURN TO OCTOBER 9th - 15th
RETURN TO OCTOBER 16th-18th
RETURN TO OCTOBER 19th-23rd
------------------------------------------------------


Email: beaudodson @ usawx.com (remove spaces to email)