AUGUST 2004
August 1st
Spent Saturday running errands, getting stuff for the house, and working around the house. Got a lot finished on the bedroom, that is about it. :)
Hung out with my friend Gil for a long time and we went to the movies at 10 p.m.
Waiting to get my book shelves this week so I can finish the library. I will be excited to get that finished.
Didn't get to put any pictures up yesterday, maybe later today. :)
Having lunch with my grandmother and mother at noon.
Some pictures from Louisville last week.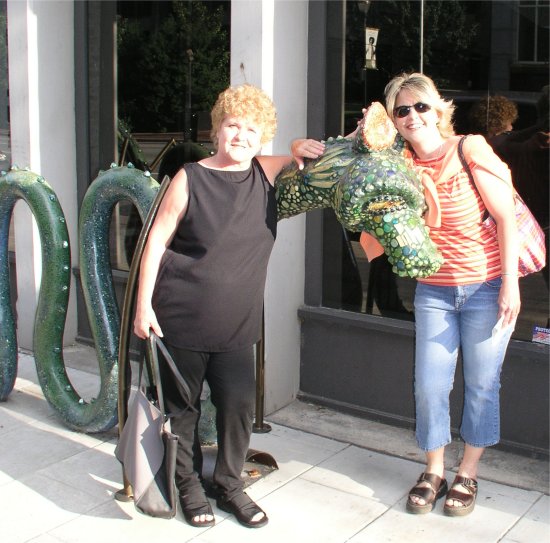 Mother and Deena with a giant serpent EEEKK

These horses were EVERYWHERE...I think they will sell
them and the money goes to charity. They had buffalo in
Toronto a few years ago.

Another one of the horses.

This is the biggest steak in the world :) Mother had
no idea it would be that big. She only ate a little bit of it.
That is more my size of steak!!!!

Mother with statue in Louisville. I think Deena was
trying to hook mother up with this nice looking man. :)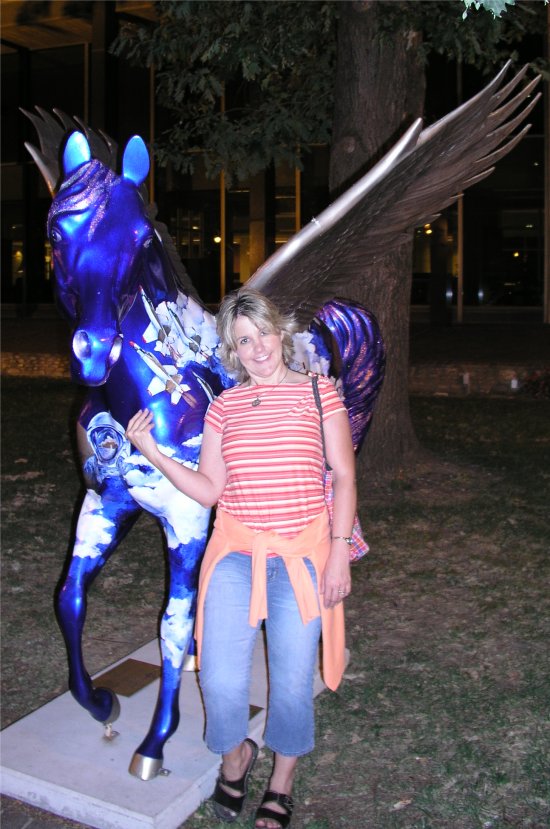 So you say you saw a flying horse - hmmm

Peace...
-------------------------------------------------------------------------

What led to the alert level being raised?
WASHINGTON, Aug. 1 - The unannounced capture of a figure from Al Qaeda in Pakistan several weeks ago led the Central Intelligence Agency to the rich lode of information that prompted the terror alert on Sunday, according to senior American officials.
The figure, Muhammad Naeem Noor Khan, was described by a Pakistani intelligence official as a 25-year-old computer engineer, arrested July 13, who had used and helped to operate a secret Qaeda communications system where information was transferred via coded messages.
A senior United States official would not confirm or deny that Mr. Khan had been the Qaeda figure whose capture led to the information. But the official said "documentary evidence" found after the capture had demonstrated in extraordinary detail that Qaeda members had for years conducted sophisticated and extensive reconnaissance of the financial institutions cited in the warnings on Sunday.
One senior American intelligence official said the information was more detailed and precise than any he had seen during his 24-year career in intelligence work. A second senior American official said it had provided a new window into the methods, content and distribution of Qaeda communications.
-------------------------------------------------------------------------
Troublesome indeed. The fact that they are willing to take years and years just to plan these operations. Frightening to say the least.
-------------------------------------------------------------------------

Monday, August 2nd - 2004
A busy day around here :) I am making progress, slowly but surely!
SHADOW ANGEL UPDATE:
I filed today for the foundation to become incorporated. This will open the door for the federal filing for a tax number.
I have been given a temp tax number and anyone making a donation, I will now get a receipt so they can use that against their taxes. :)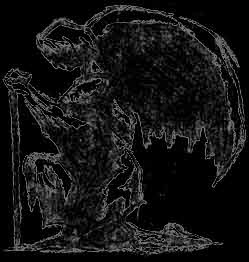 Also went to the Red Cross, here in Paducah, for an application to start the disaster training. So that is all good as well!!!!
:) :) :)
Got a nice bear from a friend in Canada :) Thank you very much!
Cheetah has a new friend now. I guess they will be out on the town tonight!

New friend from Canada - flew in this afternoon :)

I mentioned last week that hurricane season was about to explode and here we go
Alex is nearing hurricane strength tonight off the Coast of the Carolinas

Tropical Storm Alex - almost a hurricane -
you can see the eyewall on that radar still.
--------------------------------------------------------

Ok so I went grocery shopping and tried to get all the essentials :)
Of course I got milk, for the cereal. Oh yeah and pizza! :)
--------------------------------------------------------

BULLETIN

HURRICANE ALEX INTERMEDIATE ADVISORY NUMBER 11A
NWS TPC/NATIONAL HURRICANE CENTER MIAMI FL
2 AM EDT TUE AUG 03 2004

...ALEX BECOMES THE FIRST HURRICANE OF THE 2004 SEASON

...MOVING ALMOST PARALLEL TO THE NORTH CAROLINA COAST...
--------------------------------------------------------

August 3, 2004

Hurricane Alex continues to strengthens with winds up to 90 miles per hour this morning. Alex is passing near the Outer Banks of North Carolina.

Hurricane Alex...Tuesday Morning - First Hurricane
of the Atlantic Tropical Season
More are on the way...

Watching the hurricane and disaster information :) from
the new media room.

----------------------------------------
Good news on the mother front today as the second round of tests turned out ok - so now we just have to worry about the one thing. But good news none-the-less.
:)
DOUBLE TROUBLE across the Missouri and Ohio Valleys tonight.
Two VERY intense and severe squall lines winds up to 90 miles per hour reported in some areas. Lot of damage.
Wednesday, August 4th, 2004
SEVERE WEATHER LIKELY THIS AFTERNOON AND EVENING ACROSS THE TRI-STATE AREA. DAMAGING WINDS THE MOST LIKELY THREAT...WITH A FEW ISOLATED TORNADOES POSSIBLE.
MAJOR lightning/electrical storm in Paducah at 9 p.m. 100% constant lightning - wicked Over 1500 strokes per minute on the lightning count!!!!
On another note of interest...
This makes Alex the strongest
Major hurricane on record to develop north of 38n latitude...with
hurricane Ellen in 1973 coming in second at 100 kt. Those are the
only two hurricanes on record to reach Major hurricane strength at
such a high latitude. However, this should not be surprising given
that SSTs are running more than 2c above average in that area.
Thursday, August 5th, 2004
I have had a Shakespeare novel and that book has seen its pages filled with the writings of legends gone past. And as those pages turned we laughed, and cried, we found sorrow and happiness. At times we found all of those worlds in one place and on one day.
I saw my dreams come true. I saw my dreams shattered by unseen hands. I dreamed my DREAMS. I gathered them among my friends and shared them freely.
I watched a butterfly fly away on a journey into the unknown.
...Now I want a love story
made up of passion
laughter
happiness
and sadness

A rose that will not die
or fade
Friday, August 6th
-------------------------------------------------------

Things have been extremely busy around here :) but things are coming together - YOU CAN ACTUALLY SEE THE FLOOR IN THE LIVING ROOM DOWNSTAIRS :) :) :)
Still a ton of things to do though.
MUCH cooler weather here this morning. Once again fall arrives, it has been this way all summer, hot then cool, hot then cool :) I will take it!!!

Saturday, August 7th

LOTS to do - LOTS to do :) but I am getting a lot done. I really need to post some photos soon.
The library is ALMOST done - about 80% done.
The media/weather room is about 75% done :)
The bedroom (mine) is about 80% done
The living room is 0% done
The guess room is about 50% done...
The screened in porch is about 70% done :)
The kitchen area is 10% done :P lol don't laugh at that one
The dining room is 0% done
The kitchin dining room is 0% done
The kids room is 25% done
The office is 10% done

OK, well that is the rundown on the rooms :) Some of them, I left out a few.

I am heading to South Carolina to check on tornado sirens for Ballard County, Kentucky on Sunday morning with a friend. Will be gone a couple of days. Someone else will be watching the house for me. :)

I will probably get sucked into Gatlinburg to check on a couple of bears! :) The guy is going to stop making them. :( :( :(

Not really in my budget though, but maybe he will have something not to expensive.
Last year at on this date I was in Cancun :) I miss the ocean!
MORE RECORD LOW TEMPERATURES THIS MORNING. THE THEME OF THE SUMMER :) WONDER WHAT WINTER WILL BRING. I AM HOLDING OUT FOR A SEVERE WINTER ACROSS MUCH OF THE CENTRAL AND EASTERN UNITED STATES AND EASTERN CANADA! WE SHALL SEE! THIS COULD BE THE YEAR FOR SNOW IN PADUCAH!!!! STAY TUNED!!!!!
SOME OF THE RECORDS BROKEN THIS MORNING DATED BACK TO 1889!!!!!!!!!!!!!

Monday, August 9th
Busy day ahead here. I am still in Paducah.
ADS is coming to install more security on the house and Tommy is coming to install motion lights.

The house is coming along. I REALLLLY have to get some more pictures! :) Maybe I will do that now! :)
Some house pictures :)
I just took these real fast this morning:




Bedroom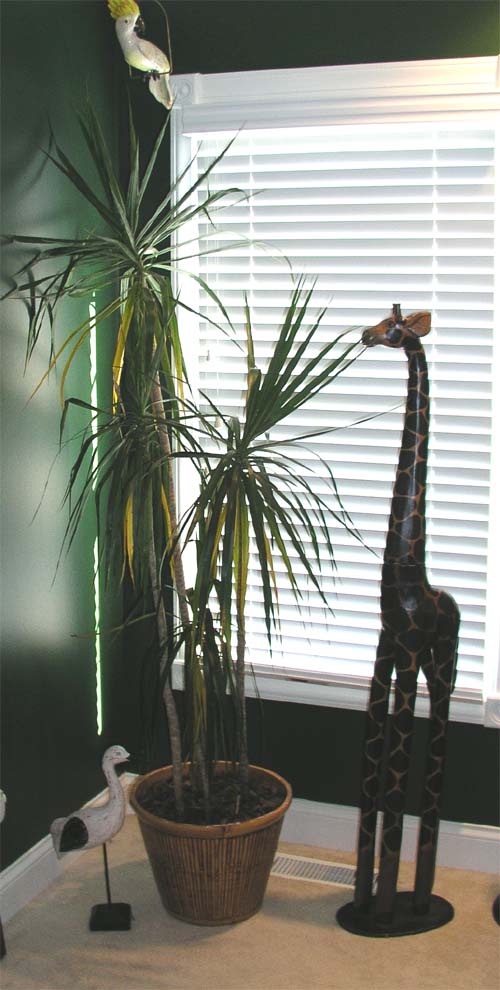 Bedroom with my giraffe :) One of them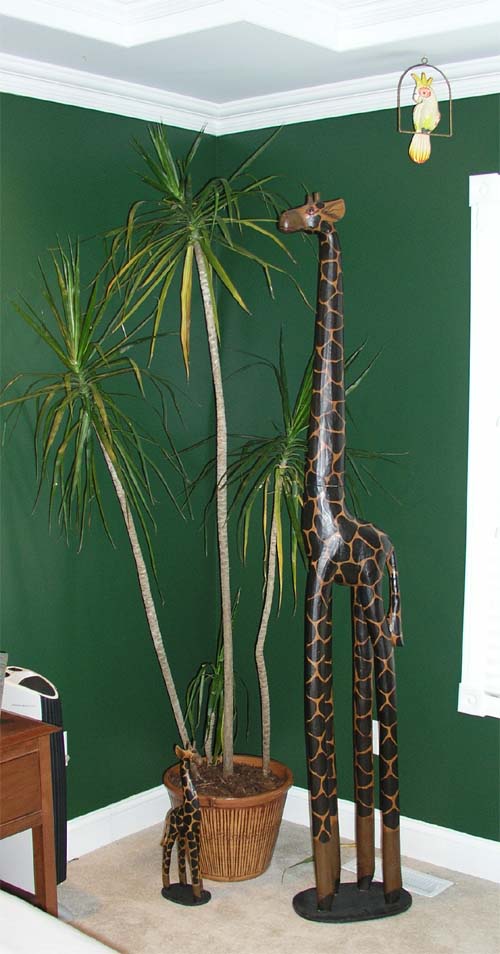 Giraffe with a parrot :) in my bedroom




My ducks in the bathroom and one of my birds
in the background there :)
Maybe I will open a zoo :) :) :)



The living room :)




Part of the kitchen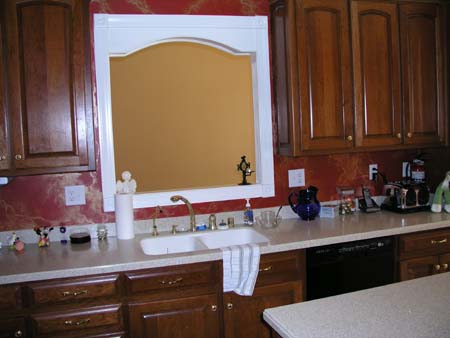 A little more of the kitchen area




Kitchen, dining area still need to get a table and stuff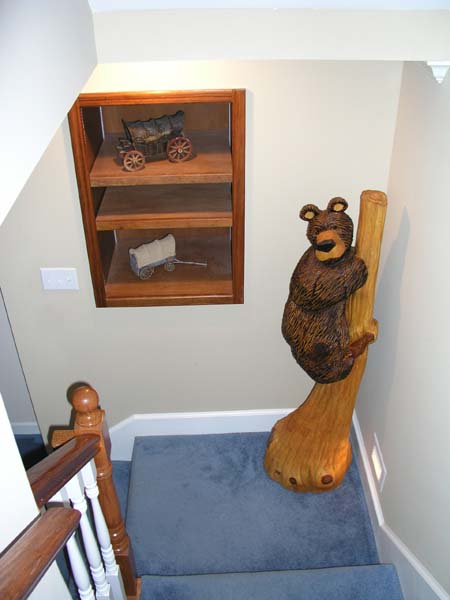 Heading downstairs - one of my bears



Downstairs - desk and my Indian :) :)

Pool table and horse, basement downstairs :) I guess if the Indian
wants to escape he can just take the horse. :)

Entertainment area - that is a bear head in front there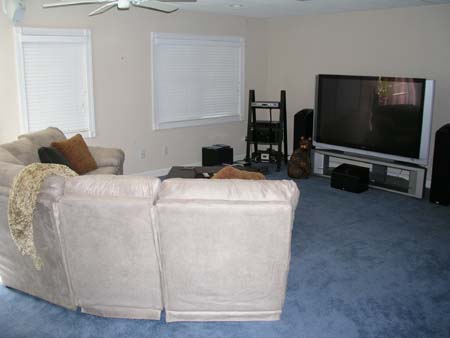 Movie area downstairs




Backyard - one of the flower trees :) to the bottom
right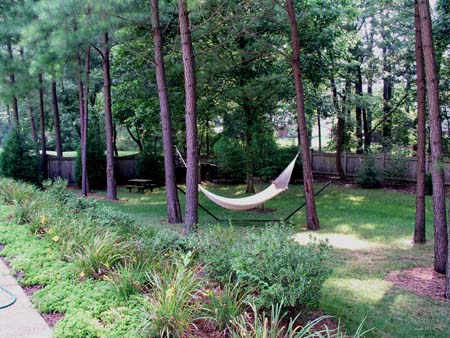 More of the backyard area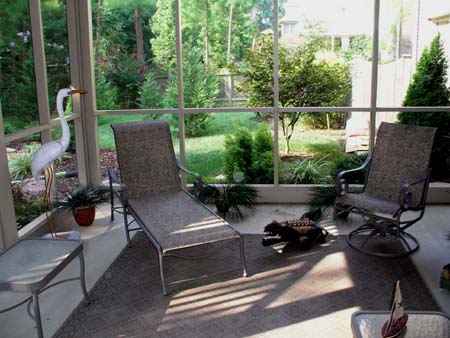 Back porch area - one of my big birds and the alligator :)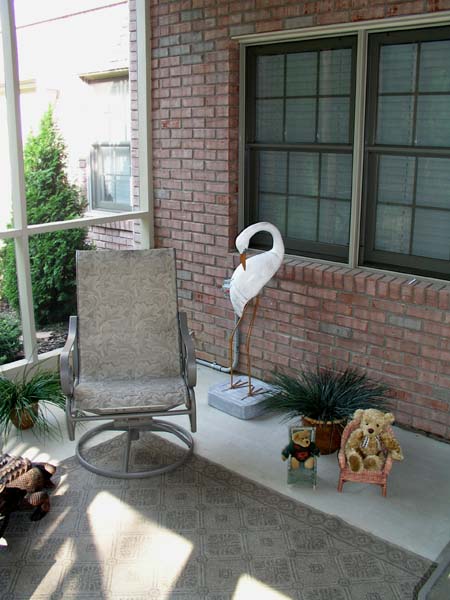 Back porch area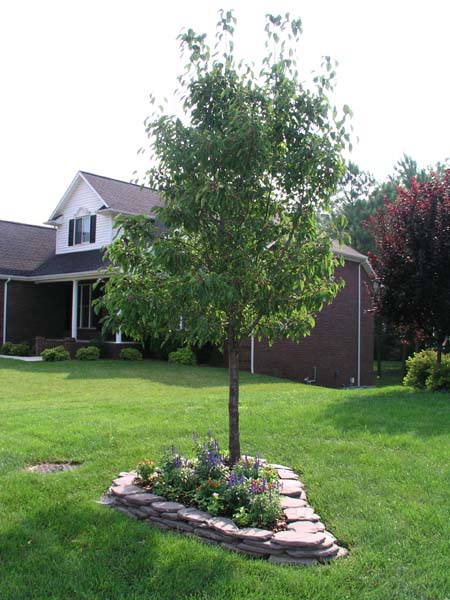 Some of the flowers I planted out front by the
tree above :)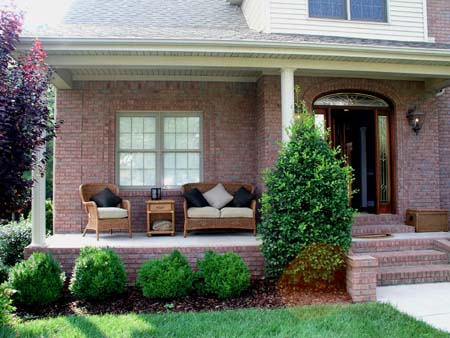 Front Porch area




Flower bush out back :)
OK, that is a few pictures of the house :)
----------------------------------------------
Spent most of the day dealing with legal stuff.
Came home at 3 p.m. and Mariah came over along with grandmother and mother :)
Mariah went swimming and mother ran errands.
Grandmother seemed to have a good time :) Although she was tired by the time everything was said and done!!!

Tuesday, August 10th
I MENTIONED A WEEK OR SO AGO THAT THE HURRICANE SEASON WAS ABOUT TO EXPLODE AND SO IT IS!!!!

MAJOR TROPICAL THREATS FOR THE NEXT 2 WEEKS. I BELIEVE 2 HURRICANES MAY HIT THE UNITED STATES ALONG THE GULF COAST - STAY TUNED
Tuesday Evening:
Spent the day working around the house. Mariah came over and went swimming. :)
Grandmother came this evening, along with John Logeman. We all went to Crackle Barrel! :) A grandmother favorite of course!

Mariah, Beau, and Grandmother :)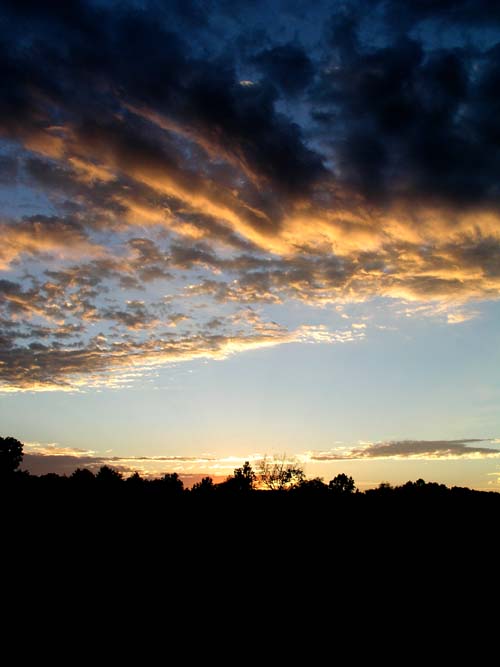 A nice sunset over Lone Oak this evening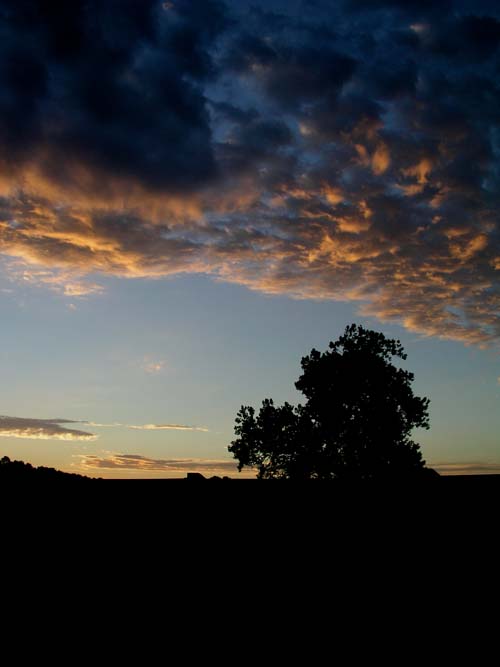 Lone Oak Sunset




Grandmother and Beau at Crackle Barrel :)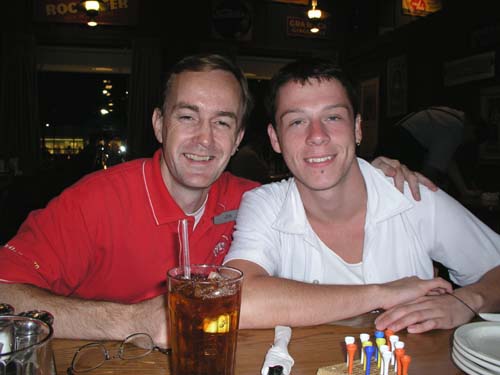 John Logeman and Rick at Crackle Barrel - Tuesday Evening


August 11, 2004
ANOTHER COLD FRONT MOVING THROUGH THIS AREA!!!!! What a summer this has been.
I have NEVER seen so many cold fronts make it so far south - during the summer months!
Still holding out for a brutal winter for portions of the Central and Eastern United States.

-----------------
Charley has become a hurricane this afternoon. This could be a bad one for Florida.
Bonnie is also going to hit Florida, most likely as a weak hurricane.
Thursday, August 12th
Nice cool weather here :) Very nice!
Hurricane Charley will hit Florida over the next few days. Key West could be hit hard. Major damage expected with this hurricane.
Tropical Storm Bonnie will hit Florida today and RACE up the East Coast over the next two days.
This isn't the end either, additional tropical storms and hurricanes are forming behind these two.
OK, there is a LOT to do around here. :) I won't be updating the web page until Sunday :)
Have a goooooood weekend everyone.
NEXT PAGE CLICK HERE

------------------------------------------------------
------------------------------------------------------
RETURN TO HOME PAGE


RETURN TO AUGUST 1-17th
RETURN TO AUGUST 18th-31st
RETURN TO SEPTEMBER 1-9th
RETURN TO SEPTEMBER 10-30th
RETURN TO OCTOBER 1-15th
RETURN TO OCTOBER 15-31st
RETURN TO NOVEMBER 1-15th
RETURN TO NOVEMBER 16th
RETURN TO NOVEMBER 17-30th
RETURN TO DECEMBER 1st-15th
RETURN TO DECEMBER 16th-22nd
RETURN TO DECEMBER 23rd-31st
RETURN TO JANUARY 1st-8th
RETURN TO JANUARY 9th-26th
RETURN TO JANUARY 26th-31st
RETURN TO FEBRUARY
RETURN TO MARCH 1st-9th
Return TO March 10th-27th
Return TO March 28th-30th
RETURN TO APRIL 1-11th
Return to April 12th-18th
RETURN TO APRIL 18th-27th
RETURN TO APRIL 28th-30th
RETURN TO MAY 1st-5th
RETURN TO MAY 6th
CLICK HERE TO MAY 7th-16th
RETURN TO MAY 17th-29th
RETURN TO MAY30th-June 1st
RETURN TO JUNE 2nd - June 11th
RETURN TO JUNE 11th-17th
RETURN TO JUNE 18th-26th
RETURN TO JUNE 27th-30th sunsets :)
RETURN TO JULY 1st-3rd - 2004
RETURN TO JULY 4th - 2004
RETURN TO JULY 4th-7th - 2004
RETURN TO JULY 7th-10th - 2004
RETURN TO JULY 11th-22nd - 2004
RETURN TO JULY 22nd-31st - 2004
------------------------------------------------------
------------------------------------------------------
Email: beaudodson @ usawx.com (remove spaces)