August Ends..
The sun
ripped from the sky...

the moon
does not rise...
and
the stars grow dark...

Even the strongest must cry...must fall to their knees and shout to Heaven
God do you hear me...
...do you see me
do you understand...

we are not in Oz anymore
- beau


-----------------------------------------------------------------------------------------
Thursday, August 26, 2004
It was a stormy night across Illinois and Missouri. Lots of flooding.
We managed to miss most of the activity. :) Could be more storms today though.
Everyone is getting settled in here at the house. Mother slept ok, but I think she will sleep better tonight.
Here are a few pictures from yesterday as mother left the hospital and as we all retuned home to see grandmother.

Mother coming home from hospital
Wednesday

Grandmother, Tyler, Danielle at the nursing home on
Wednesday Afternoon. Grandmother sure was glad
to see everyone!



Mother and Angel back in
Paducah, Kentucky.
THE LEAVES ARE ALREADY CHANGING ACROSS PORTIONS OF MICHIGAN AND OTHER AREAS UP NORTH! VERY VERY EARLY!!!!! WILD!

Thursday Night, Late
Norman told me tonight that the leaves are turning in Toronto. That is just AMAZING. I can't believe that they could change this early in the season.
I still think we have a brutal winter :) Lot of snow and cold! Course I am biased, but still! :) I LOVE MY SNOW!
Norman is doing well and he is working hard on his foundation. The foundation he is working on will help purchase Vac Machines for people who have had surgery. The machines help drain fluids.
SO YAY on all of that!
Norman will be having an additional foot surgery on the 31st.
Mother was pretty sick today, but after she took her medicine she felt a bit better. :) So that is good. She still has a lot of pain though. Slowly but surely she is getting better. I am hopeful that the cancer will not return.
I have set up my bedroom as hers. I have moved into the library :) perhaps tomorrow I will take a photo or two.
Grandmother is also slowly improving. She is weak though. I am concerned about her ability to regain the strength she had before her shoulder broke. We will just keep pushing her to focus on getting better, so she can come home.
Otherwise, hmmm - the house has been busy as ever. Trying to get everything in order.
My electric bill was extremely high, so we are working on bringing that down a bit. :) I didn't realize that I had left the heater on in the pool. That caused the bill to be really high. EEK :)
Ok dokie well that is an update on the home front.
HURRICANE FRANCES CONTINUES TO GAIN MORE STRENGTH. SHE IS A CATEGORY TWO HURRICANE TONIGHT...
NOT SURE BUT SHE COULD HIT THE EAST COAST NEXT WEEK.
VERY SEVERE WEATHER NORTH OF US TONIGHT...IOWA IS BEING RAKED WITH TORNADOES AND HIGH WINDS....
SEVERE WEATHER IS POSSIBLE HERE ON SATURDAY.
LAST NIGHT OVER SEVEN INCHES OF RAIN FELL IN PORTIONS OF SOUTHERN ILLINOIS!!!!! WOW ON THAT! MAJOR FLOODING IN SOME AREAS.
Thursday, August 27th
HURRICANE FRANCES GROWING STRONGER. THREAT TO THE SOUTHEAST UNITED STATES LATER NEXT WEEK
Frances will be a category three by this evening...no doubt about it!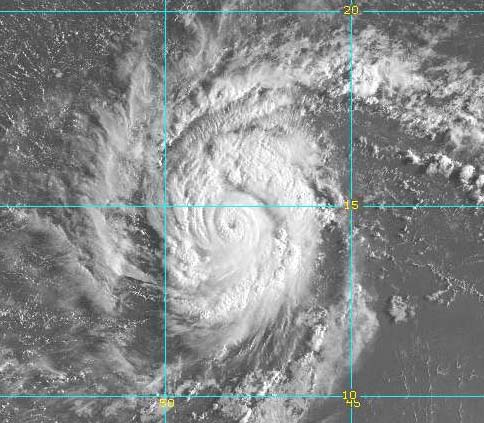 HURRICANE FRANCES THIS MORNING...WINDS
TO 90 MILES PER HOUR AT THIS TIME

My Canadian Visa has been sent off, this is a new application. Mine will expire on 9/11.

We are asking for a one year visa.
---------------------------------------
FRANCES BECOMES A CATEGORY THREE HURRICANE THIS EVENING...

WINDS ARE NOW 115 MILES PER HOUR!

Saturday Morning
Hurricane Frances continues to churn in the Atlantic.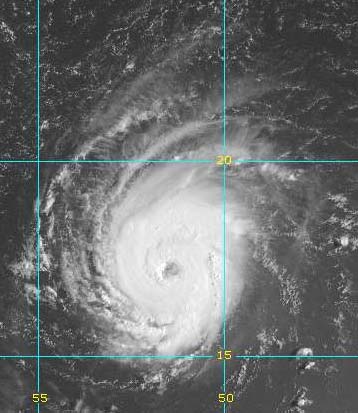 Frances...
Things are about the same around here. The house is at least clean :)
Mother continues to improve, so that is good news. She is tired though, lot of stress on her right now. I am just trying to take care of what I can to help her out and get her better.
Grandmother is weak. I am worried now about her. She has got to start to improve soon or I just don't know. We are doing everything in our power to get her up and moving. She is not doing that well though, as far as strength and all.
She is a trooper though, so we are hopeful that she will pull through this.
One more HOT and HUMID day here, then ANOTHER cold front. Imagine that. :)

Storms firing to our west and south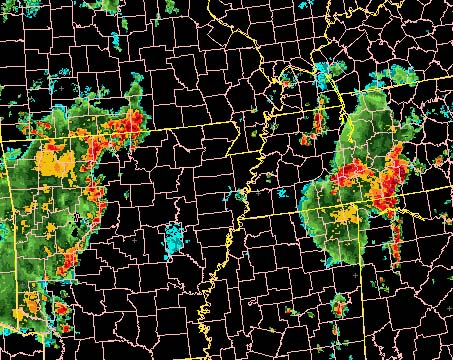 FRANCES COULD BE A CATEGORY FOUR BY TONIGHT
SATURDAY NIGHT
BULLETIN HURRICANE

FRANCES ADVISORY NUMBER 16
NWS TPC/NATIONAL HURRICANE CENTER MIAMI FL
5 PM AST SAT AUG 28 2004

FRANCES STRENGTHENS INTO THE SECOND CATEGORY FOUR
HURRICANE OF THE 2004 ATLANTIC SEASON.

Frances on Saturday Evening - Look at that eye!
Saturday Night
Frances is becoming EXTREMELY dangerous. I expect Frances to strengthen to the FIRST Category Five Hurricane of the 2004 Season.
We are facing another CATASTROPHIC event if Frances continues on the present course and maintains her strength.
Florida is a target now.
AND IF THAT WERE NOT BAD ENOUGH...
WE HAVE A NEAR HURRICANE NOW OFF THE SOUTHEAST COAST
GASTON HAS DEVELOPED RAPIDLY TODAY...
EXPECT HIM TO BECOME A HURRICANE BY TOMORROW.
Gaston is likely going to hit the Carolinas!
------------------------------------------------------
Took mother out to eat this evening. Rick and Gil went as well. We went to Crackle Barrel. :)

Harold, Ricks puppy. :)
(Beasley eat your heart out)
Late Update on Frances...
At 11 p.m.
MAXIMUM SUSTAINED WINDS ARE NEAR 135 MPH...215 KM/HR...WITH HIGHER GUSTS. CONDITIONS APPEAR FAVORABLE FOR SOME ADDITIONAL STRENGTHENING...AND FRANCES COULD REACH NEAR CATEGORY FIVE INTENSITY ON SUNDAY.
-------------------------------------------
Major temperature rise recorded in Arctic
German scientists probing global warming say they have detected a major temperature rise in the Arctic Ocean this year and linked it to a progressive shrinking of the region's sea ice.
Temperatures recorded this year in the upper 500 metres of sea in the Fram Strait - the gap between Greenland and the Norwegian island of Spitsbergen - were up to 0.6 C higher than in 2003, they said.
The rise was detectable to a water depth of 2,000 metres, "representing an exceptionally strong signal by ocean standards," it said.
The experts, from the Alfred Wegener Institute for Polar and Marine Research in Bremerhaven, have been recording temperatures aboard a specialised vessel, Polarstern (Pole Star), for the past six weeks.
The sampling has been taking place in the West Spitsbergen Current, which carries warm water from the Atlantic into the Arctic Ocean.
Sunday Morning, August 29th
EXTREMELY DANGEROUS FRANCES HEADS WEST/NORTHWEST. AN AIRCRAFT RESERVE PLANE WILL FLY INTO THE HURRICANE TODAY TO TAKE MEASUREMENTS. FRANCES COULD BECOME A CATEGORY FIVE HURRICANE DURING THE NEXT FEW DAYS.
CURRENT TARGET FOR FRANCES IS FLORIDA.
Meanwhile...
Guston has made landfall in the Carolinas this morning.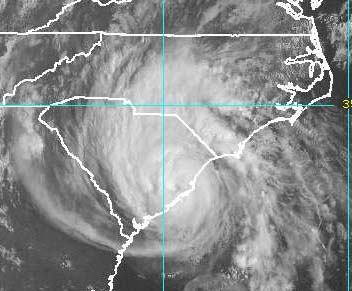 Guston Makes Landfall - Sunday Morning



Guston Hits The Carolinas - August 29th


A BRAND NEW Tropical Storm MAY develop off the Coast of the Carolinas tomorrow.
JUST AMAZING.
---------------------------------
This past July missed by .6 of a degree from being the coldest month ever recorded at the South Pole.
---------------------------------
Sunday Evening
AND NOW WE HAVE A NEW TROPICAL STORM!
HERMINE HAS FORMED OFF THE SOUTHEAST COAST.
Hermine is expected to skirt the coast - off the Carolinas over the next few days!
--------------------------------
I went out to eat with Rick, Mother, John Logeman, and Dione this afternoon. We all went to Applebee's. We then went shopping at Wal-Mart.
Mother wants to make supper tonight so we told her to go do the grocery shopping with Dione while us guys did the guy shopping.
But somehow the guy shopping ended up being - pots and pans, flowers, flower bulbs to plant, and stuff like that :) lol oh well!

Mother and John at Applebee's.



Dione and Mother at Applebee's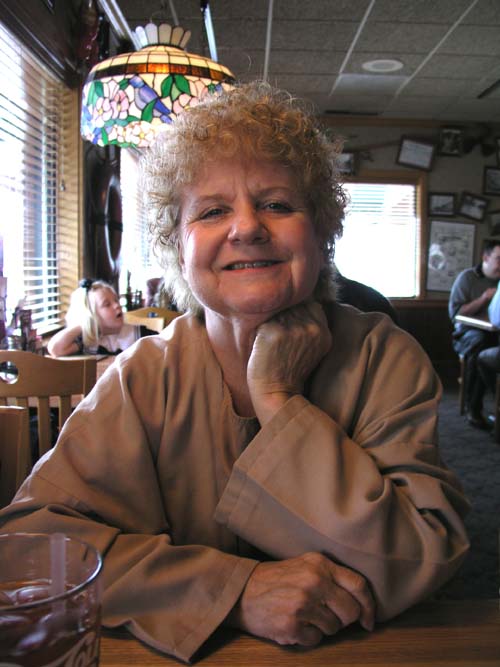 Mother is looking better and better with
each passing day. She wants to drive
but I told her to wait a bit. :)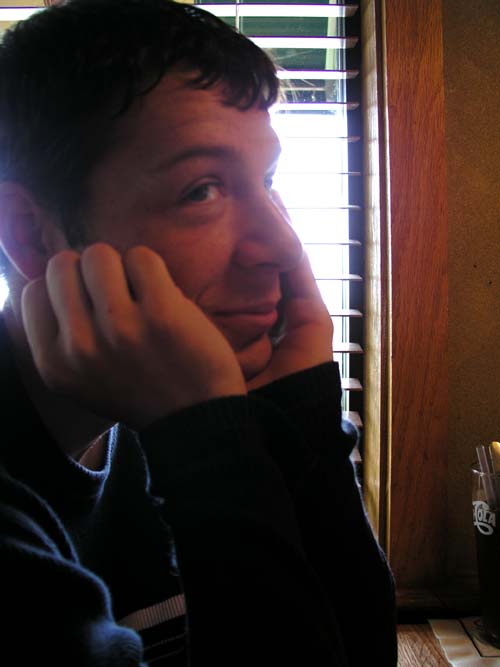 Rick at Applebee's
Monday, August 30th

Dentist appointment today - fun fun :) not
Hurricane Frances continues to push towards the west, still a dangerous hurricane.

Hurricane Frances

Just got back from seeing grandmother and she looks a bit better today. So that is good news! We are anxious for Wednesday to get here, because we will have a new Xray then. We hope that her shoulder is healing.
---------------------
FRANCES IS GAINING STRENGTH THIS AFTERNOON...THE PRESSURE IS DOWN AND IT IS VERY IMPRESSIVE ON SATELLITE.
CURRENT FORECAST MODELS ARE SAYING FLORIDA COULD BE HIT ONCE AGAIN.
THIS COULD BE AN EXTREMELY DANGEROUS HURRICANE WHEN IT HITS THE USA.
-------------------------------------------
I expect Frances to become the FIRST Category Five Hurricane of this Season.
------------------------------------------
Severe flash flood tonight in Richmond, Virginia, from Tropical Storm Gaston. Reports of over 14 inches of rain in some areas. Many houses and businesses with major water damage, structural damage. Numerous people trapped by the high water.
TUESDAY MORNING
FRANCES CONTINUE TO ROLL WESTWARD TOWARDS FLORIDA AND
THE SOUTHEAST UNITED STATES.



DANGEROUS FRANCES
Portions of Richmond Virginia have been severely damaged by flood waters.

Extensive damage from severe flooding last night. The historic district has been devastated. Over a foot of rain fell in 10 hours.

Richmond, Virginia - Flooding - News Photo (not my photo)

Richmond, Virginia - Flooding - News Photo (not my photo)
RADAR OUT OF PUERTO RICO THIS MORNING...YOU CAN SEE THE EYE OF FRANCES

P. Rico Radar this morning - there is the eye of the cane

and FRANCES IS ONCE AGAIN A CATEGORY FOUR HURRICANE

More photos from Richmond, Virginia

FLASH FLOODING SWEPT CARS AND TRUCKS
INTO BUILDINGS. (News photo - not my photo)
Winds in Frances are now at their highest since she was born...
140 Miles Per Hour...and gaining

Dangerous Frances with 140 mph winds!
\
SEPTEMBER AND FALL HERE WE COME CLICK HERE

------------------------------------------------------
RETURN TO HOME PAGE

RETURN TO AUGUST 1-17th
RETURN TO AUGUST 18th-31st
RETURN TO SEPTEMBER 1-9th
RETURN TO SEPTEMBER 10-30th
RETURN TO OCTOBER 1-15th
RETURN TO OCTOBER 15-31st
RETURN TO NOVEMBER 1-15th
RETURN TO NOVEMBER 16th
RETURN TO NOVEMBER 17-30th
RETURN TO DECEMBER 1st-15th
RETURN TO DECEMBER 16th-22nd
RETURN TO DECEMBER 23rd-31st
RETURN TO JANUARY 1st-8th
RETURN TO JANUARY 9th-26th
RETURN TO JANUARY 26th-31st
RETURN TO FEBRUARY
RETURN TO MARCH 1st-9th
Return TO March 10th-27th
Return TO March 28th-30th
RETURN TO APRIL 1-11th
Return to April 12th-18th
RETURN TO APRIL 18th-27th
RETURN TO APRIL 28th-30th
RETURN TO MAY 1st-5th
RETURN TO MAY 6th
CLICK HERE TO MAY 7th-16th
RETURN TO MAY 17th-29th
RETURN TO MAY30th-June 1st
RETURN TO JUNE 2nd - June 11th
RETURN TO JUNE 11th-17th
RETURN TO JUNE 18th-26th
RETURN TO JUNE 27th-30th sunsets :)
RETURN TO JULY 1st-3rd - 2004
RETURN TO JULY 4th - 2004
RETURN TO JULY 4th-7th - 2004
RETURN TO JULY 7th-10th - 2004
RETURN TO JULY 11th-22nd - 2004
RETURN TO JULY 22nd-31st - 2004
RETURN TO AUGUST 1st-12th - 2004
RETURN TO AUGUST 13th-25th - 2004
------------------------------------------------------

Email: beaudodson @ usawx.com (remove spaces)