June, 2004
Sunday, June 27th
Ok well enough of this not sleeping, day 11 :) I am going to the hospital this morning and try to get something to help me sleep. My regular doctor won't be around till Monday or Tuesday. But, I have to SLEEP! I am starting to see things that are not there :) and that is never a good sign! Never have I had so many days in a row without more than 2 or 3 hours sleep.
Tomorrow is Normans Birthday and Tonys as well!
Otherwise, not sure what else is going on. Nice outside - temps are coolish! Not bad for late June.
Well it is almost 4 a.m. now.
I spent the morning at the hospital, they did some blood tests and so on and have given me something to help me try and sleep! Hopefully this will work because I don't picture one more day of thi. .I will be seeing pink elephants flying.
Just waking up here at 8 pm :) I guess that is a good thing. I FINALLY got my sleep, now I feel behind everything though and I have to get my sleep back in sync, hopefully that won't be difficult.
Monday...June 28th
Everyone will wake up this morning to the surprise news that Iraq has been handed over to their new leaders. They moved up the date because of recent attacks. Saddam will be brought before a court within one week. Once again America has kept its word. Count the countries around the world that are free or more free because of the United States and the friends of the United States that have fought so hard for someone else's freedom.
A 4.5 earthquake struck Illinois, Iowa, Wisconsin early this morning. A very unusual location and considered to be a moderate earthquake. Some reports of Minor damage. The quakes was centered in Northern Illinois, recent records of seismic activity in this area shows none. AND a 6.7 earthquake in Alaska this morning, whole lot of shakin going on. :)
Ok well I only woke up for a drink and to check the news, I am off to bed again for it is only 230 a.m. :)
HAPPY BIRTHDAY NORMAN AND TONY :) :)
HOPE YOU HAVE A GREAT DAY!
-----------------------------------------------------------------
ISTANBUL (Reuters) - White House national security adviser Condoleezza Rice Monday informed President Bush in a handwritten note of the transfer of authority in Baghdad, prompting Bush to scribble back: "Let freedom reign."
"Mr. President, Iraq is sovereign. Letter was passed from (U.S. administrator Paul) Bremer at 10:26 a.m. Iraq time -- Condi," she wrote, according to copies of the note distributed by the White House.
The note exchange took place during a meeting of NATO leaders in Istanbul. She handed the note to Defense Secretary Donald Rumsfeld, who passed it along to Bush.

-----------------------------------------------------------------

Letter given to President Bush, his response "Let Freedom Reign"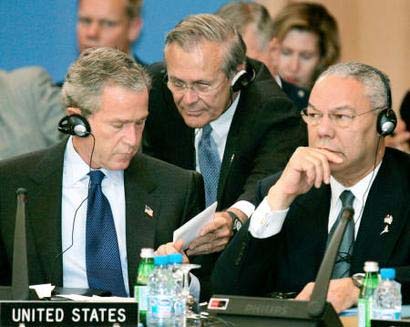 BUSH HANDED NOTE TELLING HIM THAT IRAQ
NOW HAS CONTROL OVER THEIR GOVERNMENT

Bush informs Blaire of the handover...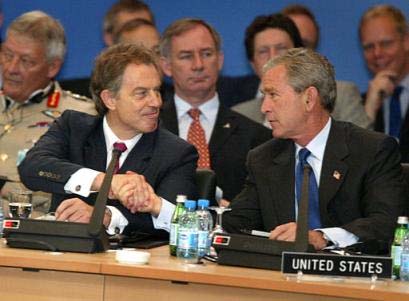 JOB WELL DONE!!!!!!!
PRICELESS :)
AND THE LOOK ON BUSH AND BLAIRES FACE TELLS IT ALL!!!!!!!!!!!!
Iraq has a LONG road ahead of it, freedom does not come without a price, there will be many rough days ahead. But this is a start.
---------------------------------------
Trying to get all my services turned on at the new house - fun fun :) Electricity, cable, gas, garbage, phone :) and so on!

Starting to get excited, but a bit overwhelmed as everyone can imagine. But in the end more excitement than anything it is going to take awhile to get everything situated. :) But it will be fun.
So far I have...
The gas turned on
The Cable and Internet turned on
The garbage pick up called
And the Electricity turned on
I am waiting to turn the phone on, for the current owners have theirs turned off :)
Now I am going to have to find someone to be at the house on the 15th while I am running back and forth.
-----------------------------------------------------------------------------------------------------------
AND IN CANADA TODAY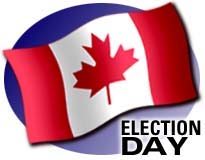 ---------------------------------------
AND ALSO....
Saddam to be indicted within one week
FOX News | 6/28/04

Saddam will be charged by the Iraqi tribunal with atrocities, including the deaths of some 300,000 people. Coalition will retain physical custody.
:) well things are moving along nicely now! Just in time for the 4th of July...no less :)

SUNSET MONDAY NIGHT :) ANOTHER AWESOME SUNSET HERE!!!!!
NORMAN'S BIRTHDAY SUNSET :)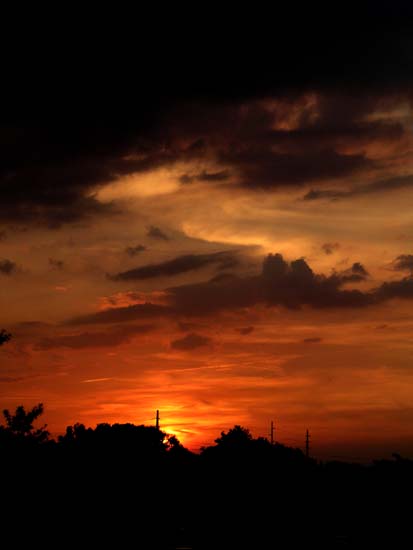 Sun setting



:) Nice show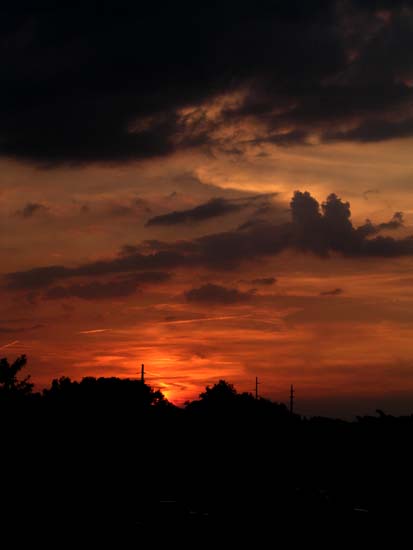 Setting sun :) wowsers!

The Monday Evening Show :)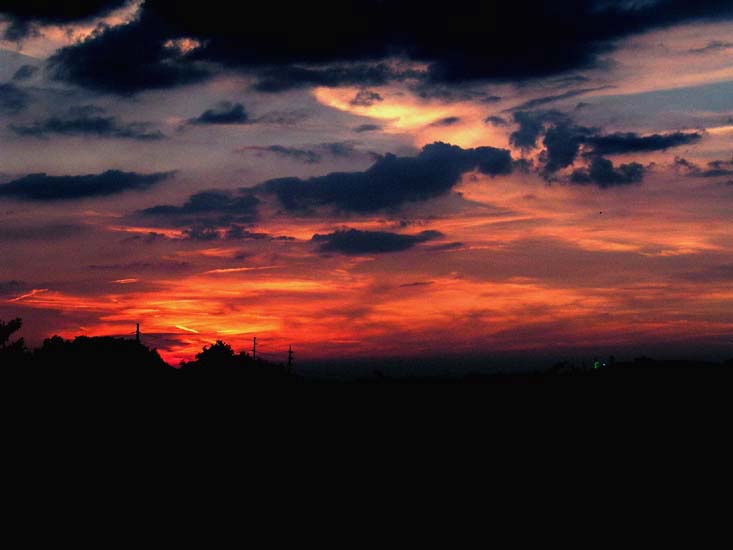 Paducah :) Sunset

Sunsetting
AND FINALLY IT IS ABOUT GONE!!!!!

YEAH BABY!!!!!!!!!!!!!!!!!!
WELL I HOPE EVERYONE ENJOYED THE SUNSET SHOW :) :) :) :) I TOOK THEM FOR YOU!!!!!

I have to admit I had a BIG smile across my face as I watched this one!!!!
For my Northeast Weather Fans - Nice Squall line last night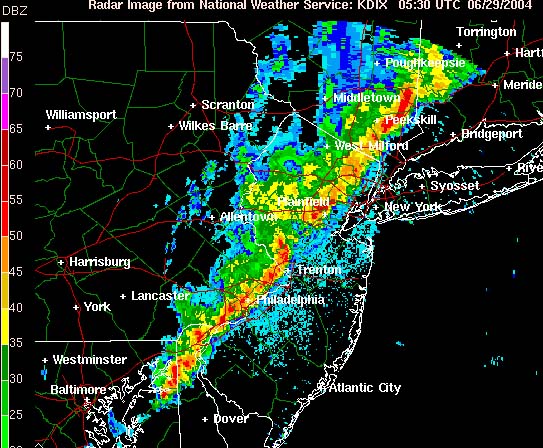 Tuesday Morning 1 a.m.
Tuesday, June 29. 2004

I overslept :( so I missed lunch with Dione and Mother. :) I guess I will be in the doghouse now! Well that is what happens when you are on weird sleep schedules.
Anyway, cloudy outside today - hmmm maybe we can squeeze a shower out of those clouds. :)
Today is BRETT'S BIRTHDAY - SOOOO HAPPY BIRTHDAY BRETT. :)
Everyone is having a birthday in June or so it seems. :)
Lot of summer babies.
Ok well I have to keep packing here and calling all the different companies that have to deliver stuff or turn something on by the 15th!
More later, maybe another good sunset today. :) :) It would be hard to beat last nights though!!!!!
Ok dokie well moving stuff around here, getting ready to go out to eat with Julie Kohn and her nephew, so I shall be back later. :)
Well I had a nice dinner with Julie and Danny and several of her family members. Her nephew is in from L.A. :) Long way from home!
We ate at the Mexican Restaurant down the street here and the food was great! We all went walking along the flood wall afterwards and Danny gave us a history lesson about Paducah :) He is going to be in fourth grade next year! I think he knew a little bit of everything about this city!
I am still packing around here! Lot to do, although I seem to have managed to call everyone on my list - phone, gas, and so on and so on! Hopefully I have not missed anyone.
Trying to get into my hotmail account, but I seem to be shut out for some reason :) maybe it will work tomorrow.
Wednesday, June 30th
Holy Cow - JUNE IS GONE. :) Where does the time go.
Not a bad day here, sun is out but a few storms moving into our region from the south. Next few days look kind of wet - on and off at least!
OK, wellllll kind of boring day. :) I did see my new counselor today so that was good. :) I like her, she is nice! I think we click!
Talked with Kristy for awhile she just got back from Phoenix. :) I am waiting on pictures! I am going down to Birmingham in August to a concert. :)
JULY IS HERE SO TURN THE PAGE PLEASE CLICK HERE


------------------------------------------------------
------------------------------------------------------
RETURN TO HOME PAGE

RETURN TO AUGUST 1-17th
RETURN TO AUGUST 18th-31st
RETURN TO SEPTEMBER 1-9th
RETURN TO SEPTEMBER 10-30th
RETURN TO OCTOBER 1-15th
RETURN TO OCTOBER 15-31st
RETURN TO NOVEMBER 1-15th
RETURN TO NOVEMBER 16th
RETURN TO NOVEMBER 17-30th
RETURN TO DECEMBER 1st-15th
RETURN TO DECEMBER 16th-22nd
RETURN TO DECEMBER 23rd-31st
RETURN TO JANUARY 1st-8th
RETURN TO JANUARY 9th-26th
RETURN TO JANUARY 26th-31st
RETURN TO FEBRUARY
RETURN TO MARCH 1st-9th
Return TO March 10th-27th
Return TO March 28th-30th
RETURN TO APRIL 1-11th
Return to April 12th-18th
RETURN TO APRIL 18th-27th
RETURN TO APRIL 28th-30th
RETURN TO MAY 1st-5th
RETURN TO MAY 6th
CLICK HERE TO MAY 7th-16th
RETURN TO MAY 17th-29th
RETURN TO MAY30th-June 1st
RETURN TO JUNE 2nd - June 11th
RETURN TO JUNE 11th-17th
RETURN TO JUNE 18th-26th

Email: beaudodson @ usawx.com (remove spaces)