The Countdown To Toronto :) Less than 5 days now away!!!

November 17, 2003

It is early :) Tired, but things to do!!! David and I have to run an errand this morning, then we are taking grandmother and mother to eat at Crackle Barrel - where else! :)
We hope to be able to pick up the tornado book later this afternoon. We can deliver a few copies to our friends.
Lots to do and stormy weather coming tonight.
More later...


November 18, 2003

David and Norman are here, the tornado book is finished! This is great news. Excited.
Those who want to buy a copy can get one at the Metropolis Planet! :) Otherwise I will have some with me as well!
Going to look at a house with mother today, David and Norman are heading out today as well. Back to Canada for them. I am trying to pack and say goodbye to everyone.
Stormy Stormy here, lots of heavy rain, some thunderstorms, looks like there were several tornadoes and severe storms overnight south of here.
November 19, 2003
Well I scratched my eye yesterday morning and spent the entire day in bed, didn't get to do anything that we had planned. Oh well :) things happen like that, sure was painful. Starting to heal now though, will be better today I believe. Paul and Gil came by to check on me a few times. Not sure what they are up to.

David and Norman have made it safely back to Toronto! THANK YOU DAVID AND NORMAN FOR EVERYTHING THIS WEEKEND!!!!! WOW WAS IT AN ADVENTURE! LOTS OF LOVE FROM EVERYONE DOWN HERE. THEY APPRECIATED YOU BEING HERE MORE THAN YOU WILL EVER KNOW!
Some photos from the past few days that I didn't get to post :)

Mother, Norman, and myself at the
Superman Statue :) in Metropolis, IL.



The Man of Steel watches over the city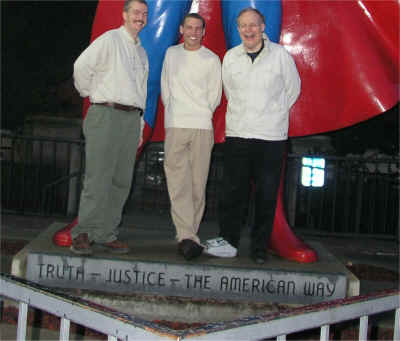 Truth, Justice, and The American Way


Grandmother with the quilt she
got at her party Sunday :)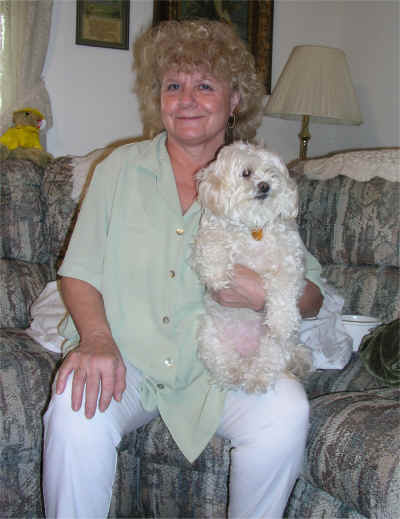 Mother with her puppy Angel

Planning on leaving for Toronto on Thursday Night or Friday. Long drive ahead. Paul is going with me.
Looks like winter is finally on its way over the next week or two. A winter like the 1970s perhaps? Time will tell, looks like we might have a lot of extremes though.
The Metropolis Planet has a front page story about the tornado book! :)
There is also a large section in there about grandmother, along with her photograph and each of the family members wrote something to her! :) She was VERY surprised about that! I think she feels loved!!!
She joked at Montegos and said "I guess my party is in the paper as well" I took the paper and handed it to her and said well ACTUALLY - now that you mention it! :)
She just had a blank look on her face - LOL - and said YOU DIDN'T!
I have been out delivering tornado books all day, everyone is happy to see the finished product.
Paul and I plan on being in Toronto on Friday Evening, that is the current plan at least.
Take Care Everyone - more later


November 20, 2003 - MOVING DAY

Good morning Everyone :) Packing is finished! Car is filled with gas, and I am almost ready to go! Anxious and Excited! So many emotions, but I am ready to head back to my second home.
BIG storm system this weekend, major severe weather outbreak and likely tornadoes. It appears to be one of the bigger storm systems so far this fall. I have some pretty big concerns about this one. Someone is going to get some serious storms, never know where, so everyone should stay tuned. Looks like all the way from Ohio down through this area and to the Gulf Coast. Sunday and Monday appear to be the big threat days. Stay tuned.
TODAY IS THE BIG DAY!! MOVING BACK TO TORONTO. I WILL BE LEAVING LATER THIS AFTERNOON OR EVENING! PLAN ON LEAVING AT 6 pm = Paul will help me drive as well.
THE WEATHER IS GOOD - DRIVING SHOULD BE FINE!

VERY BUSY DAY AHEAD = SO I WILL KEEP IT SHORT.
TAKE CARE EVERYONE
November 21, 2003

We drove until 2 am this morning. Anderson, Indiana was the first stop! Didn't even have to stop for gas. Hmmm - Anderson is about 30 minutes from Indianapolis, Indiana.
Nice drive, you could see so many stars and the The Leonid Meteor Shower was in full swing - shooting meteors. Saw several large green fireballs. :) Made for a nice backdrop for the trip so far.

Streaking through Indiana last night on the way home
- the signs overhead on the interstate.

Also earlier in the night the northern lights were bright, two green curtains were clearly visible across Western Kentucky.
So an exciting night in the sky.

Friday Morning
Going to travel to Detroit this afternoon. David is going to meet us there and hopefully we don't have
any problems crossing the border.
Pics from yesterday:



House we looked at with mother, nice neighborhood
and a nice house (mother continues to look for a place
that she can fall in love with) She likes this one though.
Not my style but she likes it. That is all that matters.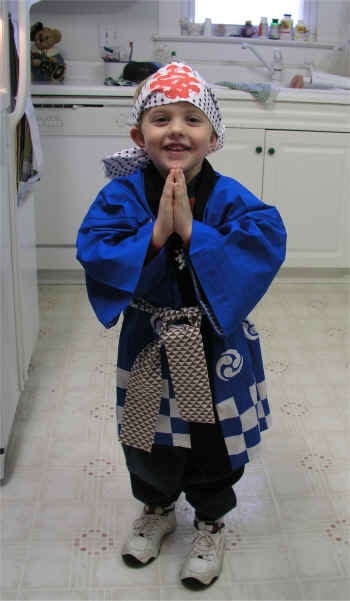 Karate Kid - an outfit that David brought back
for Tyler from Tokyo (David he loves the outfit,
he wouldn't take it off)


Karate Kid and his assistant - Danielle you are
SUCH AN ACTRESS!!!
On the road now, leaving Anderson, Indiana. Bright sunshine here, too bright for my eyes right now. Can't wait to get some contacts back in so I can see. Paul is driving.
Yesterday I went with mother and the kids to look at a house in Mayfield. It was really nice. I liked it and mother liked it. The big question is whether or not mother wants to move down to Mayfield. :) That is something she is going to have to decide for herself!
It feels weird returning to Toronto. I am not sure if it is because of all of the past memories there or what. It is in many ways home. My house is there, my friends are there, and for now my spirit is there.

What happens down the road, months from now, years from now is hard to say. There is a lot going on right now in life. I guess I will take it one day at a time. Probably the best way to handle life.

I am sure of one thing, it will be a journey, an adventure, with many beautiful days and many sad days.
OK, we are moving on!

We have now crossed into Michigan!!!!!



Now one hour away from Detroit. We will cross into Ontario, shortly. It is 1:05 p.m. now and we have had to leave the interstate for a little two lane road. Fun Fun! GPS system says we have about an hour and a half to go.
Just spoke with David on the phone, he is leaving Waterloo, Ontario at this time. He is going to meet us near the Detroit Airport.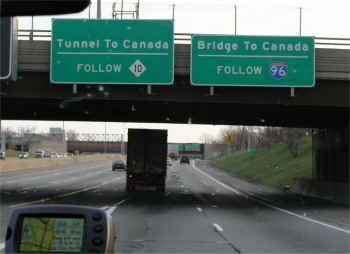 Ok here we go :) we are nearing the border!

Met David at 3 p.m. We both arrived at the same time and an hour early. David is driving us across the border :) We figure there is less of a sketch perhaps, since I am still waiting on my Visa. I don't need one to visit, but still there are a few concerns with everything that has happened in the past. So we are going to try and do this the easy way.
:) Very exciting!

This is the bridge :) All we have to do now is cross!!!

3:20 p.m. WE ARE IN CANADA NOW!!!!!!!!



WINDSOR, ONTARIO!!!!!
We should be in Toronto and home later tonight.
MY FIRST ONTARIO SUNSET!!!!! NICE PAINTING!!!!!


Friday Evening: I have arrived in TORONTO :) I AM HOME!!!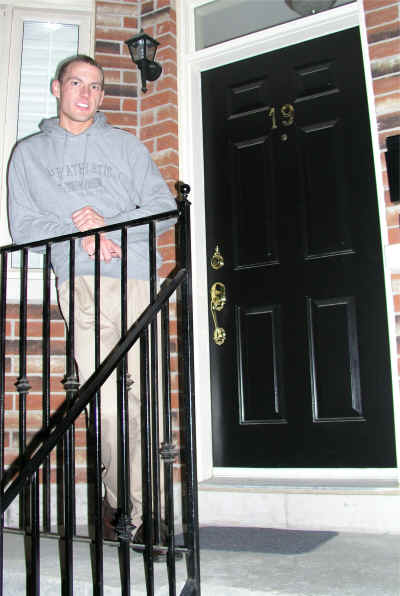 19 Earl Street, Safely Back At Home!
I might not be able to update as much this week because I don't have my internet hooked up yet. I will try to connect, though from time to time!

November 22, 2003
Hi Everyone! We are UP AND RUNNING here at 19 Earl Street. Internet is on and the phone is working. The phone company came out today and fixed everything.
We spent the day unpacking and putting everything together, computers, satellite and so on. So busy busy around here! But we seem to be further ahead than I thought we would be at this point. So that is all good!
I miss everyone back home already but everyone here is glad to see me. Trying to kind of lay low for a few days and get situated before I call all my friends.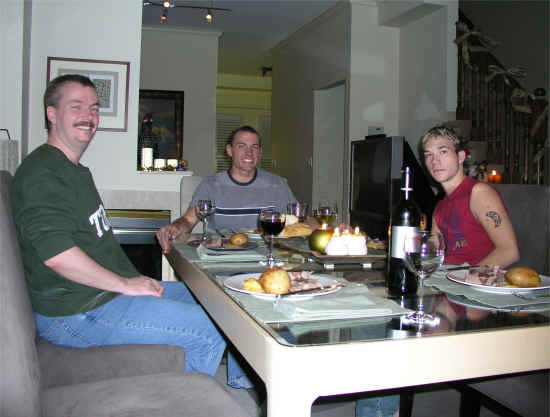 Dinner at Earl Street. David, Paul,
and me. Doug is cooking!
I have been told that WPSD-TV 6 did a story on the Tornado Book! :) I have also been told that the books are selling like hot cakes! We may have to make more!!!! :) All good news.
Well I am TIRED and we have a long day tomorrow, so more updates later!
November 23, 2003
Hi everyone :) Been busy today, unpacking and getting things in order again! It is pretty mild here today - 50s :) So very nice for this time of the year, might be some snow showers tomorrow (if we are lucky)
Getting a Christmas tree today - will post photos later. :)
So we headed out to look for a tree this afternoon :) The first place we went didn't have their Christmas trees in yet so we headed to a place that Erick suggested and they had lots of trees :)
The guy was real friendly. David told me later that when we were leaving they gave him some rum in a glass :) I guess that is why the guy selling the trees seemed like he was having a bit more fun than he should have been :)


Well this one looked good!
about 7 1/2 feet tall

So we needed a skirt for the tree, and a tree holder, Wal Mart was right there, so while the guy cut the bottom of the tree for us we went shopping. :)
OK, so after we finished shopping -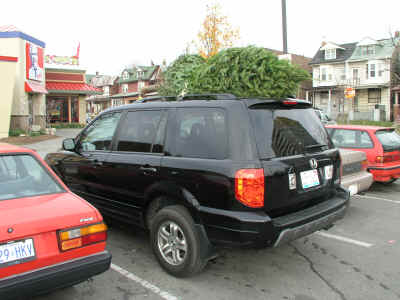 This is what we came back to :)


So next we went to The Bay, for decorations, gold bulbs, lights, ribbon and so on :)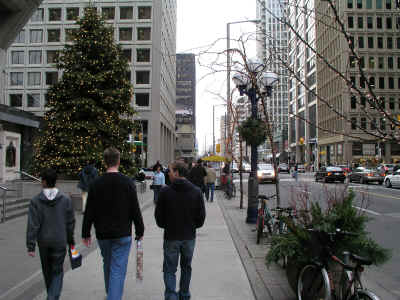 The streets in Toronto are decorated for the holidays




Hanging lights :)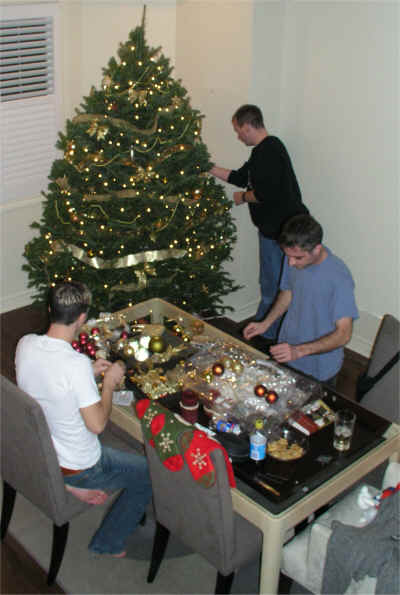 Deck the halls


Time to put the angel on top




:) YAY - the first Christmas Tree at 19 Earl Street!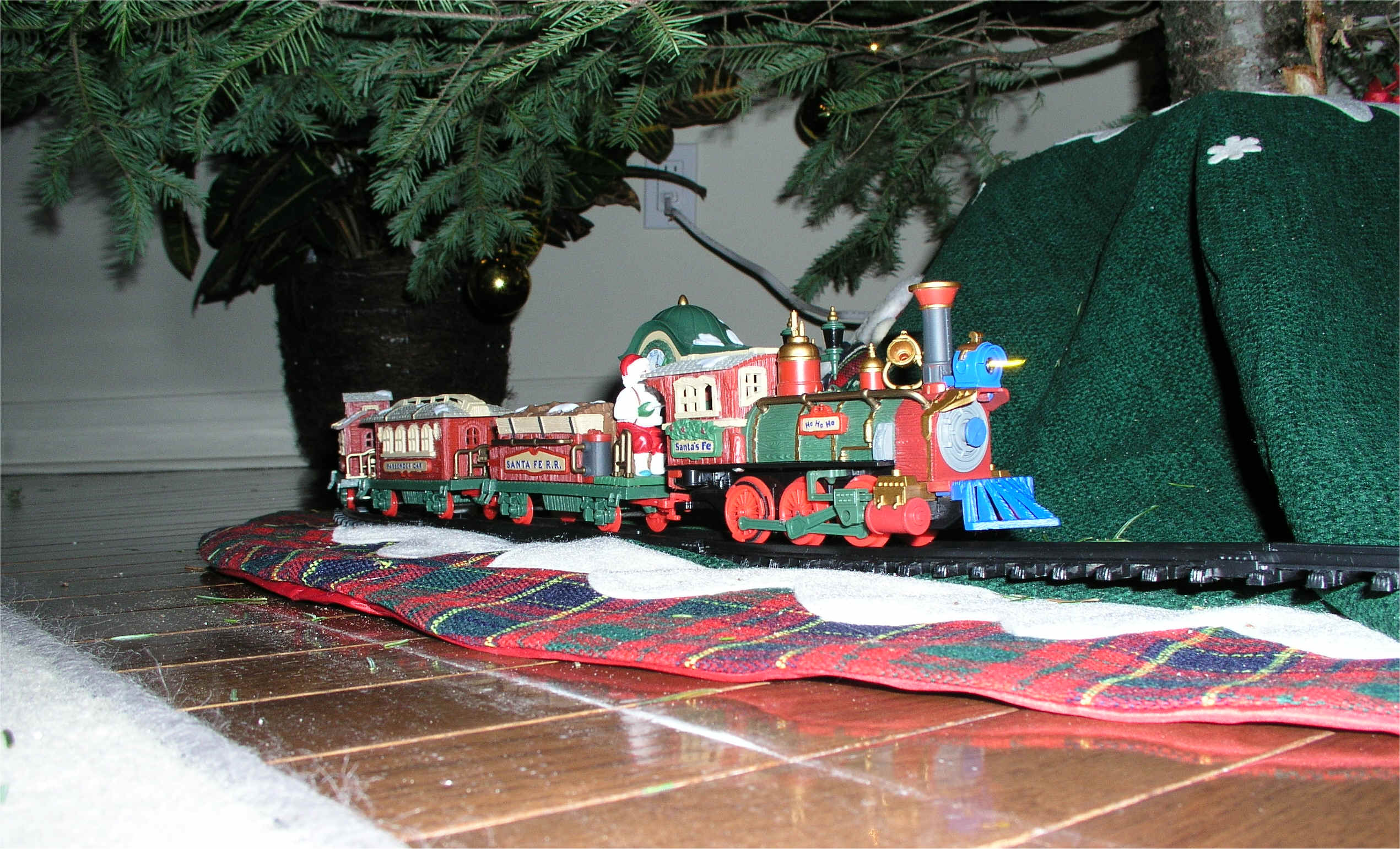 David bought this train, that runs under the tree,
round and round
So lots of fun today, getting the place to look a bit more like Christmas! Erick and Doug had already put up some nice decorations downstairs. So the place is looking GREAT!
BREAKING BOOK NEWS :)

The book has almost sold out!!!!! In only three days!!! Amazing :) We have ordered another 1000 books and they should be finished in 2 weeks!
November 24, 2003
Let it snow, let it snow, let it snow :) Well raining actually (but David said it is snowing in Waterloo)
I heard it snowed back home, one of my friends in Paducah had sleet and wet snow :)
Been busy around here today, just getting life back into some kind of groove. It hasn't been easy. There are good days and bad days. Not sure that Paul is happy up here. Hard for me to tell.
Went to the mall, Paul bought some winter clothes, otherwise back here at the house trying to get things in order.
OOPS it is snowing and sleeting here now. Nothing major though. Maybe this Friday or so we will get some real snow!
Christmas is in full swing at the Eaton Center Mall :)

The floating Christmas Tree at the
Eaton Center Mall



Eaton Center Santa Clause :)

Paul and his friend - Christine
November 25, 2003
Snowing! MY FAVORITE KIND OF SNOW!!!
A SURPRISE SNOW!!!

Toronto has its first 1 inch snow of the season!!!!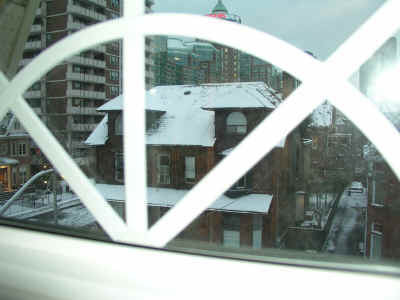 Looking at the bathroom window - SNOW!

Looking out the front window at the neighbors...



19 Earl Street :) FIRST SNOW OF THE SEASON!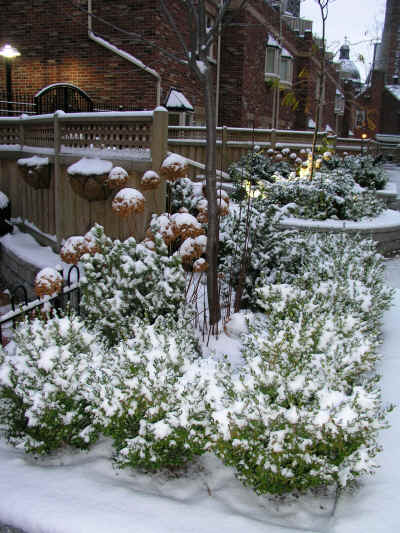 Morning Surprise!!!!!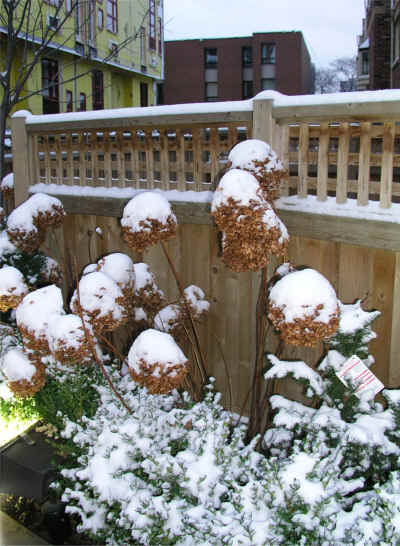 Light blanket of snow.
Well a big surprise this morning...that is what happens when you live next to some lakes :) Lake Effect Snow!!! Snow was not forecast last night - just a flurry or two. I wondered when I went to bed and looked at radar if we might get something more substantial. The snow seemed to be building to the west and northwest.
evening...
Paul and I went over to Normans tonight to eat dinner. Norman made spaghetti. :) My favorite food!
We are having Thanksgiving over here at Earl Street. Paul is going to cook a turkey and Norman is coming over, not sure what he is bringing.
Canada celebrates their Thanksgiving in October, for those who didn't know that. :)
Norman has the best view of the city from his living room. I fell in love with that view a long time ago.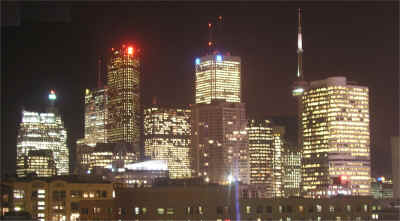 November 26, 2003
Morning everyone. Guess everyone has been getting ready for turkey day! :) We are going to cook a turkey here! Need to go grocery shopping. Have not done that yet, since we arrived.
Ok well I hope everyone has a good day and has fun cooking!
More later...

November 27, 2003
HAPPY THANKSGIVING EVERYONE
I hope everyone has a WONDERFUL Thanksgiving :)
We are cooking a turkey here, and dressing, and cranberry sauce, and well everything else! Will post some pics through the day.
Miss everyone back home :) Wish I was there with you to celebrate but I will celebrate with you in spirit! :) As Always!
Happy Thanksgiving!!!!!
OK well, Thanksgiving is well underway here. :) A bit of the Macy's parade to get in the mood.
This is the kitchen before (stay tuned for after photos)

Chef Beau making Vanilla Pudding :)
I have to contribute something you know.
Breaking News...Breaking News
They have put SNOW in the forecast Friday and Saturday - I knew it would snow!
Now I am getting a bit excited! I LOVE MY SNOW (I guess that isn't a secret)

THE TURKEY :) :) :)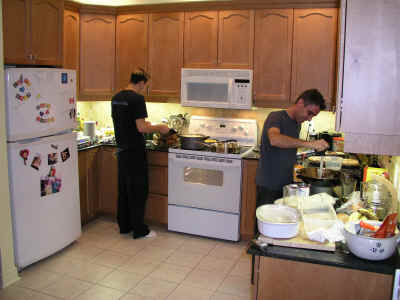 Full steam ahead of food preparation

Norman sending his hello to my family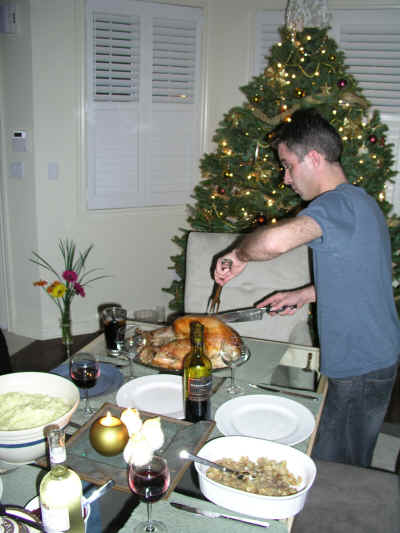 Doug carving the turkey :)
HAPPY THANKSGIVING!
We had a great Thanksgiving here in Toronto :) Celebrating the American Holiday!
Doug, Erick, Paul, Norman, my friend Dru, and myself had turkey, cranberry sauce, green beans, corn, gravy, potatoes :) and pie!
Hope everyone had a GREAT Thanksgiving!!!!!
November 28, 2003
Ok who is out shopping today? It is officially "avoid the mall day" right? :) I know my mother messaged me last night and said that she was going to be at the mall this morning. I am sure she is having a blast - NOT :)
Raining here, but snow is on the way. I would imagine we will pick up a few inches of the white gold!
More later
WE HAVE A NEW MEMBER OF THE FAMILY :)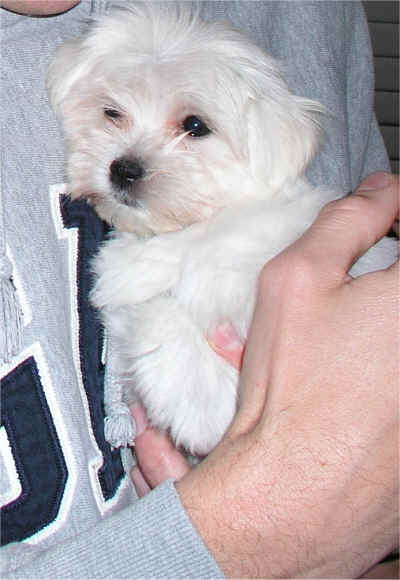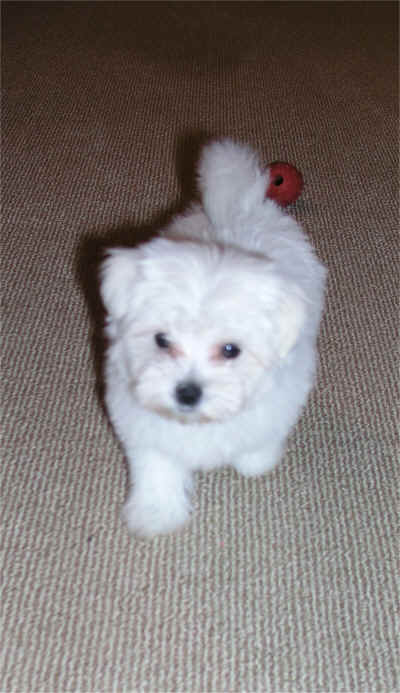 We have not named her yet. She is a Maltese puppy :)
I am sure mother will be HAPPY

Erick with Tiffany
Oh did I mention we named the puppy Tiffany, So this is Paul's puppy. He wanted a puppy. So there she is.
Went out this evening to eat at the Keg with David then back to 19 Earl Street.

David is in town for the weekend and on Sunday the BIG Christmas Lights display and fireworks show will be at Nathan Phillips Square. I am looking forward to that!
November 29, 2003

Hi everyone :) Well we barely got a dusting of snow. :( So much for the bigger snows, which remained north and west of the city! Maybe next week we can get something bigger here in Toronto. It rained most of the night. So that was a disappointment.
Not too much going on today, tired, hanging out around the house, cleaning and doing laundry.
I am struggling with some of my old habits. It is hard to get away from all of that here in Toronto. Some of the people that I hang out with (and that is the problem) like to party. I need to pull away from these friends. This is part of life now and I need to get control on these problems. It isn't easy though. I feel myself drifting. I feel myself slipping at times. I am pulled in two directions. Who would have thought freedom could be so hard. It is though. When you don't have direction you tend to get lost. I need to find direction. I need to stay away from the party scene. That was part of my life for so long. I just need to find new things to do with my time.
I definitely feel depressed. I can't seem to shake that feeling. There are moments of happiness and joy and then there are low spots where everything feels like it is closing in around you. I wake up at night - sometimes I can't sleep. I find it hard to be comfortable with who I am. There was so much drilled into my head growing up in church and since I have grown up as well. Sometimes it is hard to know what to believe. Sometimes it is hard to shake those beliefs that were never yours to begin with.
I am who I am. I was born this way. I can't change that which is inside of me. God created me this way...so I know that I am normal. I shouldn't try to change who I am either. I need to find happiness within myself.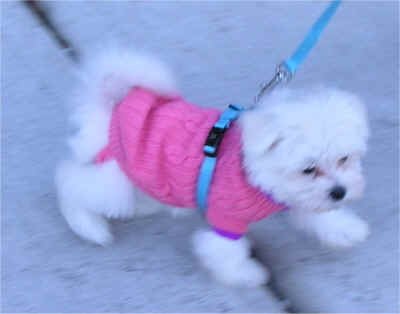 Tiffany out for a walk on the town


November 30, 2003
Good Sunday Morning, going to church this morning
with David and Norman.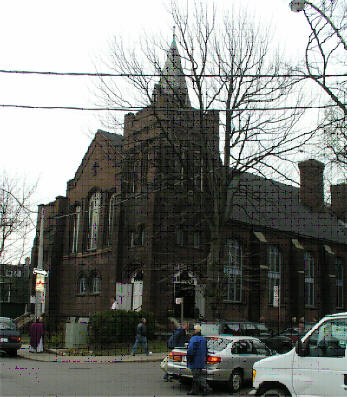 Church that we visited
OK WELL DECEMBER IS NOW HERE!
Time is moving as fast as ever.

Click Here For December!

------------------------------------------------------
------------------------------------------------------
RETURN TO HOME PAGE

RETURN TO AUGUST 1-17th
RETURN TO AUGUST 18th-31st
RETURN TO SEPTEMBER 1-9th
RETURN TO SEPTEMBER 10-30th
RETURN TO OCTOBER 1-15th
RETURN TO OCTOBER 15-31st
RETURN TO NOVEMBER 1-15th
RETURN TO NOVEMBER 16th

------------------------------------------------------

Email beaudodson @ usawx. com (remove spaces)
Derek Dodson
Beau Dodson