MAY 6th - 2004 ONE YEAR LATER

TORNADO RAKES PULASKI, MASSAC COUNTY, AND
POPE COUNTIES IN SOUTHERN ILLINOIS

RADAR SHOWING HOOK ECHO WHERE THE F4 TORNADO IS LOCATED NEAR NEW COLUMBIA, IN MASSAC COUNTY.
ONE YEAR LATER PEOPLE IN PULASKI, MASSAC, AND POPE COUNTIES CONTINUE TO PICK UP THE PIECES. SOME ARE STILL AWAITING HOUSING. MANY ARE STILL BATTLING INSURANCE COMPANIES. LIVES ARE STILL LIVED IN ANXIETY AT THE SOUND OF THUNDER.
ALTHOUGH THE SKY OVER SOUTHERN ILLINOIS TODAY IS CLEAR, AND FULL OF SUN, THE THOUGHTS ARE ON THE ANNIVERSARY OF WHAT HAPPENED ONE YEAR AGO TODAY.
A MEMORIAL SERVICE WILL BE HELD TONIGHT IN TWO LOCATIONS. ONE BEING THE COMMUNITY CENTER IN THE CITY OF METROPOLIS AND THE SECOND BEING AT OHIO CHAPEL UNITED METHODIST CHURCH ON TICK RIDGE ROAD.
WPSD CHIEF METEOROLOGIST CAL SISTO WILL BE SPEAKING TONIGHT. ALONGSIDE SHANE PARKER, MYSELF, AND STAFF FROM THE NATIONAL WEATHER SERVICE. WE WILL BE TALKING ABOUT WHAT HAPPENED THAT NIGHT LEADING UP TO THE TORNADO OUTBREAK. SHANE PARKER WILL BE DISCUSSING WHAT HIS FAMILY WENT THROUGH WHEN THEIR HOME WAS BLOWN APART AND I WILL BE SPEAKING ABOUT THE BOOK "TERROR IN THE NIGHT"
"TERROR IN THE NIGHT" HAS NOW RAISED OVER $30,000.00
THIS IS A DAY THAT WILL FOREVER BE REMEMBERED BY THOSE IN PULASKI, MASSAC, AND POPE COUNTIES IN SOUTHERN ILLINOIS. ALONG WITH MANY OTHERS IN THE SURROUNDING AREA.
THERE WERE MANY HEROES THAT NIGHT. MANY WHO WILL NEVER BE RECOGNIZED. BUT SUFFICE TO SAY THAT THE COMMUNITIES OF SOUTHERN ILLINOIS PULLED TOGETHER, AS ONE AND DID EVERYTHING THEY COULD TO HELP THOSE IN NEED.
------------------------------------------------------------------------------------------------------------------------------------------------------------------------------------------------------
THE ORIGINAL TORNADO PAGE THAT WE STARTED CLICK HERE


THE TORONTO WAR ROOM. WHERE WE RAN
EVERYTHING OUT OF MY BEDROOM.
What a difference one year makes for all of us involved.
CONVERSATION MY FAMILY HAD ON LINE WHILE THE TORNADO WAS HITTING CLICK HERE
PIECES FROM THAT CONVERSATION:

[22:55:27] ShadowAngel..: I see the tornado on radar northwest of
metropolis...looks near our old home place
[22:55:30] Deena: first reports of injury
[22:55:30] Deena: at hospital
[22:55:42] ShadowAngel..: mother says the winds are high at the
country club but she has seen worse...lots of lightning she
says

[22:55:42] Deena: hmmm
[22:55:52] ShadowAngel..: did the tornado hit cape girardeau as well
[22:56:28] Deena: can't say
[22:56:28] Deena: not sure
[22:56:53] ShadowAngel..: are they showing damage pics...
[22:56:59] Deena: yeah
[22:57:01] Deena: Carbondale
[22:57:01] Deena: now
[22:57:07] Deena: just storm
[22:57:36] ShadowAngel..: Deena the hook
[22:57:39] ShadowAngel..: on this tornado WOW on radar
[22:57:47] ShadowAngel..: I have never seen a storm like this in
Massac County
[22:57:55] ShadowAngel..: lights are flickering at mothers right now
she says
[22:58:00] Deena: ok
[22:58:04] Deena: taking a break on air
[22:58:06] Deena: commercials
[22:58:08] Deena: no
[22:58:10] Deena: they are back
[22:59:24] Deena: trees/powerlines down
[22:59:26] Deena: buildings down
[22:59:33] Deena: phone interview in jackson
[22:59:33] Deena: reporter
[22:59:38] Deena: lots of people walking around
[22:59:41] Deena: checking out damage
[22:59:46] Deena: looks severe she says
[23:01:15] Deena: severe storming in pope and northern massac now
[23:01:25] Deena: moving across on radar
[23:01:39] ShadowAngel..: deena this storm in Massac county has a big
hook on it
[23:01:51]
ShadowAngel..: there has to be a tornado on the ground
moving near new columbia I believe
[23:01:55] Deena: now this storm doesn't look anywhere near us
[23:01:59] ShadowAngel..: from what I am seeing it looks amazing...in Massac

[23:03:05] Deena: cal is on 6 right now
[23:04:29] ShadowAngel..: what is he saying
[23:04:41] ShadowAngel..: the tornado looks to move through or
northwest of new columbia from what I am looking at
[23:05:03] Deena: not much new
[23:05:08] Deena: back to 12
[23:05:38] ShadowAngel..: the velocity image I am looking at shows a
tight rotation in Massac County
[23:05:46] ShadowAngel..: in my opinion there is a large tornado on
the ground there
[23:05:48] Deena: no power in Cape
[23:06:06] ShadowAngel..: I have seen storms like this in Oklahoma and
Texas but in my 20 years I have never seen a storm like
this in Massac county
[23:07:20] ShadowAngel..: what else are they saying about damage
[23:07:54] ShadowAngel..: what are they saying now
[23:08:01] ShadowAngel..: I can not believe the size of this storm
[23:09:17] Deena: jackson interview
[23:09:19] Deena: golf ball hail
[23:09:29] Deena: no marble hill

[23:09:30] ShadowAngel..:
AT 955 PM CDT DOPPLER RADAR INDICATED A
SEVERE THUNDERSTORM CAPABLE
OF PRODUCING A TORNADO...3 MILES
NORTH OF JOPPA...MOVING EAST AT 20
MPH.

THIS STORM WILL IMPACT THE
COMMUNITIES OF ROUND KNOB AND MIDWAY.

THIS IS AN EXTREMELY DANGEROUS
STORM!

THERE WAS A REPORT OF A TORNADO
AT 956 PM ALONG TICK RIDGE ROAD NEAR
THE PULASKI - MASSAC COUNTY
LINE.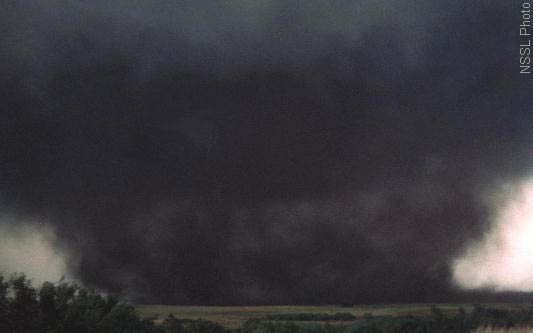 Photo from SPC - example of what the tornado may
have looked like


[23:09:37] Deena: tornado sirens going off again

[23:09:38] ShadowAngel..: tornado moved through our old home place
deena...I believe

---------
I was on the phone for FOUR TO FIVE HOURS with my mother listening to Cal Sisto and listening to my mother and grandmother. From time to time you could hear the TORNADO SIRENS going off in the background while they were taking shelter in the bathtub. I could also hear the sirens going off in Paducah on Channel Six through the phone line.
An INCREDIBLE scary night for my family and many others. I pray WE NEVER EVER EVER EVER see something like this again in our area.

Tornado Rips Apart This Home




Note truck in the trees - STRIPPED trees.



Top of a house, blown several hundred yards from the foundation.

-------------------------------------------------------------------------------------------------------------------------------
MY DAD SENT ME THIS THE DAY AFTER
The only survivor of a shipwreck was washed up on a small, uninhabited island. He prayed feverishly for God to rescue him, and every day he scanned the horizon for help, but none seemed forthcoming. Exhausted, he eventually managed to build a little hut out of driftwood to protect himself from the elements, and to store his few possessions.

Then one day, after scavenging for food, he arrived home to find his little hut in flames, the smoke rolling up to the sky. The worst had happened - everything was lost. He was stunned with grief and anger. "God, how could you do this to me?" he cried.

Early the next day, however, he was awakened by the sound of a ship that was approaching the island. It had come to rescue him. "How did you know I was here?" asked the weary man of his rescuers. "We saw your smoke signal," they replied.

It's easy to get discouraged sometimes when things appear to be going badly. But we shouldn't lose heart, because God is at work in our lives, even in the midst of pain and suffering. Remember, next time your little hut is burning to the ground, it just may be a smoke signal that summons the grace of God.

For all the negative things we have to say to ourselves, God has a positive answer for it.

You say, "It's impossible".
God says: "All thing are possible". (Luke 18:27)

You say, "I'm too tired."
God says: "I will give you rest". (Matt 11:28-20)

You say, "Nobody really loves me".
God says: "I love you". (John - J ohn )

You say, "I can't go on."
God says: "My grace is sufficient." (II Cor. 12:9 - Psalm 91:15)

You say, "I can't figure things out."
God says: "I will direct your steps." (Proverbs 3:5-6)

You say, "I can't do it."
God says: "You can do all things in Me." (Phil 4:13)

You say, "It's not worth it."
God says: "It will be worth it." (Romans 8:28)

You say, "I can't forgive myself."
God says: "I forgive you." (I John 1 :9 - Romans 8:1)

You say, "I can't manage."
God says: "I will supply all your needs." (Phil 4:19)

You say, "I'm afraid."
God says: "I have not given you a spirit of fear." (II Tim. 1:7)

You say, "I'm always worried and frustrated".
God says: "Cast all your cares on ME (I Peter 5:7)

You say, "I don't have enough faith."
God says: "I've given everyone a measure of faith." (Romans 12:3)

You say, "I'm not smart enough."
Go d says: "I give you wisdom." (I Cor. 1:30)

You say, "I feel all alone."
God says: "I will never leave you or forsake you." (Heb. 13:5)

Pass this on, you never know whose life may be in need of this today.

There are some weeks (and days) that we ALL feel our huts are burning.
-------------------------------------------------------------------------------------------------------------------------------
LETTER SENT TO CHIEF METEOROLOGIST CAL SISTO AND NEWS CHANNEL SIX THAT NIGHT

Attention Cal Sisto and the News Channel 6 Team
God bless you all for what you did on Tuesday Night, May 06, 2003 . I was on the phone with my mother for five hours as the tornadoes hit Massac County .
I watched it on radar and knew that this was a serious situation with a destruction tornado potential. The hook echo on that storm was incredible.
This is the worst tornado to ever hit Massac County . It will take a long time to recover from what has happened. I am thankful though that the community has a television station like WPSD TV 6 to bring people the latest information.
I have a sister in Graves County , Kentucky where one tornado hit. I have a sister in McCracken County, where a tornado touched down, and the rest of my family is in Massac County, which had several tornadoes. Some of my extended family, however, lost their homes. However, God watched over all of them through this storm. They are all safe and without injury.
My praise goes out to Cal Sisto, the Weather Team. and the News Channel 6 News Team. Your ability to maintain control under pressure was amazing. My mother left the phone on the chair by the television as they took shelter in the bathroom. I was able to hear Cal bring the tornado warnings as they poured in. I could tell in his voice that he knew what was going on and his concern for the people being affected. I could hear the tornado sirens in the background at both my mother and sisters on the television set. I know it was scary and intense for those on the air. But you all were steadfast and did what had to be done. You got the information out to the public.
My family thanks you and I thank you for a job well done. Your efforts saved lives on Tuesday Night.

God Bless You All.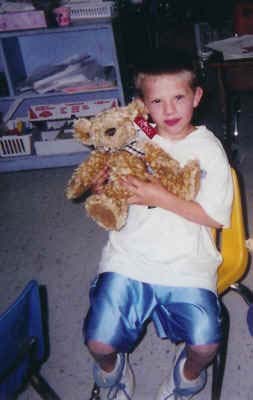 One of the 1200 teddy bears we gave
away to the kids in Pulaski, Massac,
and Pope Counties.
The National Weather Service Tornado Page CLICK HERE

ALL THE REPORTS OF SEVERE WEATHER THAT DAY.
RED SPOTS ARE TORNADOES
I WILL POST PICTURES FROM TONIGHTS' FORUM - LATER THIS EVENING
THE CONFERENCE TONIGHT WENT REALLY WELL, MANY SPEAKERS AND MANY MEMORIES WERE SHARED. AT TIMES THERE WAS LAUGHTER AND AT TIMES THERE WAS TEARS.

Before the meeting - by 7 p.m. it was packed out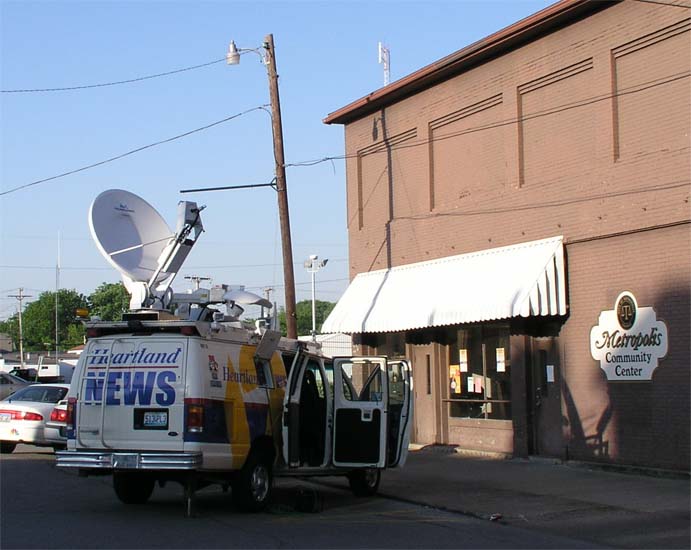 Channel 12, Channel 3, and Channel 6 were all there to cover the event.


Pastor Ruggles, Beau Dodson, Rick Shanklin Paducah, National Weather Service

Cal Sisto - Chief Meteorologist At WPSD TV 6

Me speaking about the Tornado Book

Julie Kohn spoke for awhile and talked about her husband and what an amazing person he was. She talked about how difficult the year has been and how many people have been there to help her out.
It was an emotional night, for everyone involved. A day that none of us will ever forget. A day that will forever be marked by what happened.
I have a lot of respect for those people who were able to come out tonight, to speak and be a part of the program. Also a lot of respect for those who survived this storm and were able and willing to come out and participate in the commemoration.
A sad day indeed in many ways. But the journey continues for everyone and as always there is a long road ahead of recovery.
THE NEXT DAY CLICK HERE

------------------------------------------------------
------------------------------------------------------
RETURN TO HOME PAGE

RETURN TO AUGUST 1-17th
RETURN TO AUGUST 18th-31st
RETURN TO SEPTEMBER 1-9th
RETURN TO SEPTEMBER 10-30th
RETURN TO OCTOBER 1-15th
RETURN TO OCTOBER 15-31st
RETURN TO NOVEMBER 1-15th
RETURN TO NOVEMBER 16th
RETURN TO NOVEMBER 17-30th
RETURN TO DECEMBER 1st-15th
RETURN TO DECEMBER 16th-22nd
RETURN TO DECEMBER 23rd-31st
RETURN TO JANUARY 1st-8th
RETURN TO JANUARY 9th-26th
RETURN TO JANUARY 26th-31st
RETURN TO FEBRUARY
RETURN TO MARCH 1st-9th
Return TO March 10th-27th
Return TO March 28th-30th
RETURN TO APRIL 1-11th
Return to April 12th-18th
RETURN TO APRIL 18th-27th
RETURN TO APRIL 28th-30th
RETURN TO MAY 1st-5th

Email beaudodson @ usawx.com (remove spaces)