JULY 2004 Continues
July 4th - 5th
TON of severe weather across the entire area, I caught a wall cloud and several funnel clouds in Calloway County, Kentucky this afternoon.
Paducah issued a tornado warning (this is Tuesday now).
WIDESPREAD damage in Tenn and Arkansas...and Southern Illinois from two severe squall lines...
More severe weather VERY likely tomorrow.
I went to Nashville and saw by far the BEST Fireworks Display EVER!!!! It was INSANE! :) I will try and post some pics in a bit here, having to rush because we are all going to see Spiderman shortly.
Ok let me see
Tornado photos below...
BULLETIN - EAS ACTIVATION REQUESTED
TORNADO WARNING
NATIONAL WEATHER SERVICE PADUCAH KY
101 PM CDT MON JUL 5 2004

THE NATIONAL WEATHER SERVICE IN PADUCAH KENTUCKY HAS ISSUED A

* TORNADO WARNING FOR...
NORTHERN CALLOWAY COUNTY IN WESTERN KENTUCKY

* UNTIL 130 PM CDT

* AT 1259 PM CDT...NATIONAL WEATHER SERVICE DOPPLER RADAR INDICATED A
SEVERE THUNDERSTORM CAPABLE OF PRODUCING A TORNADO OVER NORTHERN
RURAL CALLOWAY COUNTY...OR ABOUT 8 MILES NORTHEAST OF
MURRAY...MOVING EAST AT 35 MPH.

I drove up on the south side of the storms back end. A large wall cloud and a nice flanking line. The NWS issued a tornado right when I pulled the car over to start taking some pictures.
Here is the radar image of the storm...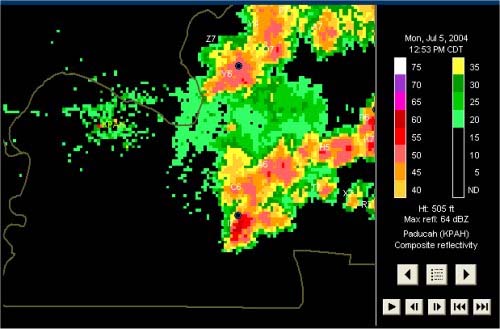 The cell is the bottom one here where all the red is

PHOTOGRAPHS OF TORNADIC CELL...
CALLOWAY COUNTY, KENTUCKY
Pictures taken between 12:45 and 1:15 p.m.

Flanking Line, back edge of the storm




Beginning of the second round of lowerings and funnel clouds




Funnel Clouds rapidly lowering - middle of picture




Wall Cloud and Funnel Clouds




Two distinct funnel clouds...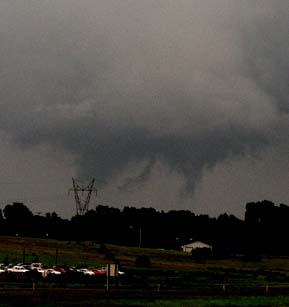 Funnels almost touching down - not close enough to tell




Funnel Clouds...



The Paducah Sun Newspaper is going to run one of the photographs tomorrow in the morning
edition :)
Ok let me see, back to the FOURTH OF JULY in Nashville, Tennessee!!!
I drove down there with my friend Matt and we ran into several thunderstorms. I came into Nashville right behind a severe thunderstorm with hail. But the rain stopped shortly after that and didn't cause any problems for the MASSIVE Fireworks Display!
The BEST fireworks I have EVER seen!!!!! I am really glad I drove down there :)

Photos from Nashville :)

U.S. Flag Draped Across A Building In Downtown Nashville

ALTHOUGH WE DIDN'T GO HERE, I THOUGHT THIS WAS REALLY FUNNY :) IT JUST SAID BAR ON IT - PRETTY RED NECK AYE?

Lots of laughs. I guess they do that so the drunks don't get lost :)

OK I mean, you are in Nashville - YOU HAVE TO SEE ELVIS!!!!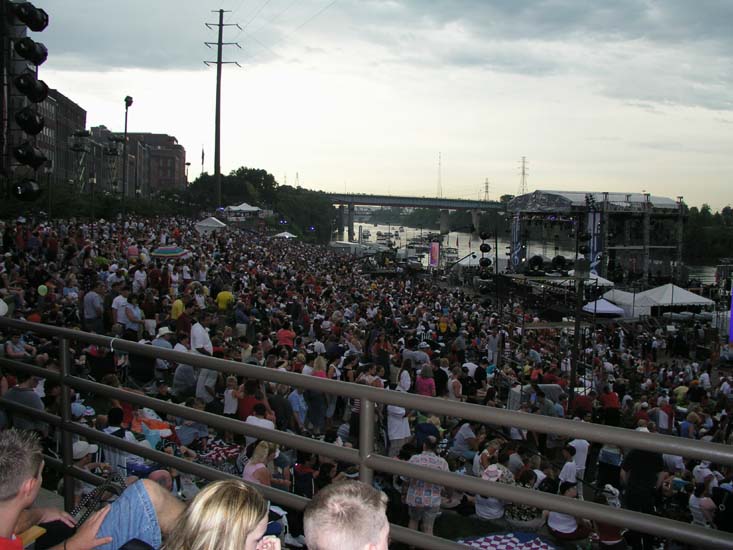 NASHVILLE TENNESSEE - 100000 PEOPLE ESTIMATED in Attendance
THIS WAS THE LARGEST DISPLAY EVER PUT ON IN THE CITY OF NASHVILLE!!!!
AND IT WAS INCREDIBLE!!!

NASHVILLE FIREWORKS!!!
July 6th...2004
EXTRA EXTRA READ ALL ABOUT IT
Two of my photos on the FRONT page of the Paducah Sun woohoo!
MAJOR SEVERE WEATHER OUTBREAK EXPECTED TODAY ACROSS THE ENTIRE AREA.
Current forecast is for a large squall line to develop later this afternoon and into the evening hours.
WIDESPREAD DAMAGING WINDS AND HAIL ARE LIKELY WITH THESE STORMS, TORNADOES ARE ALSO POSSIBLE TODAY.
NOON
Severe storms rapidly developing across the area, a weather watch will be issued shortly
Severe weather all around us - severe thunderstorm warnings out for numerous counties.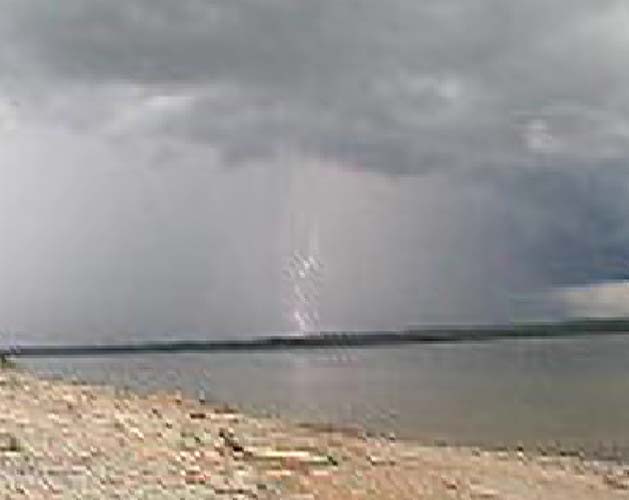 Lightning...




Severe Thunderstorm in Pope County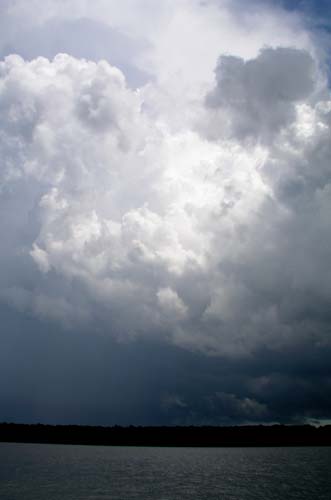 Thunderstorms




Thunderstorms - Cumulus Clouds




Pope County - stormy clouds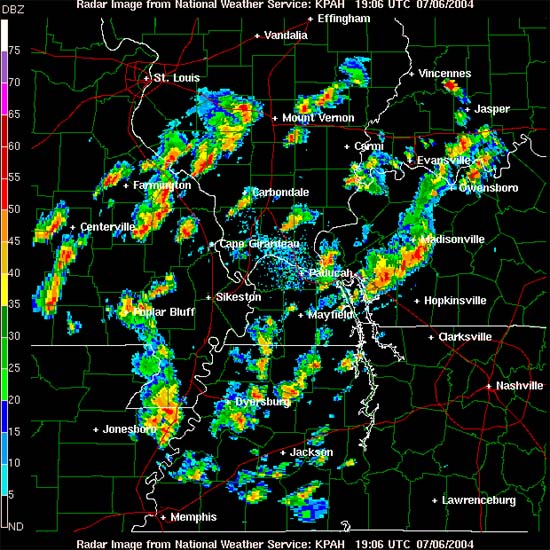 Lots of storms....

SEVERE THUNDERSTORM IN PULASKI COUNTY, ILLINOIS. I went chasing and spotting this afternoon. VERY heavy rainfall in portions of Pulaski County. Paducah had a severe thunderstorm warning issued but I did not see any hail or wind. BUT Junior and I did catch a BEAUTIFUL RAINBOW!!!!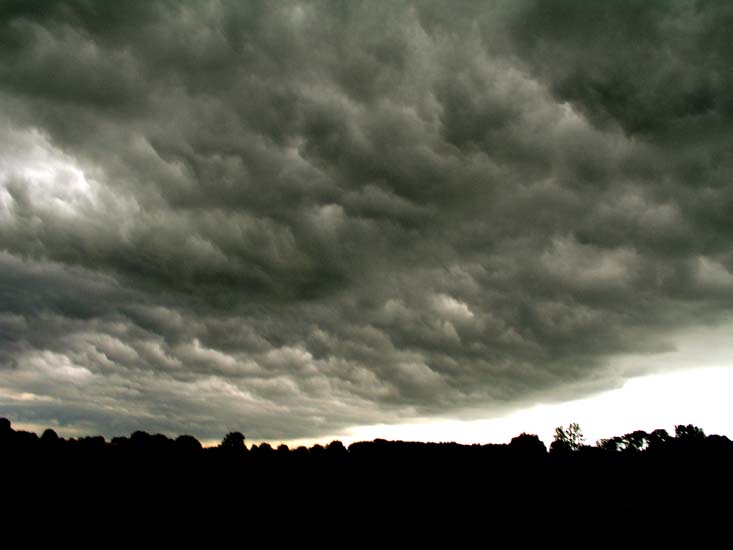 Clouds over Massac County from the severe storm to the west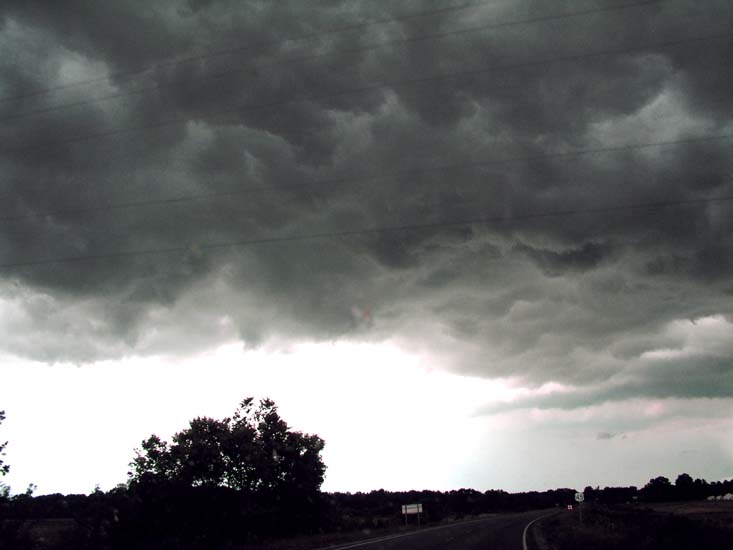 Gust Front in Massac County, Illinois





Rainbow in Pulaski and Massac County Illinois




Pulaski Rainbow

Pulaski County and Massac County, Illinois 5:40 p.m.




July 6th rainbow, Southern Illinois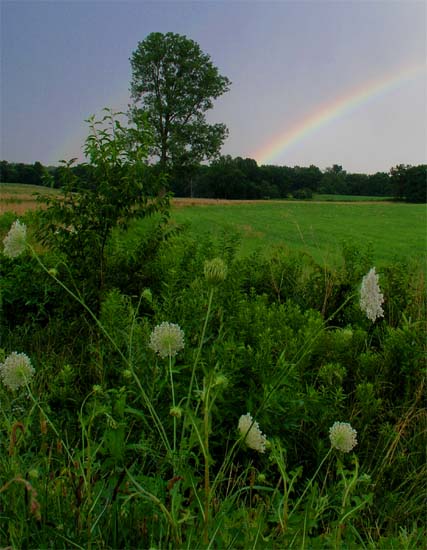 Pulaski County and Massac County, Illinois
MORE SEVERE STORMS NOW THIS EVENING

Paducah Radar 8:06 p.m. Severe thunderstorm
BULLETIN - IMMEDIATE BROADCAST REQUESTED
SEVERE THUNDERSTORM WARNING
NATIONAL WEATHER SERVICE PADUCAH KY
806 PM CDT TUE JUL 6 2004

THE NATIONAL WEATHER SERVICE IN PADUCAH KENTUCKY HAS ISSUED A

* SEVERE THUNDERSTORM WARNING FOR...
EASTERN BALLARD COUNTY IN WESTERN KENTUCKY
MCCRACKEN COUNTY IN WESTERN KENTUCKY

* UNTIL 845 PM CDT

* AT 806 PM CDT...NATIONAL WEATHER SERVICE DOPPLER RADAR INDICATED A
SEVERE THUNDERSTORM 5 MILES SOUTH OF LA CENTER...MOVING EAST AT 30
MPH.

* LOCATIONS IMPACTED INCLUDE BARLOW...BLANDVILLE...GRAHMVILLE...
HEATH...KEVIL...LONE OAK...LOVELACEVILLE...PADUCAH AND REIDLAND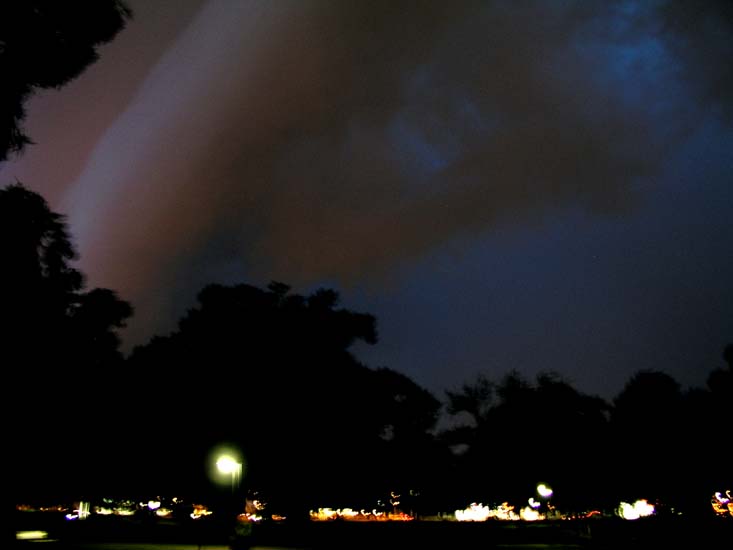 Noble Park Severe Thunderstorm - Gust Front ahead of the storm with 50 mph winds



Noble Park, lights hitting the clouds over Paducah right before severe thunderstorm hit.


SOOOOOOOOOOOOOOO, UMMMMM yeah we have had our share of storms this week! :) Actually this whole Summer and Spring. That is for sure. This has probably been the most photogenic seasons I have ever experienced. Being at the right place at the right time has helped.
Wednesday, July 7th, 2004
I have to go to take someone to the Children's Hospital in St Louis today, so I will be gone all day and into the evening. Not sure if we have to stay up there tonight or if we will come back.
Getting ready also for my big move. I have a thousand things to do around here. I guess I will try to get it all finished as soon as possible.
David will be coming to visit on the 16th, which I believe is next Friday.
We are going to work on the media room and the basement - not sure what else :)
Sooooo lots and lots going on.

On to the next page, this one has a lot of pictures sooo moving on :) CLICK HERE

------------------------------------------------------
------------------------------------------------------
RETURN TO HOME PAGE


RETURN TO AUGUST 1-17th
RETURN TO AUGUST 18th-31st
RETURN TO SEPTEMBER 1-9th
RETURN TO SEPTEMBER 10-30th
RETURN TO OCTOBER 1-15th
RETURN TO OCTOBER 15-31st
RETURN TO NOVEMBER 1-15th
RETURN TO NOVEMBER 16th
RETURN TO NOVEMBER 17-30th
RETURN TO DECEMBER 1st-15th
RETURN TO DECEMBER 16th-22nd
RETURN TO DECEMBER 23rd-31st
RETURN TO JANUARY 1st-8th
RETURN TO JANUARY 9th-26th
RETURN TO JANUARY 26th-31st
RETURN TO FEBRUARY
RETURN TO MARCH 1st-9th
Return TO March 10th-27th
Return TO March 28th-30th
RETURN TO APRIL 1-11th
Return to April 12th-18th
RETURN TO APRIL 18th-27th
RETURN TO APRIL 28th-30th
RETURN TO MAY 1st-5th
RETURN TO MAY 6th
CLICK HERE TO MAY 7th-16th
RETURN TO MAY 17th-29th
RETURN TO MAY30th-June 1st
RETURN TO JUNE 2nd - June 11th
RETURN TO JUNE 11th-17th
RETURN TO JUNE 18th-26th
RETURN TO JUNE 27th-30th sunsets :)
RETURN TO JULY 1st-3rd, 2004
RETURN TO JULY 4th, 2004


Email: beaudodson @ usawx.com (remove spaces)