METEOROLOGICAL FALL IS HERE!

September 2004
NIGHTMARE SCENARIO SHAPING UP FOR THE SOUTHEAST UNITED STATES.
FRANCES NEARING CATEGORY FIVE STRENGTH, THIS MORNING
Winds are gusting over 170 miles per hour
This is a catastrophe in the making for Florida.
Massive evacuations are going to start soon
This is an extremely dangerous hurricane. Frances opens September with a somber reminder that we are now in the middle of the 2004 hurricane season. Watch out Palm Beach and surrounding areas.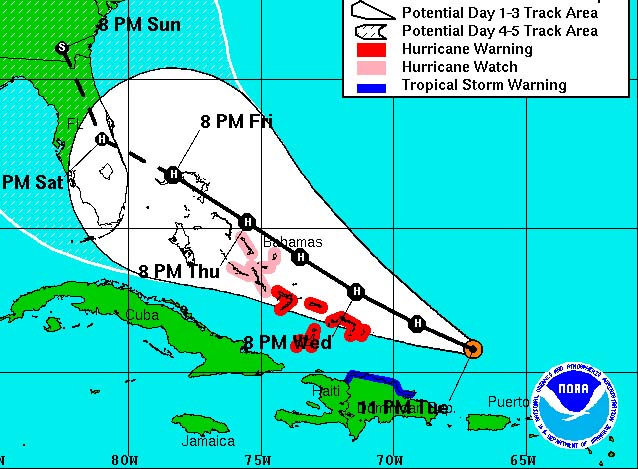 The forecast path for Frances
---------------------------
Wednesday Morning - 10 a.m.
Frances needs to turn SOON in order to miss Southern Florida. If Frances doesn't start to make that turn then Miami will be threatened. The next stop would be the Gulf of Mexico.
I believe she will turn, but it has to happen soon.

Today is the biggest kids holiday in Russia and Terrorists have hijacked it.
Unbelievable, Islamic Terrorists associated with Al Quada and Chechnya have taken over a school in Russia. Hundreds are reportedly held hostage. Many of those are children ages 7 - 8 - 9- 10 -11 years old.
The terrorists are strapped with explosives and have already killed eight people.
This comes after yesterdays subway explosion and the two airplanes the terrorists brought down last week.

Terrorism in Russia
---------------------------------------------------------------------------------
I went to see grandmother this morning and she was kind of out of it. Her meds really mess with her. She was like a zombie :( She is a lot better in the afternoon and evenings. We are trying to break up our visits through the day though. Mother is going this afternoon.
They did take an X-ray of her shoulder and I hope to know more this afternoon as to her progress in healing.
Mother continues to improve :) She still is not driving though, maybe this weekend if she behaves. :)
My table and chairs have FINALLY arrived. Now I have a place to sit down and eat :) YAY

Table and chairs have arrived!

YAY :)
----------------------------------------------------
Hundreds of thousands ordered to evacuate Palm Beach Co.
02:49 PM EDT on Wednesday, September 1, 2004
-----------------------------------------------------

Norman had surgery today. I am waiting to hear some news from up there. He said to keep him in everyone's prayers!
September 2, 2004
A CATASTROPHE IN THE MAKING. SOUTH FLORIDA NOW A DIRECT TARGET FOR HURRICANE FRANCES
WINDS ARE NOW WITHIN 10 MILES PER HOUR OF A CATEGORY FIVE. FRANCES WILL FLUCTUATE IN INTENSITY DURING THE NEXT 2 DAYS AS SHE SLAMS THE BAHAMAS.
MIAMI NORTHWARD INTO PALM BEACH. PRIME TARGETS FOR A DIRECT HIT
THIS WILL BE THE WORST HURRICANE TO STRIKE FLORIDA SINCE HURRICANE ANDREW
--------------------------------
The Red Cross called and wanted to send me to Florida :) I told them what all was going on right now with mother and so on. They said they would check back with me in a couple of weeks. So perhaps later in September I will go down there.
--------------------------------
Mother drove today for the first time :) So that is good news!!!!
Friday, September 3rd
Frances has weakened to a Cat 3 hurricane with winds of around 125 miles per hour.
It is my belief that she will continue to maintain or weaken a bit more before she explodes tonight and tomorrow.
She is currently moving north/northwest. Eventually Frances should turn west and make landfall somewhere around or north of Miami, Florida.
It is still my forecast that she becomes a Cat 5 hurricane. I believe she will hit as a Category 4 hurricane.
She is still a dangerous hurricane this morning.
Heading out here, be back later to see how my forecast is going. :)
North Korea says it is going to test a nuclear bomb in October. An October surprise...scary stuff!
--------------------------------
I went to the nursing home this morning and grandmother was having a hard time breathing. She kept telling me she couldn't breath. We got the nurses in and decided to take her to the hospital. She is at Lourdes now. They are going to keep her tonight.
--------------------------------


NIGHTMARE IN RUSSIA....

MORE THAN FOUR HUNDRED IN THE HOSPITAL.
TERRORISTS HAVE KILLED AN UNKNOWN NUMBER OF PARENTS AND THEIR CHILDREN.
CHILDREN WERE SHOT...PARENTS WERE SHOT IN THE BACK...KIDS WENT 2 DAYS WITHOUT FOOD OR WATER.
PHOTOGRAPHS FROM RUSSIA - GRAPHIC
http://www.freerepublic.com/focus/f-news/1206696/posts
AN ABSOLUTE NIGHTMARE.


Friday Night
TRACKING THE STORM

Me in the media room :)
Frances has lost strength. There is still some potential for her to regain intensity but time is running short. Thankfully winds are down to around 105 miles per hour. Still a very dangerous hurricane. She is over the Gulf Stream tonight. Very warm waters.
Flooding is going to be a huge problem in Florida.
Expect damage to run into the billions of dollars.
SATURDAY, September 4, 2004
FRANCES HITS FLORIDA

WILL MOVE ASHORE TONIGHT.
WINDS GUSTING OVER 140 MILES PER HOUR LIKELY. SUSTAINED WINDS OF 105-115 MILES PER HOUR.
RAINFALL AMOUNTS OF 10-20 INCHES LIKELY OVER A WIDE AREA
Afternoon Frances on radar - CONTINUES TO POUND FLORIDA
Grandmother is still in the hospital. She is doing better and should be back at the nursing home tomorrow. That is what the DR. told us today.
SATURDAY 10 p.m.
Now the big question is what next? Does she regain strength eventually in the Gulf of Mexico?
Possibly. Stay tuned on that one.
I believe flooding rains will likely hit the Birmingham, Alabama area! Rains could even spread all the way to the Paducah!
We will have to keep an eye on Frances! She is not finished by a long-shot.
Frances will continue to pound Florida through Sunday.
FORECAST RAINFALL MAP FOR THE NEXT FIVE DAYS (THIS IS SUBJECT TO MAJOR CHANGES)

Rainfall Forecast
The Red area is 3-5 inches
The Yellow and Green area is 8-12 inches!!!!
STAY TUNED
SEPTEMBER 5, 2004 :) FREEDOM DAY!
It was one year ago today that we won our court victory in Birmingham, Alabama!!!!!
So much has happened in the past year. Oh my gosh :) I can hardly believe how far we have come. There have been a lot of great things happen and there has been a lot of sadness. What a year! That is for sure.
:) Thank you to everyone who helped make that court victory possible!!!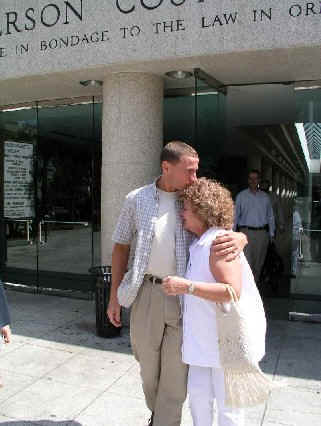 A day we will never forget!!!!!
A look back Click Here :)
----------------------------------------------------
Danielle's birthday is today :) So we are having a little party at grandmothers. She is still in the hospital but will be released back to the nursing home today.
Frances continues to POUND Florida this morning. It will be there alllllll day long. Eek...
Latest computer models take Frances a bit further east than earlier forecasts.
I have my doubts about the Paducah area getting a lot out of this storm. I believe it will be further east.
Alabama and Georgia though may still be under the gun. Looks like a lot of flooding in some areas. Have to watch the track carefully.
HURRICANE IVAN HAS FORMED AND IS MOVING THROUGH THE MIDDLE ATLANTIC. THIS HURRICANE WILL HEAD FOR THE CARIBBEAN IN A FEW DAYS. COULD WE SEE ANOTHER US HIT?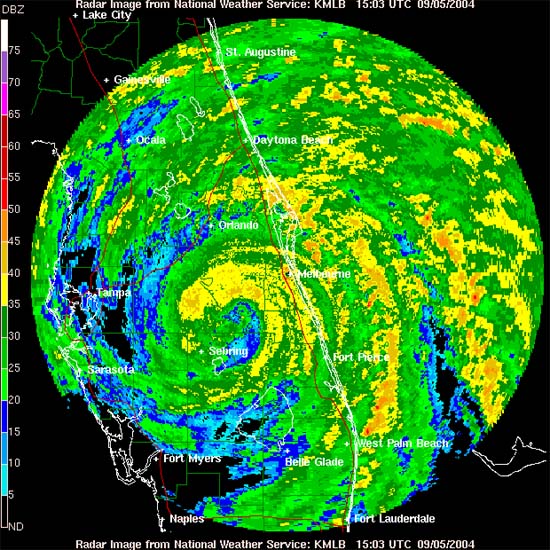 FRANCES RAKKKKEESS FLORIDA. LOOK AT ALL
THE RAIN ON RADAR!

THIS PAGE IS STARTING TO GET LONG :)

CLICK HERE

------------------------------------------------------
RETURN TO HOME PAGE

RETURN TO AUGUST 1-17th
RETURN TO AUGUST 18th-31st
RETURN TO SEPTEMBER 1-9th
RETURN TO SEPTEMBER 10-30th
RETURN TO OCTOBER 1-15th
RETURN TO OCTOBER 15-31st
RETURN TO NOVEMBER 1-15th
RETURN TO NOVEMBER 16th
RETURN TO NOVEMBER 17-30th
RETURN TO DECEMBER 1st-15th
RETURN TO DECEMBER 16th-22nd
RETURN TO DECEMBER 23rd-31st
RETURN TO JANUARY 1st-8th
RETURN TO JANUARY 9th-26th
RETURN TO JANUARY 26th-31st
RETURN TO FEBRUARY
RETURN TO MARCH 1st-9th
Return TO March 10th-27th
Return TO March 28th-30th
RETURN TO APRIL 1-11th
Return to April 12th-18th
RETURN TO APRIL 18th-27th
RETURN TO APRIL 28th-30th
RETURN TO MAY 1st-5th
RETURN TO MAY 6th
CLICK HERE TO MAY 7th-16th
RETURN TO MAY 17th-29th
RETURN TO MAY30th-June 1st
RETURN TO JUNE 2nd - June 11th
RETURN TO JUNE 11th-17th
RETURN TO JUNE 18th-26th
RETURN TO JUNE 27th-30th sunsets :)
RETURN TO JULY 1st-3rd - 2004
RETURN TO JULY 4th - 2004
RETURN TO JULY 4th-7th - 2004
RETURN TO JULY 7th-10th - 2004
RETURN TO JULY 11th-22nd - 2004
RETURN TO JULY 22nd-31st - 2004
RETURN TO AUGUST 1st-12th - 2004
RETURN TO AUGUST 13th-25th - 2004
RETURN TO AUGUST 26th-31st - 2004
------------------------------------------------------


Email: beaudodson @ usawx.com (remove spaces)