October 16th - 31st
October 16, 2003
Welcome :) October is FLYING by, where does the time go???
Maybe I can go out and find some colorful leaves to photograph. ;) Will work on it!
Going to the hospital later this morning, will be there on and off through the day. See what we can do to help
grandmother get better :) Otherwise, hmmmm packing for my trip to St Louis this weekend.
I am meeting David in the city behind the Arch :) I will leave early on Friday Morning and will return Monday Night.
We have 10,000 things to talk about. everything from immigration issues, moving back to Toronto, to what part of
St Louis we are going to explore! Oh yeah, there is also a Silver Dollar Show. Both of us collect coins so we
will stop by the convention hall.
Ok will keep everyone updated through the day, as to what the DR says about grandmother. Maybe she will
let me snap a photo.
evening...
Well, I been at the hospital most of the day. Grandmother is doing a bit better, she is kind of stiff and not walking
that well. But she will be ok. They have moved her to the rehabilitation floor so they can work with her some and
teach her some new exercises. This is her with her angel bear :)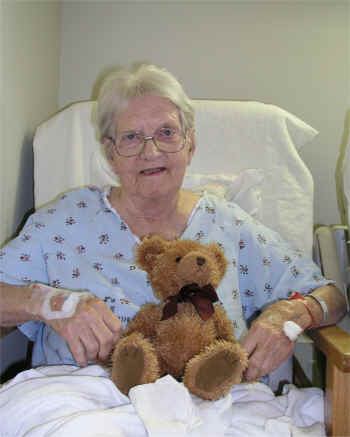 I told her that everyone has been asking about her and passed along your thoughts and prayers.
October 17, 2003
I am heading to St Louis this morning, leaving around 8 or so. I will be meeting David there,
we are going to a Silver Dollar Show and talking about all kinds of items that we are working to
resolve, like immigration issues and so on.
Will try to post some photos from up there if I can get everything working :)
More Later...
Arriver in St Louis :) Very sunny here!
The drive up here was beautiful, there were fiery red, orange, and yellow trees everywhere! I smiled just
looking around at all the awesome fall colors! VERY NICE!

View from the Tom Sawyer Paddle-Boat

David made it here before I did, as his plane was early.
We went down to the St Louis Arch and then to a paddle boat named the Tom Sawyer.
See photo below here. We went out for about an hour or so and it took us up and down
the Mississippi River.

Tom Sawyer Paddleboat
We are going to check to see if the movie "Run Away Jury" is playing and we might go see that.
Otherwise that it is for now - spoke with grandmother on the phone and she is doing just fine. Said she is
about ready to go home, but being patient. I think they will send her home tomorrow :)
She has to be better because next week I am taking her and mother to Branson!
More later...

David and I went to see the movie "Runaway Train" based on the book by Josh Grisham, spelled that right I think :)
It was a good movie, I give it a B- on the scale.
1 a.m. now so I better go to bed.

October 18, 2003
:) Having a great time here in St Louis. We are going to the Silver Dollar Show today then perhaps
to the botanical gardens.
Should be a fun adventure on both accounts.
Going to get ready now will post more later and some photos.

afternoon...
Back from the coin show, found some reallllllllly kewl Rainbow Morgan Dollars :) - four to be exact.
We went to the Missouri Botanical Gardens after the coin show and that was fun. It is really nice out
today so it made for a good walk through all of the different sections of the park. Hundreds of flowers
and different kinds of plants - very nice and peaceful (always a good way to feel).

At The Botanical Gardens...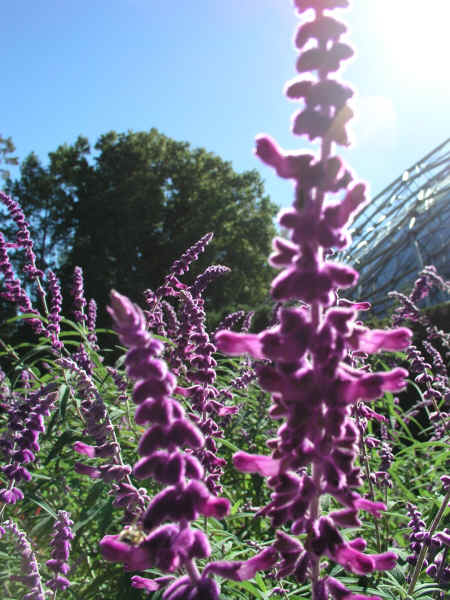 Botanical Gardens... More flowers at the gardens...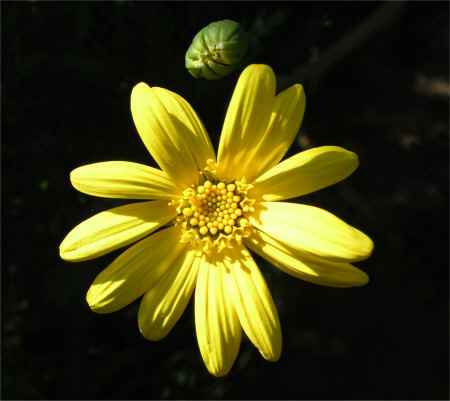 Botanical Gardens...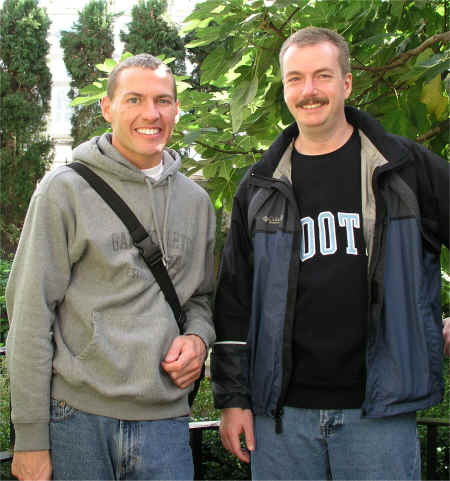 David and Beau...at the Botanical Gardens In St Louis, MO
Evening...

Spent the evening talking and going over things like immigration and the like.

We went to eat at a blues restaurant. The live band didn't start till after
10 p.m. We got there at 8 :) So anyway, we were out of there before the real action started.
Had fun though, neat little place on the west side of the city.
Cool night here in St Louis temperatures in the 50s. Not bad though for this time of year!
October 19, 2003
Well it is sunny outside and warmer today. We are spending most of the day working on immigration
issues, filling out paperwork.
October 20, 2003
Well - hmmm it is already October 20th? Geesh, ok well time continues to fly by,
Still in St Louis :) the Gateway to the West. Beautiful day outside, sunny and HOT today - yeah I said HOT.
It is almost 90 here!!!! Can you believe that? Record High Temperatures! Cold front coming tonight
and tomorrow, so cooler weather is on the way.
David and I spent yesterday working on immigration issues. We spent the entire day and evening on
the subject. So that was fun:) Actually we did have fun putting it all together. I believe we are just
about finished! So that is good news.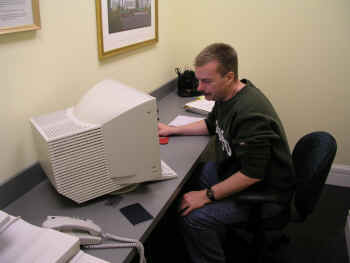 David - the immigration project :)



Talking to mother on the cell phone - while copying documents
Today we are working on other issues and trying to figure out my return to the big snowy city of
Toronto. Perhaps in a few weeks.
...Evening
Well I made it home! It was an amazing drive back, the colors are more vibrant now than even a
few days ago. Brilliant orange, yellow, and red trees. Hundreds of them line the interstate.
It is like driving through a set of watercolors with splashes of color in every direction that you look.

Driving down the interstate
God's paintbrush has certainly been busy!
Grandmother is in the nursing home for a few days, she is doing fine though. She can't wait to get out
I am sure. They are doing rehabilitation exercises with her.
We are going to Branson, Missouri this weekend and I know she will love that! Can't wait!
October 21, 2003
Tuesday Morning it is, what a few weeks this has been. Emotional Rollercoaster? Perhaps that would be
the best way to describe it. The fall colors are brilliant, they are getting better and better with each passing day. I
guess if you are going to ride a roller coaster you can at least have something pretty to look at along side the
path...as you journey on.
Got the car ready for Branson, Missouri this morning. Tires rotated and oil changed and yada yada yada :)
Then I went to pick grandmother up. We drove all around Metropolis and Paducah looking at the amazing colors.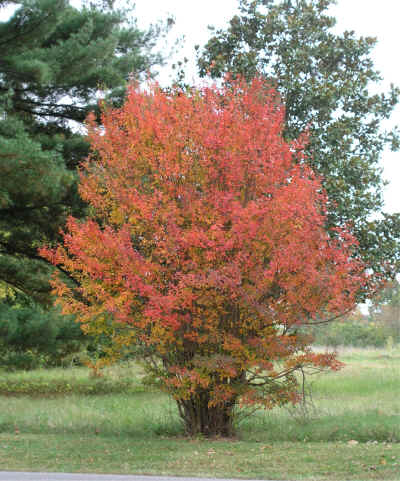 After that we went to Crackle Barrel to eat lunch. :) Grandmother always loves Crackle Barrel as she always orders
the same thing, breakfast :) with no grits!



Larger image click here
David brought Cheetah something back from China :)
-------------------------------------------------------------
Tomorrow morning if you wake up
And the sun does not appear,
I will be here.
If in the dark we lose sight of love,
Hold my hand and have no fear,
'Cause I will be here.

I will be here when you feel like being quiet;
When you need to speak your mind, I will listen.
And I will be here when the laughter turns to crying;
Through the winning, losing, and trying, we'll be together,
'Cause I will be here.
Tomorrow morning if you wake up
And the future is unclear,
I will be here.
As sure as seasons are made for change,
Our lifetimes are made for years,
So I will be here.

I will be here, and you can cry on my shoulder;
When the mirror tells us we're older, I will hold you.
And I will be here to watch you grow in beauty,
And tell you all the things you are to me;
I will be here.
I will be true to the promise I have made,
To you and to the One who gave you to me.

Steven Curtis Chapmen...song
-------------------------------------------------------------
Photo I just scanned from this past weekend :)
David and Beau - Boat Ride on the Mississippi River - St Louis, Missouri

October 22, 2003

Well it is a beautiful sunny day here :) I read the forecast for Toronto and SNOW FLURRIES is in the
forecast almost every single day this week! Some of my friends in the Northeastern United States also
have snow in their forecast, several inches of the white stuff as a matter of fact! So Winter is right
around the corner! I can't wait for those first flakes. I love snow!!!
Anyway, getting ready for the Branson, Missouri trip need to pack and go to the bank and do all of that good stuff.
Will likely go see grandmother later this afternoon or evening.
Ok, well - lots to do
Took grandmother and Mariah (who is on fall break this week) to Montegos for lunch. We had fun :)
Grandmother is doing really well and is excited about the weekend trip to Branson, Missouri.
October 23, 2003

We are leaving this morning around 10:30 a.m. Mariah is going with us now along with mother
and grandmother. I will do my best to keep the page updated and post photos as we go along this weekend :)
The weather is looking like it might
turn wet and cool, hopefully not.
Should be a nice drive over there with all the colorful leaves along the way. Grandmother likes to
see the fall colors.
Ok well I will post more this evening or later tonight :) Take care everyone!
SARAH MCLACHLAN CD COUNTDOWN :) 12 more days until her new CD comes out!!!!!


BRANSON,MISSOURI....

5:00 p.m. -we have all made it safely to Branson :) It was a nice ride over here, lots of colorful
trees along the way. Grandmother sat up front and enjoyed the view, I drove up until the
last hour then I let mother drive the rest of the way. We are regrouping here and trying to
figure out what we are doing tonight.
Will try to update from time to time :)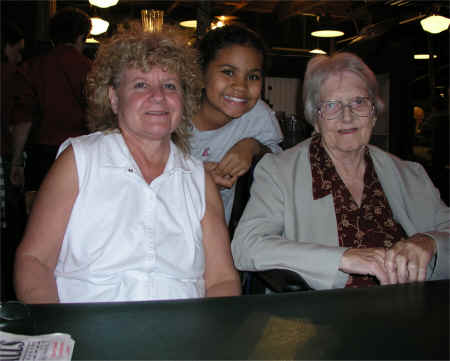 Mother, Mariah, and Grandmother at the restaurant - Branson, MO
October 24, 2003
Woke up at 4 am thinking it was 7 :) Never a good thing...
Tired, but ready to go here in Branson. We are going to Silver Dollar City Today, that is like a Western Town with
cowboys and rides, with lots of crafts and arts, music shows, and so on. Should be a lot of fun. Tonight we
are going to a musical show - The Presleys.
SILVER DOLLAR CITY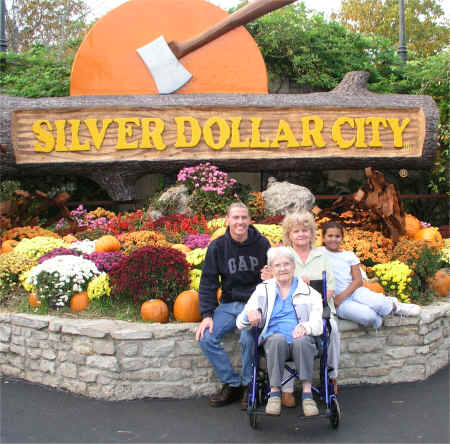 |
Having a GREAT DAY :) Grandmother with THREE generations of family!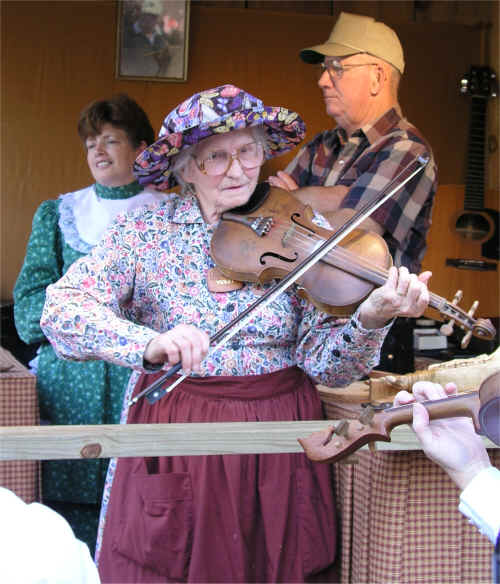 She can play that fiddle!!!!



The Pumpkin, our tour guide for the day :)

Grandmother and mother

Grandmother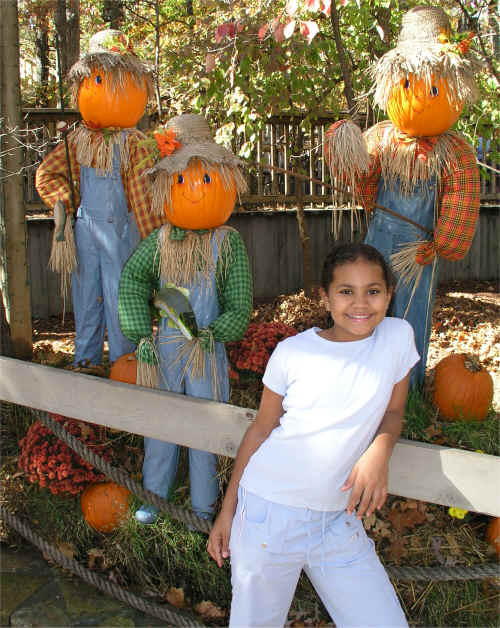 Mariah Willett (my niece)
Photos from the day....

Grandmother in front of the Old Mill - Silver Dollar City
Mother and me :) Enjoying the wonderful day..
Grandmother leaving the old Saloon...ummm she swears she didn't drink
Mariah with her new found friend
CALL BRETT BLOOMSTON AND KRISTY PLEASE
Mother...and me overlooking the Ozark Mountains
Mother and Grandmother...in the Ozark Mountains
SMILE :)
Ok we are going to see the music show The Presleys...MORE LATER :)
Well the Presleys Entertainment Show was really nice. Lots of country music, gospel music, and some patriotic
music. Everyone had a really good time!

Waiting for the show to start

The Presleys
More photos...

Well I asked mother who she wanted her picture with and she said "wait let my find one of the cute ones"
Mother with one of the singers
Mariah with some of the lady singers

This is our Dance...this is our Song
A melody of happiness
...all those musical notes floating through the air
What a wonderful...beautiful...magnificent
...orchestrated piece of music this Summer and Fall have been.

From the smiles...to the tears
it is a dance that I would not give back for anything in the world
Had a known all of the amazing things that would happen

the sunrises
the sunsets

had I known all the happiness and laughter
had I know all the sadness and pain
had I known all of it beforehand

I would have said...only in my dreams...
only in my dreams
those dreams...that I wrote about years ago
while in Toronto

longing to see my family...
...waiting to see my friends

A fairytale...a tale that could only be found in a book
a novel
a movie
but not in reality
It is that magical land
that as a child...your imagination takes you to

It is that place
that as a child
...when you lie your head on a pillow
when your mother is singing a soft soft lullaby
where you drift...into your dreams
that place...that magical magical place we call dreamland...

It is that place that we have been
this past summer and now
...into the fall
What we have been through
where we have gone
where we are going
...doesn't just happen
there is something greater at work here...that none of us understand

there are miracles...and there are wonders
and then there is this story
this story of beautiful sadness
that has yet to finish
...but has only just begun

where is this ship we call life taking us
what wonders lie ahead
what happiness
what sadness
what laughter
what crying

....and the curtain closes on another day
on this stage
we call life
-beau
October 25, 2003
I was listening to the television late last night and they played this video by Mariah Carey.
I think one of my friends will appreciate the words
When You Believe...
Many nights we pray
With no proof anyone could hear
And our hearts a hopeful song
We barely understand
Now we are not afraid
Although we know there's much to fear
We were moving mountains long
Before we know we could

There can be miracles
When you believe
Though hope is frail
It's hard to kill
Who know what miracle
You can achieve
When you believe
Somehow you will
You will when you believe

In this time of fear
When prayer so often proves in vain
Hope seems like the summer birds
Too swiftly flown away
And now I am standing here
My heart's so full I can't explain
Seeking faith and speaking words
I never thought I'd say

There can be miracles
When you believe

Though hope is frail
It's hard to kill
Who know what miracles
You can achieve

When you believe
Somehow you will
You will when you believe


They don't always happen when you ask
And it's easy to give in to your fear

But when you're blinded by your pain
Can't see you way safe through the rain
Thought of a still resilient voice
Says love is very near

There can be miracles

When you believe

Though hope is frail
It's hard to kill
Who know what miracles
You can achieve

When you believe
Somehow you will

You will when you believe
You will when you believe

Just believe
You will when you
Believe
Mariah Carey
------------------------------------------------------------------
Today we are going on a Showboat, located on Table Rock Lake. Table Rock Lake is just north of Branson,
Missouri. Then tonight we are going to see a magic show.
So lots and lots to do :) Will post photographs when I have time.
Rain and colder air has moved into this area so no more 80 degree weather. Did I mention the other night, that
Toronto had snow flurries already??? David, in Waterloo, had a dusting!!!
more later...
Late Afternoon - Update
The Branson Belle Showboat was lots of fun. They had a nice dinner, chicken and steak, among other things.
Then they had four different shows. Some of it was comedy and some of it was singing. The weather was rainy
though, so not a lot to see out on the deck :)
It is a huge boat though!

The Branson Belle Showboat


Grandmother with a Southern Bell
Branson Belle - Singers and Dancers


Mother...Grandmother and me on the deck of the Branson Belle COLD :) (The temperature here in Branson
has fallen FORTY degrees in the past 24 hours, it was 85 yesterday and right now it is 45 degrees and still falling)


After we left the Showboat, we drove around Branson for a little bit and decided to go to the Wax Museum :)



The Yellow Brick Road



Follow...follow...follow...the yellow brick road


Mariah Willett

Now we are back at the hotel for some rest :)
Tonight we are going to see the Chinese Acrobats :)
Chinese Acrobats were really cool, they did some AMAZING stunts and that is an understatement!
Unbelievable what these guys can do. :)
October 26, 2003
Sunday - turn those clocks back :) I woke up at 8 but it was really 7!
Sun is out but it is COLD, temperatures in the 30s! Ack...on that
Not sure what we are doing this morning, Mariah doesn't feel good.

We are going to a Gospel Singing this afternoon and a magic show tonight. I thought the magic show was last night,
but last night was the Chinese Acrobats.
Ok well so easy to get confused :)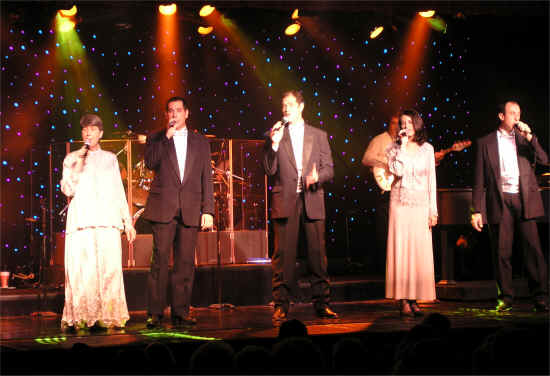 Gospel Jubilee...

Mariah calling her mother...to come pick her up
(I told her we would get her a ticket on the bus...but)
On another note, some of the worst fires of my lifetime are raging in Southern California. Many populated
areas are being hit hard. More than 1000 homes have burned in the past 24 hours.
The national news media is WAY behind on just how bad the fires really are. Reading different news groups, from
people that live out there, it is a huge disaster. Portions of San Diego are on fire, along with many other towns. This
is a bad one.

We went to the magic show tonight, it was awesome. Some of the tricks and illusions were mind boggling!
Hard to figure most of them out.

He walked through this mirror :)


Mariah with the magician and his wife
October 27, 2003



Mother and Grandmother outside
Crackle Barrel in Branson, Missouri

Left Branson this afternoon at 1 p.m. and arrived home at 7 p.m. :) Long drive, tired, so won't say much
more at this time.
October 28, 2003
Had an amazing time with mother, Mariah, and grandmother over the past few days. We all had a BLAST. There
was so much to see and do out there, you really can't do it all. We saw a lot of great shows though and spent
a lot of quality time together! I am glad we were able to get out there before bad weather sets in.
Unpacking today and trying to clean up around here. I have to get things ready for my big move back to Toronto,
which is just a few weeks away now :) :( depending on which end of the move you are on, smiley or unhappy face.
Going to look at some houses today, thinking about getting a house to rent out. Mother is going to help with this
project not sure if I actually will do that or not. Depends, but I am looking. I have always thought that getting into
real estate make be a good idea. Maybe one day. Put it on the list.
More later
Back from looking at houses, I didn't really see anything that I liked. So ho hum on that right now.
Clouds are moving out, it has been raining all day long -
School tonight.
October 29, 2003
Ack, where has October gone???? This is crazy how fast time is passing by. I swear it just keeps getting
faster and faster
Things are ok here in Paducah :) Trying to do everything that I need to finish before returning to
Toronto. A lot of little things going on
Going to see grandmother today and meeting with my friend Tommy tonight.
Huge solar flares going on this week, we might be able to see the Northern Lights all the way down to
Florida! Very rare event, so if the clouds move out be sure and look up.
The Northern Lights were bright all the way into Texas last night, reading different news groups with
reports on the subject.
Hope the sky clears out here tonight, we might still be able to see them. Reports of bright red and
green skies across the United States!
update...
The Northern Lights were visible tonight!!!! Second time I have seen them in my life :)
They were red and greenish, they come and go. This will go on all night and tomorrow night as well.
Lots of people around the Central and Eastern United States are reporting that they can see them.
This photo was taken by a friend in Washington D.C.


Good Stuff!!!!!!! (not my photo - unknown photograper)
Photo from Washington State :) WOWSERS

(not my photo - unknown photograper)

October 30, 2003
Morning Everyone :) Nice and sunny out this morning, hopefully tonight there will be more Northern Lights. I get
excited about these kind of events. Not sure why. I guess it goes back to living on the farm. I used to climb on top
of my house and watch the meteors fly through the sky. I fell in love with the sky.

Jena sent me this :)
The weather here is AMAZING - 80 degrees+ outside! Very windy though, but nice! People are lining up below
here at the republican headquarters...to get tickets to see President Bush this Saturday. He will be at the airport.
Oklahoma Aurora Photo - From Last Night WOW :) is all I can say!!!

(not my photo - unknown photograper)
Starting to email organizations in Toronto, looking for groups that I can become involved with. Have
received responses back from The Red Cross and Theresa Kielburger emailed me to set up a meeting
later in November, Theresa is with Free The Children.
HALLOWEEN 2003

Happy Halloween Everyone...
Going down to Nashville today - will be back on Sunday. Will try to post from time to time ;)
Hope everyone has a great weekend and enjoys the amazing weather!
An Open Letter :) To My Friends and Family
Well I send out a lot of emails, and I know I write a lot of things, but I really want you all to take 5 minutes of your time,
your life :) and read word for word the following. I know some of you have "read" it before but I want you to READ it :)
and listen with you heart

One year ago TONIGHT - Halloween Night, I was laying in the front room of Dougs apartment, on the floor, on a little bed
that I made out of blankets and pillows. Doug and Erick were in the other room chatting.

Doug came in and I was having a bad day that day missing my family dealing with the news that there were indeed state
charges in Alabama - I saw little hope.

I remember crying in Dougs arms and telling him "Doug one day I am going to have to go home" "I am going to have to
deal with all of this" "I cant live this way forever Doug" "I miss my family"

I cried myself to sleep that night, talking to myself talking to Cheetah who was sitting there looking at me. I am reminded
of Wilson off that movie where the plane goes down. Sometimes you talk to whoever will listen.

In the morning I awoke, Doug said "it snowed" I said IT DID NOT, its Halloween it doesn't snow on Halloween :) I looked out
the window and everything was white!!!!

I SMILED - THAT BIG SMILE I GET WHEN I KNOW IT IS GOING TO SNOW OR IT HAS SNOWED :) I was like a
kid at that moment - at that moment I forgot about everything else in the world and just looked at the painting
God had created that morning.

Here we are one year later, how far we have come. MIRACLES do happen - that I know - I am living proof of that!

More miracles are ahead of us :) Have Faith and Hope and Believe, there is a plan at work here - too much has
happened for there not to be

MY THANK YOU TONIGHT FOR EACH OF YOU, THAT I SENT THIS TO, IS THE FOLLOWING SONG
BY TINA ARENA - AND I KNOW SOME OF YOU HAVE READ IT BUT I ASK YOU TO READ IT AGAIN,
AND LISTEN WITH YOU HEART


THESE ARE MY WORDS TO THE EACH OF YOU

"If I Was A River"

If I was the sun
I would shine my light
To light your world
If I was the rain
I would wash your tears away
I keep your world right
Be your light in the night
If I was the sky
I would rain down love into your life

If I was a river
You would be my ocean
Every stream would lead me to your arms
And if
If I was a river
I'll flow to you forever
Love would run forever in this heart of mine
If I, if I
If I was a river

If I was the wind
I would carry you
Above the clouds
And if I was the earth
I would be your solid ground
If I could I'll be
All you ever would need
I would be your world
You're the only world there is for me

If I was a river
You would be my ocean
Every stream would lead me to your arms
And if
If I was a river
I'll flow to you forever
Love would run forever in this heart of mine
If I, if I
If I was a river

I'll run into your arms
Into your arms
Oh yeah
I'll run to you baby
Oh yeah

If I was a river
You would be my ocean
Every stream would lead me to your arms
And if
If I was a river
I'll flow to you forever
Love would run forever in this heart of mine
If I, if I
If I was a river

Your Friend, Son, Brother - Beau
The last couple of days have been very difficult. I don't know why. I feel like I am on a roller coaster of emotions.
I don't always know what to do with my freedom. I am searching for something that may not be there. Having to move
away from all of my friends in Canada has left me a bit lost. I feel like I am out of place here in Western Kentucky. I
don't know what to do in order to make those feelings go away. Sometimes I feel like I am not in control. I think this
is how depression works. One day you are up and the next day you are down. Somehow I have to get these
emotions in check. I know it can be done.
These are difficult days, filled with both joy and sadness. Trying to stay ahead of the game though. I am struggling with my addictions. It is a battle - seems like a continuous battle. I just need to keep moving forward.
TIME TO CHANGE THE PAGE FOLKS :)
RETURN TO HOME PAGE
RETURN TO AUGUST 1-17th
RETURN TO AUGUST 18th-31st
RETURN TO SEPTEMBER 1-9th
RETURN TO SEPTEMBER 10-30th
RETURN TO OCTOBER 1-15th
------------------------------------------------------
------------------------------------------------------


Email: beaudodson @ usawx.com (remove space)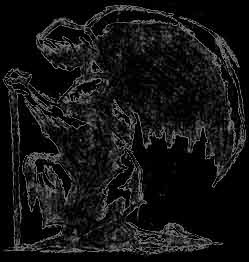 Derek Dodson
Beau Dodson