April.CONTINUES.Spring In Full Bloom
----------------------------------------------------------------------------------------
So guess who has a new home?????? :)


The front of Shadow Angels House

The back of Shadow Angels House
CLOSING IS ON MAY 8th, 2004 - WHICH IS ALSO MY BIRTHDAY :)
------------------------------------------------------------------------------------------------------------------------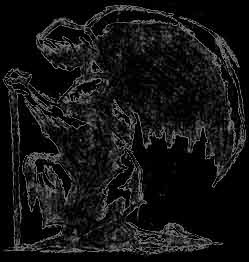 In a perfect world this would all be so grand
It would be a story told from generation to generation
One of survival, one of running from country to country
Of meeting and making friends that became a band of brothers
Brothers that would lay their life down for each other
Brothers that would give to each other whatever he or she needed, including the
shirt off their back
It is a story that is made up of many heroes
A story that many would call a fable, impossible, no way could that have happened like it did
The irony of all of it
May 6-7-8- 2000 the days of the arrests and being in jail
May 6-7-8 2002 being set free for the first time
May 6 2003 the tornado hitting my county, breaking the last straw that held me together
May 6 2004 of this year being able to speak at a conference about that tornado and a book that we helped create
May 8th of this year, the closing on my house
How far we have come
how many tears it took to get to this point
Enough tears to fill buckets, barrels, to flood a creek that turns into a river that would fill the oceans
Tears, Tears of sadness, of hurt, of pain, of anger, and of happiness.
It is a world that I wish upon no-one - a world made up of one giant rollercoaster that never stops
The ups, the downs, the loops, it rides like a leaf bobbing and tossing along the rapids of a shallow river
Over the cliffs, through the boulders and stones that lie in its path
tossed to and fro
This tale, it reads like a novel
It reads like a storybook

Filled with lessons learned
Filled with morals, learning what is right and what is wrong
Filled with angels, angels watching over us, watching our every step, protecting us along the way
A story Filled with betrayal, hurt, and at times failure
It is the story of a band of brothers, that walked through the fires of hell in order to save one
A band of brothers, that are so close, that we know when one of us is in trouble, even if we are many miles apart

It is a story of following your spirit to the very end
When the tornado hit my community is 2003 I knew that I had no choice but to return home
My sadness became too great, my separation from my family had become too great
There was no choice
It took courage to do what I did
It took a man to do what I did

I told my mother, about 2 years ago, to hang on tight because rough seas were ahead of us
but
We would make it to the other side and we would set sail and watch Beautiful Sunsets together

I believed in that dream
David believed in that dream. Doug, Erick, Norman, Keri, Kristy and Brett, my family, and many others believed in that dream
The dream we had
That dream came true
It wasn't the end of my problems, it didn't solve all the emotional issues, but it did set me free
It gave me a second chance at life
It gave me another chance to do right and to have a voice again in a community
It gave me a chance just to be me again
I remember being in Normans house and looking at Cheetah and telling Cheetah that one day a prince would come and set us free from the bondage we were in
And so they came, more than one prince - an army of brothers that banded together under one banner
The banner of Freedom
and Freedom is what they got
It is all so, so much, so much to comprehend
There are days that I just don't want to get out of bed. I just want to sleep, to enter into that magical world of dreams
where no matter happens you know that you will awaken from it
This isn't a storybook.
A reality that is made up of Beautiful Sadness
A story of hope, of courage, of determination
A story of love, of friendships, and partners
A story of forgiveness
A story of letting go, of leaving the past behind, and searching for a new tomorrow
A story so profound that no words could possibly do it justice
I am so thankful that I have people in my life that care about me
That wake up in the morning wondering how I am, wondering how my day is going, wondering what I am doing and what I will do next
People that believe in me, that count on me to follow a path that takes me away from the drugs and alcohol, the escapes, the nightmares that have followed me for so long

I am so thankful for those people in my life
I'm not a little birdie, that can just fly away from here as the song said on the previous page
I am not a little birdie who is not sure if he can fly
Rather I am an eagle, a baby eagle, that is soaring to new heights because those in front of him taught him how to fly - how to reach new heights and how to believe in myself


I look at the house I have and I cry
I cry because I know I am undeserving of something so spectacular
Something so beautiful
Something that can be used for so much good


This is all not to be wasted
It is to be used to make the world around me more beautiful
It is to be used to bring smiles to other people, other people who are in pain
Something that angels will watch over and protect and make prosper

And that responsibility that has been given to me
Will be used for just that
To bring some happiness into my world, the world of those around me and into the world of people! I may never meet but only hear about!
Thank you to all of those who have stuck by my side, through the good and the bad, through the joy and through the tears
I am blessed to have all of you as friends
I am humbled.

Grandmother at the Head Start Banquet last night.

Grandmother being grandma :) with a parrot there over her
shoulder at the dinner :) Could you ever ask for a more
beautiful grandmother? It is her spirit that dwells within
me, that keeps me going, that brings life into this world!
Grandmother - one of many of those people in my life that
I look up to, that I admire, and that I believe in :)
Friday, April 30th
I am going to the eye doctor today, hopefully he will get me a new prescription. I need one! :) I would love to be able to see better than that last prescription I had. Anyway it is partly sunny here now, but there are storms in the forecast. Maybe a few strong storms.
Otherwise, things are moving along. I am having a house inspection on Monday and all the legal work as well. Things should be set for the closing on May 8thmy birthday!
---------------------------------------------------
Big storms moving into this area. It looks like a nice squall line later this afternoon.
I noticed May 6th is the National Day of Prayer and the theme this year is "Let Freedom Ring"


Severe Thunderstorm Heading For Paducah.
Warnings are out now.
SEVERE STORMS SLAM WESTERN KENTUCKY, PADUCAH AND METROPOLIS
TREES DOWN, POWER LINES DOWN. MARBLE SIZE HAIL HERE ON BROADWAY STREET. WINDS WERE SO STRONG MY SUV WAS ROCKING BACK AND FORTH. BLINDING RAIN AS YOU CAN SEE BY THE PHOTO BELOW. IT WAS COMING DOWN IN SHEETS,

REPORTS OF TREES ON HOUSES ACROSS BALLARD COUNTY AND SURROUNDING COUNTIES ARE ALSO REPORTING DAMAGE.


BLINDING RAIN - SHEETS AND SHEETS OF RAIN AND HAIL. I TOOK
THIS PHOTO.

Streets were flooded, rainfall totals of 1-2 inches in less than one hour.
Many streets were covered with water.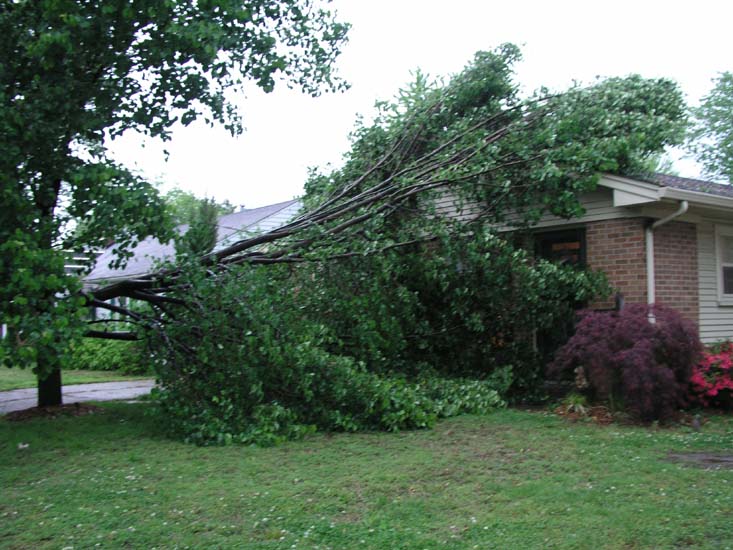 Tree on a house in Metropolis.

Tree limbs down in Dorothy Miller Park, Massac County, Illinois

Tree down in Paducah, numerous power lines were down across the city of Paducah, along with
a number of trees
Reports, from the National Weather Service, indicate numerous power poles and lines down
across Massac County. There was also some structural damage in Salem, Kentucky.
MAY IS HERE - BELIEVE IT OR NOT CLICK HERE

------------------------------------------------------
------------------------------------------------------
RETURN TO HOME PAGE
RETURN TO AUGUST 1-17th
RETURN TO AUGUST 18th-31st
RETURN TO SEPTEMBER 1-9th
RETURN TO SEPTEMBER 10-30th
RETURN TO OCTOBER 1-15th
RETURN TO OCTOBER 15-31st
RETURN TO NOVEMBER 1-15th
RETURN TO NOVEMBER 16th
RETURN TO NOVEMBER 17-30th
RETURN TO DECEMBER 1st-15th
RETURN TO DECEMBER 16th-22nd
RETURN TO DECEMBER 23rd-31st
RETURN TO JANUARY 1st-8th
RETURN TO JANUARY 9th-26th
RETURN TO JANUARY 26th-31st
RETURN TO FEBRUARY
RETURN TO MARCH 1st-9th
Return TO March 10th-27th
Return TO March 28th-30th
RETURN TO APRIL 1-11th
Return to April 12th-18th
RETURN TO APRIL 18th-27th
------------------------------------------------------
------------------------------------------------------

Email beaudodson @ usawx.com (remove the spaces)