September 2004 Continues
September 5, 2004

Danielle's Birthday :) at the hospital with grandmother.

Grandmother, Danielle, and Tyler




Grandmother got some new flowers :)




Danielle unwrapping her gifts

Happy Birthday Danielle :)

Grandmother eating her cake and ice cream
:) She looks pretty happy there!

Tyler and me at the party :)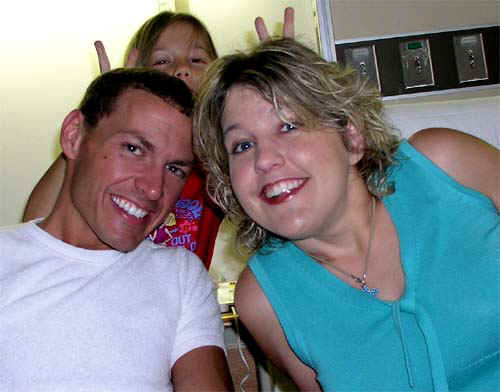 Deena...Danielle and me at the party

Tyler and Danielle at Chucky Cheese in Paducah




Danielle's birthday 2004 :)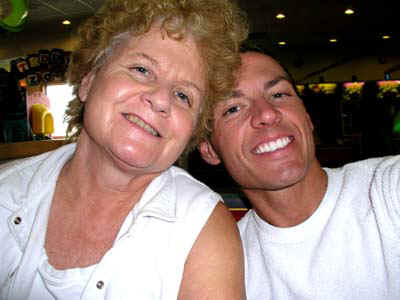 Mother and me in Paducah at Chucky Cheese


-----------------------------------------------------------------
Hurricane Frances is getting ready to move out into the Gulf of Mexico. She will likely strengthen back to a hurricane and hit the Florida Panhandle.
Meanwhile HURRICANE IVAN is ALREADY a category four. It went from a Cat 1 to a Cat 4 in 24 hours.
This is the fastest developing storm I have ever witnessed in the Atlantic and may be the fastest on record period.
Just incredible...
This hurricane may eventually threaten the United States.
What an INCREDIBLE 30 days of hurricane activity. UNREAL
FRANCES DAMAGE PICS CLICK HERE (Hey David check out the Marriott)
-------------------------------------------
September 6, 2004
Labor Day :)
Heading for the nursing home here shortly.
Have not been able to get new info on Norman. Have tried. Last I was told he was doing great though. So I assume the same.

September 7, 2004
Yawn - 6 a.m. - early morning here :)
Big time floods in Georgia, the Carolinas, and Eastern Tennessee today. Four to Eight inches of rain. The severe flooding will miss Birmingham. Rain will fall there but nothing like what they will see to their east.
Sunny and milder here today - our cold front went through!
Going to the dentist soon.
---------------------------------
Ok so the dentist is tomorrow :( I got up early for nothing.
The Resolute, Canada forecast
BLIZZARD!!!!!
Winter can't be far off!!!
Hurricane Ivan is RIPPING through Grenada tonight. Reports are that the island has been devastated by winds over 140 miles per hour.
IVAN is a category four storm again tonight.

September 8, 2004
I can't move this mountain
I have tried
I stand here
looking up at it...
hoping it will disappear
praying and waiting
Will I awake...from this nightmare
will someone be there to grab hold of me
...when I do

Will this night pass...and will it turn to day
will......will............will

I am overwhelmed
...I am deeply saddened
I am driven to my knees
...because there is nowhere else to go
there is nothing else
...to do
Where did my rainbow go
Where did the sun set...
Where did it all go

I am drawn into my own world....
searching for answers
...which are not there

I am searching
...to find peace
to find my way out of this maze
...but first I must face the reality
of that which I don't want to be true

soon...I must return to my ocean
...not of tears
but of waves





- beau
----------------------------------------
I am leaving for the Carolinas this afternoon to check out tornado sirens for Ballard County, Kentucky.
Friday, September 10, 2004
OK, I am back from South Carolina! It was a great trip down there, long ride but time went by pretty fast with all the scenery!
We ended up staying the night in Asheville, North Carolina. They had just had a BIG encounter with hurricane Frances!

Rainfall totals of 8-16 inches were reported by the local media. Sooooo - when we got there we had clean water at the hotel but by the end of the night there was zero water in the whole city. :)
A ton of flooding knocked out the water lines, caused mud and rock slides, and caused millions of dollars in damage across Western North Carolina. The entire state was declared a disaster area.
A pic from one of the news stations showed the flooding:



North Carolina floods - news
(not my photo)
Thankfully we came in right at the end of all of that mess.
So anyway on to York, South Carolina to look at tornado sirens :) for Ballard County, Kentucky.



Tornado Sirens that are being given to Ballard County




Herb standing by one of the sirens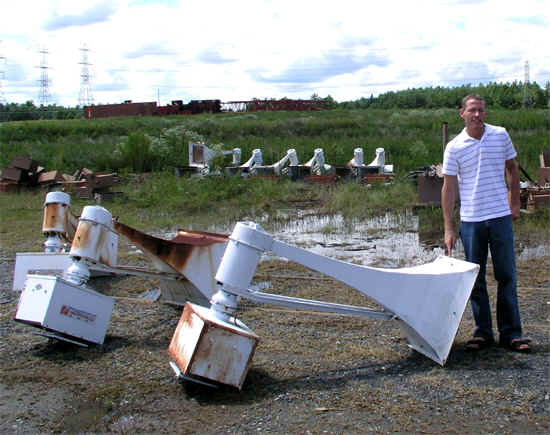 Inspecting the sirens :) Lots of them!

The nuclear power plant is donating 15+ sirens to the county. The only thing the county has to do is get them trucked in from the Carolinas and then installed. Not a bad deal! These will be the first severe weather sirens for Ballard County. Hopefully they will start to be delivered next week. It will take some time to get them up and running though.
After we finished with the sirens we headed for BEAR COUNTRY. :)

This is the famous bear guy :) Ed.

There is another guy in Tennessee named Mike that makes bears and I thought he was not going to make these anymore buttttt it turns out that this guy is going to continue to make them. Sooooo that is good news :) for those of us that love bears!
He had a TON of bears.



This cute one is trying to shimmy up the pole :)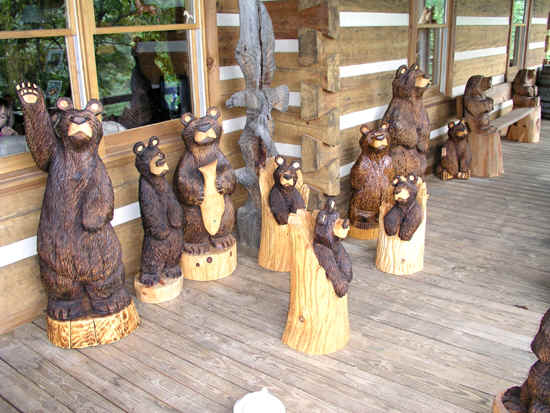 BEARS AND MORE BEARS AND MORE BEARS!!!!

So of course I couldn't leave without one or two. :)

This one hitched a ride in the backseat


READY TO ROLLLLL

On the way home we saw this mud slide from all the rain!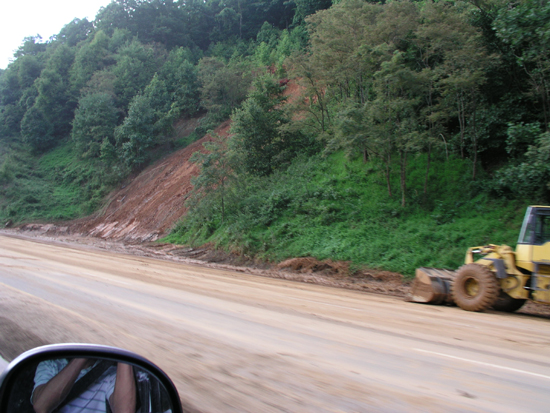 Mud slide on the interstate




Mud slide

Ok so I am back home now!
Grandmother is doing great, mother just informed me. I am off to see her in a few minutes.
More later...
CATASTROPHE IN THE CARIBBEAN
...IVAN STRENGTHENS

JAMAICA POUNDED...WINDS SUSTAINED MORE
THAN 150 MPH WITH GUSTS NEARING 200

THIS IS THE 8 p.m. SATELLITE PHOTO...THE EYE IS APPROACHING
THE ISLAND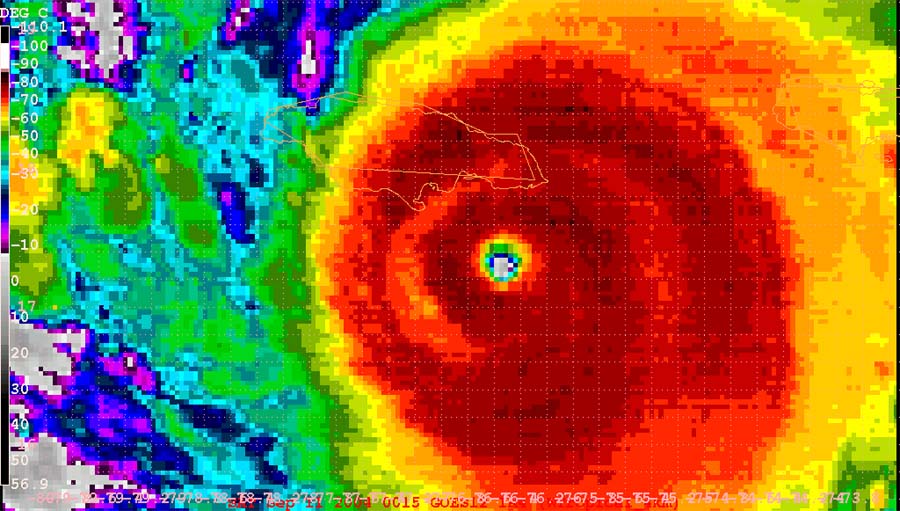 This will be the worst hurricane to hit that island in many a year
Reports via radio say that a shelter with 600 people inside has had its roof blown off.

Reports of tremendous damage...and the eye has yet to even hit.
From the AP at 8 p.m.
KINGSTON, Jamaica — Waves two-stories high crashed on Jamaica's eastern shore Friday, flooding homes and washing away roads as Hurricane Ivan's (search) ferocious winds and pounding rains began to lash the island and threatened a direct hit on its densely populated capital. The death toll elsewhere in the Caribbean rose to 33.


September 11, 2004
The nation remembers...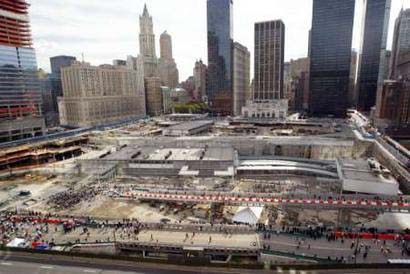 New York City - news media photo (not my photo)

Ivan continues to rip through the Caribbean

The hurricane traced along the shores of Jamaica overnight.
Next stop...CUBA
5 p.m. IVAN REGAINS CATEGORY FIVE STATUS...WINDS GUSTING OVER 200 MILES PER HOUR! OUCH

CATEGORY FIVE IVAN - SATURDAY EVENING


Kingston, Jamaica :( Hurricane Ivan damage (not my photo)

IVAN TONIGHT IS THE SIXTH LARGEST HURRICANE EVER IN THE ATLANTIC OCEAN!
Sunday, September 12, 2004

Ivan continues go churn through the Caribbean. It appears that the Florida Panhandle and Alabama may feel the full brunt of this hurricane!
Birmingham...STAY TUNED
Grandmother continues to show improvement. I am hoping that she will be able to go back home in a couple of weeks. That would be nice! She is definitely getting better though, so good good on that front!
Otherwise things are pretty busy around here.
I went to my first Red Cross meeting here in Paducah yesterday morning. They have a lot of neat ideas for the local chapter. They are trying to "regroup".
They have been asking me to go to Florida. I might take them up on that offer in a week or two. I have to wait and see how things go around here.
Monday, September 13, 2004
Heading out to see grandmother.
Nanke has informed me that Norman is back in the hospital. His surgery went well but apparently an infection has set in. He was taken to the emergency room last night and has now been admitted.
GRAND CAYMAN NEWS...
Grand Cayman: 'Devastation beyond imagination'

http://www.caymannetnews.com/2004/0...agination.shtml

At 9 am local time on Monday, as the first reports of the full extent of the damage caused by Hurricane Ivan began to come in, the early morning scene has been described as 'devastation beyond imagination'.

Mariners Cove, an apartment building at Spotts on the south side of Grand Cayman, has been blown down by the wind completely across the road, blocking all traffic. Extensive damage has also been reported at Ocean Club, another apartment complex in the same area.

Just about every house on the island has lost part or all of its roof, in some cases the debris landing on the roofs of adjacent buildings.

Cars and boats have been swept by floodwaters into the roadways.

Some homes have been completely gutted by the wind and floodwater, with entire contents being swept across the streets. In some houses it is possible to see a high water mark on the walls, evidencing flooding of some 4 to 5 feet.

Whole sections and floors of some apartment buildings have completely disappeared.

Emergency services are experiencing difficulties in responding to requests for assistance because of communications difficulties. Some Cable & Wireless cellular phones are still working sporadically; all other providers have lost service.

Cayman Net News reporters are currently trying to make their way around the island to report on the damage at first hand and further details will be published as soon as circumstances and communications permit.

In a separate report, local journalist Paulette Connolly said on Monday that Hurricane Ivan ripped through the Cayman Islands tearing away homes and other building like "match sticks".

In a live interview on Citadel Radio on Monday, Connolly said that there had been reports of people being killed during the passage of the category five storm that had trucks and cars "floating like toys".

"The winds ripped the apartments like match sticks, the whole island has taken a battering. Cars and trucks were floating away like toys," she said, adding that the storm had battered the island for more than eight hours on Sunday.

Connolly said that while there had been no official death toll, "residents were calling the radio stations to report about deaths."

She said the authorities were on Monday using bulldozers and other heavy equipment in a bid to clear roads that had been under 20 feet of water when the waves rushed through the streets on the island.

"I don't know when the Cayman Islands will ever be like it was before, " she said noting that the British Dependent Territory was now looking to Britain for assistance in the aftermath of the hurricane that has killed at least 60 people during its passage through the Caribbean.

Connolly said that the buildings in the Cayman Islands, known internationally for its banking system, had been constructed under strict building codes and it was "indescribable" the manner in which the buildings were blown away.

She said that the hurricane shelters that were constructed to withstand winds of more than 200 miles per hour had been badly damaged.

"It is unimaginable. We are devastated. The sea went through apartments," the journalist, clearly emotional, said.
MONDAY AFTERNOON IVAN UPDATE
IVAN HAS BEEN A CATEGORY FIVE HURRICANE SINCE YESTERDAY.
HE CONTINUES TO MOVE THROUGH THE CARIBBEAN AND INTO THE GULF OF MEXICO. I EXPECT IVAN TO HIT THE UNITED STATES AS A CATEGORY THREE/FOUR HURRICANE. A VERY DANGEROUS STORM.
I AM LOOKING AT THE EYE CROSSING SOMEWHERE BETWEEN THE FLORIDA/ALABAMA BORDER.
FLOODING RAINS...EXTREMELY HIGH WINDS...AND DOZENS OF TORNADOES WILL BE LIKELY ACROSS MISSISSIPPI, ALABAMA, GEORGIA, AND FLORIDA
Oh and a new depression has formed east of the islands, looks like our next storm.
Later this weekend and into next week there is a big storm threat for the Midwest and Plains into the Ohio Valley. Could be our first fall severe weather outbreak, with colder air pouring in to our north.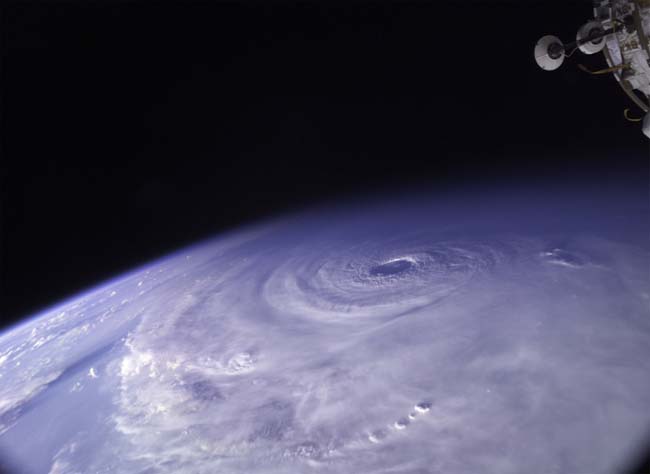 IVAN FROM SPACE - CATEGORY FIVE HURRICANE
TUESDAY, SEPTEMBER 14th
MY FORECAST FOR IVAN
EYE WILL PASS BETWEEN PASCAGOULA, MISSISSIPPI and PENSACOLA, FLORIDA AS A CATEGORY THREE HURRICANE.
THIS WILL BE A MAJOR DISASTER FOR SOUTHERN MISSISSIPPI, ALABAMA, GEORGIA, AND PORTIONS OF FLORIDA.
RAINFALL AMOUNTS OF 10-15 INCHES IN SOME AREAS.
WINDS GUSTING OVER 140 MILES PER HOUR.
TORNADO OUTBREAK LIKELY IN PORTIONS OF ALABAMA, GEORGIA, AND FLORIDA.
I EXPECT THE EYE OF IVAN TO MOVE ASHORE DURING THE MORNING HOURS OF THURSDAY.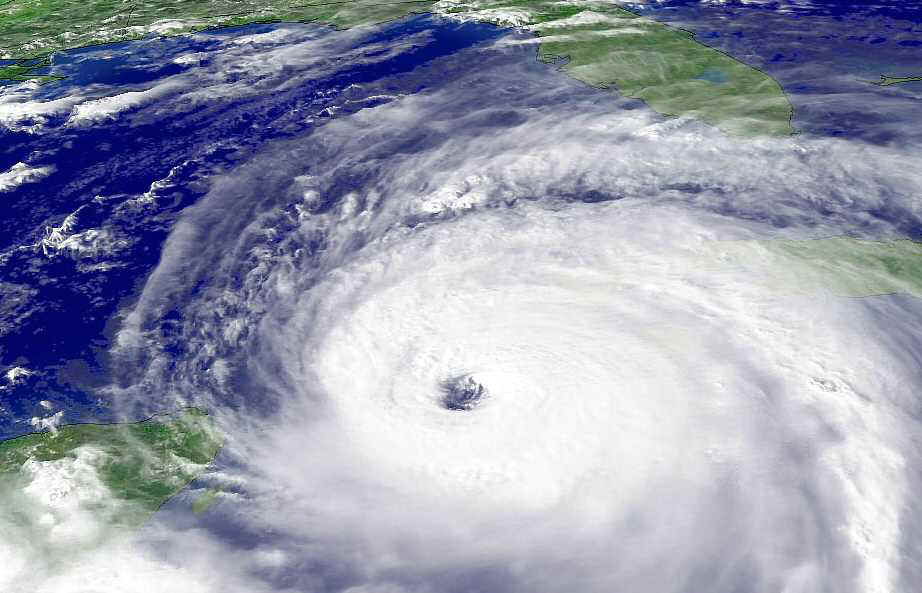 PURE HELL - as one news media outlet has called it
TROPICAL STORM JEANNE ADVISORY NUMBER 4
NWS TPC/NATIONAL HURRICANE CENTER MIAMI FL 11 AM AST TUE SEP 14 2004

| ...TROPICAL STORM JEANNE MOVING THROUGH THE NORTHEASTERN CARIBBEAN SEA....ADDITIONAL WATCHES AND WARNINGS ISSUED...
Jean is born east of the islands.
Jean may hit FLORIDA! Ouch again.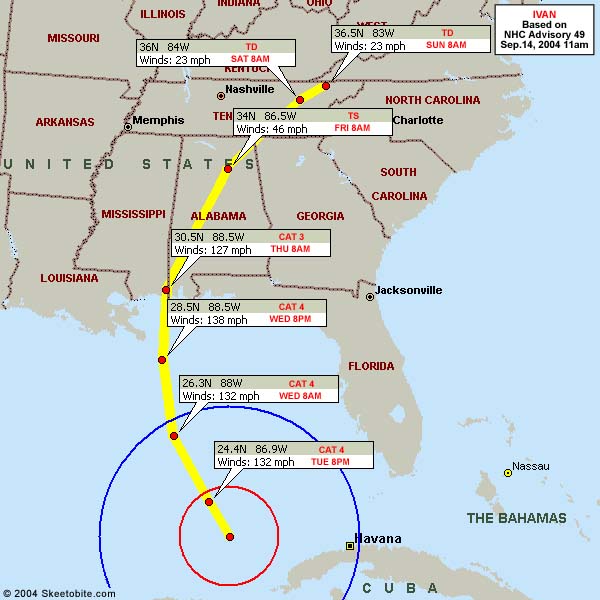 TRACK FORECAST FOR IVAN
BIRMINGHAM SHOULD SEE 4-7 INCHES OF RAINFALL, DAMAGING WINDS GUSTING TO OVER 60 MILES PER HOUR AND POSSIBLE TORNADOES.

TUESDAY EVENING, IVAN ROARING THROUGH THE GULF OF MEXICO

Wednesday Morning
Expect Ivan to hit as a Category three storm, give or take there. I don't believe it will hit as a Cat 4 or 5. I hope not at least.
Computer models indicate this MONSTER will stall over the Southern United States. This will cause catastrophic flooding in many areas. Not a good situation.
I will be gone most of the day on Wednesday, so no real update till Wednesday Evening
6 a.m.
IVAN APPEARS THAT IT IS NOT LOSING STRENGTH...IF SOMETHING DOESN'T CHANGE IN THE NEXT 12 HOURS THEN THIS THING SLAMS ASHORE AS A DEVASTATING CATEGORY FOUR HURRICANE...EVERYTHING ON THE RIGHT SIDE OF THE EYEWALL WILL PROB NOT SURVIVIE. IT IS GOING TO BE A MAJOR DISASTER IN THE GULF SHORE AND MOBILE AREA.
NOT LOOKING GOOD AT THIS TIME.
CENTRAL ALABAMA COULD SEE 10 inches PLUS OF RAINFALL - MAJOR FLOOD EVENT ACROSS THE SOUTHEAST UNITED STATES INTO THE TENNESSEE VALLEY - Before the weekend is out I expecvt catastrophic floods across portions of the mountain regions over East Tennessee and into the Carolinas and Virginias. MAJOR flooding also for Mississippi, Louisiana, Florida, Tennessee, and Georgia.
Just DAMN!
MY RADAR PAGE
http://www.usawx.com/nexrad0.html
You can click on the Mobile Radar to see the storm come ashore here
You can loop the radar, look on the left hand side and click SHORT RANGE LOOP or LONG RANGE LOOP. YOU CAN SEE FURTHER OUT BY CLICKING ON LONG RANGE.
STAY SAFE EVERYONE!
NEXT PAGE CLICK HERE

------------------------------------------------------
RETURN TO HOME PAGE

RETURN TO AUGUST 1-17th
RETURN TO AUGUST 18th-31st
RETURN TO SEPTEMBER 1-9th
RETURN TO SEPTEMBER 10-30th
RETURN TO OCTOBER 1-15th
RETURN TO OCTOBER 15-31st
RETURN TO NOVEMBER 1-15th
RETURN TO NOVEMBER 16th
RETURN TO NOVEMBER 17-30th
RETURN TO DECEMBER 1st-15th
RETURN TO DECEMBER 16th-22nd
RETURN TO DECEMBER 23rd-31st
RETURN TO JANUARY 1st-8th
RETURN TO JANUARY 9th-26th
RETURN TO JANUARY 26th-31st
RETURN TO FEBRUARY
RETURN TO MARCH 1st-9th
Return TO March 10th-27th
Return TO March 28th-30th
RETURN TO APRIL 1-11th
Return to April 12th-18th
RETURN TO APRIL 18th-27th
RETURN TO APRIL 28th-30th
RETURN TO MAY 1st-5th
RETURN TO MAY 6th
CLICK HERE TO MAY 7th-16th
RETURN TO MAY 17th-29th
RETURN TO MAY30th-June 1st
RETURN TO JUNE 2nd - June 11th
RETURN TO JUNE 11th-17th
RETURN TO JUNE 18th-26th
RETURN TO JUNE 27th-30th sunsets :)
RETURN TO JULY 1st-3rd - 2004
RETURN TO JULY 4th - 2004
RETURN TO JULY 4th-7th - 2004
RETURN TO JULY 7th-10th - 2004
RETURN TO JULY 11th-22nd - 2004
RETURN TO JULY 22nd-31st - 2004
RETURN TO AUGUST 1st-12th - 2004
RETURN TO AUGUST 13th-25th - 2004
RETURN TO AUGUST 26th-31st - 2004
RETURN TO SEPTEMBER 1st - 5th - 2004
------------------------------------------------------

Email: beaudodson @ usawx.com (remove spaces)