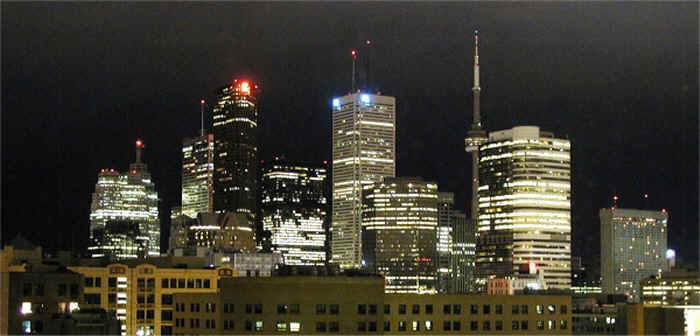 COUNTDOWN TO TORONTO BEGINS!
Expected Arrival In Toronto - 20 Days Away

November 1, 2003

Paintings

When I wake in the morning I have before me a blank canvas
and a set of paints

a set of beautiful watercolors

with every color you could possibly imagine

there they are...set out before us!

Paint...lots and lots of Paint and with those paints we are given the task of creating a picture for those around us.
What kind of picture will you paint today?

November 3, 2003
Ok well I am home now and at the main computer :) We are back up and running. The lap top was stuck in numeral mode all weekend and so it was difficult to type. Anyway I got that fixed now. :)
Ok well, let's see here - today is
MOTHER AND DEENA'S BIRTHDAY!!!!! HAPPY HAPPY BIRTHDAY!
They are both 21 AGAIN at least that is what they told me. :)
Funny they were born on the same day what an AMAZING birthday present!
We are going to celebrate their birthday this Saturday. I am taking them out to eat. Hmmm...we will prob need a chaperon you know how wild those two are when they get together and celebrate.
We are in project mode around here - as you can imagine! We are now, let me check here, something like 17 days away from departure! So lots and lots to do.
Most everything going on right now though centers around the BIG "I Love You" party for grandmother set for November 16th. Going to be lots of fun and perhaps we can even come up with some surprises! I will say this the paint brushes that I talk about, the canvas, are getting a GOOD work out! That is for sure!
.....
and I dance, into the shadows of darkness, as this valley I am in is overflowing with emotions. This place, this place, it is a place that I have not been before
but yet this is my world
how does one's spirit dance to this music, that I hear - these are more than just notes, for these notes
they tell a story
this song...this melody that is being played
it is more than just my heartsong - it is the song
of two hearts being played into one
It is a song, not of this world, for it is too beautiful to be made by man
...what is the reason
why does it play?

something so beautiful
can not just be for my ears
November 4, 2003
Sunny outside today, really warm for November - 80 degrees+ October was pretty cool around here, I guess we are having October weather in November.
Nothing else going on, just doing those things that need to be done around here :)
Nice sunset here tonight :) Lots of feathery cirrus clouds, being highlighted by the sun going down, a nice pinkish purple horizon - very peaceful! :) I love a good sunset.
It has been a rough few days. The last week or so. Having to try and figure out what the next steps will look like. Then one of my friends is sick. I am worried about him and his mental state. It has taken a toll on both of us. I cry at times. I hate to see someone sick. I hate to see someone hurting. It hurts worse because there is nothing I can really do to help him. There are things that he needs to deal with on his own and work through as well. I try to be there for him. I am not sure it is enough though. I do my best.
It seems like these inner battles may never end. I know they will - I hope they will. It is definitely a struggle right now though. Somehow I need to slay the dragon.
And in the breaking news department :)
NEW CD RELEASE: FALLEN - SARAH McLachlan
Just picked up my copy...
BEAUTIFUL :) Music!!!! ***** Five Stars!!!!
November 5, 2003
Howdy Everyone, fighting a cold here, so I don't feel 100%. I shall survive of course! It is cloudy outside and a bit of rain here and there, no snow though. :( I guess that will come soon enough. :) I can't wait to see those first snowflakes, being the snow loving weather fanatic that I am!
OK, enough of the weather stuff. Not too much going on today since I don't feel well, just messing around the apartment and taking it easy.
I don't have an immigration update, at least not right now. Waiting to hear back from my friends in Toronto as to what is going on.
I plan on returning to Toronto on or around the 20th of this month. Will keep you updated as we move along! Maybe we can get a snowstorm on the way up there.
More later...


November 6, 2003
Low clouds and rainy here this morning. :) Looks like fall out there.
Still fighting this stupid cold, wish it would go away, guess it will in its own time.
So staying in most of today and resting I guess. Paul and Gil will probably stop by.
I spent most of the day resting, then went to look at a house with mother, then out to eat - Ryans. :) We met my friend John at the restaurant. I had a good time chatting and talking about everything that is going on these days.
November 7, 2003
13 days till I return home...
Another cloudy day here in Western Kentucky! Seems like November is always cloudy, no rain today though, but it is chilly outside.
Going to have lunch with a friend then back here to try and clean this place up a little bit, have not felt like cleaning all week.
Mariah and Danielle are coming over tonight to spend the night, so I guess the place better look at least halfway clean.
Still fighting my cold, although it seems to be a little bit better today. Can't complain though!
One more week until Grandmothers party, then I am heading back to Toronto! :) THE TIME IS JUST FLYING BY!
----------------------------------------------
"Answer"

I will be the answer
At the end of the line
I will be there for you
Why take the time
In the burning of uncertainty
I will be your solid ground
I will hold the balance
If you can't look down

If it takes my whole life
I won't break, I won't bend
It will all be worth it
Worth it in the end
Because I can only tell you that I know
That I need you in my life
When the stars have all gone out
You'll still be burning so bright

Cast me gently
Into morning
For the night has been unkind
Take me to a
Place so holy
That I can wash this from my mind
And break choosing not to fight

If it takes my whole life
I won't break, I won't bend
It will all be worth it
Worth it in the end
Because I can only tell you that I know
That I need you in my life
When the stars have all gone out
You'll still be burning so bright

Cast me gently
Into morning
For the night has been unkind

Sarah McLachlan - 2003 CD "Fallen"
----------------------------------------------
November 8, 2003
Well it is Saturday and the sun is finally out! It has been cloudy allllllll week! :)
We went to Chuckie Cheese last night, Danielle, Mariah and my friend Gil. The kids had a great time - OK, we had a great time as well. The place isn't JUST for kids.
Hmmm looks like the first winter storm of the season might be on the maps for this coming weekend, perhaps around November 14th or so for Toronto! :) Something fun to watch, hopefully when I get back we will be in snow weather! No snow for here though, at least for now!
Returning to Toronto on November 18th, 19th, or 20th. I am still working on the exact date.
The tornado book is supposed to be done this Friday! :) That is the plan at least. I am excited.
November 9, 2003
Sunday :) Should be a nice day, going out to eat with Deena and my mother for their birthday. We are going to Kentucky Lake to eat. There is a nice restaurant there called Patti's.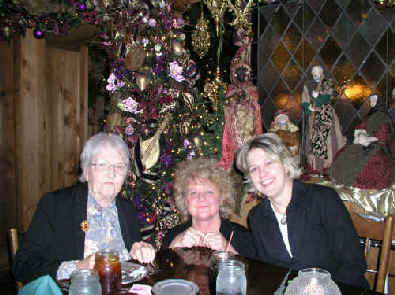 Patti's Restaurant, Kentucky Lake - Deena and Mother's Birthday
Well the picture is a bit too bright there :) The room was so dark, hard to get it right! Everything was decorated in Christmas lights! :) It was like being at the North Pole in Santa Land! :) Awesome, I love Christmas, my mother said I was like a kid in a candy store.
Everyone left full, plenty to eat. I had steak, surprise surprise :) what else!

The battery in my camera went dead :( So I didn't get to take as many photographs as I would have liked to. Guess we will have to go back sometimes! :)
I guess everyone can tell when I don't feel well, because someone said there was not very many photographs on my web-site lately. :) That is what a bad cold will do to you! :) zap all your picture taking energy! Anyway, hopefully I will be on the upswing here in the upcoming week! We have enough other people sick and not well for me to be under the weather! Hope everyone is taking good care of themselves and my thoughts and prayers for each one of you reading this that are having health problems right now. Take care of yourselves.
BOOK UPDATE...
THE TORNADO BOOK IS SCHEDULED TO BE FINISHED THIS FRIDAY!!!!!!
November 10, 2003
COUNTDOWN BONANZA...
The tornado book is within 4 days of being finished!
Grandmother's party is now...6 days away - next Sunday at 4 p.m.
And we are now closing within 10 days of my departure back to Toronto :)
It seems like everything is coming to a head and a close at the same time! Very nicely done!!!!
19 Earl Street better be ready for some CHRISTMAS DECORATING!!!! BECAUSE I AM IN A CHRISTMAS MOOD!!! I KNOW ERICK IS LOOKING FORWARD TO A BIG DECORATING PARTY WHEN I GET BACK :) :) :)
JINGLE
JINGLE


let it snow - let it snow - let it snow
OK, well hmmm on the whole Christmas Thing :) I am definitely headed for a Christmassy mood :) Lots to do, this week - never enough time - to do everything. Is this my last week in Paducah???? Wow.
A friend gave me a card that had the following saying on it :) Thought it was nice...
It's the friends we meet along life's path....
who help us appreciate the journey
Tuesday November 11, 2003
COUNTDOWN BONANZA...
The tornado book is within 3 days of being finished!
Grandmother's party is now...5 days away - next Sunday at 4 p.m.
And we are now closing within 9 days of my departure back to Toronto :)
Busy around here, going to get my hair cut this morning, have to be in Cape Girardeau after that to help Paul get his birth certificate, then I have dinner with my friend Bobby this evening. Unexpected trip to Cape. So lots and lots to do!
Still getting everything ready for the party this weekend, lots of hush hush surprises! :) I want this to be the best party my grandmother has ever had.
Wednesday November 12, 2003
COUNTDOWN BONANZA...
The tornado book is within 2 days of being finished!
Grandmother's party is now 4 days away - next Sunday at 4 p.m.
And we are now closing within 8 days of my departure back to Toronto :)
We are officially now in full chaos mode :) Ok just count to 1...2...3 :)
I won't even try to comprehend everything that has to be done between now and well name the day :P Oh my! :) Things are coming along. But I can just feel the excitement building and the hmmm being anxious I guess, so many things to do, so many uncertainties. It is ALL coming together - one piece at a time!
This weekend is going to be NOTHING LESS THAN AMAZING!
Heavy rain here this morning. Stormy - nothing major though. It looks stormy up in Toronto though, after this storm things turn mild again next week. I am starting to get concerned about when Winter will arrive! :) I need my snow you know!!!!!
Thursday November 13, 2003
The watercolors
they are on the table
the colors, they are BRILLIANT, could they be any brighter?
surely these are the colors that God intended for us to use, each and every day of our lives?

As the day approaches for Grandmothers party...
WOWOWOWOW is all I can say. I can't even put on the web-page everything that is going to happen because there are so many secrets - surprises.
HUSH HUSH :) but this is going to be - well there just are no words!

For grandmother...it will be a day of memories.
We are going to be celebrating life, her life - the gift that she has given to all of us
Her painting...that she has worked on for 87 years.
Her masterpiece!!!

I can't wait to post on Sunday Night, the pictures, the SONG that will play out here on Sunday Afternoon.

This Sunday is the end of one chapter and it marks the beginning of another.
This Fall, this Fall, the beautiful sadness it has brought to me.

Sometimes people ask "how can there be beautiful sadness in your life?"
Everything you have, everything you have been given, where you have been

but they don't understand...this life journey
to truly experience the journey
you have to experience all of it
the pain...the sadness...the joy of those around you
you have to open your heart to a compassion that some will never understand

It is the giving of yourself, your true being
it takes - it takes something that only someone else can give you -
something of them, sharing their story, giving you their trust, their love, their tears, their joy and their sadness

then...and only then can you truly experience life's journey

As I walked along this path, this Fall, I watched unfold before my eyes the angels from Heaven above
taking a friend through those golden gates
those gates that reach so high into the sky
touching even
the stars above
watching them open
hearing angels singing, a heavenly choir, could it be?

And then, watching my friend waving goodbye
smiling all the while - sigh

I caught a glimpse, my friends, of something truly not of this world
on that evening
a glimpse
This Fall, this Fall, being given the news about one of my friends
one close to my heart, the news that he is not well
The rip...the tearing in my heart, my soul, my very being
and the crying out of anger to that same God that earlier welcomed my friend...through His Gates
that same God that humbled me to my knees...in Birmingham
That same God that I thanked
for SETTING ME FREE
now I look at Him in anger asking why why why - why now, why him...why
and hearing only the gentle sounds
that familiar sound
of those angel wings, hovering beside me, comforting me, catching my tears
there was silence, there were no answers, nothing

God...I yell, I scream - where are you, where are you now
This Fall, this Fall, Watching Mariah, my grandmother and my mother in Branson, Missouri :)
the SMILES, the LAUGHTER, the JOY
The spirit of FREEDOM in THEM, the spirit of JOY surrounding them as they played and danced to a care free world
a vacation - a deserved vacation - WOW :)
Oh how the days they pass us by
How can it be Fall - where does time go

I cry
I cry, thinking about this painting, this gift, that has been given to me over the past six months. I smile, I cry, I shake my head
I think about those stars above, the nights I wished I wished upon a star

and how all those wishes, how those wishes
came true
These words I write, they do not describe where I have been
what words would you use?
perhaps we are not supposed to try

Perhaps, we too are supposed to be silent sometimes
Perhaps, perhaps we are supposed to just sit back and listen to the silence
listen to our Heartsongs
those Heartsongs
being played all around us
each and every day

Early morning update -

I hear rumors that is is SNOWING in Toronto right now! :) I checked the web cam up there and I do see some white stuff falling from the sky! :) Ok everyone just calm down! :) I love snow! Geeeeeesh wish it would snow here! Ok well, if it is snowing there I guess that means the big storm system is passing them by and the colder air is rushing in!!!
Let it snow let is snow let is snow
Well we just got our first test of what is in the computer system :) about me
What has red and blue lights and go round and round?
Correct, a police car - hmmm 40 in a 30? Do you know how hard it is to drive 30??? Ack, I didn't even know the posted limit, grandmother said she didn't think it felt like I was going fast! Will that hold up in court? :) I should have told the policeman grandmother was in labor and I was having to rush her to the hospital :) Anyway, this is what I get for lecturing everyone for speeding all the time! WHATEVER - my first ticket in hmmm 10 years :) ack!

Thursday evening....
Counting the days down. Counting the HOURS down now, as the surprise party is just a few short days away!!!!!!
And just a week or so before I start to head towards Canada - so we don't need any drama, natural disasters, terrorist attacks, border closings, hmmm or anything else that might keep me from departing! :)
It is windy and cold here this evening in Western Kentucky, not as cold as Toronto, where it is SNOWING :) light flurries :) My friends messaged me and gave me all the wonderful details!!!!
FRIDAY NOVEMEBER 14, 2003
The WEEKEND IS HERE! Today marks the beginning of three days of fun and surprises for grandmother! Can you tell I am excited! :)
Lots and lots and lots and lots to do today! Will update when I have a chance!
Mid Morning...
SNOWING in Toronto, the web cam below shows that the roofs are white!!!!! YAY :) Winter Begins!!!! This makes the third time so far this season flakes have been flying up there.

Toronto Snow!!!!!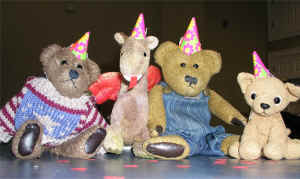 The kids are READY for the PARTY! I told them it was a
bit early for the hats...but they are EXCITED!
Evening...
WOWOWOWOWOW What an AMAZING DAY! I wish I could share everything that is going on, but I can't because it would give some things away, but suffice to say...that the memories have already started for this weekend! This is going to be a great surprise party for my grandmother. WOWOWOWOWOW She means the world to me. She will always mean the world to me. There is nobody else on this planet like her.
One thing I can say is that grandmother received a very large group of flowers today, all purple and lilac in color, as that is her favorite colors :) They arrived this afternoon, signed only XOXO - mother and grandmother said they are BEAUTIFUL!!! I will get pictures tomorrow!
Tomorrow she will receive another SURPRISE, as we celebrate this entire weekend - 87 years of PRECIOUS MEMORIES!!!!!!
I just SMILE knowing what is unfolding here. I smile knowing just how special my grandmother feels and how special she will feel on Sunday! Can you imagine!
An Amazing Weekend, Already Starting, already underway!!!!
FRIDAY NOVEMEBER 15, 2003
WE ARE ONE DAY AWAY NOW!!!!!!
This is the day to finish up everything for the party that needs to be done! I am starting at 8 am and it will go all day.
Going to run over and see grandmother at some point, and check out her flowers!!!! ALL SMILES HERE TODAY!!!
Someone asked me if this is a birthday party :) hehe...it is not. This is an "I Love You" party...it is simply celebrating her life! Celebrating 87 years of memories! Reason enough to celebrate!

I have learned that we should celebrate a persons life now and thank them for allllllll the special memories they bring into our life. You never know what tomorrow might bring. So live each and every single day with awe of those things around you!
early morning...

Up and at um, raining hard here right now, it has been raining all morning, as it woke me up several times. Cold and rainy :) wish it was snow! Looks like a significant severe weather potential for the Ohio Valley on Monday - could get rough here.

Grandmother with her favorite
color flowers.

Grandmother with flowers
I AM SOOOO TIRED. I have gone all day and now it is 1 a.m. Sunday Morning :) Still going trying to finish everything.
This is going to be great.


Cheetah and Sebastian
TIME FOR PAGE CHANGE EVERYONE :)

NOVEMBER 16th-30th THE PARTY!! AND THE RETURN HOME!!
CLICK HERE for the next chapter :)
------------------------------------------------------
RETURN TO HOME PAGE
RETURN TO AUGUST 1-17th
RETURN TO AUGUST 18th-31st
RETURN TO SEPTEMBER 1-9th
RETURN TO SEPTEMBER 10-30th
RETURN TO OCTOBER 1-15th
RETURN TO OCTOBER 15-31st
------------------------------------------------------

Email: beaudodson @ usawx.com (remove space)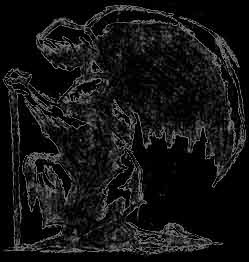 Derek Dodson
Beau Dodson