November 16th
THE PARTY!
This is it. The big party! Grandmothers party. The party of all parties.
How do we go from where we were at 1 year ago to where we are today? :) Who would have imagined we would
be doing what we are now? Faith.
How blessed we are, a thousand times over, blessed beyond measure by people like David, like Norman, Doug, Erick,
Brett, Kristy. John and it goes on and on and on and on. ANGELS where did they all come from!

What did we do to deserve all this these blessings!

I am so humbled by where this journey, these chapters have unfolded. Wow is all I can say. It has not been easy.
But we made it. Today is a day of celebration. Today we are going to celebrate my grandmothers life. Her journey.
This party today, this is the exclamation point of this Beautiful Summer and Fall!
Grandmother we LOVE you! We LOVE you! We LOVE you!!!!! TODAY IS YOUR DAY!!! ENJOY ENJOY ENJOY
For you have given and given and given. Now we want to give you something special!
XOXO









LET THE SURPRISES BEGIN
Let me back up here and already tell you some of the the surprises began on FRIDAY!!!!
Here are two of them!

SURPRISE SURPRISE - David and Norman
flew in from Toronto, Canada. They came to be at this party!
David just got back from Tokyo - he has slept 2 hours!

Nobody knew they were here!

Norman inside my apartment, standing next to a HUGE banner made for my grandmother, to hang on the wall.
The banner is 16 FEET long and FOUR FEET WIDE :) It says "Celebrating 87 Years Of Memories"
David made the banner! :) VERY NICE DAVID!!!!!




We then went over to Metropolis to check on the Tornado Books while we were there Clyde awarded David
"THE HOMETOWN SUPERMAN AWARD" Of course anyone from this area knows that this is the highest
honor that someone can receive from the City of Metropolis!!!! It was Signed by the Mayor!
The Award Reads

Superman of Metropolis Award

In Recognition Of Individual Superior Achievement By The Metro Chamber In The Great City Of Metropolis . Home Of Superman, And In The Spirit Of Superman , Helping To Make The World A Better Place.
WOW DAVID YOU HAVE ALWAYS BEEN MY HERO AND NOW YOU ARE OFFICIALLY A SUPERHERO!
Did the excitement end there? ARE YOU KIDDING! :) Does it ever end? This is just beginning.
Then Clyde showed us THE VERY FIRST COPY OF THE TORNADO BOOK!!!



The BOOK "Terror In The Night"


The book - front cover :)

This is the ONLY COPY that is available as of today it is going to be given to my grandmother!!!!! I will sign it with
ALL my LOVE!
WOWOWOWOWOWOWOWOWOWOWOWOWOWOWOWOWOW
Dance, my spirit Dances with these smiles that can not be removed from this face!
Norman and David are so happy to be here and I can't stop smiling just seeing them, hearing Norman singing watching
David gaze at everything going on inside of this apartment! Heaven On Earth! That is how this feels and so I dance, my
spirit dances, and I smile!
It is Midnight now Sunday Morning :) the party is like 15 hours away? We are at Wal-Mart - MIDNIGHT AT
WAL-MART! I am fairly certain that David has never been to Wal-Mart at midnight.

Yes everyone looks thrilled!!!!



The midnight trip to Wally World!


Picking up 36 balloons :)


Beau and Norman - decorating
for the party!

THE BANNER 16 FEET LONG!!!! WOWOWOWOW
:) thank you David!!!!!

Decorating for the party lots of streamers and balloons!!!





November 16th 2003 - THE PARTY

***CELEBRATING 87 YEARS OF BEAUTIFUL MEMORIES***



Surely Heaven smiled the day this
child was brought into the world


My Grandmother, my fire, my spirit
She has taught me how
to love, to give, to forgive

What this beautiful angel has
taught me over the years


Grandmother the early years :)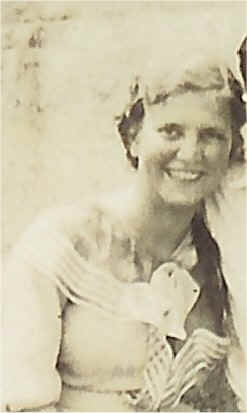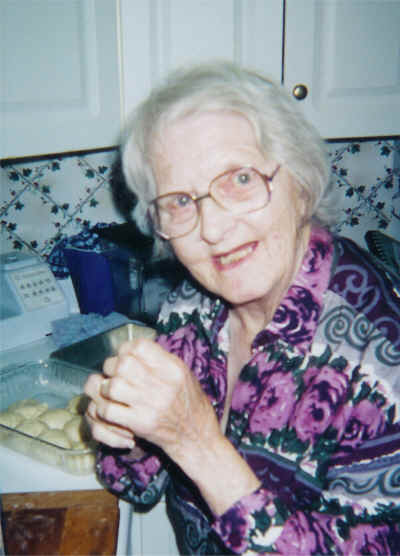 ALWAYS wearing that contagious SMILE :) To brighter our day!



All those wonderful memories you have given to me Grandma! The birthday
parties, the adventures on the farm, popping popcorn over your wood stove
SNOW CREAM!!!!! :)


SO MANY SMILES AND MEMORIES YOU HAVE BROUGHT OUR WAY

Always there to comfort me
Always there to help me along the way
Always believing in me


Always there for us and now for the new generation of grandkids! :)
How proud you must be how happy you must be watching them grow up!

Memories of all those trips to
Crackle Barrel :) You always
order the same thing Grandma
whether it is noon or 6 p.m. you
order BREAKFAST!!!!!! :)

Even when you were in the hospital
you still wore that smile!





Twinkle, Twinkle little star
How I wonder what you are!
Up above the world so high,
Like a diamond in the sky
Twinkle, Twinkle, little star,
How I wonder what you are.

Twinkle, Twinkle star so bright,
Winking at me in the night.
How I wish that I could fly,
And visit you up in the sky
I wish I may, I wish I might,
Have the wish I wish tonight.

Out the window, through the sky,
Up above the world we'll fly.
Higher than a bird would go,
To place only rockets know.
Beyond the planes that soar up high,
Is where we'll travel you and I.

Little child, your wish came true,
Here I am right next to you.
I'll take you on a magic ride,
So come with me - I'll be your guide.
There's so much that you'll see and do,
On this adventure made for you.



Grandmother and mother last
year at Niagara falls


The memories you have given me this summer! Surely God has blessed us beyond measure. Just look back at
all these pages filled with wonderful, beautiful, MEMORIES!!!!

Grandmother TODAY we celebrate YOU YOUR LIFE EVERYTHING that you have done for all of us over
the years. THANK YOU THANK YOU FOR EVERYTHING YOU HAVE DONE FOR EACH ONE OF US!!!!


You are TRULY LOVED

THIS IS ONE OF MY ANGELS SENT
FROM HEAVEN ABOVE!

THE PARTY PHOTOS BEGIN HERE :)
Let me paint you a picture

Imagine grandmother coming over to the Fox Briar Inn, told only that she is meeting here to go out and eat

Imagine 20+ of your friends crowded in a room, the lights are out, everything is still

ALL of the grandchildren are here friends family :) more than 20 people! All of them here to celebrate 87 years
of beautiful memories!

Then imagine the room it is like a magical place, streamers everywhere, dozens of helium balloons in grandmothers
favorite colors lilac and white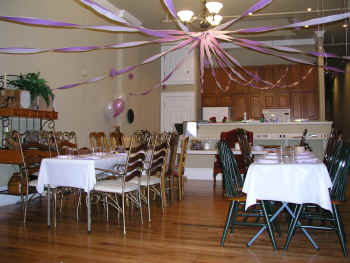 Imagine lilac sparkling snowflakes hanging from the high ceilings, dangling and glistening

Imagine one ENTIRE wall covered with photographs - dozens of them that span grandmothers lifetime from birth to now!

Imagine presents wrapped all sitting on top of a table

Imagine balloons laying around on the floor of the room, drifting here and there, as the air blows them around and the children play





Now imagine grandmother being wheeled by my mother - into this room - the lights are off and everyone yells SURPRISE - IMAGINE IMAGINE IMAGINE :) This is the painting this is the party this is the celebration of her life!



When mother wheeled grandmother in
she at first looked confused then she lowered
her head and she put her hand to her eyes and
she cried a bit as she realized what was happening!!!!
THE WONDERFUL LOOK ON HER FACE YOU COULD TELL WHAT SHE WAS THINKING
YOU COULD TELL HOW SPECIAL SHE FELT INSIDE!!!


Imagine now, special guest David walks into the room SMILES :) SURPRISE...HE FLEW IN FROM
TORONTO JUST FOR THIS PARTY!!!! Grandmother is always asking me about David!



David walking in (mother crying) everyone was
just stunned!!! And cried at the same time, my sisters faces
were just blank:) they couldn't believe it.
It was BEAUTIFUL!!!



David, flew in from TOKYO, with a few hours spent
in Toronto then here for the party!!!!
NOW THERE IS MORE!!!! IMAGINE 10 minutes later David says "Well Norman wanted to be
here today but could not make it because he has been sick and because of his foot surgery
but he sent this CD that he made for Blanche with a very special song on it

We then play the song for grandmother! The song is a church song Precious Memories!!!

While the song is playing you hear a voice down the hall singing Loudly and Beautifully!!!
IN WALKS NORMAN!!!!! :) WOW WOW WOW!!!!!! Norman is from Toronto, for those who read
this and might not know! He has known grandmother and mother since earlier last year when
he came home with me for the first time and my grandmother is always asking about him and
how he is doing!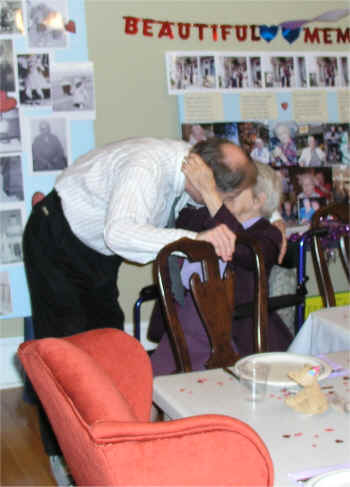 Everyone was just stunned - again their faces :) I wish I could
capture the moment they just were so surprised, we all cried
and everyone LOVED IT! First David and
NOW NORMAN!!!!

BEAUTIFUL!!!!
Imagine then a knock at the doorand in walks a violinist to play
grandmothers favorite church hymns!!!!!!!!!



He started with Amazing Grace and it just got better
from there!!!! It was so beautiful, more than one person
had tears in their eyes at the songs were played. :)
Gavin (the violinist) was just amazing!!!!
He is a senior in High School.

THANK YOU GAVIN FOR MAKING SOME BEAUTIFUL
MEMORIES FOR MY FAMILY!!!!!!!



Grandmother with the violinist (she kept whispering to me "make sure he gets some food" - grandmother
always wants to make sure that nobody is hungry! That was actually the first thing that grandmother
said when he got there!!! :) You are so precious grandmother! Always thinking about others! That is
why we love you so much :)


THIS IS THE PARTY :) The Painting!

THIS IS THE PICTURE WE PAINTED FOR GRANDMOTHER!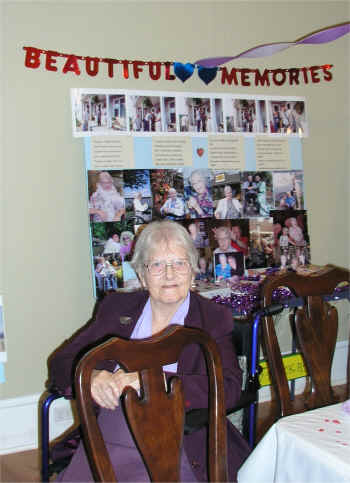 Grandmother with one segment
of the wall of photos behind her

Grandmother at the head of the table



Grandmother and her friend Adella




Myself, Mother, Norman at the party :)



Deb, Grandmother and my dad :)

Family photo - GRANDMOTHER YOU ARE LOVED!!!!



Grandmother opening one of her many gifts! The Tornado Book!
She gets the very first copy - signed and everything :) With great love!



Jeremy, Dione, Bruce, and Adella (they are friends
of grandmother and go to church with her)
Hope I spelled their names right :) They had a blast!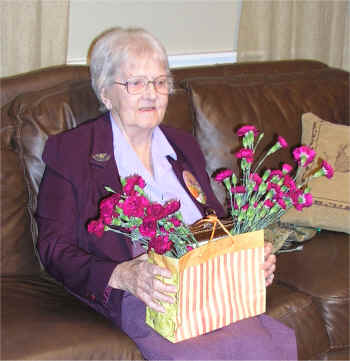 Grandmother being showered with gifts
from her friends!!!!



Grandmother with her friends - COULD YOU
BE ANY MORE LOVED????
Happy Faces Blessings and more Blessings!


My friend John one of the family - Thank
you John for a being a blessing to all of us!


Grandmother opening gifts SHE GOT SOOOOO
MANY GIFTS!!!!

Imagine now every photograph that ever existed of you :) basically and family photos from Deena, Dione,
Mother, Myself, and other people - all of those photos scanned, repaired, fixed and blown up into 8 1/2 X 11
portraits
Now imagine 19 volumes of photographs

Imagine ONE THOUSAND FOUR HUNDRED +++ photos ALL of your life and your families
grandkids - everyone
You now have grandmothers I Love You gift!!!!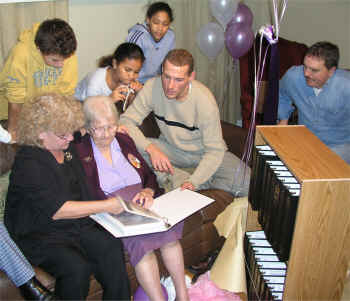 The huge photo project! :) More than one thousand photos
blown up so that she can see them. Some of them were no
bigger than 2 inches by 2 inches at the start now they are
8 1/2 x 11 portraits! Spanning over 100 years
generations of people!!!!!
Grandmother and mother will enjoy these photos forever!
They are a family heirloom nowto be handed down from
one family member to another kept as one piece!



Enjoying the photographs one of the memory
books on Dione's lap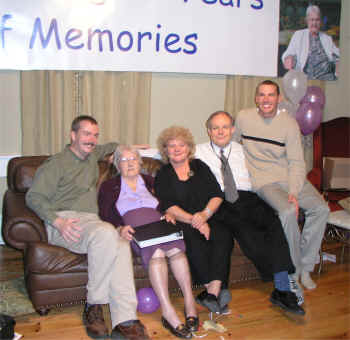 The Toronto Gang :) David, Grandmother, Mother,
Norman, and myself :) Doug and Erick couldn't come
but sent their love!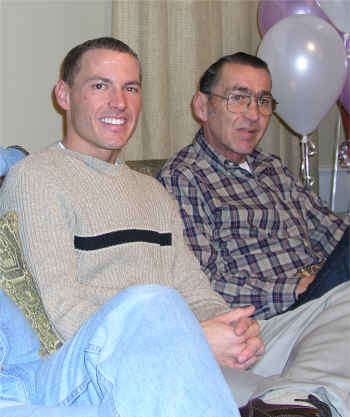 Me with my dad!!!! :)




Tony, Grandmother, and Deena enjoying
the moment!!!




grandmother laughing so hard as we are trying
to scoot her over on the couch! :)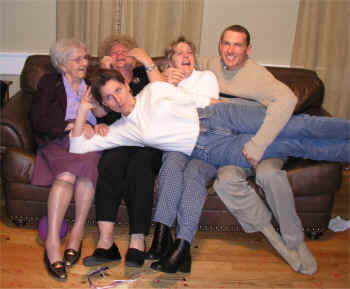 The Dodson's having a blast :)



BEAUTIFUL MEMORIES!!!!!
WOW WOW WOW!!!




grandmother with her friend :)




Memories??? I can barely remember your
name what do you mean memories???




Tyler can you smile any bigger!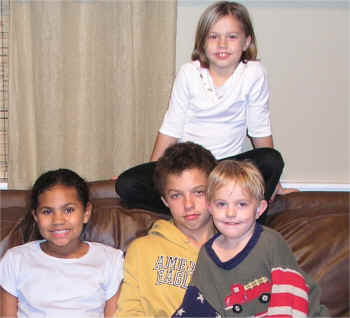 Making memories for them :)



Grandmother and Norman - ALL SMILES!!!!!

Cheetah loves grandmother:) Memory book on Grandmothers lap.




Dylan. Danielle, and Mariah with 2 dozen roses
ready to be handed to grandmother
when mother brought her in!



Dylan - SMILING nicely - ready for grandmother
to come walk through the door
earlier in the evening!
Mothers last words to me online at 11:15 p.m.
[23:15:04 judydodson@m: THANKS FOR EVERYTHING

[23:15:11] judydodson@m: I don't think I have ever been happier



This was the last photo taken, grandmother saying goodnight
and waving at David as he takes her photo!!!!!!!!



Now imagine what grandmother is dreaming
about tonight :)
WOW I am looking up above at what this page looks like now that it is finished and I AM CRYING!
It is a beautiful MASTERPIECE! Today - what a blessing!
THANK YOU EVERYONE WHO WAS THERE TODAY. THANK YOU FOR BEING THERE TO
SHOW GRANDMOTHER HOW MUCH SHE IS LOVED!

YOU ARE ALL A BLESSING TO HER.
We are not on this journey, all of our journeys, alone. We are all in this together, no matter who's
journey it is we are talking about! None of us were meant to walk it alone and none of us ever should try
to walk it alone!

It is those ANGELS that God sends to us along the path that make life so BEAUTIFUL!!!!
XOXO
Erick sent me this song these are the lyrics he told me to share it with everyone :) It is perfect for today
and everyday!!!!!


THESE ARE THE SPECIAL TIMES

In these moments, moments of our lives
All the world is ours
And this world is so right
You and I sharing this time together
Sharing the same dream
As the time goes by we will find

These are the special times
Times we'll remember
These are the precious times
The tender times we'll hold in our hearts forever
These are the sweetest times
These times together
And through it all, one thing will always be true
The special times are the times I share with you

With each moment, moment passing by
We'll make memories that will last all our lives
As you and I travel through time together
Living this sweet dream
And every day we can say

These are the special times
Times we'll remember
These are the precious times
The tender times we'll hold in our hearts forever
These are the sweetest times
These times together
And through it all, one thing will always be true
The special times are the times I share with you

These tender moments
When heaven is so close
These are the moments that I know

These are the special times
Times we'll remember
These are the precious times
The tender times we'll hold in our hearts forever
These are the sweetest times
These times together
And through it all, one thing will always be true
The special times are the times I share
Are the times we share, are the times I share with you
Special times I share with you
Now we begin a new chapter of this journey

November 17th-30th CLICK HERE
------------------------------------------------------
RETURN TO HOME PAGE
RETURN TO AUGUST 1-17th
RETURN TO AUGUST 18th-31st
RETURN TO SEPTEMBER 1-9th
RETURN TO SEPTEMBER 10-30th
RETURN TO OCTOBER 1-15th
RETURN TO OCTOBER 15-31st
RETURN TO NOVEMBER 1-15th

------------------------------------------------------

Email beaudodson @ usawx.com (remove spaces)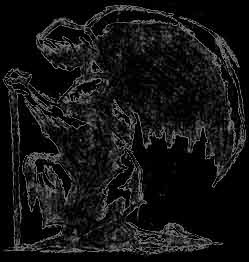 Derek Dodson
Beau Dodson
Derek Dodson