A NEW CHAPTER.

Tuesday Evening
So this is it
Driving in tonight to Newport, there was a beautiful moon rising above the horizon. It was glowing orange in color, you know that perfect looking October moon. just when the air is starting to feel a bit chillier, a bit more crisp. The smell of the freshly cut cornfields in the air, yeah that kind of moon! :)
It was rising above the harbor, here off the coast of Rhode Island. Above the bridge that takes you to the island that Newport rests upon.



The Newport bridge to the island - photo from net


Driving along, I knew in my heart that this is home. This is where I want to be, I want to live, I want to find my little bit of peace in this world.
:)
I knew the minute I arrived in Newport that this was going to be home. It felt so right, it felt so hmmm so well home! :)
So my decision is made.
Newport, Rhode Island, this area will be my future home. :)
Many miles, many air miles, many taxi cabs, many cities, many train rides later! :) I finally found a place that I have fallen in love with!
The ocean is right here as you have seen from the photographs on the previous page. :)
The waves they crash ashore the beaches here, there are hundreds of classic New England houses. Those kind of houses that you would ONLY expect to find in New England. :) Houses built in the 1600s the 1700s the 1800s.
Chimneys on every house, the smell of smoke drifts through the air.
The brick and cobblestone streets.
The boats, the sailboats:) all something I have secretly dreamed of being near since I was in my teens!
So yay the next step in the plan is being taken. It is a BIG step, a BIG decision, and one that I feel happy about on the inside and one that feels right!
Tomorrow (Wednesday) I will meet with a real estate lady who is going to show me some short term rental properties. I will rent one of these from April through June. This will be a transition house apartment. I will use this as a base to work out of while I look for a house to buy.
Newport Rhode Island Official Web Page
Wednesday, March 10th
Sunny this morning, I can hear the sea gulls outside the window here. It is supposed to get windy and snowy, maybe rainy :) as tonight approaches. The storm may miss this area though, at least the brunt of it. It appears to be wanting to move out to sea.
I am heading out here shortly to look at some short term rental properties.
I will post some more pics later today
Immigration has called and they are waiting for one piece of paper. Once we have that it sounds like we might be getting a visa. We have until Friday to get the paper to Pat. Pat will be leaving for several weeks after that and won't be around - will keep everyone posted.
Soooooo, let me paint you a picture :)
About 6 p.m. in the evening, a breeze off the ocean, cool but not cold. The voice of the sea crashing against the rocks off the shore of Rhode Island.
The canvas :) The Western Sky
The colors started off red, orange, with highlights of yellow and white, as the suns rays found themselves brushing their strokes against whispy clouds all of this with a backdrop of the deep blue sky, as the sun found itself lower and lower on the horizon the colors changed. First a hint of purple, then a spray of purple, then a sky filled with deep intense purple, it was BEAUTIFUL! :)
Truly like snowflakes there are no two sunsets alike.
This one was five stars - it was like watching a fireworks show on the Fourth of July.
It was the definition of peaceful, for just a moment all the problems of the world, all the concerns, all the worries they disappeared like a magicians abracadabra.
You just stood there, watching, gazing in wonder at how in the world there could be something so beautiful just for the taking :) Just for us, no other reason in the world other than that! A gift from God!
once again, as always He did not disappoint!
ENJOY I DID!!!!!
So yeah that was the evening show here on the island! Pictures can NEVER EVER really do a
sunset justice. But you get the idea! :)

High winds off the coast here tonight. The storm is WINDING up TIGHT - should be interesting tomorrow.



The blue colors are 40-50 knot
winds.
March 11th
TODAY IS DOUG'S BIRTHDAY :) SO HAPPY HAPPY BIRTHDAY DOUG :)

One more day here in Newport. :)
I am going out toe Judith Point to see the big waves and take some photos, also to check out another town or two near here.
I will post some more info later.
Nothing new on immigration. I am still waiting to hear about the one piece of paper needed, things look good though. We should be fine. I am waiting for David to get his information to them.
Thursday Afternoon
Beau, I'm so sorry to have to inform you in this matter but Claire lost the battle to Breast Cancer earlier this morning. She passed over quite peacefully and was never alone for a moment. I was with her the whole time.
I will let you know when the memorial service will be held, A Celebration of her Life.
Feel free to call anytime. Today I am shutting off the phone and trying to get some rest.
You were very special to her Beau and she cherished the Teddy you sent her.

--

The difficult we can do. The impossible just takes a little longer.
Blessed be, Patrice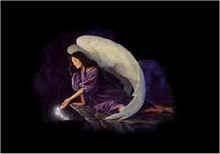 --------------
Claire was my counselor in Toronto. She never told me that she was sick, although now looking back I realize some of the signs that were there, but at the time did not register as such. Claire was a wonderful person she helped me a lot. I think this was the first counselor that actually helped me. That understood me. That I allowed to understand me. She never judged me. She helped me through many difficult days. She helped equip me with some tools. I never grasped the sword from her to kill the dragon but she did give me more tools than I started with.
I am sad to hear that Claire has passed on. :(
--------------

I went down to Point Judith, Rhode Island this morning and early afternoon. Point Judith is about 20 minutes away from here. There is a lighthouse and several beaches. The waves were pretty high because of all the Noreaster off the coast. Rough seas!

Point Judith


Point JudithRhode Island




Lighthouse at Point Judith, Rhode Island
------------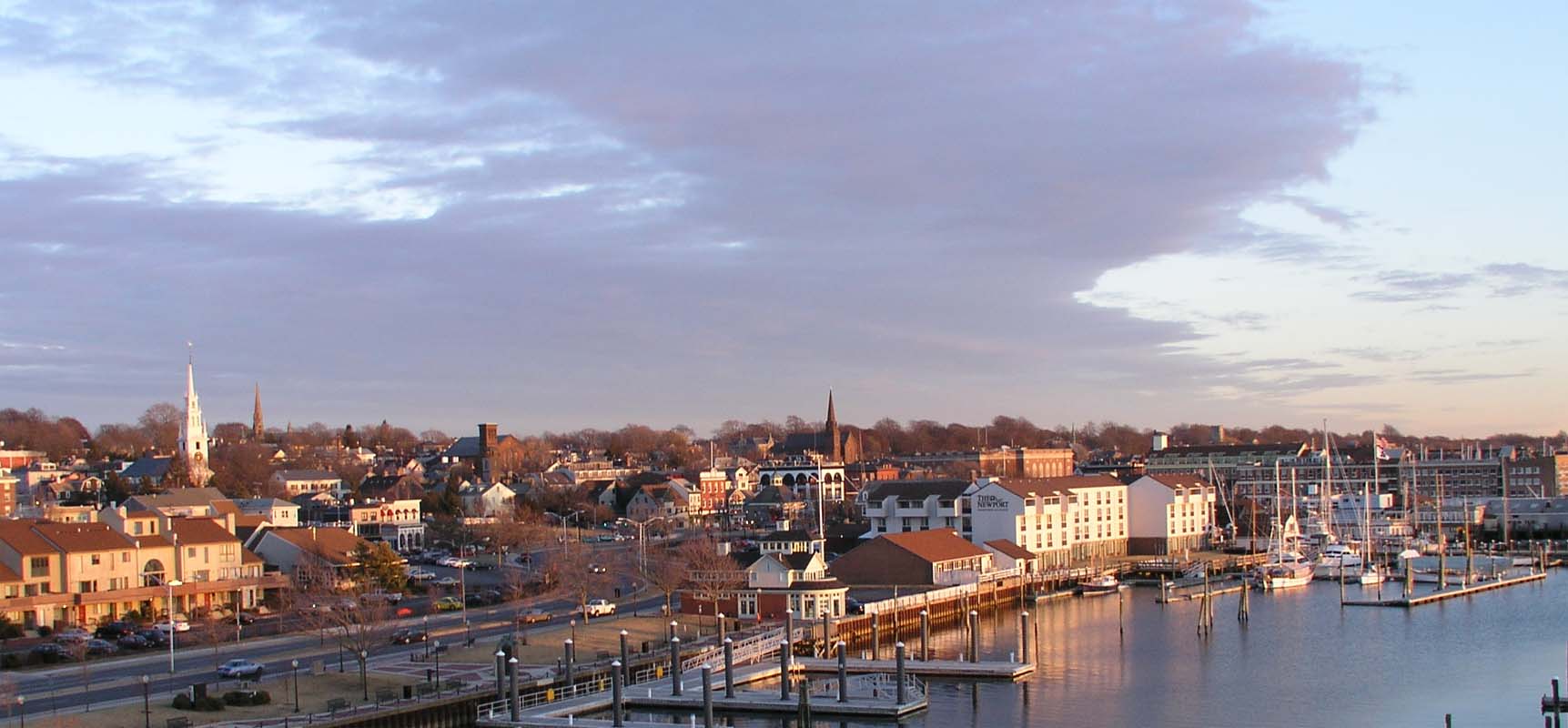 Newport, Rhode Island - One Last Look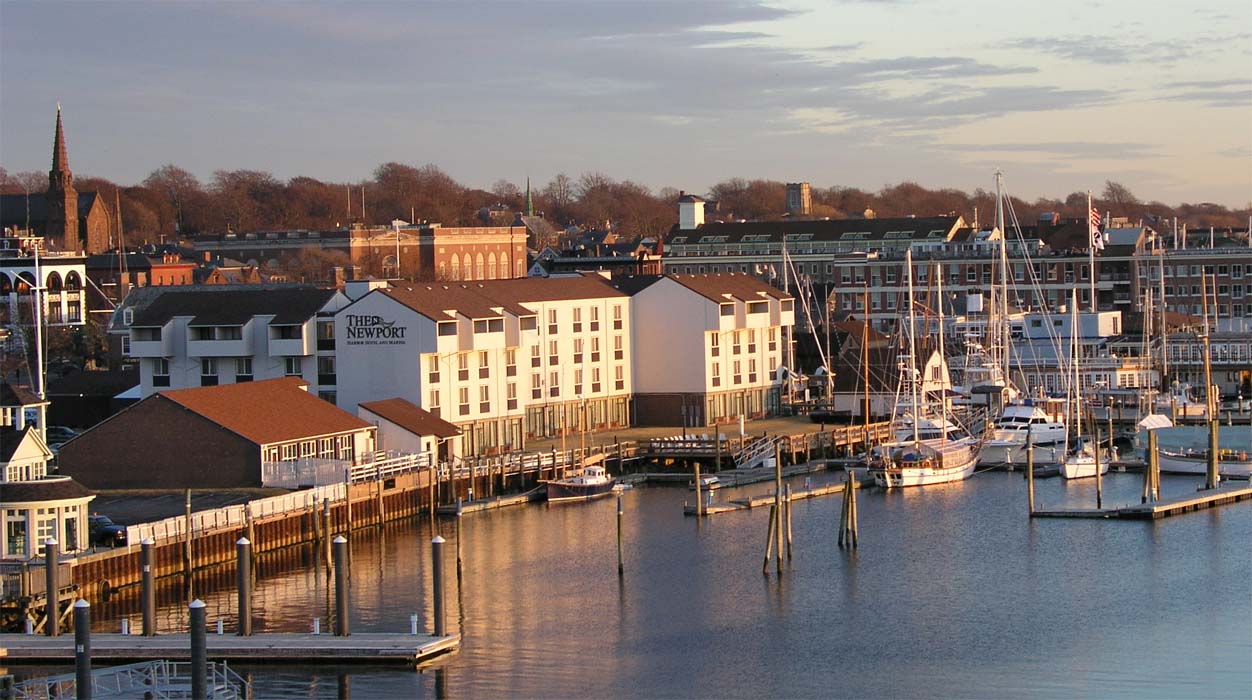 The Harbor in Newport
--------------------------------
--------------------------------
I visited with the Red Cross today in Middletown. That is next door here to Newport. Met the person in charge of Disaster Services. Picked up an application to volunteer with them. Hopefully I will be able to do some work with them in this area.
So that is all good!
--------------------------------
--------------------------------
A DAY OF TERROR IN SPAIN

And 2 1/2 years to the day day from 9/11.
America 9/11
Spain 3/11

Al Queda is calling it Operation Death Trainand has claimed responsibility for the attacks. This is still being investigated.
More than 200 killedmore than 1000 injured.
Spain is calling it their 9/11
10 Bombs ripped through multiple trainsand train stationsmore bombs were set off by local police before they blew up.
Spain is one of our stronger partners in the war on terrorism.
Friday, March 12th
Today is a travel day one. I will be flying out of here this morning around 10 a.m.
Not sure when I will update again, might be tonight, might not be until tomorrow, not sure :)
I HOPE HOPE HOPE to get my Canadian Visa today! Happy Thoughts and Hoping for the best!
Keep Norman in yours thoughts and prayers as he is going to the Eye Doctor today and tomorrow for eye surgery. I believe I have that correct from what he told me the other day.
Lots of other people to keep in your thoughts and prayers as well. Some you know about and some you don't.
OK I WAS WRONG ON NORMAN :) BECAUSE TOMORROW IS THE PARADE IN NEWPORT. I THOUGHT IT WAS ST PATRICKS DAY BUT IT IS NOT! :) SO SCRATCH THAT SURGERY FOR TOMORROW. IT IS THE 17th, which I knew - but you know when you get older your memory goes ummm yeah :) something like that!
Anyway, WOW THREE PLANES IN ONE DAY - THE DAY STARTED AT 6:30 in the morning and didn't end until 7 p.m. GEEEESH! That is a lot of planes, but I made it safely to my final destination wherever that might be! A secret undisclosed remote location.
Saturady, March 13th, 2004 GRANDMOTHERS BIRTHDAY
Ok well first off today is NOT Saint Patricks Day! I had the dates mixed up because in Newport the parade is today! So ANYWAY forget the St. Patrick's Day celebrations at least for today.
HOWEVER.TODAY IS GRANDMOTHERS BIRTHDAY!!!!! SO HAPPY HAPPY BIRTHDAY GRANDMOTHER!!!!! SHE IS 89 YES EIGHTY-NINE YEARS OLD!!!!!! CAN YOU IMAGINE! SHE HAS SEEN A LOT IN HER DAYS!
OK SO I AM IN PADUCAH! SURPRISE

It was a big surprise for mother and grandmother, who had NO IDEA I was coming into town! :)
I showed up with roses and balloons and a teddy bear for grandmother! :) She was sooo surprised I am not sure who was more surprised though, mother or grandmother! :)
Then Mariah, Jeremy and Dione came over and they were surprised as well. Deena was on the phone with mother when I walked in so she knows I am here.
It was a fun day just hanging out with grandmother, sitting on the couch watching tv with her and we ordered Dairy Queen. :)
We are all going out to eat tomorrow, the whole family!
Then let me see, someone knocked at the door and there was a huge bouquet of flowers and balloons from Norman and David! :) SO VERY NICE! :) Grandmother has SOOOOO many flowers she loves flowers though. One can never have enough. :)
Here are a few photos from the day


Grandmother and Cheetah :) with the roses and balloons
brought, well the balloons are up above :) So just pretend
they are in the photo!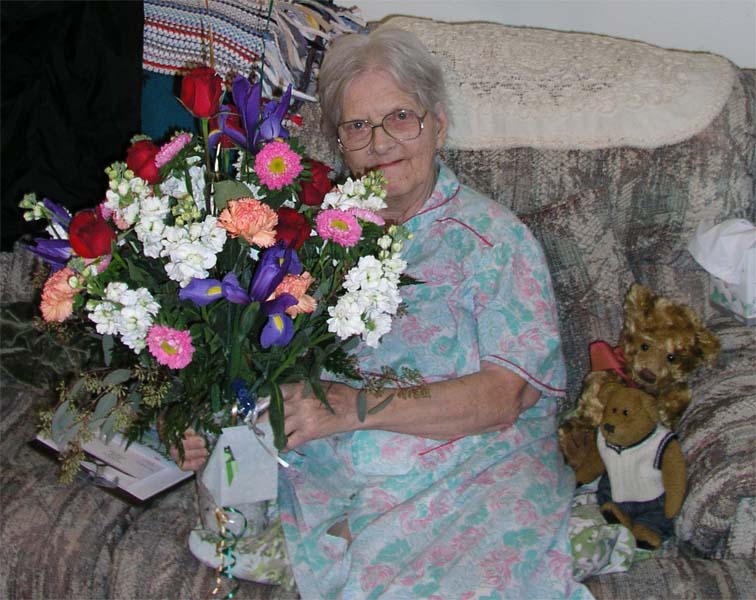 Flowers and balloons the David and Norman sent :) They are BEAUTIFUL!!!!
I think Cheetah is trying to figure out why this new bear is staring at him :)
GRANDMOTHER SAYS THANK YOU DAVID AND NORMAN :) THAT WAS VERY SWEET! AND A BIG SURPRISE!!!!!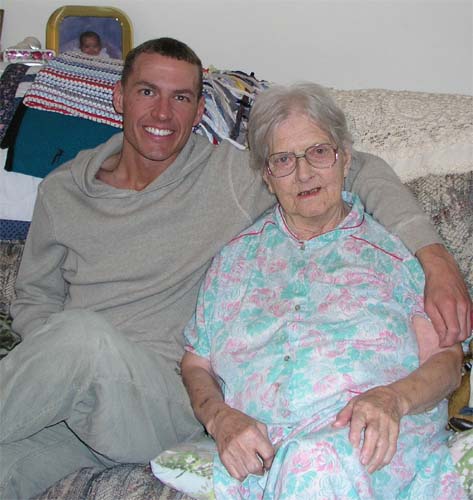 Grandmother and me :)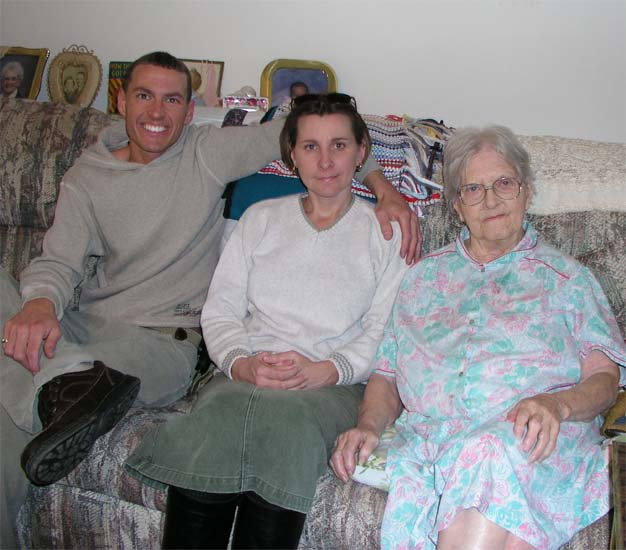 Dionemy younger sister :) and Grandmother :)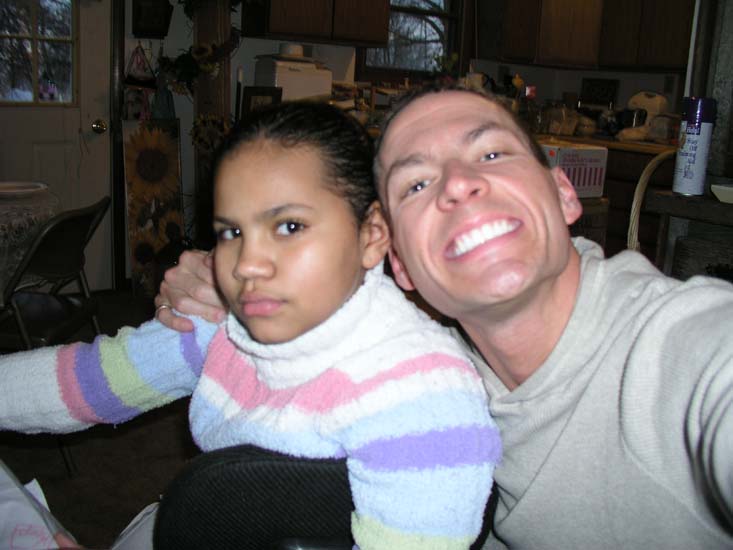 Mariah

IT WAS A GREAT DAY!!!!!

Hmmmm Erick is telling me he is working on a secret music project! I shall anxiously await the outcome :) from the Super DJ himself.
Sunday, March 14th
Going out to eat with the family today, I will post some photos later. Hope everyone is doing ok up north. :)
Had a great day, spent most of it with Grandmother.
We all went out to eat at Crackle Barrel this evening. Grandmother had a lot of fun, we all did for that matter! :)

Grandmother with her birthday cake
She actually blew all the candles out :)

Deena and grandmother at Crackle Barrel

Jeremy and Dione at Crackle Barrel :)

:) Tyler, Dylan, Tony at Grandmothers Birthday Party

Deena, Danielle, and Mariah at Grandmothers Party picture is a bit blurry :)
Ok so I need a picture of MOTHER! :) I will have to work on that. ;)
------------------------------------------------
Grandmothers sister is very ill she lives in Marion. That is about 40 minutes north of here. We may go up there tomorrow depending on what grandmother would like to do.
Monday, March 15th
SPAIN HAS QUIT THE WAR ON TERRORISM. THEY ARE PULLING THEIR TROOPS OUT OF IRAQ. THEY ARE BASICALLY TELLING THE USA WHERE TO GO. AMERICA HELPS EVERY SINGLE COUNTRY EVERY SINGLE TIME THEY NEED OUR HELP. WHEN AMERICA NEEDS HELP THESE SAME COUNTRIES RUN AND HIDE. THEY ARE COWARDS - FRANCE, GERMANY, AND NOW SPAIN.
ONE SMALL STEP FOR SPAIN, ONE GIANT LEAP FOR TERRORISM.
THE TERRORIST INFLUENCED THE ELECTION IN SPAIN YESTERDAY. TERRORISM HAS WON A VICTORY.
- end rant
BREAKING NEWS BREAKING NEWS BREAKING NEWS. WE GOT MY CANADIAN VISA WE GOT MY CANADIAN VISA WE GOT MY CANADIAN VISA!!!!
IT IS GOOD THROUGH 9/11
There we go! THANKS TO EVERYONE WHO HAS HELPED PUTTING TIME, EFFORT, AND ENERGY INTO THE PROCESS :)
THANKS DAVID FOR GOING TO NEW YORK CITY WITH METO MEET WITH IMMIGRATION OFFICIALS!!!!!! WE DID IT! :) AT LEAST NOW WE WON'T HAVE TO DRIVE ACROSS THE BORDER - WE CAN JUST FLY IN!
----------------
On another note...
Snow in the forecast daily in Toronto this week. I want Spring! :) Not supposed to be heavy snow, just light snow. :)
I am leaving right now for Marion, Illinois. My grandmother sister is very ill. We are taking grandmother to go see her.
--------------------------
8:00 p.m. Monday Night
It was a beautiful sight today. Sitting there behind my grandmother as she gazed at the bed in front of her watching her little sister laying there. I watched grandmother as she held her sisters hand so gentle and with such care. Speaking softly to her. Asking Mildred if she wanted to talk about the weather or anything else of that matter. Mildred opened her eyes a few times and tried to mouth some words, but no words would come out. She was too weak.
Mildred, grandmothers younger sister, one of three sisters including grandmother. Both being the only kids now surviving, as grandmother has already lost three brothers and one other sister and a baby brother at birth.
I sat there and figured that this would probably be the last time grandmother would see her sister, the last time she would be able to hold her hand. I was grateful to be able to be there with her at this time, but regretful that I had not seen Mildred earlier, during the summer of last year when Mildred would have be able to talk to me.
There was something peaceful about all of it though, watching two women one in her late 80s and one a year away from being 80. Neither able to take care of themselves. But grandmother keeping the candle of hope lit, trying to be there for her sister.
Something peaceful, knowing that both of them probably dream of Heaven at night.
I could just sense the Angels being camped around the room, singing and doing what they do best, bringing comfort and rest to those who need it most.
And grandmother, well she just seemed like it was all part of the passing days, watching her sister slipping away.

Like little teardrops water is streaming down the window panes tonight.
My computer is sitting in the window sill here at the Fox Briar Inn
Rain is falling now, a gentle steady rain.
------------------------------------------------------------------------------------------------------------
Tuesday, March 16th
Nothing much going on today just hanging around here at the Fox Briar and running some errands.
Anyway, going to eat out with Daddy tomorrow then Bobby tomorrow evening, John on Thursday Evening :) Trying to see everyone before I leave.
I probably won't return home now until the weekend.
Norman is having his eye surgery tomorrow
It is also St Patrick's Day tomorrow.
Wednesday, March 17th
I am going to eat with my dad this morning, then not sure :) what is going on the rest of the day!
Evening...
Had lunch with daddy and Dione, got updates on everything going on with them. Daddy seems to be busier than ever running everywhere with the Red Cross Blood Drives! :) But I think he enjoys it. for the most part. I am sure he would like a break though, sounds like they are needing to hire some more people.
I had dinner with my friend Bobby, we went to Fazolis in Paducah. I thought I used to eat a lot. :) Bobby had a whole pizza by himself!
Spent the afternoon with my grandmother,
MY VISA CAME TODAY YAY! :)
All good news there!
Nothing new today on grandmothers sister, she is still not well.
Being home makes me think about moving back here to Paducah. :) I know that is weird for me I never thought I would say those words.
It is very frustrating trying to figure out where to move. Not that there is anything wrong with moving back here, just I love the bigger cities and stuff.
I love Newport, it is very expensive though, housing at least. I have to make some decisions though. I think some people don't want me to move there. I don't know what to do. I don't know what I want to do. Sometimes it is all maddening. The whole process. I will figure it out.
Thursday, March 18th
Beautiful sunny day here in West Kentucky and Southern Illinois. WOW :) It is amazing! Spring is definitely in the air down here. Lot of flowers and trees are blooming, very exciting! :)
Spent the morning running errands with Paul and now I am back at the Fox Briar! :) I am having dinner with my friend John this evening at 5 pm.
Nothing really new to report. I am having major confusion on where I want to live. :( I don't know if that is a good or bad thing. It is all confusing when I think I know what I want to do, then I lean towards something else. :) So whatever, I guess I will resolve myself to being confused which is no good. One day at a time.
I don't know when I will return to Toronto.
Norman told me his eye surgery went well, nothing further though.
Thunderstorms some strong or severe for this area on Saturday.
Newly-discovered asteroid 2004 FH is going to fly-by our planet TODAY, March 18th , 2200 GMT) 5:08 pm, est. only 43,000 km, which is only 26,500 miles from Earth. The asteroid missed the earth by about 24 minutes!
Friday, March 19th
Grandmothers sister passed away last night at 12:30 in the morning. Mildred was 79 years old. We are not sure when we are going to tell grandmother. Mother is making that decision.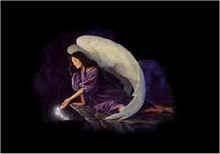 --------------------------------------------
Going to eat lunch with a friend. I am then going over to see grandmother and print some photographs off for mother.
Chance for heavy or severe thunderstorms here tonight. Nothing too bad though, just some hailers and strong winds.
SATURDAY - MARCH 20th SPRING HAS FINALLY ARRIVED!!!!
Today is the FIRST day of Spring! I am happy! I love Spring it is one of my most favorite seasons!
I took these pictures yesterday afternoon! :) This is what it looks like around West Kentucky and Southern Illinois

SPRING SPRING SPRING SPRING SPRING SPRING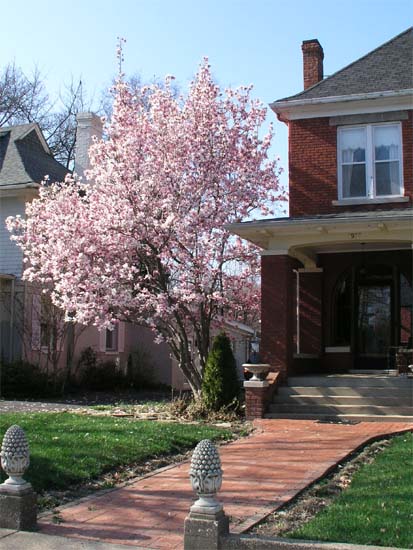 SPRING SPRING SPRING SPRING SPRING SPRING


SPRING SPRING SPRING SPRING SPRING SPRING SPRING SPRING SPRING
|

NOT ONLY IS TODAY THE FIRST DAY OF SPRING - BUT IT IS ALSO DAVID'S BIRTHDAY!!!!!!
SO HAPPY HAPPY BIRTHDAY DAVID! :)
So yeppers, I am thrilled about the arrival of Spring! :) I guess that goes without saying!
So now onto other subjects at hand.
Hmmm I am having a very difficult time with my decision on where to move. There are many factors involved in this but in the end it is going to have to be what I think is going to make me most happy. It is not an easy decision.
I am thinking about just moving back here to the Paducah area. Perhaps Lone Oak, I will be here where all of my family lives. I can do the Red Cross stuff that I enjoy. I will be near some of the charities that I like to work with and I can do work with severe weather spotting.
It does not have the glamour of Newport! :) but it will allow me to put more of my money into savings and take some trips from time to time. Compared with the cost of living in some of these other places it makes more sense to me to perhaps move here.
It is all very confusing and difficult since being set free. It has been a roller coaster of emotions and there is a lot going on behind the scenes that does not go onto the web page. This is out of respect for everyone involved. It is not because I don't want to be more open on the web page. I am sure everyone understands that. We all have our private lives. :)
I enjoy sharing my life though through my web page. I enjoy sharing stories, sharing memories, and sharing happiness through photographs.
I know there are a lot of people that read my page and I know there are a lot of people that are supporting me and wishing me the best in whatever direction I head.
I am heading back to Toronto on Sunday. I will be with David most of the week. :)
Doug and Erick are on vacation to Florida. So I don't want to be alone there in Toronto. :) Plus I want to go with David and see the Passion. :) We have been waiting to see it for some time now.
I am looking forward to making a final decision within the next week.
So keep me in your prayers :) as I do everyone because that is what gets me through the day!
--------------------------
Stormy morning down here in Southern Illinois and West Kentucky. A line of severe thunderstorms moving across the area. Lot of reports of marble size hail. Lot of thunder and lightning as well being reported.

Storms moving towards Paducah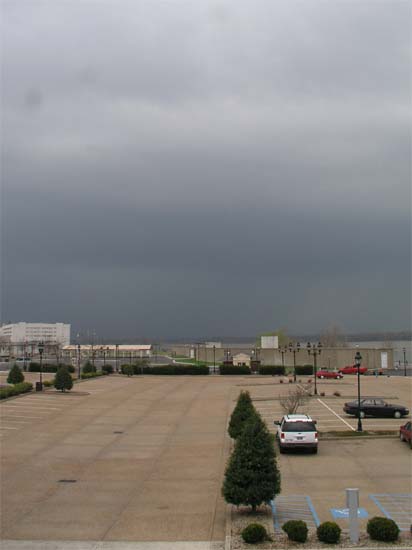 stormy sky over Paducah - lots of lightning and thunder

Another round of storms moving in3:30 p.m. in the afternoon - lots
of lightning and thunder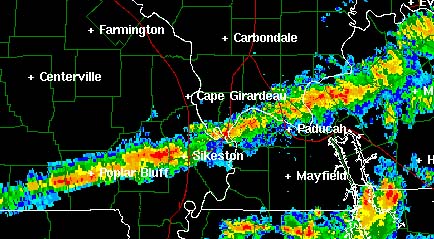 3:30 radar from Paducah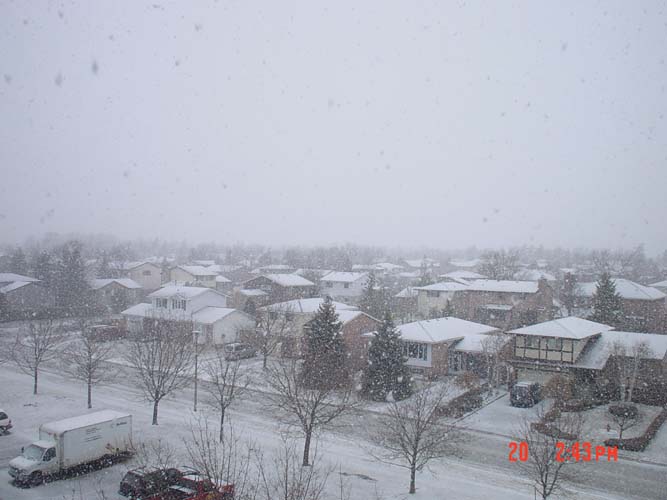 Meanwhile my friend David Brown up in Ontario, west of Toronto sent me this
photo :) This was their first day of Spring!!!!

I am leaving tomorrow morning for Toronto, plane leaves here at 11 a.m. in the morning
Monday, March 22
Oh me oh my this world of mine. I swear sometimes I don't know where my head is. I don't know whether I am coming or going. There is so much to soak in, so much to fill, so much to swallow. I wish I might I wish I may.
Life is a beautiful tapestry of emotions.
In a world full of violence, one wonders what will it take for people to stop killing one another. This world we live in is in turmoil, violent blood shed. It is not right. Why can't people love. Why can't people get along. Why must there be borders Why is there war? Why is there terrorism?
I do not understand. I do not comprehend this world that we live in the violence must stop.
The situation in Israel will only get worse now with the killing of this terrorist leader, this is the beginning of a new war like we have yet to see.
I wish there was peace.
What we need is MATTIE :)
Let us remember
We are the land of the free
Not of the vengeful
Let us remember
It is in God that we trust
Not in bombs and guns

Let us remember
Peace grows from a gentle heart
Not one filled with Spite
----------
I am dreaming of the ocean waves, I am dreaming of the sand beneath my feet, the rhythm of the ocean
I dream I DREAM. - the waves the sea - the waves - the sea
Tuesday
I am here in Toronto! :) Tomorrow David is coming and we are going to join Doug and Erick in Key West. So that will be nice :) I am having a hard time finding my bearings, yeah surprise surprise.
Wednesday
David and I are leaving to go down to Key West, not sure I will update the web page for a few days. So don't worry :) if there are no updates.
More later
We are getting ready to leave for the airport.
Don't worry if I don't update the web page because I may not have the internet down there! :) Won't know until I get there!
Love you all
Sunday, March 28th
I AM IN SOUTH BEACH, MIAMI, FLORIDA AND IT IS SUNDAY AFTERNOON. I WILL BE UPDATING MY WEB PAGE LATE TONIGHT WITH SOME PHOTOS AND OTHER INFORMATION.
WILL START A BRAND NEW PAGE ALSO SINCE THIS ONE IS SO LONG.
OK MORE LATER
NEXT PAGE PLEASE :) March 28th on


------------------------------------------------------
------------------------------------------------------
RETURN TO HOME PAGE

RETURN TO AUGUST 1-17th
RETURN TO AUGUST 18th-31st
RETURN TO SEPTEMBER 1-9th
RETURN TO SEPTEMBER 10-30th
RETURN TO OCTOBER 1-15th
RETURN TO OCTOBER 15-31st
RETURN TO NOVEMBER 1-15th
RETURN TO NOVEMBER 16th
RETURN TO NOVEMBER 17-30th
RETURN TO DECEMBER 1st-15th
RETURN TO DECEMBER 16th-22nd
RETURN TO DECEMBER 23rd-31st
RETURN TO JANUARY 1st-8th
RETURN TO JANUARY 9th-26th
RETURN TO JANUARY 26th-31st
RETURN TO FEBRUARY
RETURN TO MARCH 1st-9th

------------------------------------------------------



Email beaudodson @ usawx.com (remove space)