January 9th
January 9th, 2004
We have arrived in Orlando :) This is a VERY colorful city. Everywhere you look there are lights. The hotel is
HUGE. Will try and get a picture at some point.
We rented a nice convertible at the airport! So we are going to have to cruise around in that, with the radio
playing some island music.
Space News
WASHINGTON (AP) - President Bush will announce plans next week to send Americans to Mars and establish a
permanent human presence on the moon, senior administration officials said Thursday night.
Bush won't propose sending Americans to Mars anytime soon; rather, he envisions preparing for the mission more
than a decade from now, one official said.
In addition to a returning trip to the moon for the first time since December 1972, the president also wants to
build a permanent space station there.
FLORIDA

This is is the view outside my window

We are heading out to the coin show shortly, such a beautiful view from my balcony here. Not very warm
though. It is actually in the 50s this morning. Not bad compared to the below zero temperatures in Canada.
Norman has the flu, just talked with him on the phone. So everyone say a prayer for him today.
He sounded tired, the flu is so bad this year for so many people. Not something you want to catch.
Fun day at the coin show. I never knew there could be so many coins in one location. Morgan
Dollars to well you name it! Got some beautiful Morgan Dollars for my set.

FUN Coin show :) That is the name of the show - FUN Lots and lots of coin collectors and dealers.

Checking out the Morgan Dollars

Morgan Dollars
So anyway, picked up three nice Morgans, an Ike Dollar, and a nice
cameo quarter. I am a bit fan of the cameo coins.


When we went outside the show, this bird was hopping around on top of the cars :)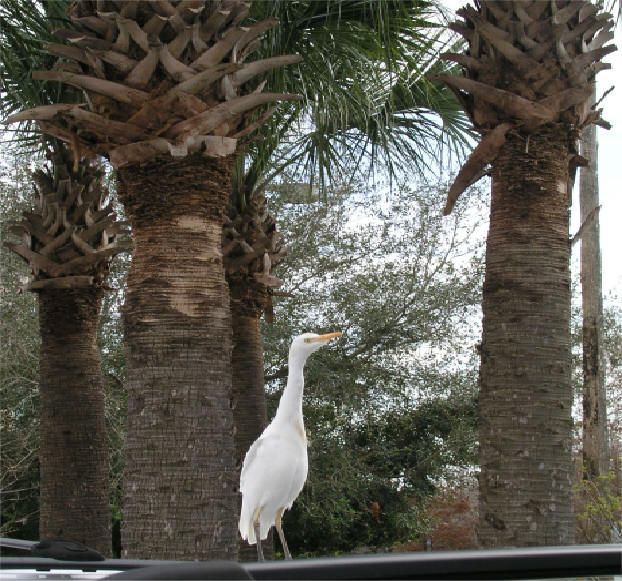 Bird Hopper :)


AN ORANGE TREE AND FLOWERS. Something we have not seen for a long
time in Toronto :)



NOW I AM THINKING ABOUT SPRING!!
So all in all it was a VERY long day but a lot of fun!!!!! Definitely worth coming down here to see
the show.

Ok well we are heading out into the RAIN :) YES RAIN - No snow here of course
CANADA IS FREEEEEEEZING!!!! SCHOOLS ARE CLOSED BECAUSE
OF THE COLD WEATHER.
DOUG AND ERICK SAID IT IS -30 THAT IS MINUS THIRTY!!!! CAN YOU
IMAGINE???
COLD AIR COULD RETURN EVEN MORE INTENSE IN A WEEK OR TWO.
COMPUTER MODELS ARE SHOWING SOME INSANE READINGS.
STAY TUNED!
January 10th, 2004
We are heading out to the Kennedy Space Center this morning! Should be a blast. I have always wanted
to visit there!
Maybe I can catch a ride into space :)

Saturday Evening
OK! WHERE TO START
It is cold here in Florida, temperatures are in the 40s with wind chills in the 30s. They are telling people
not to be outdoors very long Wimps! Have they ever been north?
Toronto has been close to MINUS THIRTY BELOW ZERO. That means the
temperature difference between here and Toronto is about 100 degrees. The high today was near 60!!!
WOW is all I can say to that!!! Amazing winter weather.
Now let me say this, the computer models are showing a possible MAJOR winter storm OR BLIZZARD later
this week for portions of the Ohio Valley, Middle Atlantic, and Northeast United States. AND some of
the COLDEST air some meteorologists say they have EVER seen on a computer model. I will be anxious
to see what happens. I will also be interested in seeing what this means for my family back home.
Perhaps finally some snow??? We shall see. This is a wild weather pattern!
NOW BACK TO FLORIDA!!!!

KENNEDY SPACE CENTER

Cheetah dreaming about being the FIRST bear on MARS!!!!




Solid Rocket Booster, this is what you see on the sides of the Space Shuttle when it is taking
off. They are HUGE when you see them up close.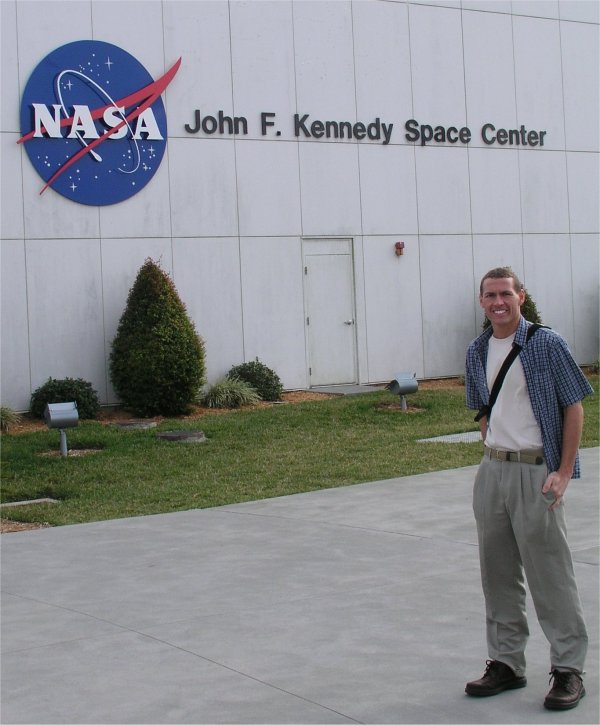 FREEZING at the Space Center - I had to buy a sweatshirt!!!!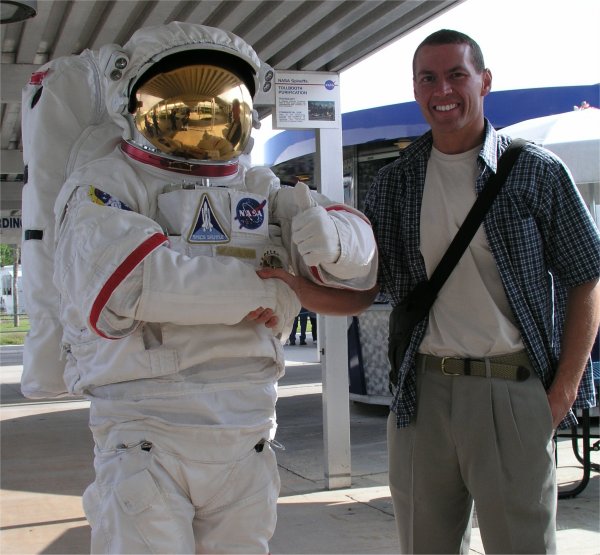 TO SPACE AND BEYOND!!!!! We just landed from our Mars Mission! This is
my astronaut partner.
The Kennedy Space Center is an AMAZING place to visit. It is a place where you can DREAM
DREAMS, think about the future, remember the past, and be PROUD to know that your country has
been part of soooooooo many breakthroughs.
Now, one might think "We spend soooo much money on the space program. Could that money not be
used for more important things?"
I have had this conversation before with a several people and do you realize that without the space
programs we would never have seen the following inventions (and this is to name just a FEW)
Heart Monitor
Firefighter Breathing Apparatus
Programmable Pacemaker
Automatic Insulin Pump
Car Phone
Environmentally safe sewage treatment
High Density Battery
Robot Guided Wheelchair
Powerful Micro-Computers
Wireless Alarm
Weather Satellite and Storm Prediction
Weather Forecasting like wwe know it today
International TV Broadcasts
Laser Surgery
Want more? There are literally thousands of inventions and medical breakthroughs because of our space
program!
It is a vital part of our future. The space program is going to take us where we NEVER dreamed possible.
I am a bit fan of the program. I guess you have already figured that out.
It has been a love and passion of mine since I first watched the Space Shuttle take off back in the early 80s!
It has always been an inspiration to me and millions of other people.
It is a worthwhile program.

THE APOLLO V - ACTUAL EQUIPMENT AND STUDIO THAT THEY WATCHED
ALL OF THE ACTION FROM.

HUGE ISN'T IT? This is part of the Saturn V Rocket! AMAZING to see
it up close!


Close up view of the Launch Pad!!!!

This is me at the Launch Pad, which is directly behind me! This
is where all the Space Shuttles and other vehicles LAUNCH from
It is huge, you are looking at about 4 miles behind me!

Vehicle Assembly Building. This is where they build
and work on the Space Shuttles!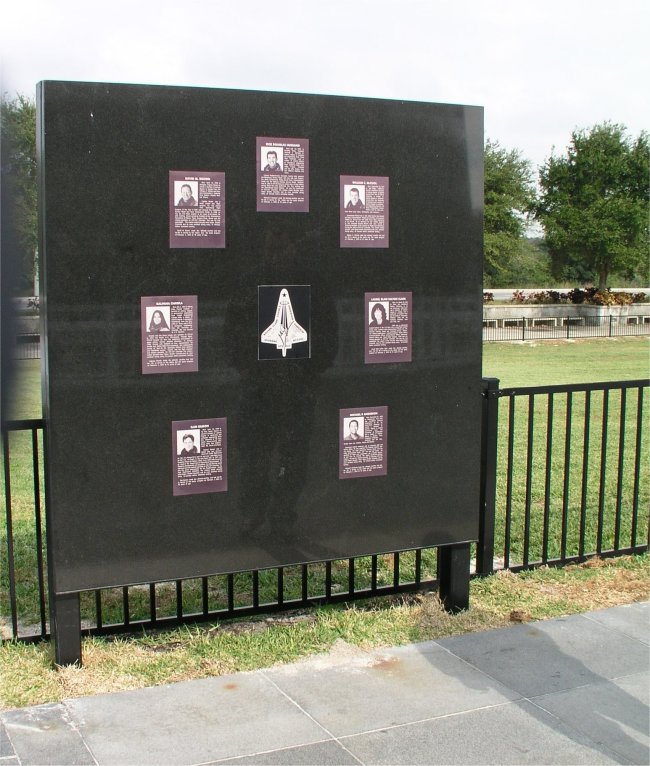 This is the Space Shuttle Columbia Memorial. You will
remember that this shuttle was lost last February 1st.

This is where they are BUILDING portions of the International
Space Station. Pieces of the station come from ALL over the world.
Many countries are participating in this program! The air in this
room changes about 12 times per hour!
The space station is one of the most AMAZING programs that the World has going right now in outer space!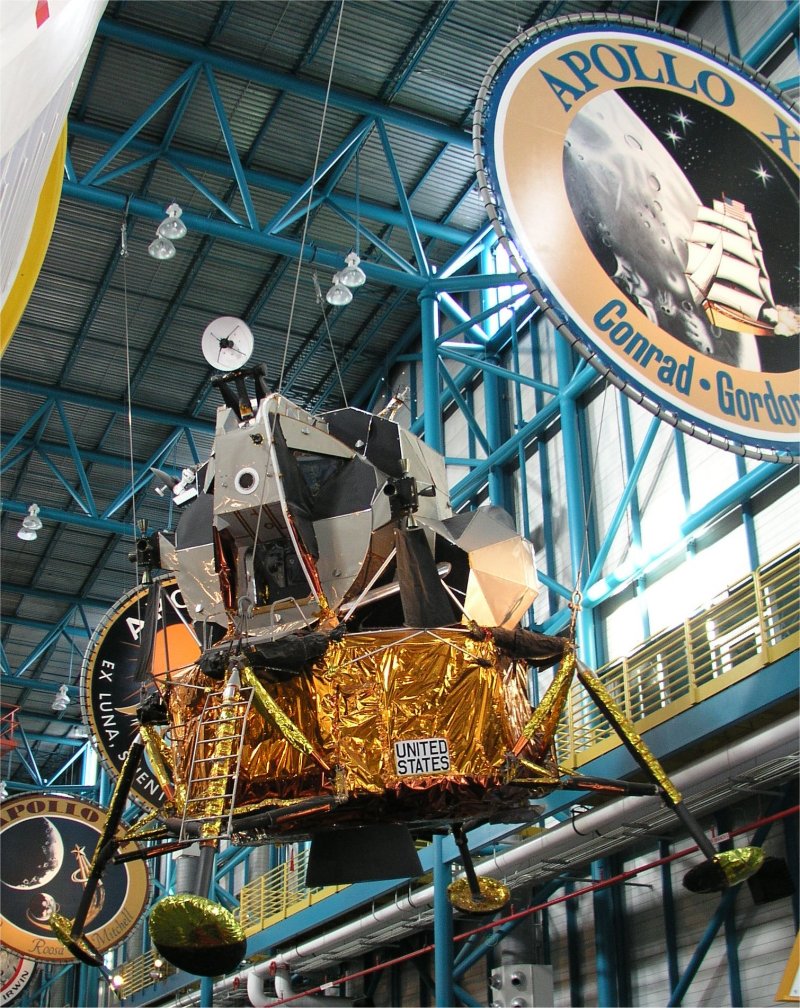 This is a lunar landing module. See the BIG round saucers at the bottom. Those
saucers are there because they did not know how deep the dust would be on the
moon, so this was supposed to help the module "float" In the end the dust
was only a few inches deep.

Moon Rover, a four wheeler for the moon!

This ARM located on the Space Shuttle...was made by CANADA :) It is one of the major
contributions that Canada has made to the Shuttle program. There are many other
contributions as well!

This is the rocket garden.

It was a FUN day at the Kennedy Space Center! We had a BLAST. At the end of the day we
saw a nice IMAX Movie on the International Space Station!
I am sooooo happy that I was able to visit the Space Center. I have always been PROUD of our
program and what it has done for the Spirit of America. AMAZING. It was an incredible feeling
being there, seeing it all, up front and personal! I have more respect than ever for this program! Dream
DREAMS!!!! This was and has always been on my "to do in life" list! Now if I could just see a shuttle
take off. Maybe one day!

"Many years ago, the great British explorer - George Mallory -
who was to die on Mt. Everest, was asked why did he want to climb it.
He said, 'because it is there'. Well, space is there, and we're going to
climb it, and the Moon and the planets are there, and new hopes for
knowledge and peace are there. And, therefore, as we set sail, we ask
God's blessing on the most hazardous and dangerous and greatest
adventure on which man has ever embarked."

- John F Kennedy

COCOA BEACH, FLORIDA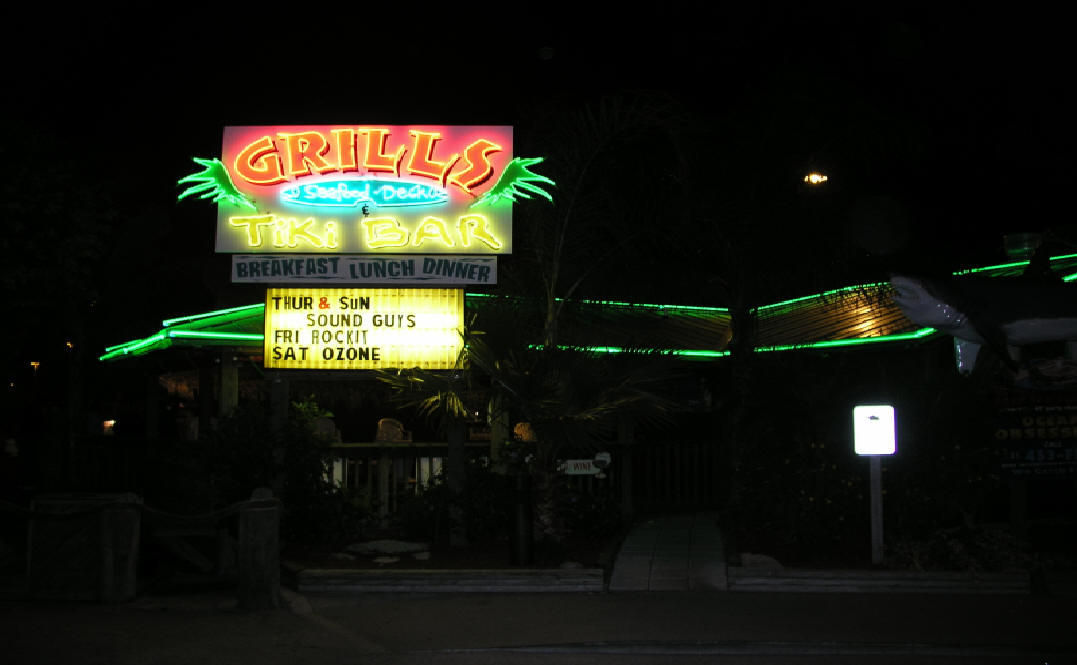 And this is where David and I had supper. GRILLS right on the Atlantic Ocean.
I had shark for dinner. That was a first for me.
And from Erick, from Toronto, sent me this photo.
I think he is reminding me to FLY FLY!!!!

My friend David, who used to work for Environmental Canada sent me this photo
of steam coming off Lake Ontario! Impressive.

TEMPERATURES FELL TO FIFTY BELOW ZERO in portions of Ontario!!!! UNREAL!

That is it for today. David is having a GREAT time, lots of fun, smiling and laughing!!!!
January 11, 2004
I have no idea what we are doing today :) We still have to decide. It better warm up a bit though,
because right now it is COLD

This is our car that we rented, would be nice if it would warm up outside.
Sunday Evening

Norman is in the hospital. Keep him in your thoughts and prayers.

MARS UPDATE
NASA's Spirit rover now has its arm and all six of its wheels free, and only a single cable must be
cut before it can turn and roll off its lander onto the soil of Mars. As that milestone is completed,
scientists are taking opportunities to take extra pictures and other data.
Once Spirit comes off that platform...we will be getting a lot more photographs! It is going
to move towards a depressed area that NASA sees in the distance.

Toronto Freezes in subzero weather - unknown photographer
January 12, 2004
Heading to Minneapolis today. Will arrive later this afternoon. That is it for now because I have to pack
and get ready.
MINNEAPOLIS ST. PAUL, MINNESOTA
I have arrived safely into the Twin Cities. There is just a hint of snow on the ground. There was absolutely NO snow cover all the way from Florida to Minnesota! Hard to believe that.
Just got here and received an email from Kristy down in Birmingham!
Baby Elliott Wells Bloomston

Looks like Brett has a new partner for his law firm!
Congratulations Brett, beautiful photograph! I am sure you are proud!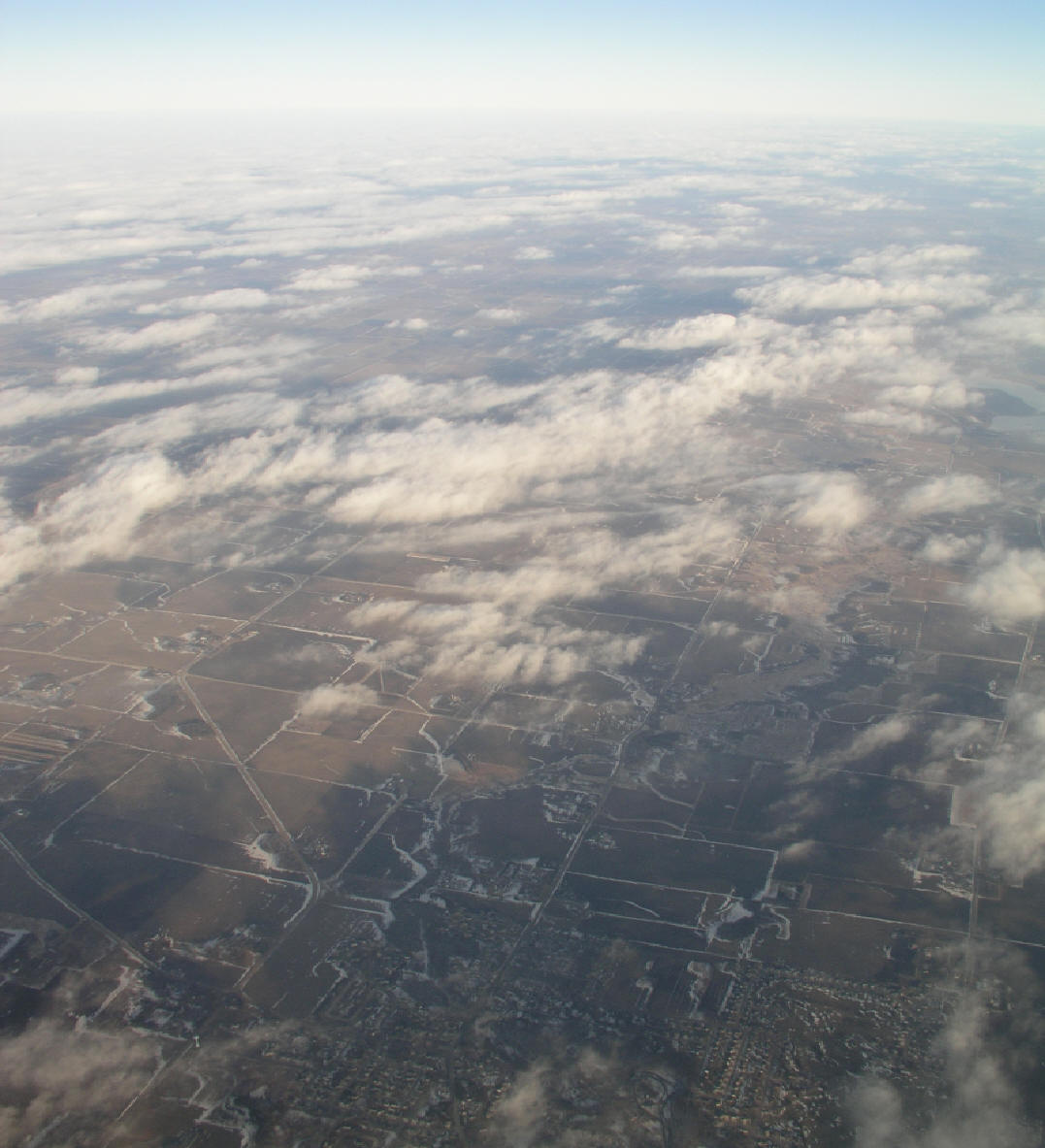 BARE GROUND IN MINNESOTA! AMAZING FOR THIS TIME OF THE YEAR

A HINT OF SNOW THOUGH ONCE YOU HIT MINNEAPOLIS

WINTER WEATHER UPDATE
HISTORIC cold weather is forecast for portions of Ontario into New England. Would not be surprised to see some
areas reach down to MINUS FORTY to even MINUS FIFTY BELOW!
Still no significant snow for back home, Southern Illinois or West Kentucky. There is a CHANCE for some
precipitation down there perhaps on Friday and Saturday. Maybe we can mix some cold air in there, right now it appears to
be rain though.

January 13, 2004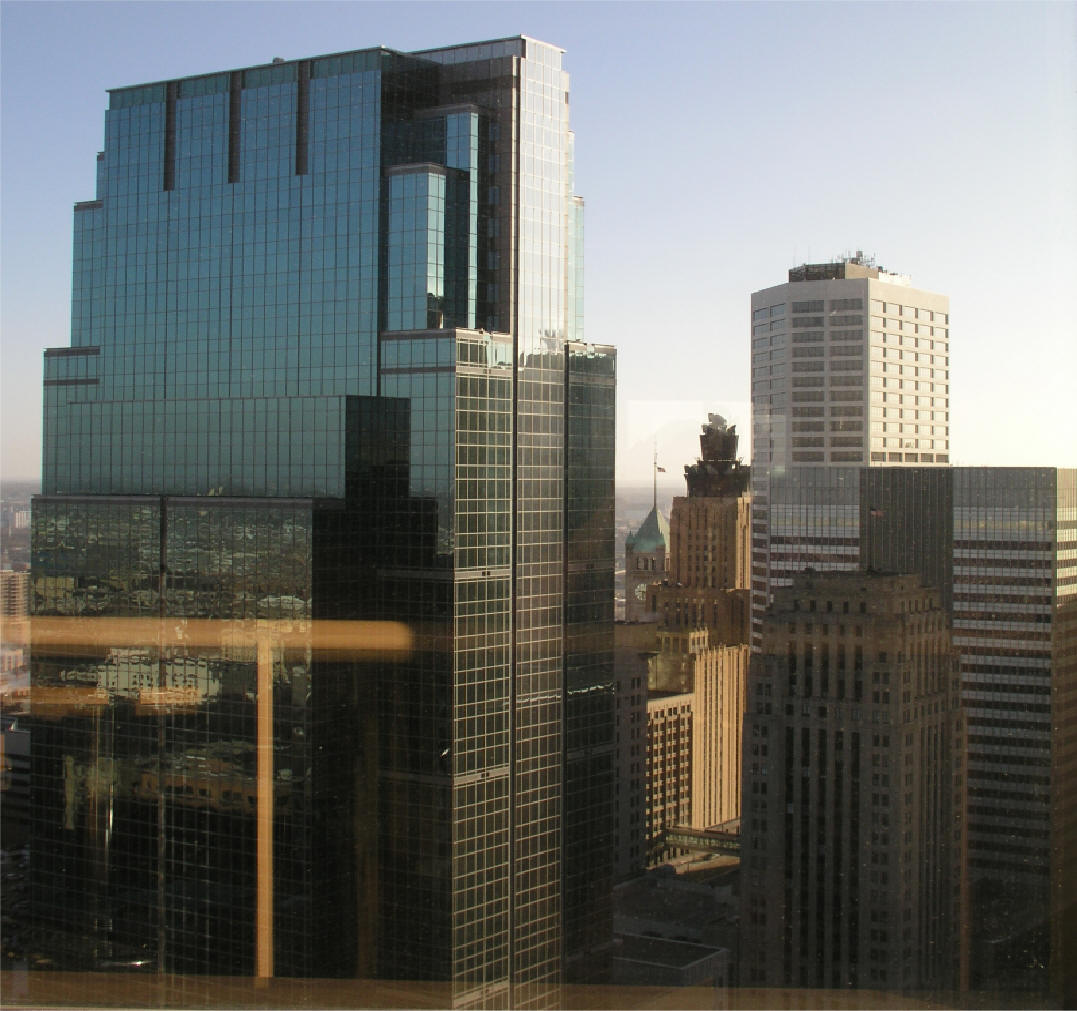 Minneapolis, Minnesota

NORMAN UPDATE...TUESDAY AFTERNOON
Norman is not well. David and Doug have informed me that they are going to do
surgery most likely tomorrow. Please keep Norman in your prayers and pass the
request along to your friends. Norman is going to need all the strength he can muster.
David said his room needs flowers
You can call this number at the hospital
416-864-5860
THIS IS THE HOSPITAL FLOWER SHOP
YOU CAN GET A NICE ARRANGEMENT FOR AROUND $25 Canadian, which is
about $20 US. THEY DO ACCEPT CREDIT CARDS.
Let's try to fill his room with some joy
UPDATE
Norman is going into surgery now 6 p.m. Tuesday
I will post updates as I get them from David and Doug.
OTHER
We are giving my immigration attorney the go ahead to petition the Canadian Government
to grant me a Visa. We should know something in two weeks - give or take. I have no idea
what to expect. We shall be optimistic and hope they grant me a six month visitor pass.
This will help us with our current border problems.

---------
Norman is out of surgery as of 8:30 p.m. this evening
I will post more tomorrow once I am able to talk to someone.

January 14th, 2004
The purpose of freedom is so we can create it for others...
-Bernard Malamud
Just think how happy you would be if you lost everything...and
everyone you have right now - and then, somehow got it back again.
-Kobi Yamada

Mars Update

NASA's Spirit has begun pivoting atop its lander platform on Mars, and the robot's human partners
have announced plans to send it toward a crater, then toward some hills, during the mission.

Snowing lightly here in Minneapolis. Colder today, but nothing like Toronto where it is -21c right now
with snow!
Still waiting for news on Norman, will post something as soon as I hear from David and Doug.
EMAIL I HAVE RECEIVED FROM NENKE (NORMANS FRIEND)
Dear friends of Norman,
I'm e-mailing all of you since he thought to wish you a Happy New Year, I'm assuming he would like you all to know how he is.
Norman was operated on at 6:30 p.m. yesterday (Tuesday). Just after 9:00 p.m. he was back in his room. I stayed with him a while and they brought him some food which he thoroughly enjoyed. He looks so much better and was in much better spirits than when I had seen him on Sunday. There are now three flower arrangements in his room and he feels wonderfully supported by all of his friends. His last line to me last night was, "I don't know how people with no friends manage. I have such lovely friends."
I hope to go and see him later today.
Nenke

Dust Devils On Mars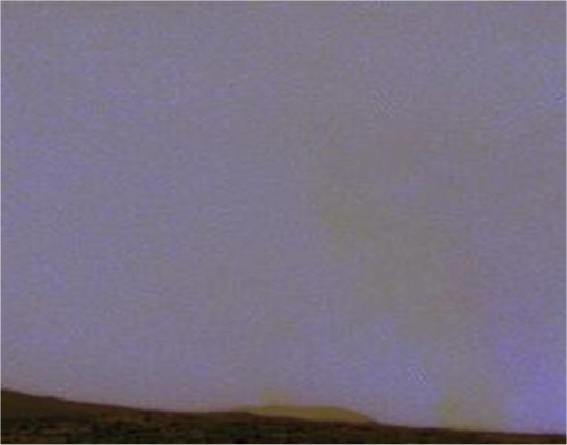 PRESIDENT BUSH SPEAKS:
By 2010 we will Retire the Space Shuttle

By 2010 we will finished the Space Station
By 2015 we will return to the moon!

We will then build a base there in preparation for our eventual
mission to Mars

"HUMAN BEINGS ARE HEADED INTO THE COSMOS"
President Bush

the Columbia's crew did not turn away from the challenge, and
neither will we, mankind is drawn to the heavens"

"a journey, not a race" Calling on other nations to join us.

"Man is drawn into the Heavens"

Minneapolis is a nice city. I think Boston has more things to do, with the ocean and everything. But it is more
expensive to live in a city like that.
It will be a hard decision. Trying to figure out what to do.
I am sure that the Spring and Summer months here are beautiful. There are a lot of parks and lakes.
I could see living here though. Would be nice to get some snow while I am actually here. Guess I will
be heading back on Sunday into the bitter cold and snow of Ontario!
January 15th
I spoke with my friend Bryen in Toronto and he was able to visit Norman yesterday. He did say that
Norman had some flowers and balloons in the room and that Norman was in good spirits.
Norman may have to have additional surgery, for now though he is resting and improving slowly.
He will likely be in the hospital for some time to come. Keep him in your thoughts and prayers.

Weekend storm for Illinois and Kentucky
Things are looking more and more like RAIN this weekend. There could be heavy rain for some areas.
Looking less like snow or ice. There could be a change to a mix though as the storm pulls away.
11 degrees here this morning. It is 21 BELOW zero in Toronto!

Thursday Afternoon
Red Cross meeting went well. It was basically an orientation type meeting. There were a lot of other
people there. I have a one on one meeting tomorrow afternoon.
It is a bit chilly here but can't complain. Cloudy, no snow falling here though.
I see Toronto is still pretty cold!
Norman has lots and lots and lots of flowers in his room. Thanks to all his angels out there! He is
very thankful for everyone thinking of him.
He will be in the hospital for a long time I am afraid. It could be several weeks, so continue to keep him
in your thoughts and prayers. I will try my best to keep everyone updated.

The backyard in Toronto :) Lots of snow falling! Thanks Erick for the pic!
January 16th
Cold morning up here. Still not as cold as Toronto though. They are going on their third week of
chilly temps! Next week looks cold cold cold.
Finally the cold will arrive back home in Illinois and Kentucky, but not until next week. Maybe
some SNOW? We shall see. Seems like it is hard to get snow in the Paducah area.
I have a meeting this afternoon with the Red Cross.

Woke up to this picture in my email from Erick :) OBVIOUSLY PINKY is
using the studio again. I hear she is cutting a new record!

Norman Update
Nothing new right now. David is going to go see him this afternoon.
I will post an update as soon as I hear something.
NORMAN UPDATE
I was able to talk with Norman a bit on the phone today, thanks to David and a sketchy cell phone.
He seems in good spirits, he has lots of flowers and balloons around him now, He was happy
about that.
Norman says they will do some additional surgery on Monday.
Keep him in your thoughts and prayers.
I have passed along all of your concerns for him and expressions of "get well"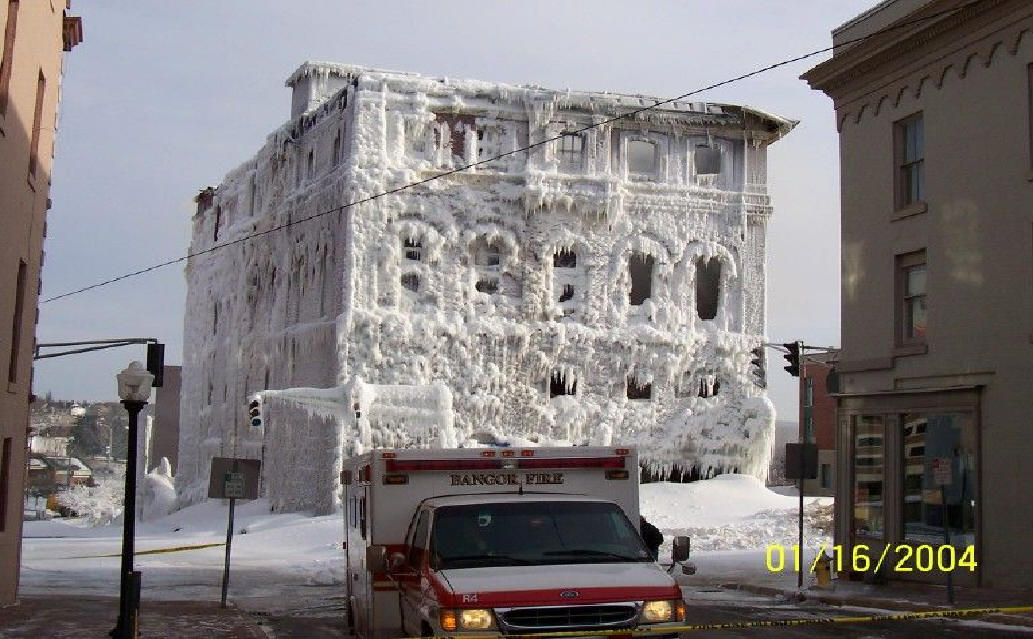 Bangor Maine after the fire at a music hall. SOLID ICE - Unknown photographer
January 17, 2004
WELLLLL, I have no idea what I think about Minneapolis. I am going to go over to Saint Paul today and
check that out. I think I might like it better over there. It is a little bit smaller.
I am also going to look at houses with Pat, the Real Estate Agent. She wants to show me around and get a
better feel for what I like.
So looking at houses and checking out Saint Paul today.
Afternoon Update
Saint Paul is very nice. I think I could like it there, photos coming soon :) I looked at three or four
houses, didn't really care for the ones I looked at, but I was able to give Pat a better idea of
what I might like.
So very exciting.
Saint Paul is RIGHT on the Mississippi River and has some beautiful hills around it. I think I could
fall in love with Saint Paul.


BREAKING NEWS - BULLETIN
MOTHER HAS FINALLY FOUND A HOUSE AND IS MAKING
AN OFFER!!!!
I just happened to take a photo of this house, it was posted on my web-site
back in November. I like it, it is in a beautiful neighborhood in
Mayfield, Kentucky.


Mother's New House? Pending the offer acceptance. I am happy
for her. It took her awhile to find something she liked.


My friend David in Ontario sent me this photograph, this is called a Snow Roller - this is
created with strong winds move over a field or flat area. It happens when fresh snow
falls on top of hard older snow. Nice photograph! Rare to see these.
OK NOW SOME PHOTOS FROM MINNESOTA

botanical gardens in Saint Paul, Minnesota



Saint Paul, view of the Mississippi River

Saint Paul, view of the Mississippi River
Every year Saint Paul has a big Ice Festival - they are loading up the snow and ice now and turning
it into large bricks. These bricks will eventually be carved into huge ice sculptures. This is called the
Winter Carnival.
It starts in one week!

Man Made Snow. Waiting to be turned into ice bricks.

Loading the snow up and dumping into the mold

Men stomping and packing the snow/ice into the mold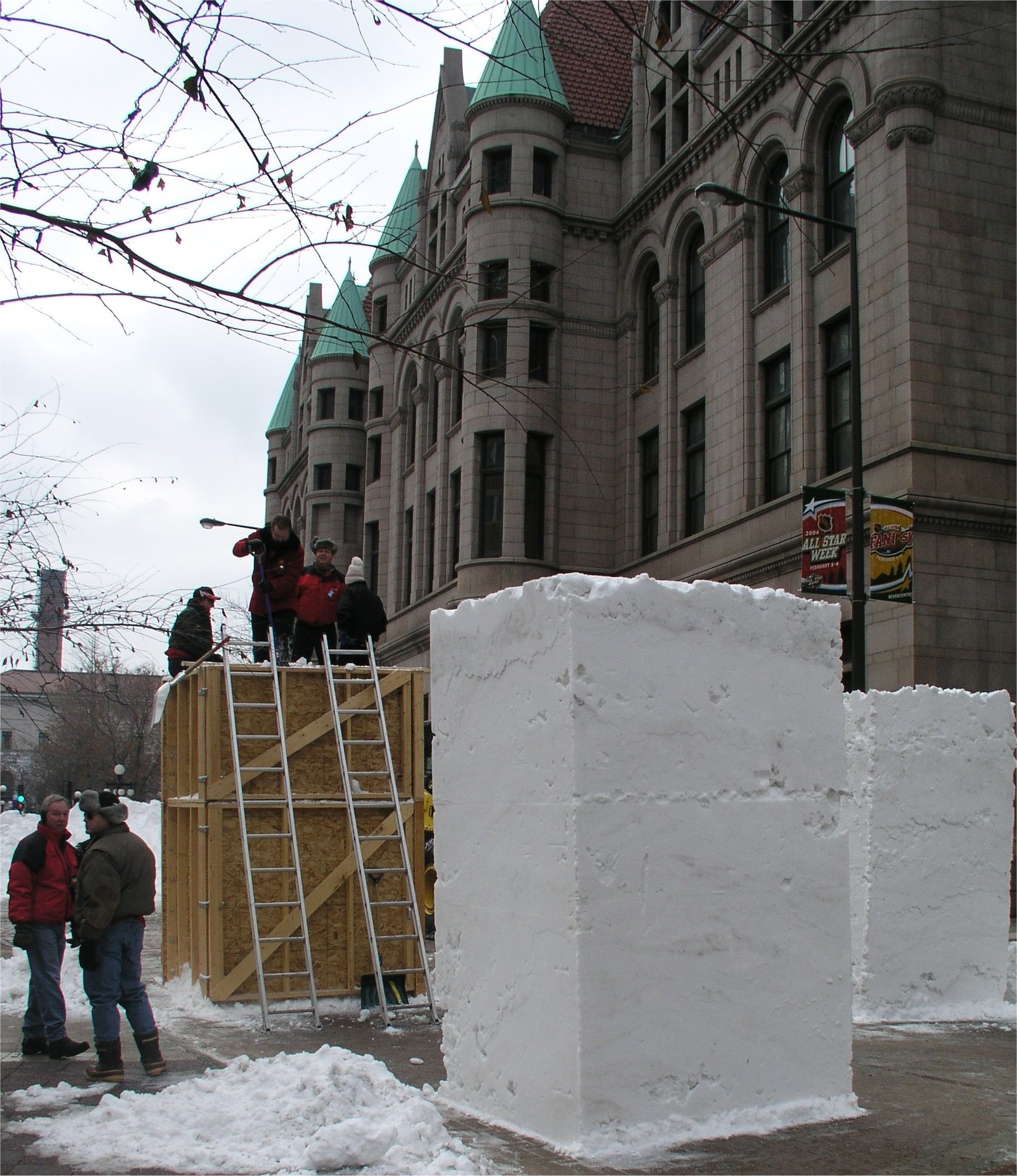 The FINAL PRODUCT. A BIG SQUARE BAIL OF ICE/SNOW READY TO
BE CARVED! Impressive.
January 18, 2004
Well I am getting on a plane this morning. I will be flying into Detroit and then David is going to
pick me up. We will drive to Waterloo this afternoon. I will be there for a couple of days, then back to
Toronto.
I will be in Toronto for a couple of days, then I believe we are going to Honk Kong and Japan.
I will be back home for a bit and then I am going to Atlanta for a couple of days.
I will be HOME around the 25th of February, just in timefor the closing on the new house and to deal
with other issues.

I will keep everyone updated as I find out what is going on with Norman. Right now he is going to
have surgery again on Monday. Again, I will post updates as I get them. I will also be seeing Norman
this week.

UPDATE
I AM SAFELY BACK IN ONTARIO! IT IS SNOWING HERE AND THERE IS A TON OF SNOW ON THE GROUND.
SEE WHAT I MISSED!
January 19, 2004
When the architects of our republic wrote the magnificent words of the Constitution and the
Declaration of Independence, they were signing a promissory note to which every American was to fall heir.
This note was a promise that all men would be guaranteed the inalienable rights of life, liberty,
and the pursuit of happiness.
I have a dream that one day this nation will rise up and live out the true meaning of its creed: "We hold these
truths to be self-evident: that all men are created equal." I have a dream that one day on the red hills of Georgia
the sons of former slaves and the sons of former slaveowners will be able to sit down together at a table of brotherhood.
I have a dream that one day even the state of Mississippi, a desert state, sweltering with the heat of injustice and
oppression, will be transformed into an oasis of freedom and justice. I have a dream that my four children will
one day live in a nation where they will not be judged by the color of their skin but by the content of their
character. I have a dream today.
I have a dream that one day the state of Alabama, whose governor's lips are presently dripping with the words of
interposition and nullification, will be transformed into a situation where little black boys and black girls will be able
to join hands with little white boys and white girls and walk together as sisters and brothers. I have a dream today.
I have a dream that one day every valley shall be exalted, every hill and mountain shall be made low, the rough places
will be made plain, and the crooked places will be made straight, and the glory of the Lord shall be revealed, and all
flesh shall see it together. This is our hope. This is the faith with which I return to the South. With this faith we will
be able to hew out of the mountain of despair a stone of hope. With this faith we will be able to transform the jangling
discords of our nation into a beautiful symphony of brotherhood. With this faith we will be able to work together, to
pray together, to struggle together, to go to jail together, to stand up for freedom together, knowing that we will be
free one day.
This will be the day when all of God's children will be able to sing with a new meaning, "My country, 'tis of thee,
sweet land of liberty, of thee I sing. Land where my fathers died, land of the pilgrim's pride, from every mountainside,
let freedom ring." And if America is to be a great nation, this must become true. So let freedom ring from the prodigious
hilltops of New Hampshire. Let freedom ring from the mighty mountains of New York. Let freedom ring from the
heightening Alleghenies of Pennsylvania! Let freedom ring from the snowcapped Rockies of Colorado! Let freedom
ring from the curvaceous peaks of California! But not only that; let freedom ring from Stone Mountain of Georgia!
Let freedom ring from Lookout Mountain of Tennessee! Let freedom ring from every hill and every molehill of
Mississippi. From every mountainside, let freedom ring.
When we let freedom ring, when we let it ring from every village and every hamlet, from every state and every city,
we will be able to speed up that day when all of God's children, black men and white men, Jews and Gentiles,
Protestants and Catholics, will be able to join hands and sing in the words of the old Negro spiritual, "Free at last!
free at last! thank God Almighty, we are free at last!"
Martin Luther King
------------------------------------------------------------------------------------------
------------------------------------------------------------------------------------------
Waterloo is cold and snowy!

Snow is pretty deep for Cheetah and Muggles!!! - beau

Norman Update...
Norman is out of surgery. He is doing well and his spirits are good. Maybe he can go home later
in the week. Not sure about that yet though. Will keep everyone posted.
David and I are going to Toronto on Wednesday. I am then leaving for Atlanta for meet with
my friend Corey Cox. I will back up here in Waterloo next Monday through Thursday. I am then leaving
with David on his business trip to Hong Kong and Japan. We are also going to hop over to China!

BREAKING NEWS...BREAKING NEWS
LIVE FROM MAYFIELD, KENTUCKY
MOTHER NOW HAS A HOUSE. THE OFFER HAS BEEN ACCEPTED. AND MOTHER
NOW IS THE PROUD OWNER OF HER OWN HOUSE.
WE ARE ALL SO HAPPY THAT MOTHER IS GOING TO BE ABLE TO
MOVE FORWARD FOR HERSELF AND FOR GRANDMOTHER. START
A NEW JOURNEY DOWN THERE AND HOPEFULLY FIND A BIT OF JOY
IN KNOWING SHE HAS A PLACE SHE CAN CALL HER OWN - HOME!
January 20
There are days when you just cry inside
...days that you want to escape not from reality but back to reality

There are days that you just sit and imagine that you are somewhere else
...someone else

There are days in our lives...that words can not express how we really feel
...perhaps only our heart songs can

...it is on those days that even the tears go unseen from the outside world

How can the sun shine...and yet a storm rage
...how can the rain run down our cheeks
and yet...we appear dry

There are those days...

It is on those days...that the words I can not write...I am not allowed to write
...it is those days and those words that turn my world
I have learned that only when we are walking beside the stream of despair
...will we find the mountains of hope
for where you find despair
...you will also find hope

You will not find one without the other...
For you see...not every day can be a happy day...but no matter
...because still every day is a gift from God
So we must cherish it and treat is as such

There is no time...to sit around and worry about the things we can not change

There is no time...to sit around and think about the "what ifs" the "if onlys"
But there is time to count the snowflakes...that fall from Heaven above

There is time...to listen to the raindrops as they fall against our windowsills

There is time to listen with our hearts
...and hear with our eyes

There is time to listen to that still small voice...inside of us all - that cries out our name
...reminding us that all of our days are short

and reminding us to watch the sun setting in the west

reminding us to listen to our children giggle

to tell our partners how much we love them

and reminding us to call our loved ones for no particular reason other than to say "I love you"
So although there will be "those" days
...I am still reminded that each and every day is a gift
not to be wasted...not to be taken for granted
...but rather to be cherished and held sacred

for today will soon be gone
...and tomorrow will soon arrive
holding new promises
...and new dreams
- beau


January 21st
Hi Everyone :) Snow is on the way here, maybe a couple of inches. Just what we need.
I have to meet with my attorney this morning, then David and I are driving to Toronto
to go and see Norman. I will be at the house this evening and tonight, then I am getting on a plane
in the morning and flying to Atlanta. I will be there until Sunday.
I am going to see a couple of friends in the big Georgia City. Should be warmer down there.
I will be back in Waterloo and Toronto next week, then next Friday I will be flying to Tokyo and
then Hong Kong, and eventually China. I will be out of North America for about two weeks.
Hmmm weather maps are screaming bad weather next week, first a rain/thunderstorm episode on Sunday
into Monday Night, then a major winter storm and possibly a blizzard for portions of the United States
by the middle of next week.

This could be yet another rain and thunderstorm episode for the TN Valley and into the Paducah area.
Depends on the track of the low.
Oh and by the way what Kennedy really said (some of you will understand what I am talking about)
"Let every nation know, whether it wishes us well or ill, that we shall pay any price, bear any burden,
meet any hardship, support any friend, oppose any foe to assure the survival and the success of liberty.
This much we pledge--and more"

January 22nd
I made it back into Toronto last night around 6 p.m. David and I went to see Norman...Norman was
in VERY good spirits :) He was happy with the outcome of the surgery on Monday. He was more than
ready to get home and get back into some routine.

The doctors thing that Norman might be able to go home this Friday, not for sure, but a strong possibility.
He was thrilled that he had received so many flowers and balloons from everyone. His room was quite
cheerful. The nurses told him that he had more flowers than anyone else on the entire floor!
David and I then went to 19 Earl Street :) Finally home again YAY :) Only if it was for a few hours, it felt
good to be back with Doug and Erick.

We stayed up pretty late, so I am tired this morning. At the airport now and my flight leaves for Atlanta
at 10 a.m.
It is snowing here in Toronto, a light fluffy wet snow, seems to be sticking to everything. There is still
about 6 inches of snow on the ground here. Not as much as Waterloo but still a lot. :)
Still looks very stormy next week for almost the entire United States. Multiple storms should track across
the Midwest and Southern United States. I really believe the Tri-State area (KY-MO-IL) will FINALLY see
their first significant snow threat!!!! I am sure my nephews and nieces will be THRILLED!
I talked a little bit with Danielle on the phone last night and I told it was snowing here in Toronto and
she said "AGAIN? DOES IT EVER STOP SNOWING THERE????" lol :)
I will try to get Danielle some snow this week, I am sure that will make her smile.
Hmmm what else is going on, mother is getting everything ready for finishing the process to get the house.
We have to have a house inspection and this has to be completed by Monday.

I will be in Atlanta through Sunday.
Hope everyone is well and I will keep you updated on the latest with Norman and everyone else.
I MADE IT TO ATLANTA, ALL IS WELL :)

WILL UPDATE TOMORROW :)
Friday, January 23rd
Hi everyone, not much going on. Just taking it easy in Atlanta. Going to head out and go to the bookstore.
I am waiting to hear if Norman is getting out of the hospital today. I hope so. :)



You know you appreciate flowers SO MUCH more when you live without them
for awhile.
AHHHHHH :) ATLANTA!!!!!!!
January 24th....
Morning from Atlanta
Hmmm, BIG ice storm for part of the Ohio Valley today, hopefully the ice stays north of West KY
and South IL.
Winter is coming though, next week looks like it is going to turn bitter cold with lots of snow and ice
across the USA.
:)
OK I am back at HOME on my computer - YAY I AM AT 19 EARL STREET.
The days they just fly by - racing racing racing
Catch up time here.
David and I went to see Norman in the hospital. He is doing ok. They plan on letting him go home
tomorrow. Norman was in good spirits! :)
It is cold here in Toronto, it is in the single digits. A snowstorm is forecast.
An Ice Storm hit down in the Ohio Valley. Mother and the kids said everything has ice on it.
John said that church has been cancelled. Winter has finally arrived for them.
Many more storms to come.
Toronto is expecting a couple of snow events this week. Could be heavy snow here tomorrow.
Things are busy here, I am unpacking just in time to pack again.
I will be here until Wednesday, then I am going over to Waterloo and will be there until Friday. I believe I am "
leaving for China and Japan on Friday. That is the current plan.
Things are pretty intense right now, an emotional roller coaster of sorts, so if I don't update as much well
you will know why.
Mother is finishing the inspection on her new house tomorrow and once that is completed we can complete the
purchase.
I had a productive time in Atlanta, met with my friend Cory and worked on how to proceed with Shadow Angel.
There is a lot of things going on that can not be put into words. I don't always post everything that is going on. I
guess Doug thinks I skim post but I don't post how I really feel.
Flashback...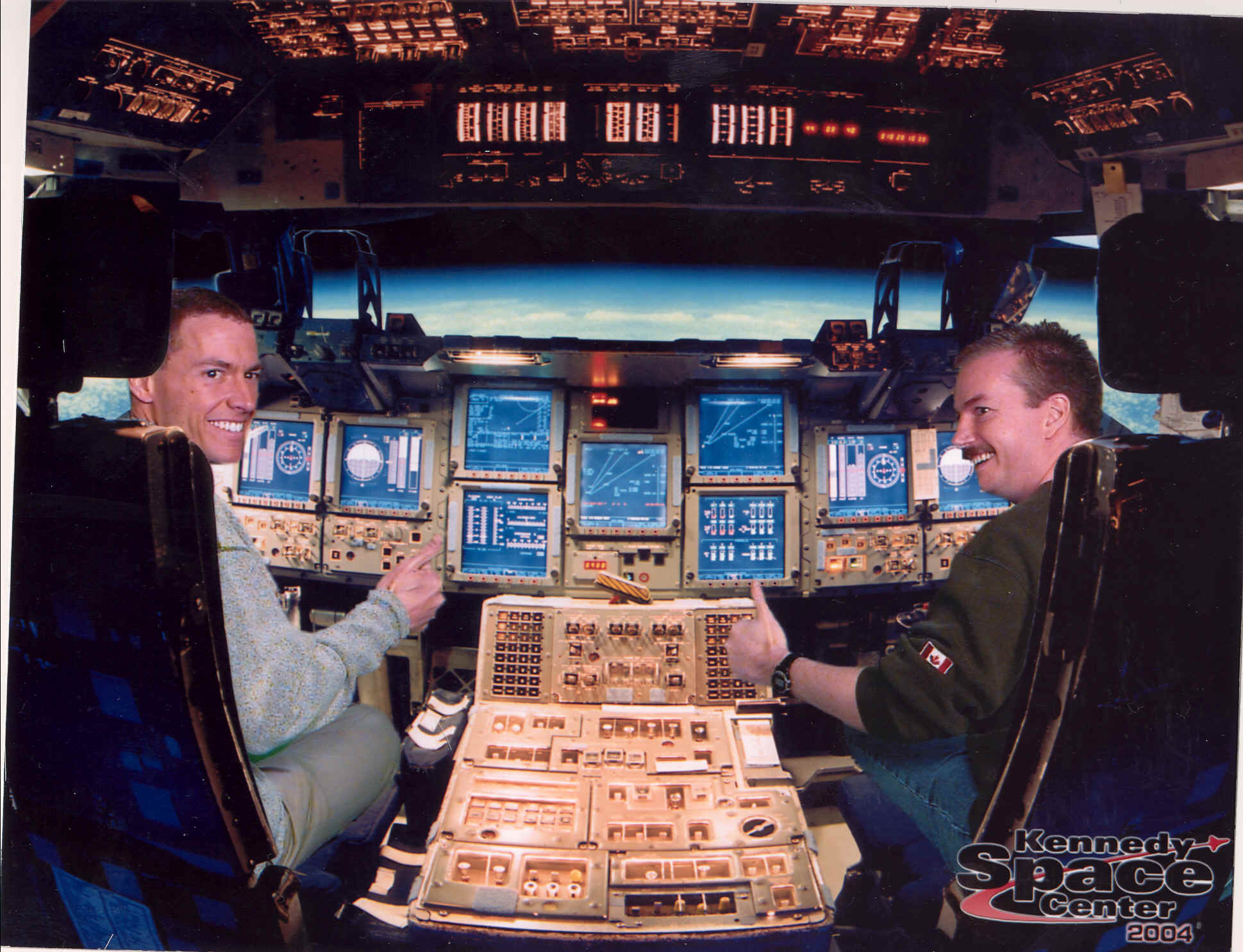 Flash Back :) David and Beau Flying the SPACE
SHUTTLE AT KENNEDY SPACE CENTER
January 27
Snowing here, winter weather is forecast here for the next few days. We might see snow almost daily through
the weekend. I can't even keep up with all the storms on the weather map.

It is going to be one wild winter.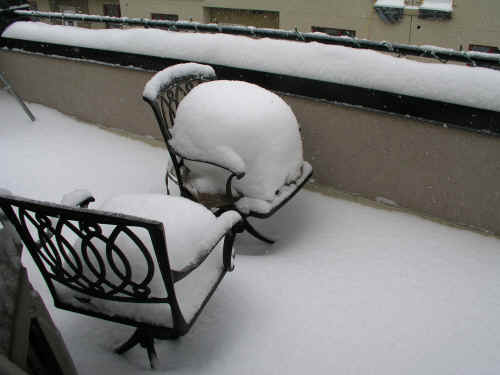 Some snow photos that I took this morning. LOTS AND LOTS of snow.
This page is long...time for a new one
Next...Click Here

------------------------------------------------------
RETURN TO HOME PAGE

RETURN TO AUGUST 1-17th
RETURN TO AUGUST 18th-31st
RETURN TO SEPTEMBER 1-9th
RETURN TO SEPTEMBER 10-30th
RETURN TO OCTOBER 1-15th
RETURN TO OCTOBER 15-31st
RETURN TO NOVEMBER 1-15th
RETURN TO NOVEMBER 16th
RETURN TO NOVEMBER 17-30th
RETURN TO DECEMBER 1st-15th
RETURN TO DECEMBER 16th-22nd
RETURN TO DECEMBER 23rd-31st
RETURN TO JANUARY 1st-8th

------------------------------------------------------

Email beaudodson @ usawx.com (remove spaces for email)