JULY 2004 Continues

Friday, July 23, 2004
Everything will be ok, one step at a time, one day at a time, one bridge to cross at a time.
Spend all your time waiting
for that second chance
for a break that would make it okay
there's always one reason
to feel not good enough
and it's hard at the end of the day
I need some distraction
oh beautiful release
memory seeps from my veins
let me be empty
and weightless and maybe
I'll find some peace tonight

in the arms of an angel
fly away from here
from this dark cold hotel room
and the endlessness that you fear
you are pulled from the wreckage
of your silent reverie
you're in the arms of the angel
may you find some comfort there

so tired of the straight line
and everywhere you turn
there's vultures and thieves at your back
and the storm keeps on twisting
you keep on building the lie
that you make up for all that you lack
it don't make no difference
escaping one last time
it's easier to believe in this sweet madness oh
this glorious sadness that brings me to my knees

in the arms of an angel
fly away from here
from this dark cold hotel room
and the endlessness that you fear
you are pulled from the wreckage
of your silent reverie
you're in the arms of the angel
may you find some comfort there
you're in the arms of the angel
may you find some comfort here
- Sarah M - Angel
July 24, 3004
Saturday, just getting up and going here. Much to do on the house and with everything in general. David is leaving on Sunday. I will be staying home to handle a few things.
Everyone is doing ok done here, being strong as always! One day at a time you know, roll with the punches as David likes to say.
Shadow Angel Update...
Shadow Angels has been asked to help a young lady in getting a wheelchair/skooter. The cost of this will be close to or more than $1000. We do have enough in the account for this, however, it will make things low. Anyone interested in donating money to the foundation, please let me know.
We do not have a tax number yet, however, it is in the works. We will eventually have something like that.
Anyone who is interested in donating should make a check out to
Shadow Angel Foundation
465 Ashcreek Road
Paducah, Kentucky
42001
You may at anytime request an accounting on the finances and where the money goes. ONE HUNDRED PERCENT of the money donated will go towards projects.
Thanks
-------------------------------
-------------------------------


The horizon...


The boat
sails across the choppy seas
the wind blows in its sails
God's breath...sending it on its way
...what waters await it...chopping against it bow?

Like a mirror...the ocean catches the moon
a wavy reflection...like a sea snake it sways

A shooting star streaks across the heavens
you make a wish...hoping...trying to believe that maybe this time
maybe this time...

peace, stillness, calm




you drift into your own world
...away from the rough sea

but your eyes...tell the story
of adventures...of heartache...of pain
you search
you look...

where is the ship
that brought us to this land...

where is the ship
the left us long ago...

Now we find ourselves...in our own lands...on our own journeys
separated by the miles...


looking out over that great blue ocean...
beyond the horizon...
looking deeper...longing more than ever before
waiting for that ship

far...far away

- beau
----------------------------------------------

We had a family meeting this afternoon, David came along, and we talked for about 2 hours.



Tyler being cheesy as usual :)
Grandmother decided to put on the Incredible Hulk fighting gloves and take Tyler on for a few rounds :)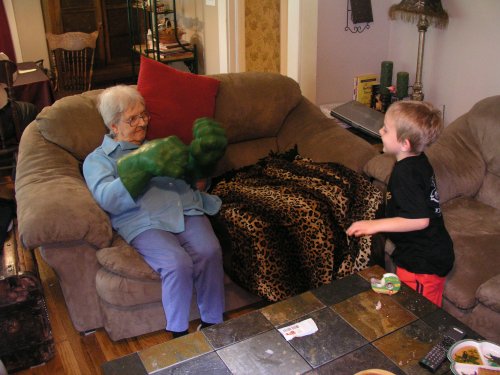 Grandmother the Incredible Hulk VS Tyler
Tyler took this photo of grandmother and me :) he is getting good!


David went to the airport after that, for his journey home. It was sad to see him go and very difficult. Certainly these are difficult days.
I took some pictures after dropping David off, of a field near the airport. Sunflowers, wild sunflowers.
I will post some more pics later, as I have some friends stopping by to say hello.

Jimmy and family :) visiting. I got beat at pool twice.

Madison, SEE I TOLD YOU I HAD
FURNITURE :)
OK HERE ARE MY SUNFLOWER PHOTOS FOR MOTHER AND DEENA :)

Sunflowers - searching for the sun - up here?



Over there?


It isn't down here...so they cry - raindrops start falling
from the sky above





I really thought I might find some munchkins :) along
this yellow brick road...

HELLO :)
My escape from the world, behind a camera
A field full of Sunflowers :) well I have been looking all Summer for those! :)
And the challenge now is not to become frozen, not to lose focus, but to remain on top of everything and stay afloat.

The boat that we are in, is a strong one. So let the winds blow, let the waves crash, and lightning flash. When it is all over, we will still all be together and stronger for it.
In my memory book, is this message to my mother from 2 years ago

"Hold tight...the ship might go through a few rough seas but in the end we are going to sail on a beautiful lake and we are going to watch sun sets that would marvel even God himself"

This I Promise You
- Beau
-----------------------------------------
Norman preached at church today. :) I hope he did well! Waiting to hear from him. I am sure he did wonderful, probably a standing ovation. :)

The title of his message was "Lord teach us to pray" :)
The only thing is that Norman wouldn't want an ovation, as he always believes that the praise should be reserved for God. :)
Which is a good way of doing things - I would say!
-----------------------------------------
And in Paducah today, it was the COLDEST July high EVER on record!!!! It was chilly out there!
Monday, July 26, 2004
Lot of stuff going on around here.
House is still slowly coming together, one piece at a time. :)
Spent all day outside doing yard work and cleaning the deck, got stung by a wasp, so that was fun...not!
Hmmm, what else, nothing really inside. A desk was delivered, along with Tommy coming by to do some wiring.
The rest of the day, morning, night was spent on the phone with Dr's and stuff like that. Trying to get everything together for the next few weeks.
Tomorrow night is the Channel Six interview at 10 p.m. I will be anxious to watch the final product.
I will try and take a picture or two while it is on :) and post on the web site.

Tuesday, July 27, 2004


Tonight at 10 p.m. on News Channel Six - the interview will air. Gail from over in Massac County will be interviewed, along with myself. Not sure who else or what else they will add. They will likely show scenes from the tornado last year.
I have asked them to please mention Pastor Keplinger, one of the MANY MANY heroes from last year, who did so much to make a difference for so many people.

Pastor Keplinger from last year with ALL THOSE TEDDY BEARS!!!!!
I hope they have cable in Heaven. :) I am sure he will be watching!!!!!
------------------
We all wanna make a place in this world
We all want our voices to be heard
Every one wants a chance to be someone
We all have dreams we need to dream
Sweeter than any star you can reach
Cuz when you reach and find, you've found someone
You'll hold this world's most priceless thing
The greatest gift this life can bring
Is when you look back and know
You were loved

You were loved by someone
Touched by someone
Held by someone
Meant something to someone
Loved somebody
Touched somebody's heart
Along the way
You can look back and say
You were loved (yes you were)
You can have diamonds in your hands
Have all the riches in the land
But, without love,
You don't really have a thing,
When somebody cares that you're alive
When somebody trusts you with their life
That's when you'll know (huh)
That you have all you need
You'll hold this world's most priceless gift
The finest treasure that there is
You can look back and know
You were loved

So many roads that you can take
Whatever way you go
Don't take that road alone
It's better you should know
Chorus:
You were loved by someone
Touched by someone
Held by someone
Meant something to someone
Loved somebody
Touched somebody's heart
Along the way
You can look back and say
You did okay
You were loved
So remember to tell that special one (yeah)
You were loved
You were loved
You were loved
You were loved
- Whitney Houston
-----------------------------------------------------------------
It is these days that I miss that cottage up north, in the great white north of Canada.
Doug, Erick, David, all of us - unthawing frozen water pipes :) Melting Snow on the stove, just so we could brush our teeth. :)
Sigh
Falling into the waist deep snow, losing a snowshoe as it gets sucked off by the deep deep snow below.
Driving a car :) for the second or third time since leaving the states, on roads that have no shoulders, only white white white snow.
Yep I miss that cottage right now.

Cheetah at the cottage...2001
Shadow Angel Update :)
Well sometimes you just meet angels and you just smile :) I think I just met two!
I met with April and her mother Mona, this morning. April was needing a new scooter, so that she can go more places and have more freedom. So we met at at a place called Marylans Medical Freedom :) and April looked over about six scooters. It took her a little while, but she picked out her favorite one and fell in love with it! :) It was all Mona could do just to get her off of it!
April was the happiest person I have seen in a long long time :) All smiles and she said she was just jumping up and down inside! So I think she is going to have a lot of happy miles ahead of her!!!!!
Here is April and her mother...

April with her mother Mona
And here is a photo her mom took of April and me.

April with her new scooter!
April was just so tickled, made me smile!!! Just as good as getting a new car for her!!!!
-----------------------------------------------------------------------------
Ok well I am having dinner with my friend David, from Massac County. Then back here to tape News Channel Six! :)
-----------------------------------------
Channel Six is ON! :)
WOW :) :) :) the News Channel Six story was just AWESOME AWESOME AWESOME!!!!
I AM JUST ALLLLLL SMILES HERE!
Amy Watson mentioned Pastor Keplinger and all the other heroes from that night! :) IT WAS GREAT GREAT GREAT!!!! They showed video of the teddy bears being given away and so much more.
I am so happy that they mentioned Pastor Keplinger and Cal Sisto = and others that helped so much after the disaster. It was just wonderful!!!!
Thank you everyone for all your emails and messages and phone calls! :) It was really neat to see all of this through the eyes of other people and so many of you helped with the recovery as well.
What an emotional five days this has been and that is probably the understatement of the year for me.
Here are some photos from the television story! :)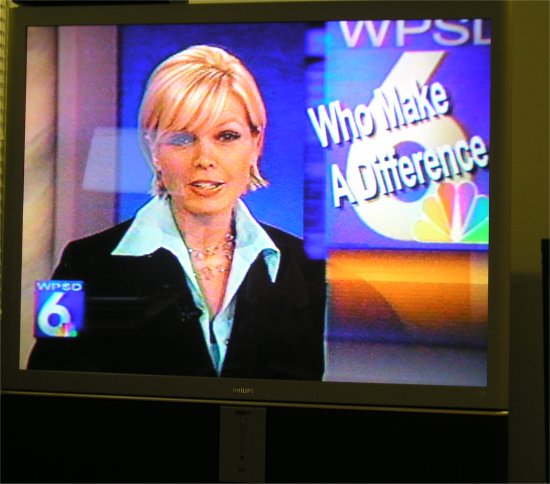 Amy Watson starting to air the segment :) WOWOWOW
How far we have come!!!!!
Chief Meteorologist Cal Sisto on the Massac Tornado
that night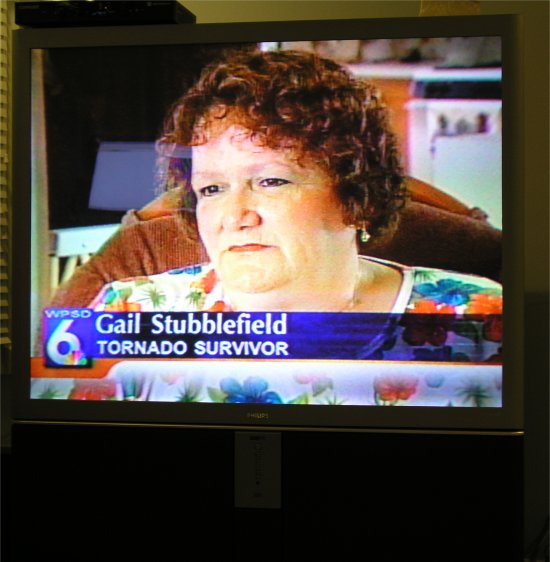 Gail in Massac County talking about that terrible night back on
May 6 of last year.

Gail you did just wonderful!!!!!!!!


Terror in the Night Tornado Book - on Channel Six News




Beau and Gail talking about the tornado.
The book on my lap is one of the Memory Books that I gave to David.

What an amazing story, so many amazing people. Amy Watson did a beautiful job on the story!!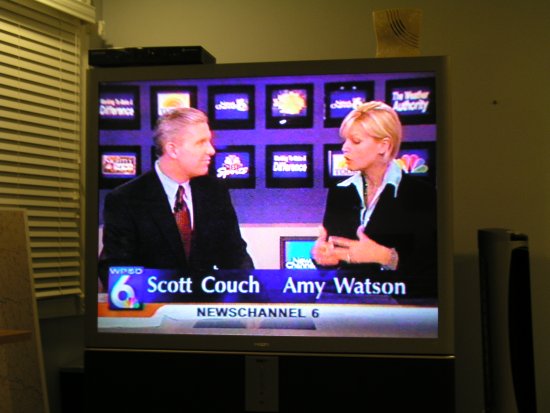 Amy and Scott talk about everything that all of us accomplished!

Amy said at the end, that for someone my age to have their act together so much, how wonderful it is. If she only knew the battle that we all had to go through in order for me to get from point A to point B.
That tornado was the last straw in a series of events that eventually led to me being set free.
Truly an incredible story, filled with beautiful sadness all along the way.
So much is going on right now with this recent news within my family and with friends in Toronto It is just Beautiful Sadness now on a daily basis.
There is a God - that I know.
How proud Pastor Keplinger must be, looking down from Heaven tonight. And I think about Steve Kohn and how proud he must be of Julie and Danny and how strong they have been through their loss.
So many people, lost so much, having to start over in life.
Truly these are the heroes of this story.
Thank you Cal and Amy, and everyone at Channel Six! :) What a wonderful job!
I am deeply humbled.
--------------------------------------------------

Wednesday, July something or other :)
TOP TEN THOUGHTS ON OWNING A HOUSE - by Beau :)
1. The grass grows weekly, it doesn't stop because you are busy
2. You have to constantly clean something :)
3. There are these things that come in the mail each day, they have your name on it and in it you will find two things
1. A piece of paper saying you owe someone money
2. A return envelop that they expect you to put money in and mail back to them
:) lol...it has been awhile since I have lived alone. Can you tell :)
4. The refrigerator remains empty, no matter how many times you open the door and look in. Note to self - GO BUY GROCERIES
5. When you get ready to go watch the Simpsons, you don't have anyone around to laugh with you. I think I miss Doug and Erick and everyone else up in Toronto. :(
6. Your mother does not have to call in order to stop by.
7. Your mother does not always knock
8. Your mother is allowed (don't ask me how this works) to call 911 after she sets the house alarm off and explain to them that she is your mother and there is no need to send the police. The scary part is, the police listen and don't show up :)
9. If you leave a door open strange dogs will appear in your house. (don't ask)
10. When you finally thing you have accomplished something/anything you haven't because there are 10 more things to do :)
OK, well that is my top ten list of thoughts on owning a house :)
I am having a blast, but it is going to take some time to figure this all out and get a rhythm going.
On that thought, I did call my counselor today and told her that perhaps I should go in on Monday and update her on life. So that is good :) She said she was going to watch Channel Six tonight. :)
------------------------------
Very busy day ahead, lots and lots to do and finish!!!!
I walked outside this morning and well the paparazzi was camped out for photos and autographs. j/k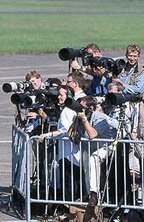 View outside the house this morning :)
Well maybe that isn't my house. :)
April said I could post her email on the web-site. She sent this yesterday evening after riding her new scooter all day! :)
Dear Beau,

It takes a special man with a lot of guts to do what you did for me and my mom and other families, and we want to thank you so very much, I might not have shown it on the outside but I was jumping up and down inside, and you are right I was outside from the time I was home till I wore the batteries down (laugh) I was at the end of the driveway when it did wear them down my brother had to push it up the drive way and plug it in for me. My grandparents were very grateful to you as well and they know your grandparents, it is my hope that we keep in contact for a very long time. On the way I thought I was having a very good dream so I had to keep looking back where we put it. And of course we well be watching channel 6 tonight, I wouldn't miss it for the world. For the first time in my brother's life he is jealous of me and I have been jealous of him, but I have more reason to be jealous than he does but at least now I can keep up with him, when he runs down the road I'll be right behind him in my brand new scooter, thanks to you and shadow angels, I hope I get to get to know you better as a new friend, I always say you can never have to many friends.
Thank you April! :) That was just enough to make me smile the rest of the day and even today!!!
July 29, 2004 - Thursday
We made the newspaper, with Shadow Angels and the News Channel Six story! :) It was a really nice write up.
We leave for the hospital in Louisville at 930 a.m. this morning. Mother has been sick lately.

I will post again an update when we return.
God speed.
Saturday...July 31, 2004
Made it back home safely yesterday evening.
I don't really know anything new right now, will know more on Tuesday about mother. They did do some tests, but we have to wait for the results.
Tired and all
Trying to get a few things done around the house, will spend Saturday working here. :) Hope to get something accomplished!
Will post a few pictures from Louisville later today.
more later...
IS IT AUGUST ALREADY? :( :) CLICK HERE FOR NEXT PAGE

RETURN TO AUGUST 1-17th
RETURN TO AUGUST 18th-31st
RETURN TO SEPTEMBER 1-9th
RETURN TO SEPTEMBER 10-30th
RETURN TO OCTOBER 1-15th
RETURN TO OCTOBER 15-31st
RETURN TO NOVEMBER 1-15th
RETURN TO NOVEMBER 16th
RETURN TO NOVEMBER 17-30th
RETURN TO DECEMBER 1st-15th
RETURN TO DECEMBER 16th-22nd
RETURN TO DECEMBER 23rd-31st
RETURN TO JANUARY 1st-8th
RETURN TO JANUARY 9th-26th
RETURN TO JANUARY 26th-31st
RETURN TO FEBRUARY
RETURN TO MARCH 1st-9th
Return TO March 10th-27th
Return TO March 28th-30th
RETURN TO APRIL 1-11th
Return to April 12th-18th
RETURN TO APRIL 18th-27th
RETURN TO APRIL 28th-30th
RETURN TO MAY 1st-5th
RETURN TO MAY 6th
CLICK HERE TO MAY 7th-16th
RETURN TO MAY 17th-29th
RETURN TO MAY30th-June 1st
RETURN TO JUNE 2nd - June 11th
RETURN TO JUNE 11th-17th
RETURN TO JUNE 18th-26th
RETURN TO JUNE 27th-30th sunsets :)
RETURN TO JULY 1st-3rd - 2004
RETURN TO JULY 4th - 2004
RETURN TO JULY 4th-7th - 2004
RETURN TO JULY 7th-10th - 2004
RETURN TO JULY 11th-22nd - 2004
Email: beaudodson @ usawx.com (remove spaces)