Welcome To December 2004!
December 1, 2004
HAPPY BIRTHDAY TYLER :) SIX YEARS OLD!!!!
Growing old FAST :)
I spent the day working around the house and then headed to Mayfield for Tyler's Birthday Party.
Tyler has ALWAYS been camera shy (NOT) :)
THIS IS DEFINITELY ONE HAPPY KID!!!!

THE BIRTHDAY BOY!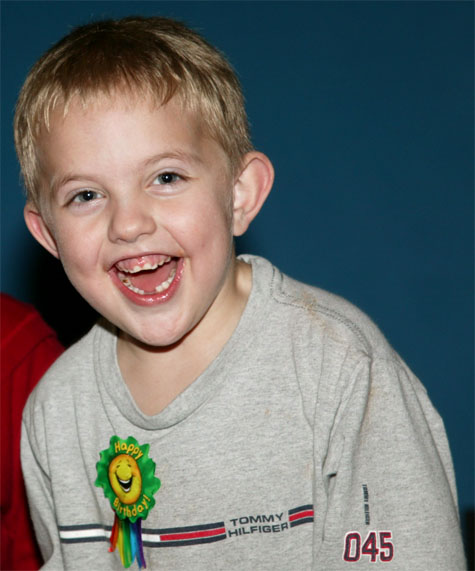 He does appear to be having a good day...

Deena and Tyler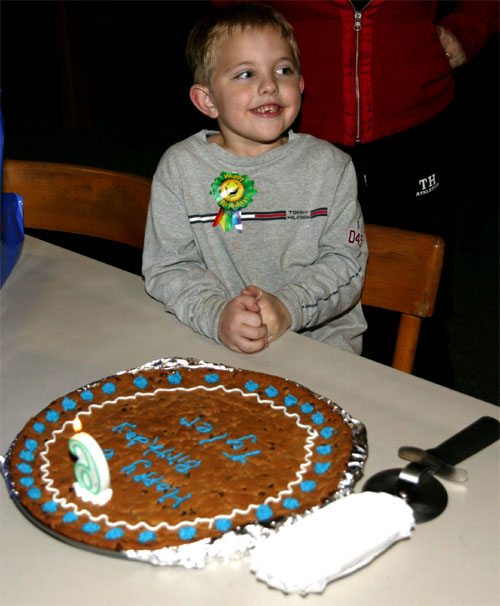 The birthday cookie!

Danielle played Tyler HAPPY BIRTHDAY (she has been taking lessons for a
couple of weeks)
SHE DID A GREAT JOB!!!
I think we need to get Tyler a big set of DRUMS. :) Then they can have a band! I am sure Tony and Deena would love that!

Danielle entertained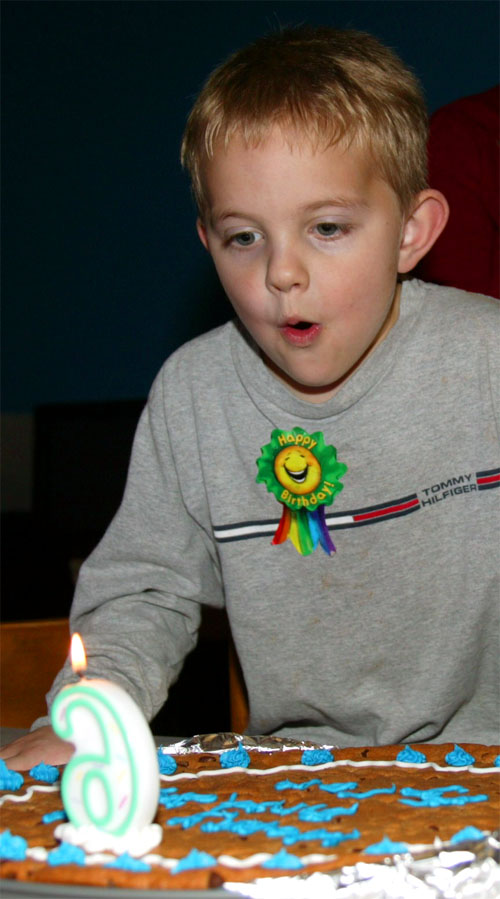 Blowing out the candle! Six Years Old!

December 3, 2004
So you know it's a bad day WHEN
You drive up to your bank and when you pull into the parking lot you notice that it is surrounded by police and squad cars :) You also can tell it is going to be a bad day when you see them unwrapping the yellow "do not cross" tape around all of the doors of your bank! My bank here in Lone Oak was robbed this morning. I guess I was about 20 minutes late for that one! Police and everyone were everywhere. I don't know the details. I guess someone got away with something.
December is marching on and it has gotten colder over the last few days. We dipped all the way down to 24 the other night! The coldest night so far this season.
Well I guess today has been a family and friend day. :)
Mother came over with grandmother and we cleaned the house and hung a bunch of photographs on one of the walls in the entertainment room. So now I have a wall of photographs! Lot of friends and family on that wall! Some weather photographs as well.
After we finished that project we went to see Polar Express (the second time for me). Deena and her kids went, Dione and Mariah, Mother and Grandmother, Julie and Danny Kohn and myself. We all had a great time. The movie was just as good the second time as it was the first. Tyler kept asking "how did they do that" :) and was pretty excited when all the elves started singing and finally was all smiles as Santa took the stage! So a lot of fun tonight.
We all went out to eat at Crackle Barrel afterwards. There was actually frost on the car when we were leaving.
Saturday
Working on Red Cross stuff here at the house. ID Badges and Disaster Services Projects. The computer are up and running at the center and "Disaster Central" is coming along.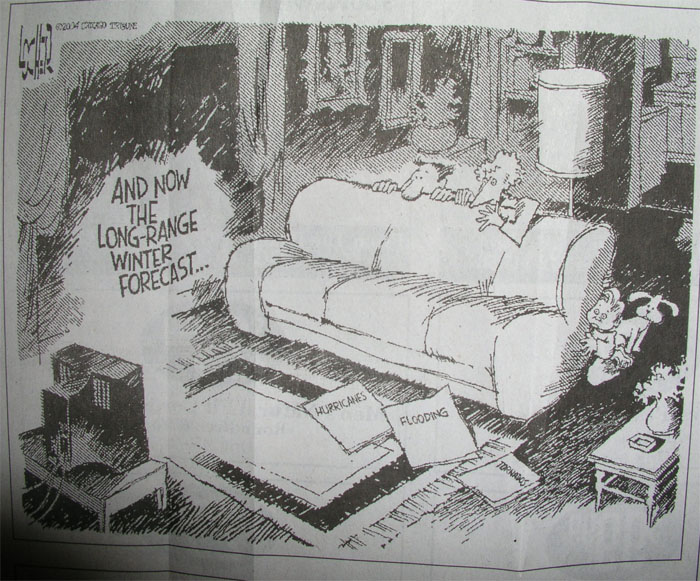 This was in the Paducah Sun this morning :) I can only hope! Snow snow snow!
I took this photograph this afternoon while trying to get away into my own world. :)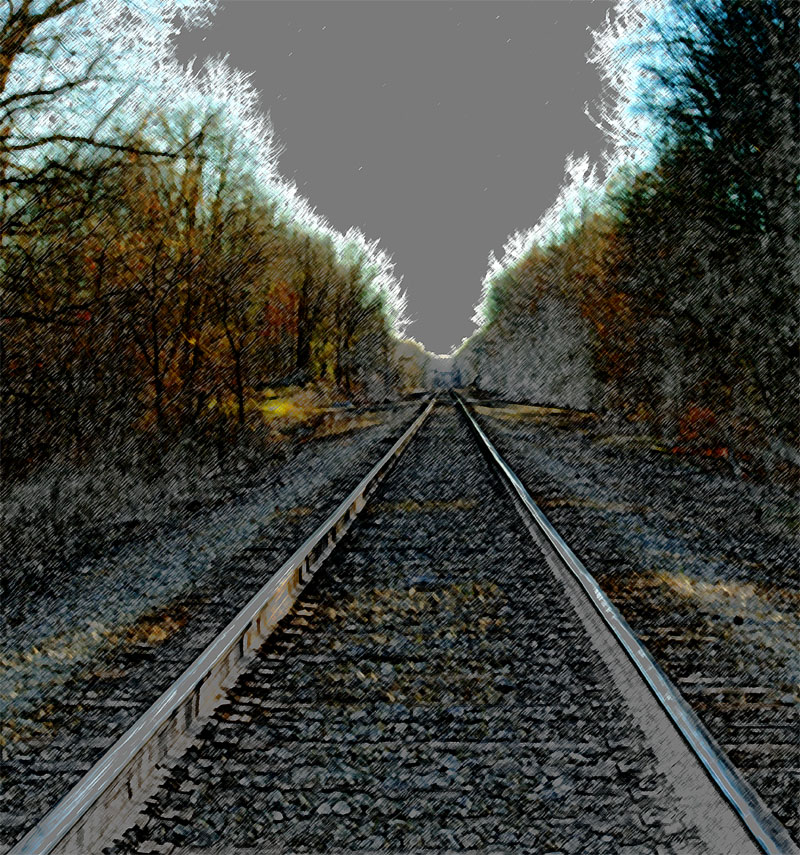 The fall tracks
December 6, 2004
Severe thunderstorm expected across portions of the Ohio Valley (mainly this area and towards the sotuh and southwest and Southern States this afternoon and into tonight. Looks like a lot of high winds across this area. Temperatures could rise into the 70s! Is it December?
I believe WINTER may finally arrive here in Western Kentucky next week we will have to wait and see if that means more than just COLD weather. :) Perhaps some snow!
December 7, 2004
Heavy rain overnight and some strong winds. Nothing too bad though. We picked up over an inch of rain. Adding to out big totals from last month!
Colder weather is on the way this weekend and then next week. Perhaps we can get some snow by late next week or into the weekend? I am crossing my fingers! We are definitely about to see a pattern change. Finally!
Nice sunset here tonight...

Western Kentucky Sun Set :)
December 9, 2004
Put up the weather instruments today :) That was exciting - climbing and climbing and climbing!

Up the ladder I go, with tools in my backpack!

Putting them up

And there they are!

That is REALLY high up!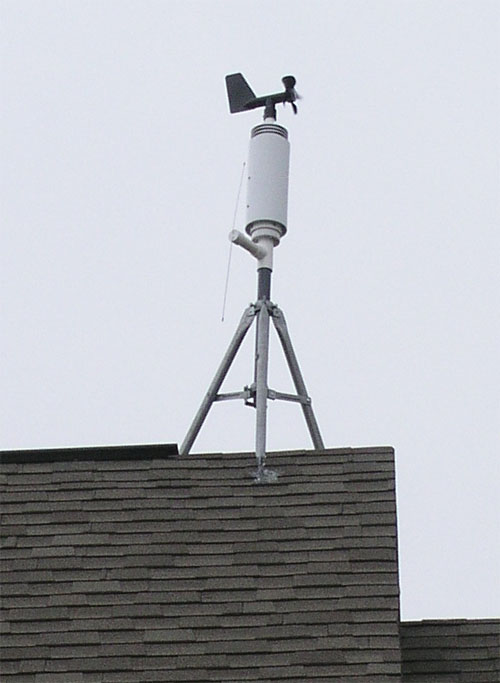 Now I can get some wind measurements!

:) :) :) :)
December 10th, 2004
Very cold weather coming next week. Could be some of the coldest weather we have seen in some time! Stay tuned :)

The river is cresting today after weeks of heavy rainfall. These photographs were taken in Metropolis earlier this afternoon.

Fort Massac State Park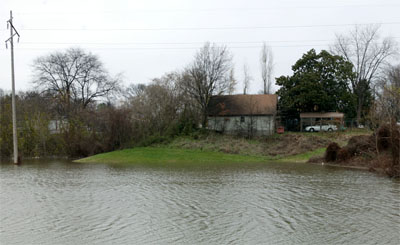 Front Street in Metropolis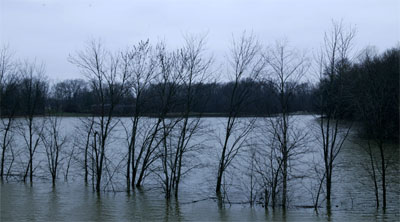 Highway 45 in Metropolis...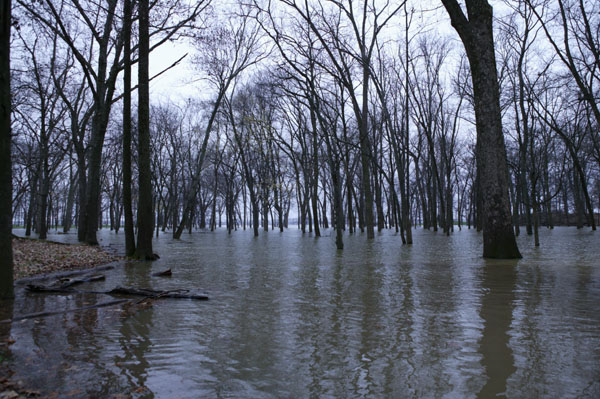 Fort Massac State Park - flooded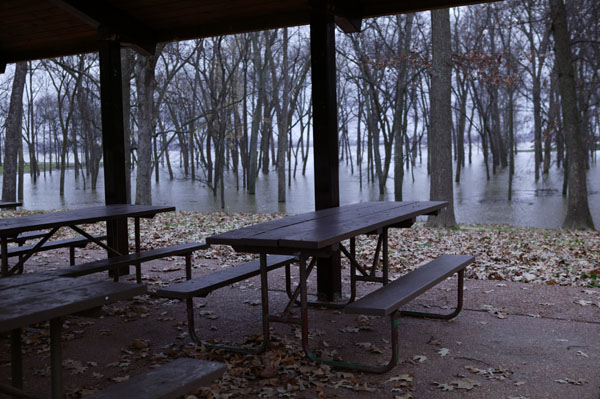 Fort Massac State Park -Metropolis, Illinois.
-------------------------------------------------------------------
Sunday Night and Monday
Big meteor shower tonight and tomorrow night! We have been watching it here this evening. I have seen about a dozen so far! I am hoping to see some big ones tomorrow night!
VERY cold weather coming as forecasted! Temperatures will be in the middle TEENS here on Tuesday Morning! So bundle up.
COLD WEATHER ON THE WAY - YOU CAN SEE THE TEMPS UP NORTH!
Dry weather though - no snow :(
One of my photographs made it into the Paducah Sun on Saturday. I was excited about that. It was one of the flood photos from Metropolis.
More later...
I took this photo last night in Massac County. I was able to see a bunch of fireballs,
one was blue and yellow! It streaked across the sky, low on the northern horizon.
Right above this house in the photo.
Didn't get anything on camera. I am still learning how to do this night photography!

------------------------------------------------------
RETURN TO HOME PAGE

RETURN TO AUGUST 1-17th
RETURN TO AUGUST 18th-31st
RETURN TO SEPTEMBER 1-9th
RETURN TO SEPTEMBER 10-30th
RETURN TO OCTOBER 1-15th
RETURN TO OCTOBER 15-31st
RETURN TO NOVEMBER 1-15th
RETURN TO NOVEMBER 16th
RETURN TO NOVEMBER 17-30th
RETURN TO DECEMBER 1st-15th
RETURN TO DECEMBER 16th-22nd
RETURN TO DECEMBER 23rd-31st
RETURN TO JANUARY 1st-8th
RETURN TO JANUARY 9th-26th
RETURN TO JANUARY 26th-31st
RETURN TO FEBRUARY
RETURN TO MARCH 1st-9th
Return TO March 10th-27th
Return TO March 28th-30th
RETURN TO APRIL 1-11th
Return to April 12th-18th
RETURN TO APRIL 18th-27th
RETURN TO APRIL 28th-30th
RETURN TO MAY 1st-5th
RETURN TO MAY 6th
CLICK HERE TO MAY 7th-16th
RETURN TO MAY 17th-29th
RETURN TO MAY30th-June 1st
RETURN TO JUNE 2nd - June 11th
RETURN TO JUNE 11th-17th
RETURN TO JUNE 18th-26th
RETURN TO JUNE 27th-30th sunsets :)
RETURN TO JULY 1st-3rd - 2004
RETURN TO JULY 4th - 2004
RETURN TO JULY 4th-7th - 2004
RETURN TO JULY 7th-10th - 2004
RETURN TO JULY 11th-22nd - 2004
RETURN TO JULY 22nd-31st - 2004
RETURN TO AUGUST 1st-12th - 2004
RETURN TO AUGUST 13th-25th - 2004
RETURN TO AUGUST 26th-31st - 2004
RETURN TO SEPTEMBER 1st - 5th - 2004
RETURN TO SEPTEMBER 6th - 15th - 2004
RETURN TO SEPTEMBER 15-17th - 2004
RETURN TO SEPTEMBER 18th-26th - 2004
RETURN TO SEPTEMBER 27th - 29th - 2004
RETURN TO SEPTEMBER 30th-OCTOBER 2nd 2004
RETURN TO OCTOBER 3rd - 7th, 2004
RETURN TO OCTOBER 7th-8th
RETURN TO OCTOBER 9th - 15th
RETURN TO OCTOBER 16th-18th
RETURN TO OCTOBER 19th-23rd
RETURN TO OCTOBER 24th-26th
RETURN TO OCTOBER 27th - 28th
RETURN TO OCTOBER 27th - November 19th
RETURN TO NOVEMBER 20th - 27th
RETURN TO NOVEMBER 28th-30th
------------------------------------------------------

Email: beaudodson @ usawx.com (remove spaces to email)