January 1st - 8th
January 1st-3rd
Wow what a beautiful - beautiful New Years! We celebrated 2003 - We danced and danced and danced, we celebrated the
victories that we achieved in the past year! We talked about everything from the tornado, to Brett's Court Victory, to the
sad moments, but we reflected back on what was nothing less than an INCREDIBLE AMAZING year filled with
blessings and miracles!
And in those days, they left their worries, their concerns, their troubled hearts in yonder pass and they took off their
hats and coats and they danced, they danced, they danced into the nights, for it was their day to celebrate the victories of
days gone pass, to remember the smiles, the laughter, and the joy and tears of yesteryear.
It was a time of great joy, a time of peace, a time where hearts and family became as one.
They knew in their hearts that the days grow short, but for now they rejoiced and praised god for all of His blessings.
And so it was that they danced into 2004


January 3, 2004

A snowstorm is coming to Toronto, two actually. One tomorrow and one early next week. Finally we shall see winter again!
Saturday: Everyone is pretty tired. It was a great week though. WOW is all I can keep saying, just being with all of my
friends and family makes these days so special. Everyone is a source of strength for me.
I can only imagine the adventures that are ahead of all of us. There are going to be some amazing days ahead and I look
forward to each and every one of them.
Soon I will be off to Waterloo, then Orlando, then Minneapolis. It is going to be a very busy week/weeks ahead.
It appears that winter is finally arriving. But for now it is SO MILD outside! :) We had RECORD HIGH temperatures
today in Toronto!
----
I am surrounded by the most beautiful people in the world. They are more than friends they are more than family, they are a part
of me. Their spirits, their dreams, the way they see this world that we live in. I am inspired to dream dreams.
God has shined down on us his blessings for a reason, a purpose, a destiny that is still unfolding.
I can not put into words what these past few days have been like up here. All of us together celebrating the past year,
the victories and celebrating what is to come.

January 4, 2004
Well, winter is supposed to return today to Toronto. We shall see! Snow and Ice is forecast through tonight.
David and I are going to Waterloo this evening. David has to return to work tomorrow and I will spend the week getting ready
for Orlando and Minneapolis. I am working on the applications for the American Red Cross and putting together a resume.

I miss everyone back home and I am thinking about all of you. I miss my friends in Toronto when I am in Paducah and I
miss my friends in Paducah when I am in Toronto. This is life!
Saturday Night Mars - We have a signal!!!
The SPIRIT has landed on Mars and there is a SIGNAL - a series of tones have been sent back to NASA


America's Spirit Is Ready to Rock-n-Roll Martian Style Saturday Night

In a perfect world, or in this case two perfect worlds -- Earth and Mars, the first of NASA's two robot
geologists will bounce over rocks and roll to a safe stop on the martian surface shortly after 8:35 p.m. PST this
Saturday, January 3, 2004.

NASA's twin rovers, named Spirit and Opportunity, have been cruising through the frigid temperatures of space
toward Mars for seven months, traveling about 300 million miles. Spirits of the engineers and scientists who have
worked on this mission for the last three years will likely heat up around 7:04 p.m. PST when the Spirit spacecraft rotates
to face its heat shield forward for final approach. The first step the rover will take in shedding more than half of the
spacecraft it has been traveling in should occur at 8:14 p.m. PST, when the entry vehicle is scheduled to separate from
the cruise stage. The rover should come screaming into the Martian atmosphere going 12,000 mph at 8:29 p.m. PST.



During the next six terrifying yet thrilling minutes, Spirit will jettison its heat shield, deploy its airbags,
fire its retro rockets, cut loose its backshell and parachute, and bounce against the martian surface
at 8:35 p.m. PST. The rover, protected by a lander structure and airbags, could bounce up to five stories
high and rock and roll as far as 1 kilometer (0.6 mile) across the martian ground before it completes its
grand finale stop before 8:45 p.m. PST.



Through the sequence of events this Saturday, Spirit will initially communicate with Earth through
a series of simple tones -- imagine the harmonic tones in the movie Close Encounters of the Third Kind,
but with a different melody and a much slower tempo. The Deep Space Network antennas on Earth could
hear from Spirit Saturday night, but may not receive the first signal from a healthy spacecraft until Sunday
evening. Within the first 24 hours, Spirit will have several chances to communicate with Earth both directly
to the Deep Space Network and through NASA's Mars Global Surveyor orbiter and NASA's Odyssey orbiter.
Both orbiters currently collect science at Mars and cruise above the martian surface at 400 km (250 miles),
and they will each fly over Spirit's landing site, Gusev Crater, throughout the mission.
What an AMAZING FEAT. They are going to search for clues as to whether there is life or was life
on Mars. :)
We are sitting here watching NASA on the computer live and seeing images of MARS.
CAN YOU IMAGINE?
WE ARE WATCHING MARS LIVE, USING THE REAL PLAYER PROGRAM ON THE COMPUTER
HERE IN TORONTO! :) WHAT AN AMAZING WORLD WE LIVE IN NOW! WOW!
At this time we don't see anybody walking around up there!
Ok so we have live streaming video now from Mars!!! These are the kind of things that excite me.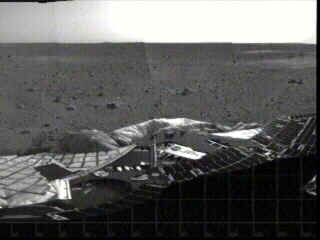 SPIRIT HAS LANDED!!

NASA CELEBRATES
WE SHOULD ALL BE PROUD!! What am amazingworld we live in! Wonders and Dreams, Missions and
new tomorrows!!!! Did we ever dare to dream that there would be a day when we could all see the planet
Mars live from our computer screens and on TV!
We have come so far.
January 4, 2003
Morning everyone. An awesome night as you can see above! Very nice.
Snow is coming to Toronto! I will keep everyone updated!
I also need to get the New Years photos on the web-site. I will work on that. I have lots of pictures of everyone:
Keri, Shawn, David, Dru, Erick, Doug, Andrew, and the list goes on.
I should have got a picture of the great apple pie Shawn brought! He said he baked it last time he brought over
a different apple dessert :) I think he has a hired chef perhaps ;)
Sunday Evening
Packing and trying to get everything ready. We went to IKEA this afternoon, IKEA is a HUGE shopping center
that you can buy furniture at. Erick and Doug needed a table for all of their music equipment. Dru and Andrew
also bought a bunch of stuff for their apartment.
It took FOREVER to check out, the line was so long, they need to hire more people.
Anyway, we are trying to get ready to go to Waterloo and we are trying to beat the snowstorm!
Will try to post pictures late late tonight, from the past week.
I will be in Waterloo all week, then Orlando this weekend, then Minneapolis next week.
Still waiting on the color photos from Mars. I will post some when I get them off the NASA site.





I am in waterloo and it is snowing! :) About time!
What an amazing few days at 19 Earl Street. If I live to be 100 and I see many more New Years Eves,
I will never forget and I will always cherish the memories of how we celebrated New Years 2004.
Being with my closest friends here in Toronto - David, Dru, Andrew, Keri, Doug, Erick, Shawn, Cory, and an old friend
Dariusz was what made this holiday so special.
There were so many magical moments, all of us sitting around sharing stories, talking about days gone past, so
many smiles, laughs, sighs, and tears. I am overwhelmed with emotion when I think back on everything that
has happened.
I don't deserve such kindness. I have made so many mistakes in my life, errors of way, misdirection, led astray.
There have been people, along the way, that got hurt much like me, but yet even they forgive me for my mistakes.
I am humbled to have the company of friends that I have.
I wonder where this path will lead us all. I wonder what tomorrow will bring. Where we will all be a year from
now, two years from now, three yrars.
I know that there are days ahead of us that will try all of our hearts
but I know that there is a peace that will prevail through it all.

We shall overcome, whatever it is that God places in our path.

There will be days when we will all have to find strength deep inside of our hearts and days that we will have to
find strength outside of ourselves.

But we must all remember that God never gives us more than we can carry and when the days do grow
dark we must remember that there is always hope, hope for a beautiful new tomorrow. :)
But for now we shall smile and smile and smile upon the blessings that surround us.
And we shall continue to stop and smell the flowers
Watch the snowflakes fall from the sky
And we shall remember the important things that are easily forgotten.
We will cherish Friends, Family, and those people in our life that we love and care for.

Dru spinning his music at 19 Earl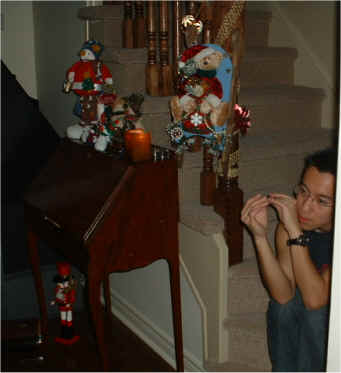 Erick sitting and listening to the music
thinking about tomorrow

And they danced and danced and danced into the night

Joy, JOY, JOY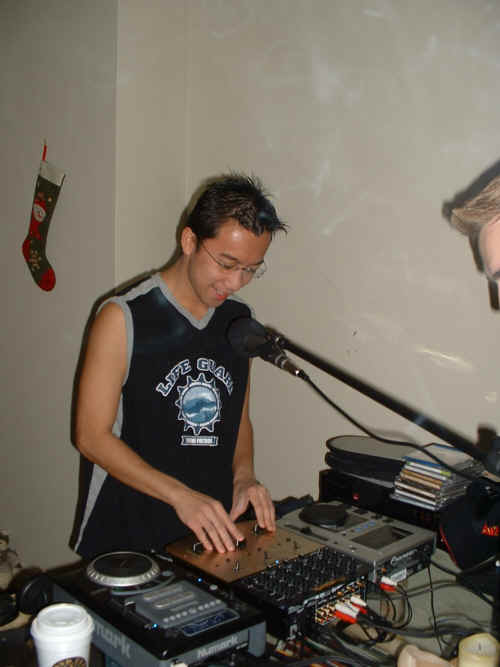 And the music played.

Shall we try and start a fire :)

How did I get this job!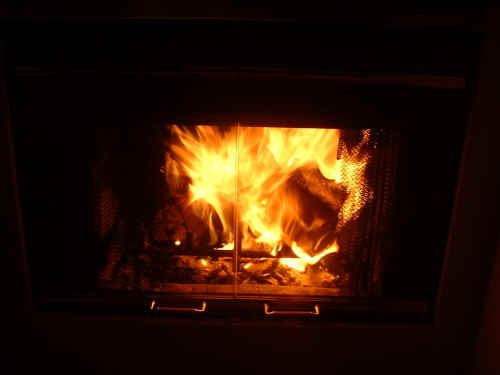 AND THERE WAS FIRE!!!!!!


DJ Shawn is in the house!
Monday, January 5th!!!! ALREADY THE 5th PEOPLE :)
Erick sent me this in an email this morning. I thought I would share it with everyone
"what a journey it has been and the end is not insight,
but the stars are out tonight and they're bound to guide my way.
when they're shinning on my life, i can see your better day
i won't let the darkness in, what a journey it has been."
It is a BEAUTIFUL morning here in Waterloo. The snow is sticking to everything.

Waterloo this morning - Beau

Monday Evening

Working on budgets and trying to get things worked out on the legal front. So I am keeping busy.
David and I went to eat out, it was snowing lightly. :) Nice to see some snow again! Seems
like it has been forever.
January 6, 2004
It is like a small blizzard here at 10 a.m. The wind is howling and it is snowing. The snow is blowing across
the fields and is causing visibility to be reduced to less than a mile. First time I have seen this kind of
weather in years. We don't get the blowing snow in Toronto like this. Too many buildings
The wind chill is around -20 so it is frigid outside. Nice weather :) I love it!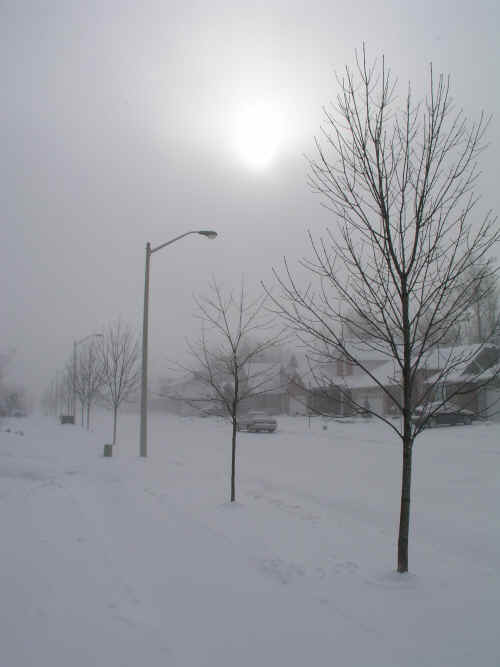 You can see all the blowing snow - beau

Blowing and drifting snow - brrrrr - beau
FIRST COLOR IMAGES OF MARS COMING IN NOW.
THIS IS THE HIGHEST RESOLUTION COLOR PHOTO
EVER TAKEN ON THE RED PLANET :)

Bitterly cold here in Waterloo. The temperature is going below ZERO tonight!
It is still snowing, very light fluffy dry snow. It is blowing around everywhere you look. Should
continue through the night.
This will likely be the coldest night of the winter so far for this area.
January 7, 2004
Cold Cold Cold Cold Cold Cold - here in Waterloo! Below ZERO this morning. Lots of snow
on the ground!
Working here at Davids today, trying to get everything finished. :) Nothing really new to report.
We are going to Orlando on Thursday Night now.
INTENSE snow squalls here in Waterloo, high winds and a ton of blowing snow. I have not seen anything
like this since 1985! :) The snow squalls come and go, the sun comes out in between the bands. Wish we
had this kind of weather in Toronto or back home in Western Kentucky. :)
Evening
Spent the evening working on paperwork, legal problems, applications, and so on.
Cold here, about zero again tonight. Snow has ended for now though.
We are leaving for Orlando tomorrow. We should be on the plane around 8 pm or so. I guess we will
be leaving the cold weather behind. Orlando will be a change of pace. Warm? Yes!


January 8, 2004
This page is getting pretty long. I will start a new one later tonight. That will be from January 9th.

We are leaving for Orlando later today. Going to a coin show down there and to the Kennedy
Space Center. That is the current plan.
Big fluffy snowflakes falling outside my window here :) Very nice touch to the wintry background!
AIRPORT UPDATE:

Sitting here at the airport on my laptop, it has wireless internet so I can check everything out.

John Logeman just called me and said it is snowing in Paducah and Metropolis :) Nothing major but
at least they are finally getting some snowflakes down there.
Looks like my friends in Birmingham might be getting some ice tonight as well.

I guess we can all share in the wealth of winter weather!

The plane leaves in one hour. Warm temps here we come.
CLICK HERE FOR JANUARY 9thand beyond

------------------------------------------------------
RETURN TO HOME PAGE

RETURN TO AUGUST 1-17th
RETURN TO AUGUST 18th-31st
RETURN TO SEPTEMBER 1-9th
RETURN TO SEPTEMBER 10-30th
RETURN TO OCTOBER 1-15th
RETURN TO OCTOBER 15-31st
RETURN TO NOVEMBER 1-15th
RETURN TO NOVEMBER 16th
RETURN TO NOVEMBER 17-30th
RETURN TO DECEMBER 1st-15th
RETURN TO DECEMBER 16th-22nd
RETURN TO DECEMBER 23rd-31st


Email beaudodson @ usawx.com (remove spaces)