CATASTROPHIC CHARLEY

FLORIDA DEVASTATED

August 13-15th
HURRICANE CHARLEY SLAMS FLORIDA - ON THE STEPS OF BONNIE. DOUBLE DISASTER.
Hurricane Charley devastated Florida on Friday with winds gusting over 170 miles per hour. Dozens of people are believed to be dead, hundreds are still missing.
This is the worst hurricane to hit Florida since the 1960s. It is believed that this hurricane WILL go down as more damaging than even hurricane Andrew.
Damage could top over 20 BILLION DOLLARS.

RADAR IMAGE OF THE EYE AS IT PASSED SOUTH OF TAMPA.



HURRICANE CHARLEY SLAMS FLORIDA...CAPTURED
ON RADAR. Image from Brett Adair



Charley on Satellite - just as it is hitting Florida.


EXTREME VIDEO OF CHARLEY - AT THE EYE WALL AS IT CAME ASHORE

Damage from Hurricane Charley

I said two weeks ago that hurricane season was about to EXPLODE. It has.
Three storms and three hits on the United States.
MEANWHILE...
RECORD COLD TEMPERATURES CONTINUE ACROSS THE TRI-STATE AREA. PADUCAH HAS REGISTERED RECORD LOW TEMPERATURES INTO THE FORTIES!
I have never seen temperatures this cold during the month of August in this region. Especially the number of chilly nights. Very impressive.
The Summer of Record Cool Temperatures Continues...
----------------------------------------------
Just returning from Birmingham, Alabama. I left for Alabama on Thursday and just got back in.
I will post a couple of photos later tonight.
Kristy and Jason are doing great down there. Brett and one of his new workers (Neal) had lunch with us on Friday.
Brett and his new baby are in good health and happy. I think his baby is getting bigger though! :)
Went to a Nora Jones concert on Friday Night, with Kristy. :) We had a great time, the concert went by really fast though. The weather was actually chilly! :P Can you imagine...chilly in Alabama - in August!!!!
I think summer is pretty much over for this area, there will still be a few more hot days buttttttt I think this cool weather is going to continue moving in from the north. A couple of warm days, then cool again! Seems to be the theme of the summer.
Grandmother fell and broke her shoulder on Thursday. She was taken to the hospital.

She was brought back home, but had to return to the hospital in an ambulance on Friday. The doctors are saying that she has an infection along with the possibility that she has had another stroke.
We should know more tomorrow, Monday.
We are leaving for Louisville on Thursday, for mothers surgery - for her cancer. The surgery will be on Friday. So with all of that said a busy week ahead.


Monday, August 16, 2004

My friend Jeff down in Birmingham, it has been a
LONG time since we have seen each other :)
It was nice to catch up on everything!

Cheetah riding Kristy's elephant :)
I took some other photos but they did not turn out.
Grandmother is about the same today. She will have to go to the nursing home for about 2 weeks. This will help her to get her strength back. This will also help us because we will be in Louisville with mother. She is hanging in there though.
Tuesday, Chaos :)
Ok we are at stage 5 of complete and utter meltdown here. :) Just the place I love to be. :) I think perhaps I should go watch the sunset tonight, that might help :)
More later...
The Weather Library is coming along, dozens and dozens of books, newspapers, and magazines on weather disasters. Everything from the 1800s till the present day.



This is a portion of the weather library - work in progress - other
shelves out of the photo to the left. :)
Grandmother is doing a little better. She will be released tomorrow, but will go into a rehab center for about two weeks.

Wednesday, August 18th
Another meteor over Chicago, this makes the third of fourth large one this year.

Fiery meteor streaks across predawn Monday sky here


Published August 17, 2004 - WGN News


They're called bolides--flaming meteors that race across the sky at tremendous speed and explode. They aren't terribly common. Yet, such a meteor caught the attention of many around 1 a.m. Monday as it streaked above the Chicago area, initiating a sonic boom. The bolide was observed by an air traffic controller at O'Hare and by the pilots of incoming aircraft, according to FAA spokeswoman Elizabeth Isham Cory. Ground-based observers called police in Park Ridge, Norridge and Chicago to report the event. Area astronomers suggested the fiery meteor may have been part of the annual Perseids display, which peaked a week ago. But, it may also have been a piece of earthbound space junk or a "sporadic"--a single isolated meteor--added astronomer Dan Joyce, who says bolides can travel at speeds up to 150,000 m.p.h. 50-60 miles above earth, but slow and heat up as they enter the denser lower atmosphere.


-------------------------------------------------------------------------
GRANDMOTHER PHOTOS COMING SHORTLY :)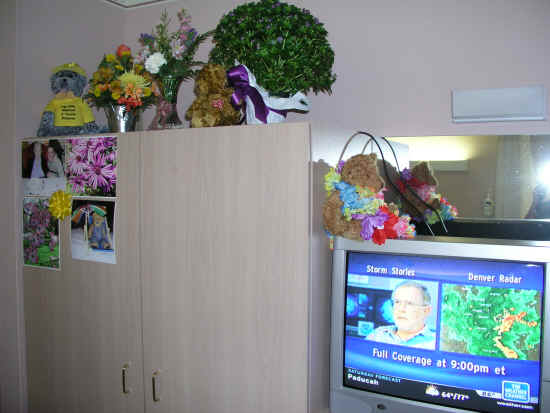 Grandmother has a lot of flowers and of course bears! :)
We got her a tv to watch ummm The Weather Channel :)
She will be in the nursing home for a couple of weeks, to help her recover better.




I printed out a bunch of photographs for the wall in
grandmothers nursing home room :) Maybe she will feel
a little bit less lonely with these.




Grandmother

Grandmother with her duck - the duck quacks :)
I told her I would send this photo to Norman and everyone
up in Toronto.
So all in all grandmother is doing a little bit better. She has a long road ahead of her, I am afraid. We are going to try and do everything possible to get her up and running again :) She is a trooper.
Thursday, August 18th
OK, well today is the big day, we head for Louisville to take my mother for her surgery. I will be leaving with her and staying with her up there - until next week.
Deena and Dione will be coming up later tonight and will be staying until Sunday Night or Monday.
Grandmother is in good hands at the Nursing Home, with a sitter.
I have someone staying at my house while I am away to keep things in order there.
So all in all a busy few days ahead here, keep us in your prayers. :)

--------------------
OK packing up here...dealing with hospital drama. :) lI swear America needs some kind of health care program that helps people that don't have insurance. It is terrible. A country that can't even take care of their own people. Disgraceful.
------------------
6 p.m. arrived in Louisville safe and sound.
Friday, August 19th
Mother will have surgery today around 10 a.m. I will try and update the web page later this evening.
Grandmother had a fever yesterday evening when we called to check on her, so her infection might not be gone. We will call early this morning for an update. We have sitters with her though, so she is in good hands at the nursing home.
Going to rain here all day and back home as well it would appear. We need the rain so that is good news :) Cooler weather is on the way...again. We warm up a few days then another cold front arrives!
Lots going on...
-------------------------
Friday Night - 10 p.m.
Mother came out of surgery around 1 p.m. She was in the recovery room for two hours and then they put her in a regular room.
Her hospital address is
Baptist East Hospital
4000 Kresge Way
Louisville Kentucky 40207
Room 648
Judy Dodson
---------
The surgery went well, she is in a lot of pain though. There were no surprises during the surgery. We will know a lot more on Tuesday and Wednesday as to future treatment.

Grandmother is doing ok down in Paducah. Jeremy, John and a few others went to visit her today. We did receive good reports from them.

Dione in the waiting room :) She was
sleeping so I figured she was fair game for
a photograph :)
Sat
urday, August 21st
Storms and rain moved through here last night, right ahead of ANOTHER cold front!!!! This has been a beautiful summer! I have never seen so many cold fronts during June, July, and August!
We are all headed out to the hospital now, so I will post some more updates later this evening.
Hope everyone else out there is doing ok.

Mother did allow me to take ONE photo :) so here it is
everyone!
She walked this afternoon...a bit shaky but she made it :)
It is an absolutely BEAUTIFUL day here in Louisville, temps are in the 70s. Just amazing weather, again. :)
More later...
-------------------------------
Saturday Evening
Mother was sick tonight. She was having a hard time sleeping, they gave her a sleeping pill and some more pain medicine. She is worn out.

No new news on grandmother, she is doing about the same. John said she looked a bit better last night - so that is good.
Sunday, August 22nd
:) Beautiful day here in Louisville, the girls have gone to the hospital. I am staying here to fill out my immigration papers for Canada. My visa will expire on 9/11.
I will be heading to the hospital in a few hours.
More later...
Grandmother is doing better today.
Deena and Dione are back home, they made it safe and sound.
Mother is improving, she was able to walk around today.
Monday, August 23rd
Things are moving along up here in Louisville. Mother is slowly improving.
Will post a picture or two in a few hours, heading out to eat right now. Then back to the hospital for a bit.

Mother waving to everyone from her hospital bed :)
Hey I tried...

Ok a LITTLE bit better here :)

Ok so she has to get up and walk :) so she can't hide forever :)

Here we go :)
So all in all not bad, perhaps the doctor will let her go home on Wednesday. That is the current plan at least! :)
So while mother was eating her hospital food we decided to go out to the river and eat dinner.

Captains Quarters Restaurant, right on the Ohio River.
Cool place - patio out front - then the river is below you.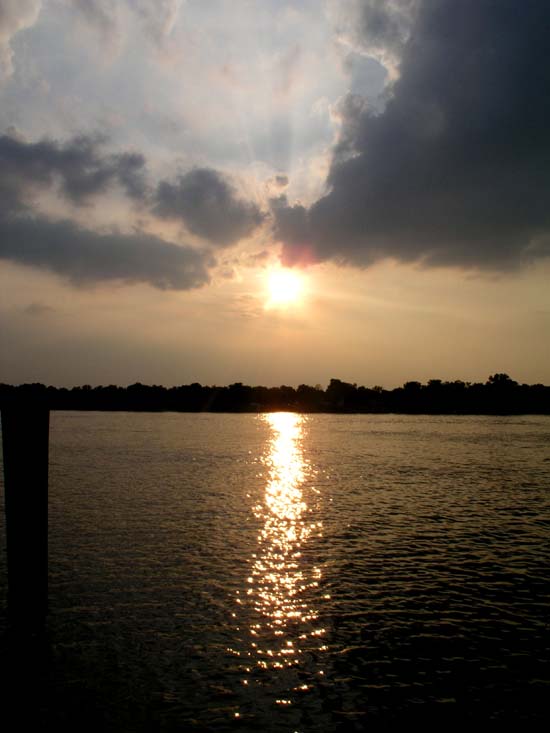 The Ohio River, Louisville, Kentucky - sun setting

Tuesday, August 24th
Raining here in Louisville this morning. BIG rains down in Illinois yesterday, 3-5 inches in some locations.
Watch the tropics again this coming week, we could see several hurricanes forming. Frances is the next one. This could be a large hurricane in a few days.

Also on the weather front...
For Canadians who have spent the summer asking where summer has gone, new satellite observations show we're not alone.

According to an analysis by scientists at the University of Alabama at Huntsville, July was the coldest worldwide since 1992. That year's cool spell was precipitated by the eruption of the Philippine volcano Pinatubo, which spewed 20 to 30 million tonnes of sunlight-deflecting dust into the atmosphere.

But scientists don't know why the Earth's thermostat has dropped this year.

In the Northern Hemisphere, July's temperatures were below the 20-year average by .14 degrees Celsius and in the Southern Hemisphere by .29 degrees. Both the tropics and Antarctica showed marked coolness.
end
---------
Tuesday Evening
Mother will be going home tomorrow. Mother will be staying at my house for awhile.
THE NEXT CHAPTER - THE NEXT PAGE

------------------------------------------------------
RETURN TO HOME PAGE


RETURN TO AUGUST 1-17th
RETURN TO AUGUST 18th-31st
RETURN TO SEPTEMBER 1-9th
RETURN TO SEPTEMBER 10-30th
RETURN TO OCTOBER 1-15th
RETURN TO OCTOBER 15-31st
RETURN TO NOVEMBER 1-15th
RETURN TO NOVEMBER 16th
RETURN TO NOVEMBER 17-30th
RETURN TO DECEMBER 1st-15th
RETURN TO DECEMBER 16th-22nd
RETURN TO DECEMBER 23rd-31st
RETURN TO JANUARY 1st-8th
RETURN TO JANUARY 9th-26th
RETURN TO JANUARY 26th-31st
RETURN TO FEBRUARY
RETURN TO MARCH 1st-9th
Return TO March 10th-27th
Return TO March 28th-30th
RETURN TO APRIL 1-11th
Return to April 12th-18th
RETURN TO APRIL 18th-27th
RETURN TO APRIL 28th-30th
RETURN TO MAY 1st-5th
RETURN TO MAY 6th
CLICK HERE TO MAY 7th-16th
RETURN TO MAY 17th-29th
RETURN TO MAY30th-June 1st
RETURN TO JUNE 2nd - June 11th
RETURN TO JUNE 11th-17th
RETURN TO JUNE 18th-26th
RETURN TO JUNE 27th-30th sunsets :)
RETURN TO JULY 1st-3rd - 2004
RETURN TO JULY 4th - 2004
RETURN TO JULY 4th-7th - 2004
RETURN TO JULY 7th-10th - 2004
RETURN TO JULY 11th-22nd - 2004
RETURN TO JULY 22nd-31st - 2004
RETURN TO AUGUST 1st-12th - 2004

Email: beaudodson @ usawx.com (remove spaces)