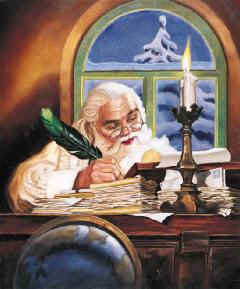 December 23rd - 31st
*** IF YOU PAGE DOESN'T LOAD ALL THE PHOTOGRAPHS THEN HIT THE REFRESH BUTTON. DO THIS WHEN
YOU SEE RED X's INSTEAD OF PHOTOS***


December 23rd

Kristy sent me this email :)
"We have a baby boy, 8 lbs. 1 oz. 20/21 inches long. Born Saturday, 12/20/03 around 430 p.m. Elliott Wells
Bloomston" This is Brett's Baby! :)
So congratulations all away around! Will have to try to get Kristy to send me a baby photo!
GREAT NEWS EVERYONE
THE 2nd ADDITION OF THE TORNADO BOOK HAS SOLD OUT! CAN YOU BELIEVE IT?
WE HAVE ORDERED 1000 MORE BOOKS! SOME PEOPLE HAVE PURCHASED AS MANY AS 8 COPIES!
SO THERE YOU GO - GREAT NEWS!
THE BOOK HAS NOW RAISED AROUND $28,000 DOLLARS FOR THE TORNADO
VICTIMS!
Busy day around here, running to and from!

Picked grandmother up along with Mariah and her friend Kicki.
Anyway, we went to Chucky Cheese, the mall, toy stores, and everywhere in between. I actually think we got
everything finished for Christmas!


Fun...Fun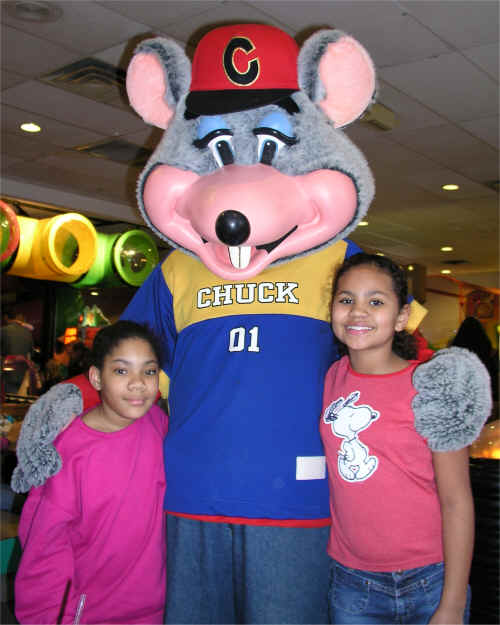 Chucky Cheese :)
Christmas Eve


Hi everyone. I hope that you are all able to be with your families and friends during this holiday season!
It has been an amazing year, who would have thought that so much could happen in such a small amount of time.
Life changes fast, we witnessed that with the terrible tornado outbreaks. We also witnessed that with the court ruling in Alabama. Sometimes it seems like the year was more like a month. It has been a difficult year for a lot of people. I know
that there are a lot of people who are still trying to pick up the pieces of their lives. My thoughts and prayers go out
to them.
I would sum up 2003 as a year of extremes.
2004 is upon us, who knows what the year ahead will bring to our lives. I am sure of one thing, it will be an adventure.
I am in Metropolis for most of today. The family is going to the Zion's United Church of Christ Christmas Eve Service
tonight at 7:30 p.m. We used to go to this every year, it was a family tradition! :)
This is the first year we have been able to go since 1999.
Have A Merry Christmas Everyone
CHRISTMAS 2003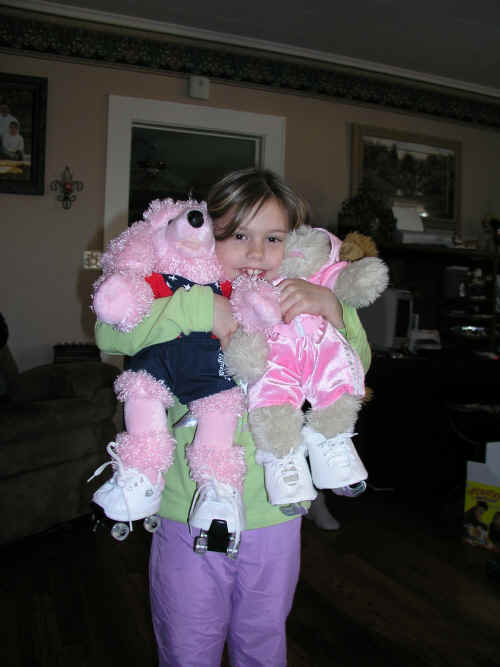 Danielle with lots and lots of teddy bears :)



Daddy and Deb



Bobbing head reindeer to my left and a real
nice Nativity Scene on my right :) Part of my
Christmas gifts.



Deena with her new laptop :) She will use this
for school, it took her awhile to unwrap it. I believe
hmmm seven boxes :) Before she finally got to
the real gift!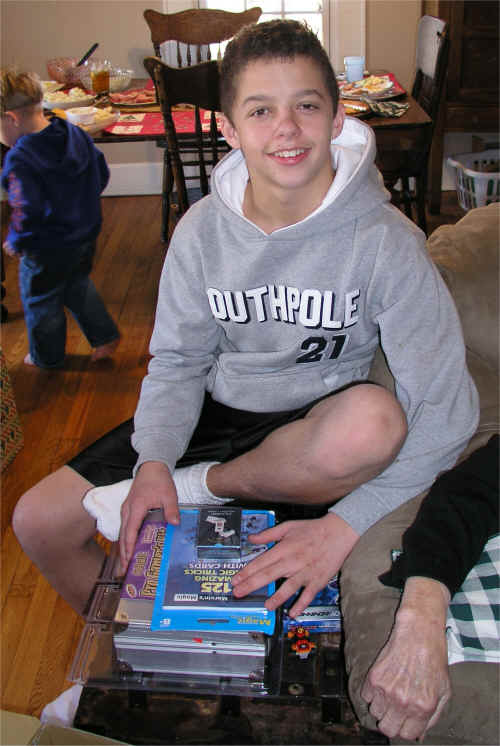 Dylan enjoying Christmas

It was a nice Christmas - at Deena and Tony's House. We were there most of the afternoon and evening.
The kids had a lot of fun, unwrapping gifts and playing with all of their new toys and games.

It was a green Christmas down here - no snow :) I guess it won't snow here until January now.

Hmmm, so anyway, back to Christmas :) We had a nice dinner, lots and lots of food! :) PLENTY to go around
more than once!
I have ALMOST finished my KENNEDY HALF DOLLAR coin collection! :) David got me some beautiful coins for Christmas now we are waiting on one coin. It is missing in action! David is checking with the dealer though to see where it is!
Now I will start on getting my Morgan collection finished!
Well I hope everyone else had a good Christmas and was able to be with their families or with their friends.
This was our first Christmas back together since 1999. Last year we had to celebrate Christmas early.
It was nice to be able to be with everyone again on Christmas day.

A BEAUTIFUL CHRISTMAS SUNSET!!!!

Afterwards mother and grandmother and I went to see some of the
Christmas Lights in Noble Park

Noble Park
--------------
On other notes, there is a ton of stuff going on I guess. Mother is thinking about getting this house down in Mayfield.
It is real nice, I like it and she likes it. Now she just has to make up her mind as to what she wants to do!
I will be returning to Toronto on Tuesday. Then I want to get down to business and try to figure out what I am doing.
I will be visiting Minneapolis in January at some point. I will likely be there at least a week.
I will then decide to visit either Boston or Minneapolis for a second trip in February. By the end of February I want to
be able to say that I have decided as to where I am moving to. I will then have to start looking for a house. I would
like to have a place to live in by March.
This is if everything goes PERFECT and well we all know how that works!
There are a ton of messy details to work out...as to how this is all going to work.
I have to do something though, I am bound in Toronto because of immigration problems.
My greatest Christmas wish is to get my life back. I waited what is now going on FOUR years to reclaim my freedom
What we have seen over the past seven months, since May, is just a portion of me reclaiming my life back. I have
been set free but within a box, a box that is bounded by borders, immigration laws, and attorneys.
I just want to be normal again.
I want to say that I have a place that I don't have to worry about immigration people knocking on my door.
I want to have a place I can call my home, here in my country for now.
I want to be able to date someone if I choose to do that, without worrying about them not wanting to live in Canada
or not being able to live in the United States.
I want to be able to get a job anywhere I want without someone checking my papers to see if I am the right citizen or not.
I want to be free - once and for all
I want to be able to give my heart and soul to an organization that I believe in, to help other people
I can't continue to do what I am doing now. I don't think most of you realize how difficult it is.
Everything, that everyone around me told me that they wanted for me, everything that everyone around me told me
that they wanted me to do, everything that I have wanted to do, can't be done with things as they are now.
I am tired of being in limbo, I am tired of having MY life on hold.
I have always been the person to help make peoples dreams and wishes come true, some of my friends have called
me a dream weaver.
Now the weaver has a wish and a dream - let me fulfill it - in my own way.
DECEMBER 26th
Morning everyone :) I hope that everyone had a great Christmas! I guess now everyone will have a Christmas
Weekend to enjoy!
Sounds like the good guys might have won one, as seven people on the USA Watch List tried to board a plane in
France. What were their intentions? There is word that they wanted to crash a plane into the big football game
in Las Vegas.
This orange alert is probably the most serious alert since 9/11 There is definitely a lot going on. Let's hope that the
good guys keep winning.
----------------
Anyway, waiting to hear from a friend today to have lunch, then might go to a movie this afternoon or evening.
I want to see Mona Lisa Smile. :)
Waiting to hear from David on details on my return trip home, as of right now though I plan on being in Detroit
on Tuesday. We will then drive to Toronto from there.
I am planning on going to Minneapolis in January.
Also on the agenda is a trip to Orlando to a coin show, we are dropping some coins off to be graded. I suppose
we will have to check out the beach while we are there in the WARMER climate!
Not sure after that, we were talking about going to London though or somewhere else across the big ocean. Have to
wait and see on all of this though.
There is a lot to accomplish next month and into February.
BUT Don't Forget To Stop And Smell The Flowers :)
------------------------------
DID EVERYONE SEE IT...DID YOU SEE THAT SKY - THAT WESTERN SKY - A PAINTING, A MASTERPIECE,
IT WAS BEAUTIFUL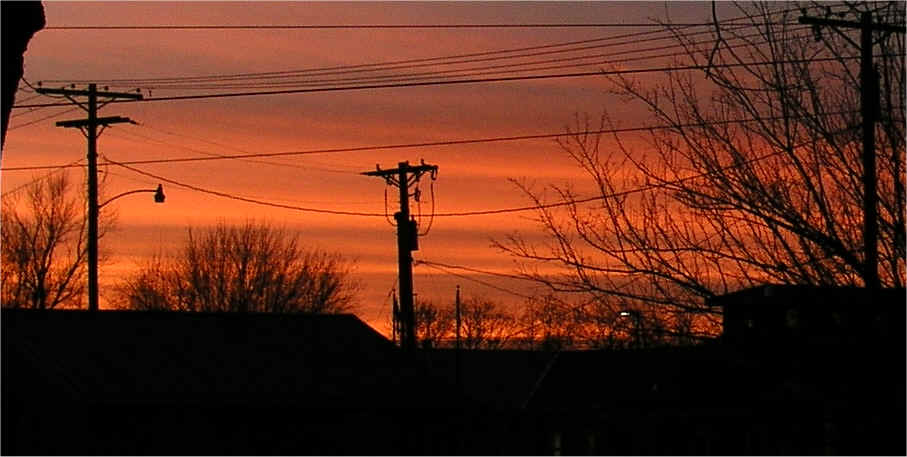 Who is it that paints these skies, who is it that brings me to a smile, I gaze into the
Western sky and wonder wonder why - why is it that he paints these skies!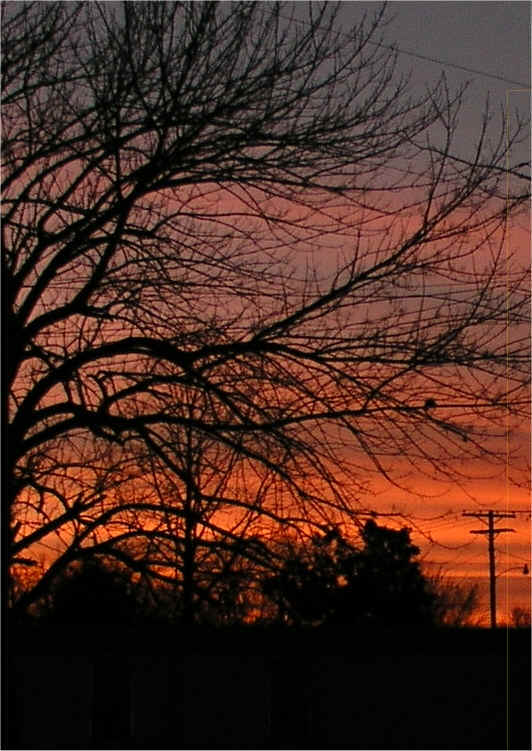 Beauty
The sunset was the start to a nice evening with mother and grandmother. We ended up going to
Crackle Barrel to eat, then rushed to the movies. We went to see Mona Lisa Smile and I thought it was
great. Not sure if mother liked it or not! :) I think she did. Anyway, I would recommend it!

DECEMBER 27th
Morning Everyone :)
Hmmm David sent me some really cool photographs from his parents place in Ontario. I can't get them to load
this morning though on dial up. I will try to post some pics tonight :)
Heading out in a bit...busy day ahead :)

The sign there says NO PETS ON BEACH
I say WHAT BEACH?
Hmmm, although a beach of snow sounds kind of nice! I could live with that! I guess in a perfect world all
the beaches are made of snow!

Kirkland Lake, beautiful snow covered trees (David photo)



SNOW SNOW AND MORE SNOW! (David photo)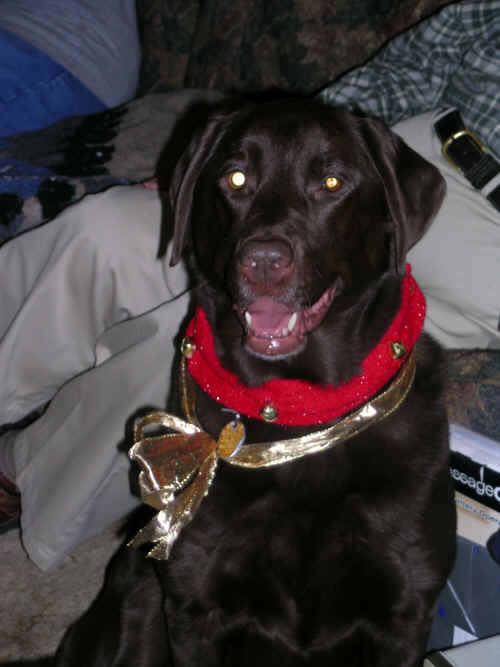 David said he sent me a picture of Moose.
I thought I was getting a photo of a real
moose.
Looks like David is having fun up at his parents, playing in all the snow! :) He is the only one among us that
has snow right now.
Oh well, surely the rest of us can get some soon enough!
December 28th
Well I don't have a lot of time to post because I am on dial-up and I am never here at the apartment. So I have
been trying to briefly post pictures or the what not!
I am having a great - GREAT time with visiting my family and friends. I have not been able to see much of Dione
because she is sick. Mariah also is sick. I hope they get better soon.
I did see Jeremy yesterday, he is ALWAYS a BIG MESS! Fun, fun and always teasing grandmother. She loves it
though!
I think I am going to the movies tonight with my friend Gil, mother, and grandmother! That will make 2
movies in 3 days.
David is probably digging out of all that snow up north! Wish I was there to see all of that! Doug and Erick are having
fun at 19 Earl - mixing MUSIC.
Norman said he is doing ok. He is still having eye problems. But it should get better. Otherwise he said he had a nice Christmas visiting a friend.
Hmmmm, that is the current update. Hope everyone is staying warm and taking care of themselves.
It is mild here and still no snow in the forecast. Where is winter?
Evening - went to see Cheaper by the Dozen with Mariah, mother, and grandmother. I give the movie a B- :) It was ok. My friend Gil also went with it. We went to eat at Ryans after the movie.
December 29, 2003
Well this is my last day in Paducah. I return home early tomorrow morning. I have to start out at 5 a.m.
just to catch my plane in time. So tomorrow will be a long day.
I am having lunch with my dad this morning and Dione is coming as well. Then I am having dinner with my
friend John.
I will be at my mothers most of the afternoon.
So busy day ahead.
Hope everyone is doing ok.
Stay Safe

Wow again on tonight's sunset...it was breathtaking
Had a nice lunch with my dad and Dione. We went to Red Lobster. After that I spent the afternoon at
grandmothers and then it was back to Paducah.
Met John and we had pizza and then he helped me pack. I swear I have more stuff all the time and I don't
even buy anything.
I gave John a bunch of stuff to take home with him. I am sure he appreciated that. THANKS JOHN :)
December 30, 2003
OK, I AM LEAVING AT 4:30 A.M. THIS MORNING FOR ST LOUIS. I WILL FLY INTO DETROIT LATER THIS MORNING OR EARLY AFTERNOON.
It will be a LONG day.
Hi Everyone
I made it to Toronto SAFE AND SOUND. THANK YOU DAVID for driving to Detroit and picking me up! It was a lllloooonnngggg day :) But a good one. I am so excited to be back at home. It has been THREE weeks since I
have been here! I feel like I have been gone forever and a day! Doug says "YOU HAVE" :)
The flight was great! Flying out of St Louis this morning not a cloud in the sky. We made it into Chicago in THIRTY MINUTES!
Then I was in Chicago for about 20 minutes and took a flight from there to Detroit! That took about 39 minutes!
Fast!
David met me at the airport and drove us across the border. Everything went fine, no problems.
Everyone was excited to see me back home. We are getting ready for New Years Eve and New Years Day :)
I am soooo tired - so I will cut this short!
Thank you everyone for a WONDERFUL CHRISTMAS! I MISS MY FAMILY ALREADY!!
(John I am almost finished unpacking)
My friend Kay says she is going to start a new game, instead of "WHERE'S WALDO - she is going to start a
WHERE'S BEAU"
NEW YEARS EVE 2003
Wow what an amazing year. EXTREMES - that best sums up 2003 for me. It was one
extreme to the next, beautiful sadness as I like to call it.
Amazing things constantly happening, great happiness and great sadness. From the
tornado to the court case, from celebrating life to letting go of a great friend, it was
an AMAZING year!
This is my pick for "Beau's Photograph of the Year"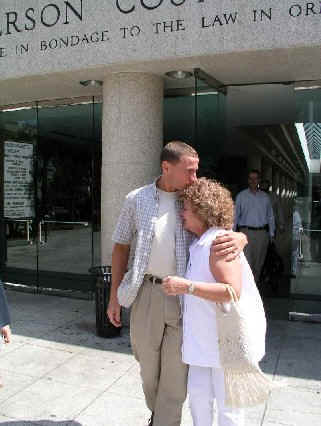 Freedom
-----------------------------------------------------------
-----------------------------------------------------------

2004 HAS ARRIVED IN SYDNEY
(news photo)
Tick...Tock...Tick...Tock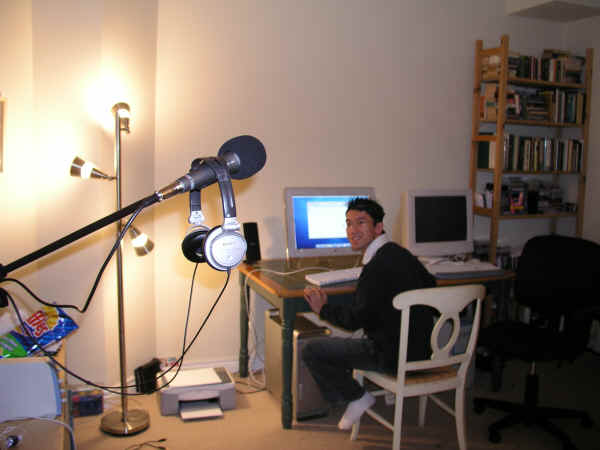 Erick with his new Apple Computer :) Music, Music, Music
Well I don't think that anyone would disagree when I say that for 2003 - the Person of the Year Award should go to
DAVID - It should go to Norman, David, Doug, Erick, Brett, My Family, Kristy, Keri - the list is endless.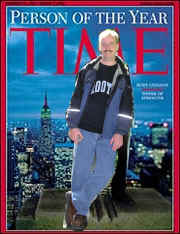 A dream weaver, miracle worker - Superhero X 10
Always supporting me...cheering me on...helping me climb that ladder out of my cage and into FREEDOM! There
are NO words...that can possibly even come close to describing what he has done for my family...my friends...and
for me. All I can say is that I am thankful...blessed...humbled...and privileged to be able to call David...my brother

New Years Eve - mixing music

WELCOME 2004
We are regrouping here in Toronto, after a beautiful New Years Party!
Will update page soon
JANUARY 1st-15th CLICK HERE

------------------------------------------------------
------------------------------------------------------
RETURN TO HOME PAGE

RETURN TO AUGUST 1-17th
RETURN TO AUGUST 18th-31st
RETURN TO SEPTEMBER 1-9th
RETURN TO SEPTEMBER 10-30th
RETURN TO OCTOBER 1-15th
RETURN TO OCTOBER 15-31st
RETURN TO NOVEMBER 1-15th
RETURN TO NOVEMBER 16th
RETURN TO NOVEMBER 17-30th
RETURN TO DECEMBER 1st-15th
RETURN TO DECEMBER 16th-22nd
------------------------------------------------------
------------------------------------------------------
Email beaudodson @ usawx.com (remove spaces for email)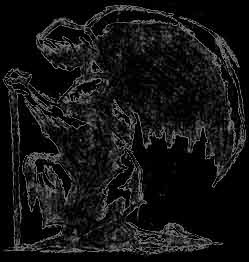 Beau Dodson
Derek Dodson