SEPTEMBER 2004
September 21, 2004
Did you know that tomorrow is the first day of fall????? :) HOW MUCH LONGER TILL SNOW ARRIVES. :) :) :)
It can't be tooooo much longer!
Anyway, busy day today. Just got home lots to do around here - will post some pictures later perhaps. :)
Stay tuned :)
We had a bbq :) well sort of.

Me getting ready to cook the hamburgers


Chef Beau




Backseat BBQ Drivers :) or something like that.

Ok so if you can't figure out how to grill the burgers you can always
read the manual.

John and Rick picked some flowers from the front yard :)

The finished product :)

My first Guinea Pig :)

Flowers for the table from the front yard :)


Mother :)

Wednesday, September 22, 2004
WELCOME TO FALL 2004 :) :) :) :)
OK WELL GUESS WHO IS BACK
...IVAN REGENERATES IN THE GULF OF MEXICO...

AT 6 PM CDT...2300Z...A TROPICAL STORM WARNING HAS BEEN ISSUED FOR
A PORTION OF THE GULF OF MEXICO COAST FROM THE MOUTH OF THE
MISSISSIPPI RIVER LOUISIANA WESTWARD TO SARGENT TEXAS.

I can honestly say I have never seen a system that basically developed off the African Coast move all the way into the Gulf of Mexico up and off the East Coast and loop back into Southern Florida and now REGENERATE in the Gulf of Mexico. UNREAL
This is the weirdest hurricane season I can ever remember.
Just weird...
SOOOOO NOW
We have Hurricane Jeanne heading for the east coast.
Hurricane Karl moving out to sea.
Tropical Lisa is still moving westward through the Atlantic (heading for the islands).
And Ivan
BUSY BUSY
Ivan last week caused EXTREME flooding in Pennsylvania. See below in ONE county alone
Almost all of Southwestern Pa. has been declared disaster area.

72 municipalities are disaster areas and there are now over 7,100 homes and businesses that were destroyed in Allegheny County alone
Thursday...September 23
Beautiful sunny morning here in West Kentucky. We need rain. I believe it has been 23 or 24 days with only a trace. Doesn't look like rain in the forecast either. Sooooo perhaps a rain dance is in order. :)

FOUR TROPICAL STORMS AND HURRICANES ARE SPINNING IN THE ATLANTIC AND THE GULF OF MEXICO. IVAN AND JEANNE WILL HIT THE USA OVER THE NEXT FEW DAYS.

BREAKING NEWS OF THE GOOD KIND!!!

Ayah Allawi (C), Prime Minister of Iraq, addresses
a joint meeting of the 108th Congress of the United States on Capitol
Hill in Washington, D.C., September 23, 2004, as U.S. Vice President
Dick Cheney and Speaker of the House Dennis Hastert looking on.
Allawi told the U.S. Congress on Thursday the 'overwhelming
majority' of Iraqis are grateful to the United States for ousting
Saddam Hussein and said democratic forces are succeeding
in Iraq. REUTERS
Imagine, seeing the new President of Iraq standing before Congress!!!
Good Stuff!
----------------------------------------------
TROPICAL STORM IVAN IS GOING TO HIT LOUISIANA AND TEXAS.
HURRICANE JEANNE IS GOING TO HIT FLORIDA OR GEORGIA.
WICKED SEASON CONTINUES.
--------------------------------------
THIS IS DAY 23 with NO RAIN HERE IN PADUCAH.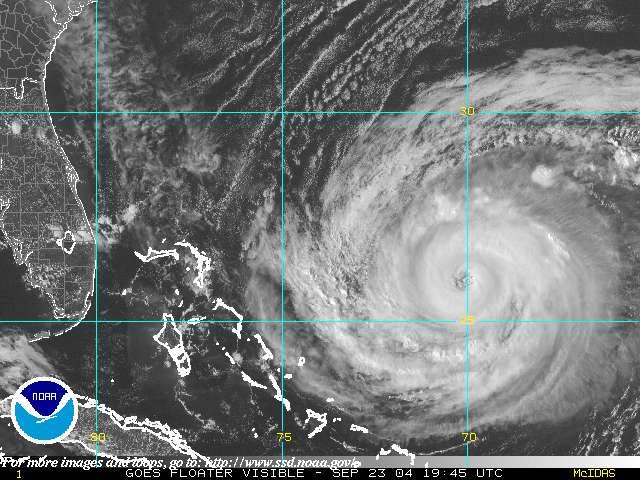 HURRICANE JEANNE THIS AFTERNOON - MOVING TOWARDS
FLORIDA
Some of the newspapers from Florida tell the story over the past few weeks.



Florida Papers Headline the Canes
Oops...Ivan is not hitting Florida again :) I MEANT TEXAS!!!
Friday, September 24, 2004
:)
I am still waiting to hear from the Red Cross. They said they are waiting on a phone call to send more people down south. They are a bit surprised that they have not called - sooooo we wait.
I have a meeting on Monday afternoon with the guy that is currently in charge of "disaster" services here in Paducah. We are going to try and figure out how to revamp the program. We need a lot more interest and money. We are basically having a big pow wow to come up with some ideas.
They are really excited to have someone interested in helping.
The entire Red Cross program here is at a major crossroads.
Grandmother is doing better and better. I hope she can come home in a couple of weeks. Mother is not ready for her to return though. Mother has to have enough strength to lift her. It could be 3-4 weeks before that happens.
We are all anxious to get things back to normal though.
Anyway, things are pretty busy around here.
Dylan's birthday is this weekend. :) I am going to his birthday party tonight.
----------------------------------------

Norman Update...
Norman is out of the hospital :) YAY He is doing much better and is expected to make a full recovery!

----------------------------------------
van moved ashore in Texas last night. There was a lot of heavy rain and some wind.
Jeanne is apparently going to be a MAJOR hurricane when it strikes Florida up to Georgia later this weekend :( Another blow for that ravaged state.


Ivan hits Texas...and Jeanne threatens Florida and the Southeastern United States

Here you can see Ivan in Texas
Jeanne off the Southeast Coast
Karl way up to the Northeast
Lisa moving into the Caribbean
WOW!
Dylan's birthday is today :) He turned 15 years old! We all went down to Cyberia to celebrate.

Dylan and his stepbrother Dylan :)

Cyberia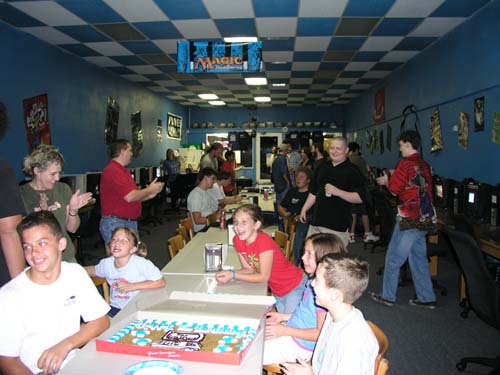 Cyberia...Dylans Birthday

Dylan at his party :)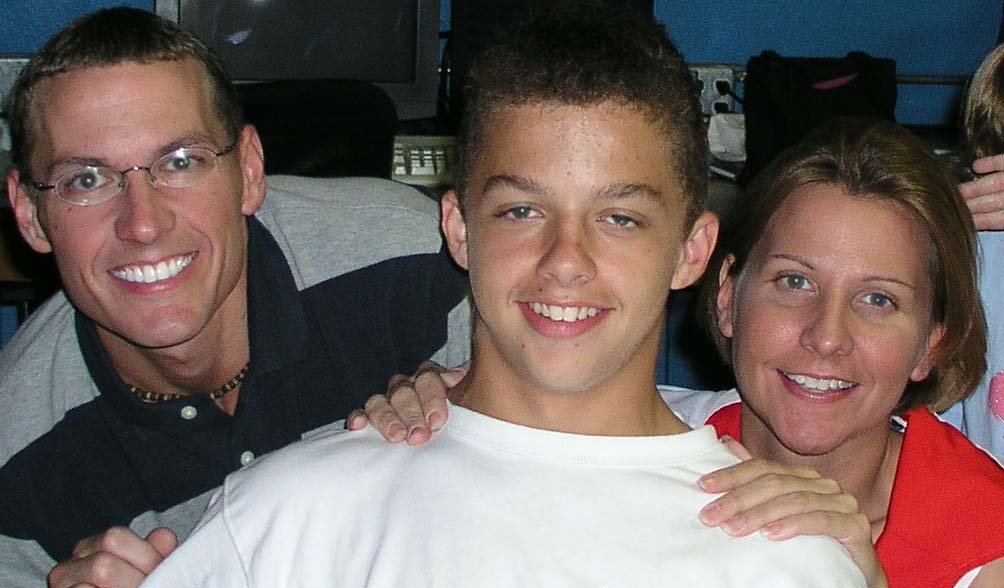 Me, Dylan, Dione




Dione and Deena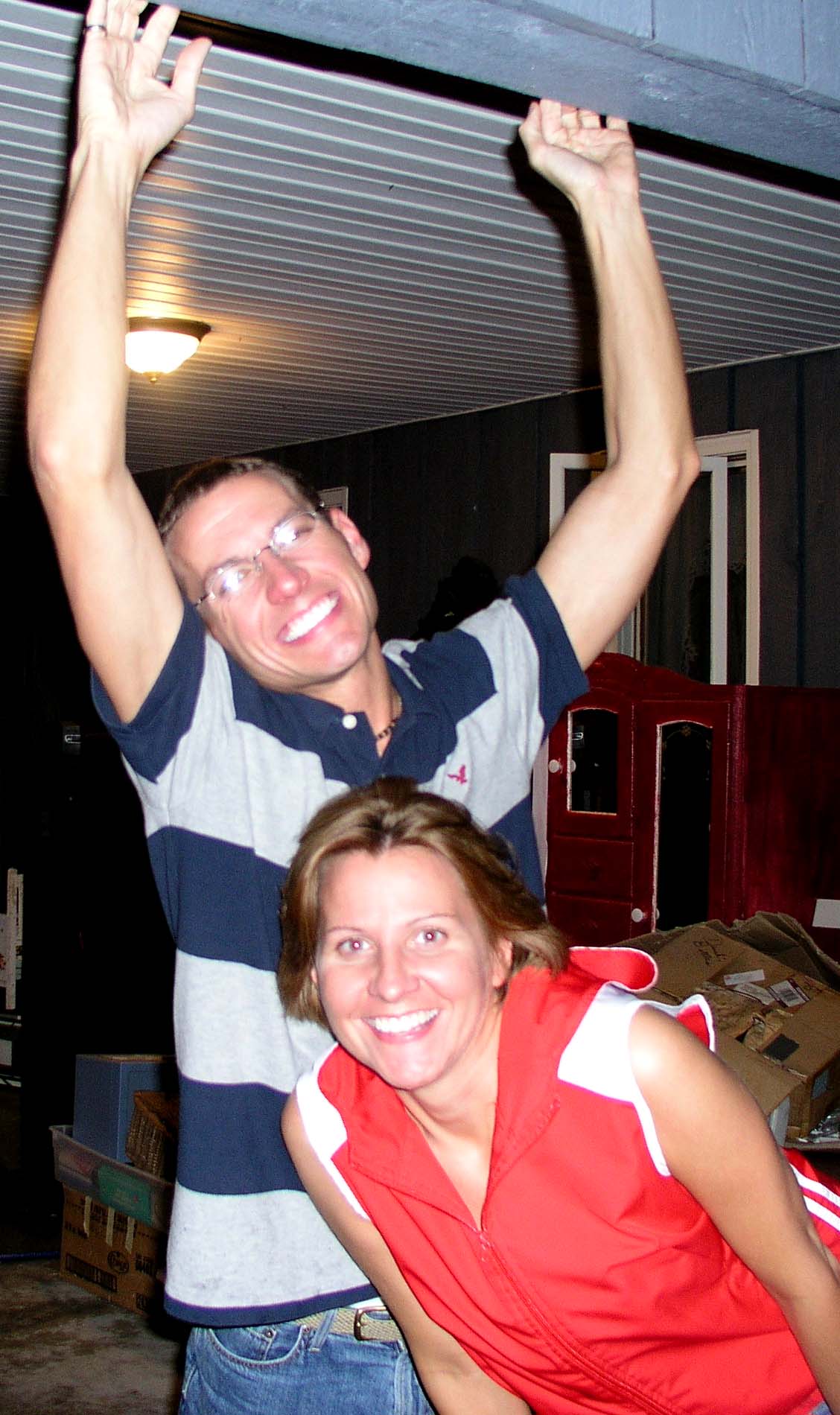 My sister Dione and me :)


Rick




HAPPY BIRTHDAY DYLAN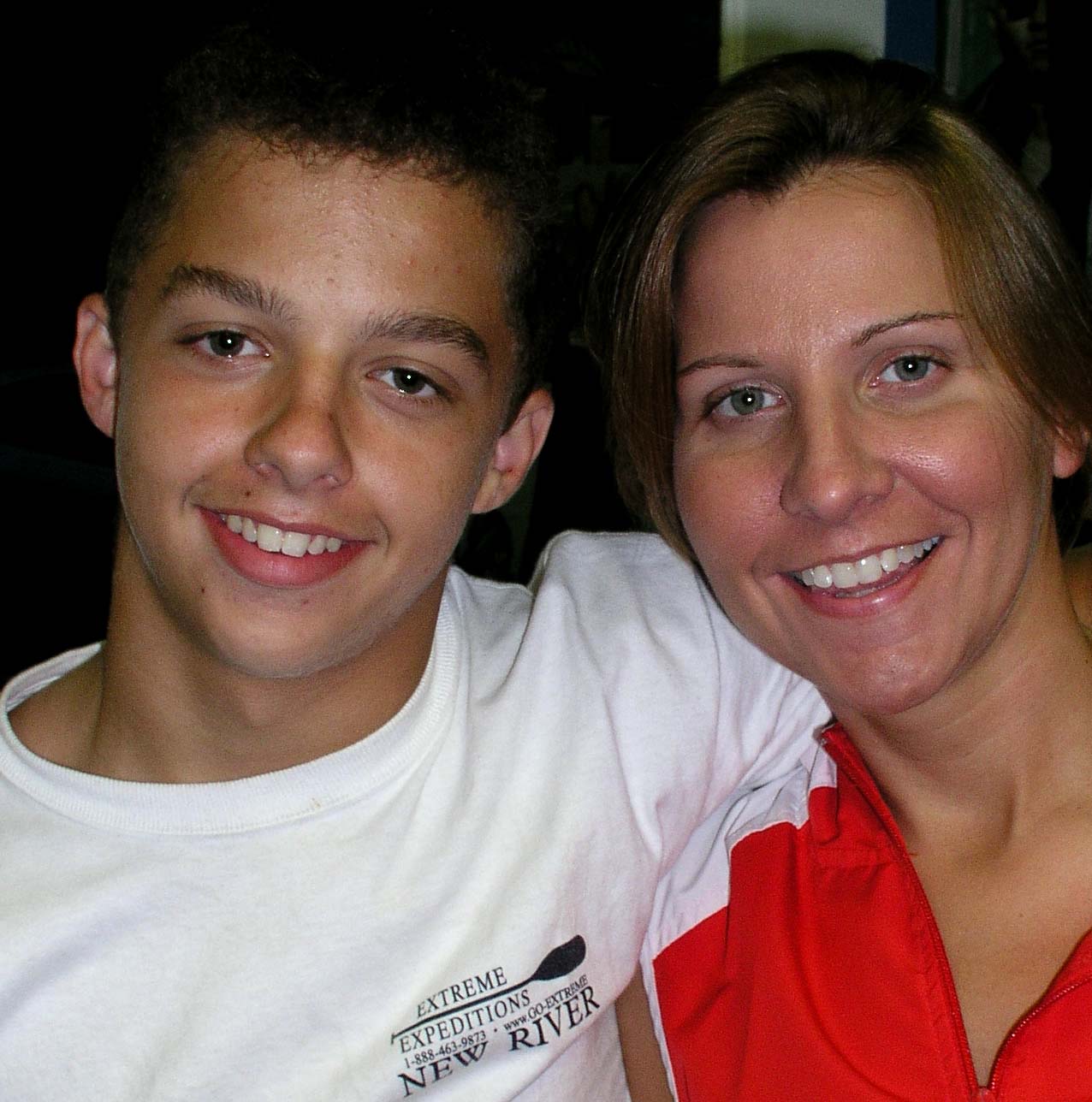 Dylan and Dione
SATURDAY, SEPTEMBER 25, 2004
MAJOR HURRICANE HEADING FOR FLORIDA...
HURRICANE JEANNE WILL STRIKE FLORIDA STARTING LATER TONIGHT AND THROUGH THE DAY ON SUNDAY.
JEANNE COULD HAVE WINDS GUSTING OVER 160 MILES PER HOUR AT LANDFALL. SUSTAINED WINDS COULD BE ABOVE 115 MILES PER HOUR.
THIS IS A DANGEROUS HURRICANE.

ONCE AGAIN SOUTHEAST FLORIDA IS GOING TO GET HIT VERY VERY VERY HARD.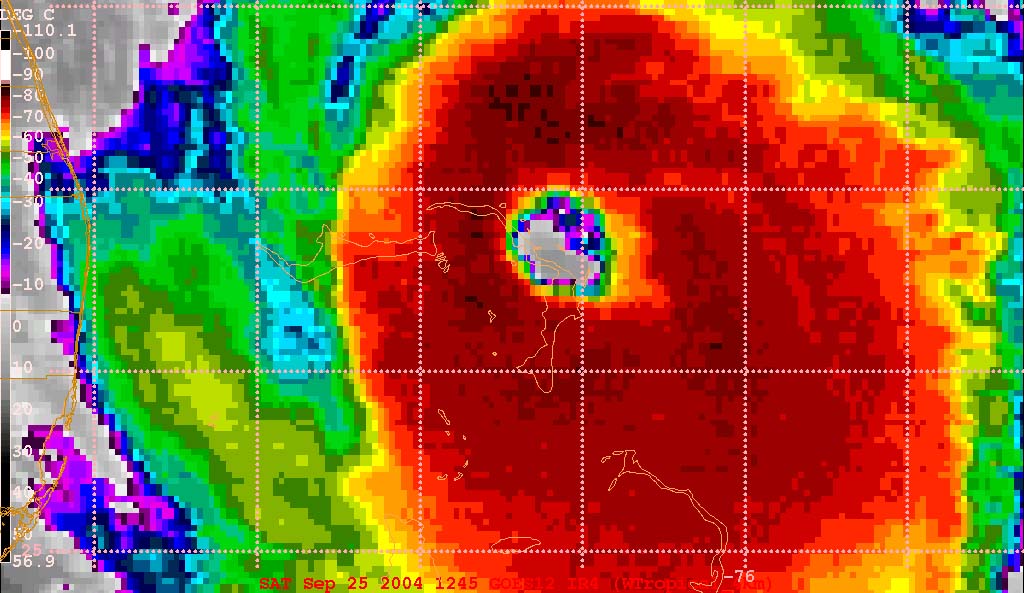 Satellite Image - JEANNE AND HER EYE MOVING
TOWARDS FLORIDA

Jeanne on Radar this morning...see the eye east of Miami

Jeanne takes eye on Southern Florida
----------------------
11 a.m.
JEANNE IS NOW A CATEGORY THREE HURRICANE AND CONTINUES TO GAIN STRENGTH. IT IS EXTREMELY RARA FOR A MAJOR HURRICANE TO HIT THE SAME AREA DURING THE SAME SEASON.
HERE WE GO AGAIN - MIAMI/WEST PALM BEACH AND AREAS TO THE NORTH.
VERY DANGEROUS HURRICANE APPROACHING THE COAST.
----------------------
Saturday Evening, Jeanne is going to hit north of Palm Beach, Florida. Hard hit - major hurricane.

Jeanne
----------------------
Just got back in from the BBQ festival here in Paducah. :)
Grandmother actually got to go with us! First time in a long time for her being out. :)



WELCOME TO THE BBQ FESTIVAL :)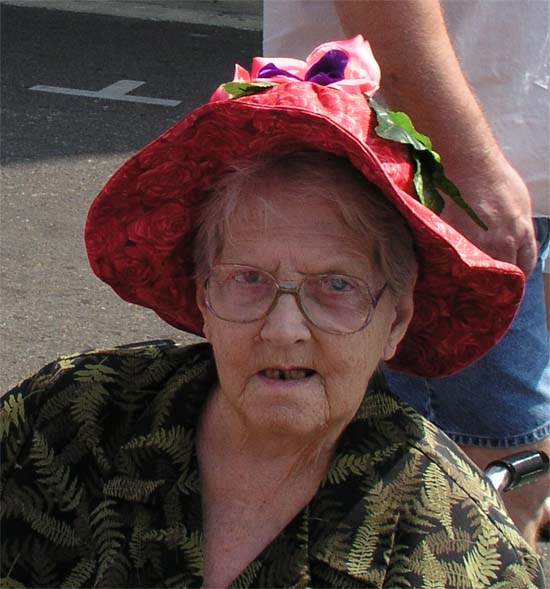 Grandmother...out and about

Me, Grandmother and Mom :)

Dione, Rick, Grandmother, Mother and
errrr a giraffe!

BBQ Festival 2004 :)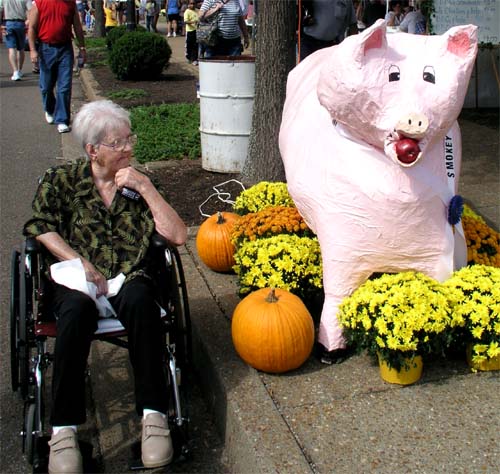 Grandmother wondering where her BBQ is

I think we just found it :) :) :)

OK IT'S NOT TOO LATE TO ESCAPE FROM HERE

Mr. Charles was there and once again asked grandmother to marry him :)



Mr. Charles and Grandmother


AND FINALLY
MY GRANDMOTHER HAS MADE HER CHOICE (don't tell Doug) :) :) :)

Grandmother votes!
CLICK HERE FOR NEXT PAGE :)


------------------------------------------------------
------------------------------------------------------
RETURN TO HOME PAGE


RETURN TO AUGUST 1-17th
RETURN TO AUGUST 18th-31st
RETURN TO SEPTEMBER 1-9th
RETURN TO SEPTEMBER 10-30th
RETURN TO OCTOBER 1-15th
RETURN TO OCTOBER 15-31st
RETURN TO NOVEMBER 1-15th
RETURN TO NOVEMBER 16th
RETURN TO NOVEMBER 17-30th
RETURN TO DECEMBER 1st-15th
RETURN TO DECEMBER 16th-22nd
RETURN TO DECEMBER 23rd-31st
RETURN TO JANUARY 1st-8th
RETURN TO JANUARY 9th-26th
RETURN TO JANUARY 26th-31st
RETURN TO FEBRUARY
RETURN TO MARCH 1st-9th
Return TO March 10th-27th
Return TO March 28th-30th
RETURN TO APRIL 1-11th
Return to April 12th-18th
RETURN TO APRIL 18th-27th
RETURN TO APRIL 28th-30th
RETURN TO MAY 1st-5th
RETURN TO MAY 6th
CLICK HERE TO MAY 7th-16th
RETURN TO MAY 17th-29th
RETURN TO MAY30th-June 1st
RETURN TO JUNE 2nd - June 11th
RETURN TO JUNE 11th-17th
RETURN TO JUNE 18th-26th
RETURN TO JUNE 27th-30th sunsets :)
RETURN TO JULY 1st-3rd - 2004
RETURN TO JULY 4th - 2004
RETURN TO JULY 4th-7th - 2004
RETURN TO JULY 7th-10th - 2004
RETURN TO JULY 11th-22nd - 2004
RETURN TO JULY 22nd-31st - 2004
RETURN TO AUGUST 1st-12th - 2004
RETURN TO AUGUST 13th-25th - 2004
RETURN TO AUGUST 26th-31st - 2004
RETURN TO SEPTEMBER 1st - 5th - 2004
RETURN TO SEPTEMBER 6th - 15th - 2004
RETURN TO SEPTEMBER 15-17th - 2004
------------------------------------------------------


Email: beaudodson @ usawx.com (remove spaces)