MAY 7th - THE DAY AFTER
Angel

Sarah Mclachlan

Spend all your time waiting for that second chance
For a break that would make it okay
There's always some reason to feel not good enough
And it's hard at the end of the day
I need some distraction, oh, a beautiful release
Memories seep from my brain
Let me be empty, oh, and weightless, and maybe
I'll find some peace tonight


In the arms of the angel, fly away from here
From this dark, cold hotel room
And the endlessness that you fear
You are pulled from the wreckage of your silent reverie





You're in the arms of the angels
May you find...some comfort here


So tired of the straight line, that everywhere you turn
There's vultures and thieves at your back
Storm keeps on twisting, keep on building the lies
That you make up for all that you lack
It don't make no difference, escaping one last time
It's easier to believe
In this sweet madness, oh, this glorious sadness
That brings me to my kness




My angels - and so many others not pictured here

You're in the arms of the angel
May you find....some comfort here


I AM SO DEEPLY HUMBLED. THERE ARE REALLY NO WORDS TO DESCRIBE HOW I FEEL TONIGHT AS I WRITE THIS.
HOW CAN A PERSON, WHO WAS ARRESTED ON MAY 6th of 2000, FLED INTO CANADA TO ESCAPE THE CHAOS. WHO WAS TOLD HE WAS FREE ON MAY 6-7-8th of 2002 THEN TOLD A MISTAKE WAS MADE AND HE WAS NOT FREE.
HOW CAN A PERSON WHO WAS FACING MULTIPLE DRUG CHARGES, ON MAY 6th 2003 (from 2000) SIT IN FRONT OF HIS COMPUTER CRYING. KNOWING THAT EACH MEMBER OF HIS FAMILY WAS UNDER A TORNADO WARNING, NOT KNOWING WHAT WOULD HAPPEN TO THEM. KNOWING THAT THERE WAS NOTHING I COULD DO BECAUSE I WAS 900 MILES AWAY.
HOW CAN A PERSON WHO HAS BEEN THROUGH SO MUCH COME OUT THE OTHER SIDE AND STILL BE SANE. STILL FIND REASONS TO SMILE.
HOW CAN PERSON, WHO LAST NIGHT ON MAY 6th 2004, BE ASKED TO SPEAK WITH PEOPLE - MY HEROES - LIKE CAL SISTO - PEOPLE FROM THE NATIONAL WEATHER SERVICE, A LOCAL PASTOR, BE ASKED TO DELIVER A SPEECH ON BEHALF OF THE SHADOW ANGEL FOUNDATION.
DO YOU KNOW HOW HUMBLED I AM. DO YOU KNOW HOW MUCH I HAVE CHANGED SINCE I LEFT AMERICA. SINCE I LEFT IN 2000.
I CAN TELL YOU HOW THAT ALL HAPPENS.
IT HAPPENS BECAUSE OF PEOPLE LIKE DAVID CROUCH, DOUG THOMPSON, NORMAN THACKERAYm PEOPLE LIKE KRISTY AND BRETT IN BIRMINGHAM, PEOPLE LIKE MY FAMILY, WHO HAS STOOD BY ME THROUGH ALL OF THIS. PEOPLE WHO BELIEVE SO MUCH IN ME THAT THEY BECAME THE WINDS BENEATH MY WINDS.
CAL SISTO STOOD WITH ME TONIGHT, IN FRONT OF EVERYONE AND SAID THAT I AM THE LIFE BEHIND THE SHADOW ANGEL FOUNDATION - BUT NO I AM NOT THE LIFE - THERE ARE MANY OTHERS WHO ARE THE LIFE OF ALL OF THIS. THOSE PEOPLE WHO HAVE HELPED ME GET TO THIS POINT. THEY ARE THE HEROES. THEY ARE THE ONES THAT HELPED ME ALONG THE WAY. THOSE PEOPLE AROUND ME. MY HEROES LISTED ABOVE - THEY ARE THE WINDS IN MY SAIL. THEY ARE WHERE ARE GET MY STRENGTH FROM.
PEOPLE LIKE JULIE KOHN, DANNY KOHN, SHERRY GODFREY, MY FRIEND GAIL AND SO MANY OTHERS THAT HAVE ROOTED ME ON. THAT TOOK A CHANCE AND BELIEVED IN ME.
YES I HAVE FAILED PEOPLE. I HAVE MESSED UP IN THE PAST. I HAVE FALLEN. BUT I ALWAYS GET BACK UP, I DUST OFF MY KNEES, AND I KEEP MOVING FORWARD. I KEEPING AIMING - STRIVING FOR THAT PERFECT GOAL. THAT ROAD, THAT PATH, THAT JOURNEY THAT I AM ON.
I SIT HERE IN A WORLD OF EXTREMES. IN A WORLD I DON'T FEEL LIKE I DESERVE. I WORLD THAT SOMETIMES DOESN'T FEEL REAL. BUT FEELS LIKE SOME NOVEL, SOME MOVIE, SOME DEEP EMOTION THAT BEATS LIKE A BROKEN HEART WITHOUT RHYTHM - WITHOUT REASON. I DON'T UNDERSTAND WHY I HAVE BEEN GIVEN SO MUCH. I DON'T UNDERSTAND WHY ME.
I DON'T UNDERSTAND SO MUCH. BUT I KNOW I HAVE A DEEP RESPONSIBILITY TO USE WHAT I HAVE BEEN GIVEN FOR THE GOOD OF OTHERS, AND THAT I SHALL DO!
BUT DO I HAVE TO UNDERSTAND IT ALL. DO I HAVE TO HAVE ANSWERS TO ALL MY QUESTIONS? HOW CAN ONE FIND LOVE IN THE MIDST OF A WORLD OF CHAOS. IN THE MIDST OF A WORLD OF TRAUMA, OF WAR, OF THINGS THAT WE CAN'T EVEN SPEAK OF IN FRONT OF OUR CHILDREN.
THERE HAS TO BE MEANING TO ALL OF THIS.
IT IS BEAUTIFUL SADNESS...AT IT'S FINEST.
ON CHANNEL SIX TONIGHT THE REPORTER SAID "THE ROAD TO RECOVERY IS LONG...AND THE JOURNEY HAS JUST BEGUN"
HOW MUCH TRUER CAN THAT BE?
YESTERDAY WAS THE NATIONAL DAY OF PRAYER AND THE THEME WAS "LET FREEDOM RING"
ONE YEAR AGO I WAS A PRISONER OF MY OWN WORLD
TODAY I AM FREE...
I AM FREE
IF I COULD EVER REPAY THOSE WHO HAVE HELPED ME - I WOULD
I WOULD LAY MY LIFE DOWN, WITHOUT HESITATION IN ORDER TO SAVE THEM. THAT IS WHAT THEY DID FOR ME.
MY BROTHERS, THEY HAVE STOOD BY ME THROUGH SO MUCH, SO MUCH DRAMA, SO MUCH TRAUMA, SO MANY TEARS, SO MANY HEARTACHES, A ROLLER COASTER OF EMOTIONS THAT SOMETIMES WE THOUGHT WOULD NEVER END.
AND SO THE JOURNEY CONTINUES ON TODAY, TOMORROW, THE DAY AFTER TOMORROW. IT WILL CONTINUE ON FOR ALL OF US - IT WILL CONTINUE ON!
THANK YOU TO EVERYONE WHO HAS BROUGHT ME TO THIS POINT. WHO HELPED ME TO THIS POINT IN MY LIFE. THE POINT WHERE I CAN SMILE AGAIN.
I AM MORE THAN HUMBLED

I AM PROFOUNDLY, DEEPLY, SINCERELY TOUCHED BY NOTHING LESS THAN THE ANGELS AROUND ME


- BEAU
-------------------------------------------------------------------------------------------
Thursday
Went to see the house this morning, with David and Deena and mother, they had a great time! The house is big but each room has a purpose.

Tony opened his new business tonight, it is a gaming room, internet cafe! :) I am thrilled for him and WISH HIM THE BEST OF LUCK!!!!
Here are some pictures

Tony outside of CYBERIA


Tony's Business - LOTS of computers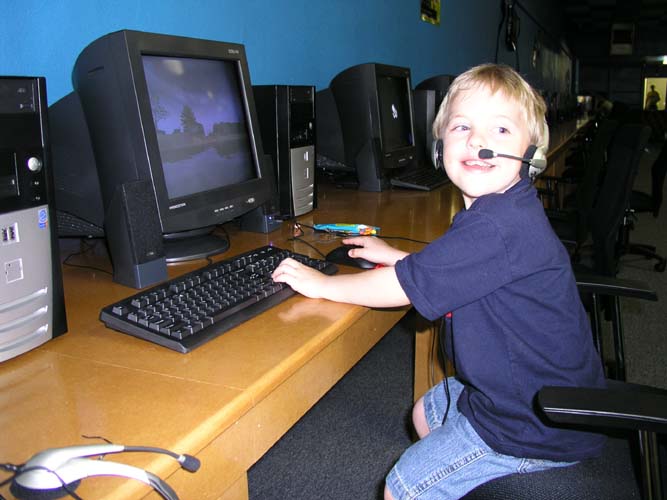 Tyler playing video games

Tyler my nephew and me at the center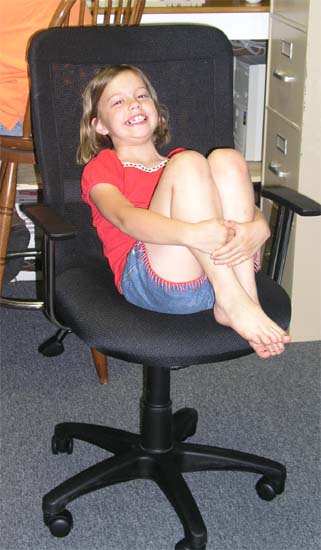 Danielle at the new business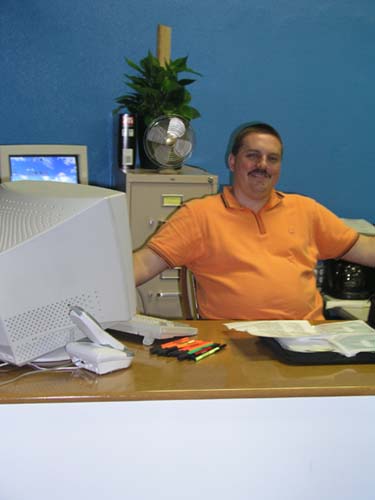 Tony say hid new business
So things went great today! Busy busy today, got my house insurance and tomorrow is the CLOSE - ON MY BIRTHDAY! :) YAYAYAYYAYAYAYAYYAYAYAYAYAYA
MAY 8th 2004

HAPPY BIRTHDAY BEAU!!!!!
WOW WHAT A DIFFERENCE ONE YEAR MAKES! INCREDIBLE. SO MANY PEOPLE TO THANK. SO MANY PEOPLE THAT HAVE BEEN HEROES IN MY LIFE!!!! THANK YOU THANK YOU THANK YOU THANK YOU THANK YOU TO ALL OF MY FRIENDS AND FAMILY!
THIS IS MY NEW HOUSE



The New Home!

I plan on CLOSING ON THE HOUSE AT 10 a.m. THIS MORNING!
MADE THE NWS PAGE FROM LAST NIGHT CLICK HERE
BREAKING NEWS....
THE TORNADO BOOK IS ALMOST SOLD OUT AGAIN!!!!! THERE ARE ABOUT 150 COPIES LEFT. CAN YOU BELIEVE IT! THIS IS THE THIRD PRINTING!!!!!! AMAZING - AMAZING - AMAZING!!!
ONE WOMAN CAME UP TO ME LAST NIGHT AND SAID HER CHILD SLEEPS WITH HER STORM BEAR EVERY SINGLE NIGHT AND NEVER LETS GO OF IT.
WONDERFUL BIRTHDAY DINNER TONIGHT WITH DAVID, GRANDMOTHER, AND MOTHER. WE WENT TO WHALERS CATCH AND HAD A BLAST!!! GRANDMOTHER WAS IN HER FINE SELF - FUNNY AS ALWAYS!! SHE EVEN SANG ME HAPPY BIRTHDAY :) :) :)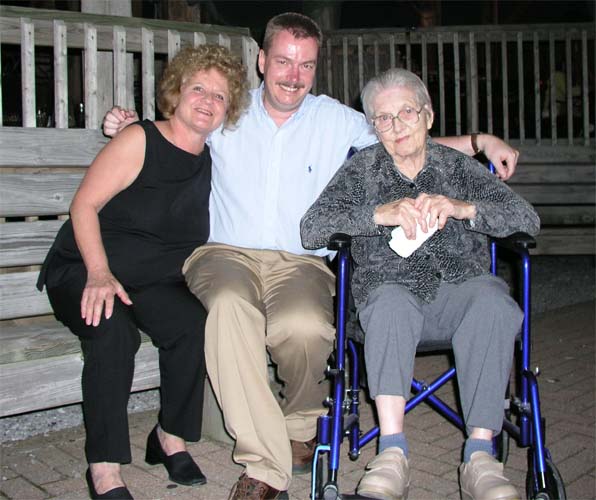 Mother, David, and Grandmother at Whalers Catch for my birthday dinner :)

Mother, me, and my grandmother at Whalers Catch for my birthday dinner :)

My beautiful grandmother and me eating at Whalers Catch on my birthday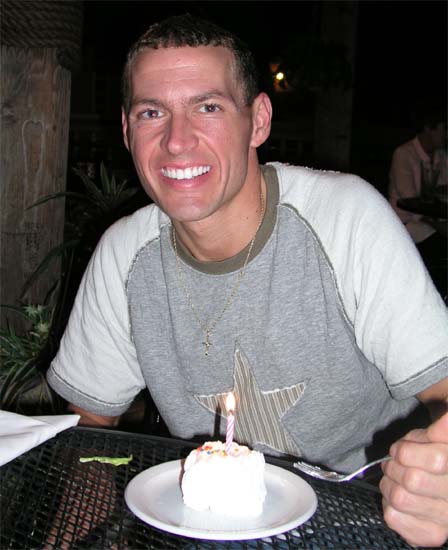 My birthday cake at Whalers Catch :)
Thank you EVERYONE for sending me cards and Ecards through the internet. It means a lot to me to hear from
my friends and family during these days.
I am so happy to be down here, getting a house, and just starting over with life!
Who could ask for MORE blessings than me.
Sunday and Monday, May 9th-10th
Well it was a GREAT mothers day! We all had a great time eating out in Mayfield and a nice restaurant. Grandmother was in rare form with a lot of laughter and some joking around. Today we are going to run a bunch of errands and see where we are at with everything!
Everything is fine here, pouring down rain along with some thunder and lightning. Nothing severe though, just a nice rain.
Here are some photos from yesterday - Mothers day




Good food and Good Company on Mothers day :) :) :)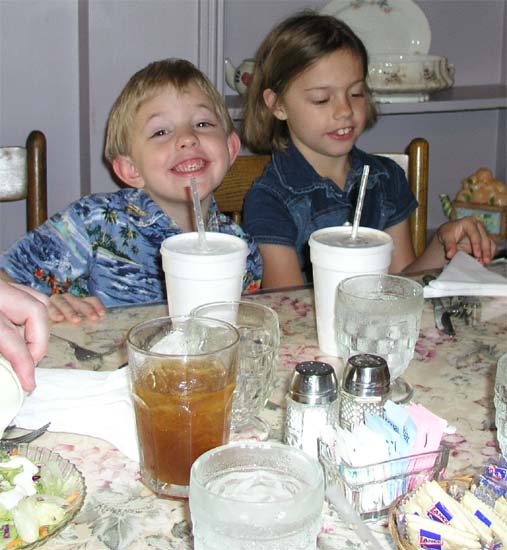 Tyler and Danielle... being cheesy :)


Mother and Grandmother HAPPY MOTHERS DAY :)


Danielle with a big smile on her face :)




Grandmother and Beau - HAPPY MOTHERS DAY GRANDMA

Danielle giving grandmother flowers :)
So all in all a GREAT Mothers Day and Birthday!!!! I LOVE BEING WITH FAMILY AND FRIEND!
Monday, Tuesday, and Wednesday
Been VERY busy out shopping for the house. So all is well up here in Southern Illinois. No drama or anything just busy as ever. Sorry no web page updates over the last few days but everything is fine and dandy. David is still here, visiting from Canada.
Paul is in Memphis and Salem right now.
Everyone else sounds like they are doing just fine. Norman has sent me several emails and he is doing great! :)
So that is good!!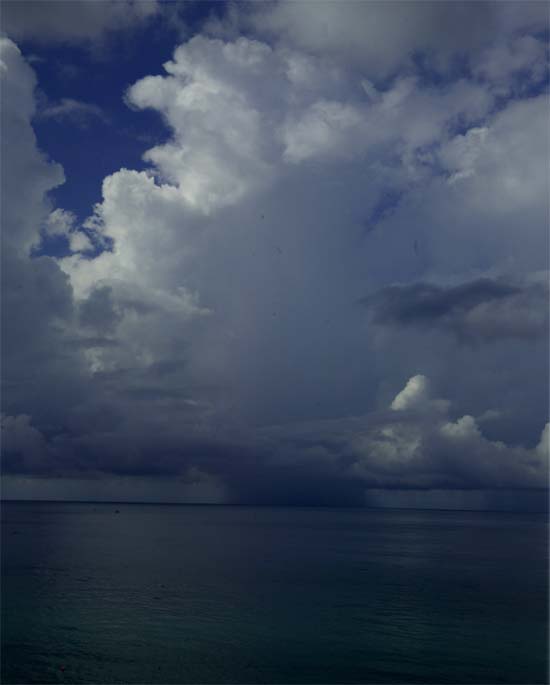 Thunderstorm yesterday over Western Kentucky,
well in the distance.
WORTH READING :)
THE PUPPY DOG STORY - SENT TO BE BY KAY COMER
Puppy size
"Danielle keeps repeating it over and over again. We've been back to
this animal shelter at least five times. It has been weeks now since we
started all of this," the mother told the volunteer.
"What is it she keeps asking for?" the volunteer asked.
"Puppy size!" replied the mother.
"Well, we have plenty of puppies, if that's what she's looking for."
"I know...we have seen most of them," the mom said in frustration..
Just then Danielle came walking into the office.
"Well, did you find one?" asked her mom. "No, not this time," Danielle
said with sadness in her voice. "Can we come back on the weekend?"
The two women looked at each other, shook their heads and laughed.
"You never know when we will get more dogs. Unfortunately, there's
always a supply," the volunteer said.
Danielle took her mother by the hand and headed to the door. "Don't
worry, I'll find one this weekend," she said.
Over the next few days both mom and dad had long conversations with
her. They both felt she was being too particular. "It's this weekend
or
we're not looking any more," Dad finally said in frustration. "We don't
want to hear anything more about puppy size either," Mom added.
Sure enough, they were the first ones in the shelter on Saturday
morning. By now Danielle knew her way around, so she ran right for the
section that housed the smaller dogs. Tired of the routine, mom sat in
the small waiting room at the end of the first row of cages.
There was an observation window so you could see the animals during
times when visitors weren't permitted. Danielle walked slowly from
cage to cage, kneeling periodically to take a closer look. One by one
the dogs were brought out and she held each one. One by one she said,
"Sorry, you're not the one."
It was the last cage on this last day in search of the perfect pup. The
volunteer opened the cage door and the child carefully picked up the
dog and held it closely. This time she took a little longer. "Mom,
that's it!
I found the right puppy! He's the one! I know it!" she screamed with
joy.
"It's the puppy size!"
"But it's the same size as all the other puppies you held over the last
few weeks," Mom said.
"No not size ---- the sighs. When I held him in my arms, he sighed,"
she said.
"Don't you remember? When I asked you one day what love is, you told
me love depends on the sighs of your heart. The more you love, the
bigger the sigh!"
The two women looked at each other for a moment. Mom didn't know
whether to laugh or cry. As she stooped down to hug the child, she did
a little of both.
"Mom, every time you hold me, I sigh. When you and Daddy come home
from work and hug each other, you both sigh. I knew I would find the
right puppy if it sighed when I held it in my arms," she said. Then
holding the puppy up close to her face she said, "Mom, he loves me. I
heard the sighs of his heart!"
Close your eyes for a moment and think about the love that makes you
sigh. I not only find it in the arms of my loved ones, but in the
caress of a sunset, the kiss of the moonlight and the gentle brush of cool air on
a hot day.
They are the sighs of God. Take the time to stop and listen; you will
be surprised at what you hear.
"Life is not measured by the breaths we take, but by the moments that
take our breath away."
Thursday, May 13th
Well things are extremely busy around here. Shopping for paintings and stuff for the house. We are getting a lot down.
We made it into a National Newpaper, for reporters, about the tornado book so that was nice to hear.
We are about to give Julie Kohn the gift of a lifetime, made by Artist Erick in Toronto. There are NO words for what he has created. BEAUTIFUL SADNESS at its best, it will be very hard to deliver this gift, because it will be a lasting treasure for this family. I am simply humbled to even deliver it and I have already cried over it. It is BEAUTIFUL, it is a MASTERPIECE! God Bless Julie and Danny on their journey that is ahead of them. They need all the angels they can get. They are amazing people, they have inspired me to carry on when I thought all was lost. There are no words for Julie and Danny other than survivors. SURVIVORS. How hard it must be for them both, how sad it is, to have a loved one taken from you.
Julie said that Steve taught her to stop and smell the flowers! Somehow I think Julie has taken those words and made them her personal motto.
I am blessed to even know these two people and I promise I will ALWAYS be there for them. When they ask and sometimes when they don't ask. I will do my best to be their angel.
Bless you Julie and Danny. God is on your side and you are surrounded by a LEGION of ANGELS.
May you be blessed
Erick and Doug for what you have done for Julie and Danny. God will reward you in ways that you may never know. Bless you both. I love you both. You are an inspiration to me each and every single day. I love you both!
One Sweet Day
One Sweet Day
- M. Carey - M. McCary - N. Morris - W. Morris - S. Stockman - W. Afanasieff -

B II M:
Sorry I never told you
All I wanted to say
And now it's too late to hold you
'Cause you've flown away
So far away
Ayyy


Never had I imagined
Living without your smile
Feeling and knowing you hear me
It keeps me alive
Alive

all:
And I know you're shining down on me from heaven
Like so many friends we've lost along the way
And I know eventually we'll be together
(MC: Together)
One sweet day
MC:
Eventually I'll see you in heaven...

Darling, I never showed you (I never showed you)
Assumed you'd always be there (I thought you'd always be there)
I took your presence for granted
But I always cared
(MC: But I always cared)
And I miss the love we shared


And I know you're shining down on me from heaven
Like so many friends we've lost along the way
And I know eventually we'll be together
(MC: Together)
One sweet day
MC: Eventually I'll see you in heaven

B II M:
Although the sun will never shine the same
I'll always look to a brighter day
MC:
Yeah
Lord I know when I lay me down to sleep
You will always listen as I pray


And I know you're shining down on me from heaven
Like so many friends we've lost along the way
And I know eventually we'll be together
(MC: Together)
One sweet day


And I know you're shining down on me from heaven
Like so many friends we've lost along the way
And I know eventually we'll be together
(MC: Together)
One sweet day

MC: Sorry I never told you (oooh)
All I wanted to say
Friday, May 14, 2004
Going to grandmothers today for most of the afternoon. David is going with me. Not sure we may bring her here. We have so much to do.
I took Julie her BEAUTIFUL CDs last night that Erick made. WOW Erick you are an ANGEL nothing less. AMAZING person, you are BLESSED like all of us.
David and I bought some BEAUTIFUL paintings for the house. I am so excited, can't wait to move in.. I just want to get settled.
Paul is doing well and he is in Memphis. He may come back in August not sure.
Looks like we wont have much severe weather today, so that is good NEWS! I was really worried earlier in the week as to what was going to happen. But I think we will be ok down here.
If we can get though May, without a lot of severe weather, then we will be doing GREAT!
Thousands have signed up for the weather radio give-away through WPSD TV 6!
WE made the front page of the Metropolis Planet - HALF the entire front page is about us! :) and then continues on Page three. I will pick up some copies for my Toronto friends.
I feel like part of the community again! Feels GREAT!
Working on the shadow Angel Foundation today as well. I met with an accountant and we now have to meet with a lawyer.

Friday Evening
We took mother and grandmother out to a Japanese steak house. The chefs cook the meal right in front of you. Grandmother has never used chopsticks but she did really well! :)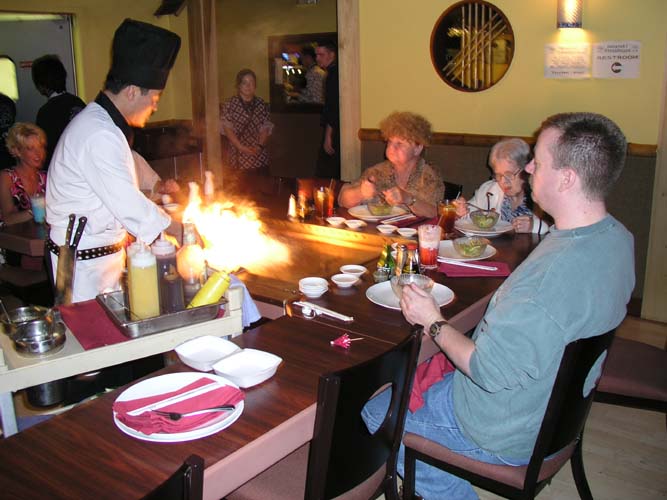 Japanese Cook - with fire on his grill :)

Grandmother with Chopsticks :) :) :) :) :) :)

Cook fixing our meal :) right in front of us!
CLICK NEXT FOR THE NEXT CHAPTER CLICK HERE

------------------------------------------------------
RETURN TO HOME PAGE
RETURN TO AUGUST 1-17th
RETURN TO AUGUST 18th-31st
RETURN TO SEPTEMBER 1-9th
RETURN TO SEPTEMBER 10-30th
RETURN TO OCTOBER 1-15th
RETURN TO OCTOBER 15-31st
RETURN TO NOVEMBER 1-15th
RETURN TO NOVEMBER 16th
RETURN TO NOVEMBER 17-30th
RETURN TO DECEMBER 1st-15th
RETURN TO DECEMBER 16th-22nd
RETURN TO DECEMBER 23rd-31st
RETURN TO JANUARY 1st-8th
RETURN TO JANUARY 9th-26th
RETURN TO JANUARY 26th-31st
RETURN TO FEBRUARY
RETURN TO MARCH 1st-9th
Return TO March 10th-27th
Return TO March 28th-30th
RETURN TO APRIL 1-11th
Return to April 12th-18th
RETURN TO APRIL 18th-27th
RETURN TO APRIL 28th-30th
RETURN TO MAY 1st-5th
RETURN TO MAY 6th

Email beaudodson @ usawx.com (remove spaces)