JUNE 2004
June 2nd, 2004
Well, it is cloudy here today. Lots of storms to our south, hopefully we stay out of all that mess. :) I am waiting to hear back from the cable people on my internet. lol This is like Mission Impossible when you are dealing with these people. ;) But HOPEFULLY they can get over here today. My internet access isn't the best right now.
Everyone up in Toronto seems to be doing ok, at least that is what they tell me. :) Norman is doing really well and says things are good and doors are opening for him. So that is GREEEEEAAAATTTT news! :) And I am sure we will all get together when I go visit up there in a few weeks.
It has been a little warm here, with a bit of humidity but nothing to complain about. Lots to be thankful for.
Going to try and get to the Fed X place soon here and take care of some business - so I shall leave it at that for now. :)
Everyone down here is doing ok, grandmother and mother have moved and I have not heard from her because the phone is not on yet. Grandmother, I am sure is thrilled at her new home.
My friend David Brown has sent me a few pics from up in Ontario and I think their trees are just now really starting to bud out and blossom for Spring. :) A bit behind us, but hey never too early for THEM that is FOR SURE!!!!!! Six months of winter! ;) LONG enough!! Heck, they have even had some severe weather themselves with a few tornadoes.
Erick sent me these pics and his new "Twister Mix" song will be released when I get back up there on the 19th. :)

Keri, Doug, Erick basking in the Spring Sun
:) at 19 Earl!!!!!

Doug and David,Spring in Toronto

Dru at 19 Earl :) taking it all in!!!!!

Keri Looking FAB.
To hear clips of of Ericks Mix
Ok dokie be back later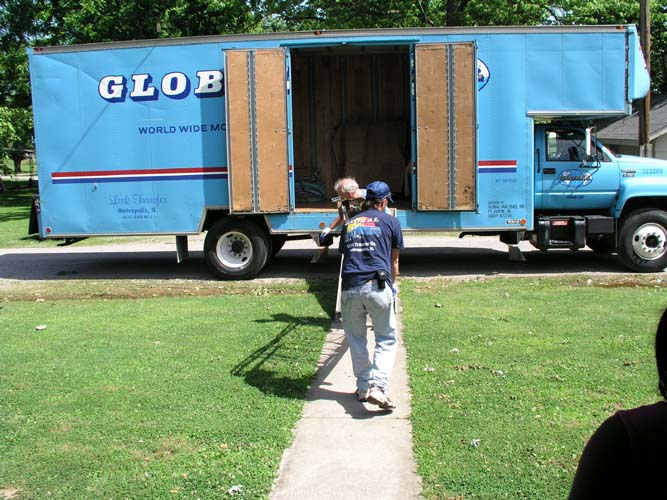 Moving Day - Yesterday For Mother Down to Mayfield we go :)

Arriving at her new house

Angel, mothers puppy ready for the move :)
To hear clips of of Ericks Mix His twister mix he is making.
A.P. WIRE: NEWS
TEDDY BEAR SAVES INFANT TORN FROM MOTHERS ARMS:
ATHENS (AP) — Ripped out of her mother's arms by wind from a tornado, 1-year-old Natalie Edwards landed safely in the arms of a familiar companion — her teddy bear.
Tracy Edwards was holding her infant daughter when their mobile home in rural Northwest Limestone County flipped several times then landed upright.
"I screamed for help," said Edwards, 25. "It was pitch dark and I couldn't find Natalie."
About five minutes passed before she and neighbors heard a faint cry. They found the infant in the arms of her two-foot teddy bear with angel wings. "The teddy bear saved Natalie," Edwards said.
The family gave her the stuffed animal after recent open-heart surgery, said her father, Ron. Natalie and Tracy Edwards were treated for minor scratches at Athens-Limestone Hospital.
Copyright 2004 Associated Press. All rights reserved. This material may not be published, broadcast, rewritten or redistributed.
-------------------------------------------------------------------------------------------------------------------------------------------------


Saturday, June 5, 2004

President Reagan passed away this morning.
A great man, great president, always with a smile and a wave, he was one of the last few great ones.
------------------------------------------------------------
Well hmmm, nobody said adjusting was going to be easy. Perhaps I thought all of this would be easier than it is. But one day at a time. I keep moving forward and occasionally I move back a step or two, then I get moving again forward. There are going to be good days and there are going to be bad days. I am not perfect. I don't believe anyone expects me to be perfect. Perhaps sometimes I try though. Funny thing is, is that trying to be perfect usually ends up proving itself to be impossible.
Anyway, one day at a time, like I said, keep moving forward, occasionally slip and fall and then get back up and keep moving forward.
That is what I am doing, that is all I can do, that is all anyone expects me to do!
Sunday, June 6, 2004
Dru is down visiting from Toronto. :) We spent most of the day down in Mayfield with mother and the kids. The kids were playing in the swimming pool. Grandmother was watching them. :) It was warm out on the patio though.
So it has been a LOOONNNGGG four days, if plan A doesn't work then you go to plan B - Right? Right, so this week we start on plan B. :) Which starts with getting a different counselor, this psychiatrist thing is ok for being prescribed a thousand things, but it is not helping me deal with the issues. All this guy wants to do is feed me prescription drugs.
So anyway, plan B starts this week. :) Which is a good thing!
OK, well more later.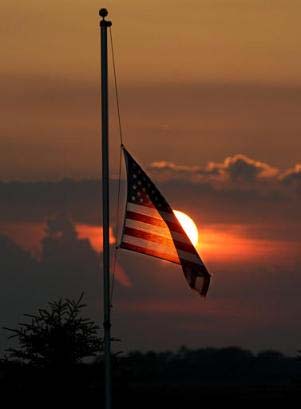 Reagan Passes day 2
(A.P. Photo)


Monday, June 7, 2004

Dru at the Superman Statue - although he was looking
for Wonder Woman :)
We went to see the Shreck II Movie, which was really good, better than the first one actually. :) Kewl movie five stars.
Otherwise hmmm, I have found a new counselor, my first appointment is June 23rd. She sounds very nice. So we shall see.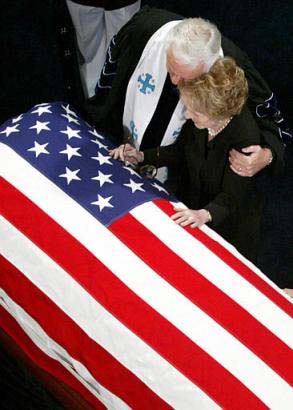 Nancy Reagan, prays near the casket holding
the body of President Ronald Reagan, at
the Ronald Reagan Presidential Library
in Simi Valley, Calif.
(A.P. Photo)
Tuesday, June 8, 2004
Sorry, not much of an update lately. I have been busy with Dru. :) We had a lot of fun just hanging around and seeing the "sights". The river is really coming up, can't even drive down there now, they closed it off. Kinda late for a river flood this year, but whatever.
Anyway, had early dinner with mother and grandmother. I think grandmother is already over the hot weather as am I. :) Not my favorite kind of weather in the world. I would much rather have Spring or Fall. :)
Trying to stay the course, as they say, did I spell that right. :) Anyway, staying out of trouble, which is good. :) But things are a bit, hmmm these are not easy days, that is for sure.
So Erick has a mix for me when I get back up there to Toronto. :) I am looking forward to hearing it!!! It sounds great!!!! Good grief I was just looking back at the photos from the storms last month. How close Paducah came to having a large tornado. We were fortunate. I was just looking at how big that wall cloud was behind the Fox Briar here. That thing was big.
Norman sent me this :)
As the Scottish ballad says,
"Keep right on to the end of the road,
Keep right on 'round the bend.
Though you're tired and weary
Still journey on 'till you get to life's happy abode.
Where all the things you've been dreaming of
Will be there, at the end of the road."

A young girl touches flowers amid American flags left in tribute
by the public prior to boarding shuttle buses headed for the
Ronald Reagan Presidential Library in Simi Valley, California,
June 8, 2004 to view the casket of former United States president Ronald Reagan.
About 2,000 persons an hour are able to file past the flag draped casket.
A state funeral will be held in Washington, D.C. June 11 with burial back
at the library at sunset that evening.
(A.P. Photo)
As they brought the casket out the other day, the sun came out from between the Clouds. The MSNBC person commented on this, if anyone remembers this also happened on his inauguration day. :)
Truly this man represented the greatest thing on this planet - Freedom!
Wednesday, June 9, 2004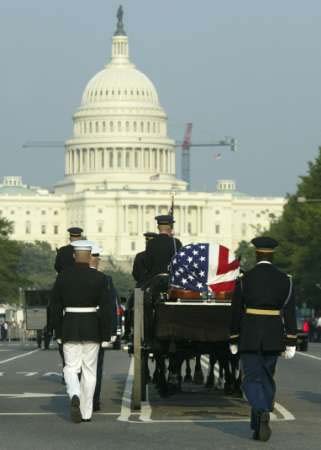 A horse drawn caisson carrying the casket
of former U.S. President Ronald Reagan is
taken to the Capitol Building
Nancy Reaches out to her husband.

(A.P. Photo)
-----------------------------------------------------------------------------
Help Me Understand
Once in a lifetime
You'll open up your heart
Maybe once in your lifetime

Then out of the blue, it all comes tumblin' down

Who's gonna hold me tonight
When I'm feeling lonely
Who's gonna show me the light
'Cause I need to know

Tell Me
Somebody help me understand

All our friends and all our memories
Tell me how we sort them out


Who's gonna hold me tonight
When I'm feeling lonely
Who's gonna show me the light
'Cause I need to know

Tell Me
Somebody help me understand

Help me understand
Help me understand
Why I still wanna be where you are


Who's gonna hold me tonight
When I'm feeling lonely
Who's gonna show me the light
'Cause I need to know

Somebody help me understand
trace adkins

-----------------------------------------------------------------------------
Hmmm.
It is that eternal struggle for the truth that sets man apart from beast

It is that we question everything

We ask why
We ask who
We ask where
We ask when
We ask and we ask and we ask
But the beast
It just settles in its own land
Content to be alone in the fields
Watching the clouds pass overhead
No worry - maybe hunger - maybe thirst
But not worry

But not us no we seek
We seek the truth

And when things don't make sensevthen we start to count

We count the lies, we count the truths
We count what counts
We start to put a puzzle together
First one piece falls into place, then another, then another
Then we start to look for the edges, you know the familiar pieces
The ones that make a straight line, they are the easy ones to spot

But when we are finished
When we are finished with the straight pieces, then we start to fill it all in
We start to see a bigger picture
Perhaps it takes us a long time to find this or that piece
But eventually we find it and it too falls into place
Then I step back

Away from the table

And I start to see a picture but it is not the picture that I expected
It is not the picture that was on the box

It is something else
I find myself perplexed
Confused
A bit intrigued
Then I return
To the table
and
And I ask why
And I ask who
And I ask where
And I ask when
And I ask and I askand I ask
And then when I have my answers - I cry
It is all so complex
It is all so confusing

These are the greatest struggles of my life

This is the battleground that has been laid out before me
It is my battle to win or lose.
It is my battle to find peace, within myself, within my surroundings, within my world

If there was an answer, if there was a magic wand, a magic spell, a fix, then I would have
found it by now because I have been there and back and there and back and there and back
Time after Time

No it is somewhere, something within me, and beyond

I have to find that
And I have to find that soon.
because these days
What I know to be true is my courage
It is that courage that has brought me to this point.
This pass in the road

What I know to be true is my heart
Is is that heart that brought me to this point.
This pass in the road

What I know to be true is my innocence
It is that innocence that has brought me to this point.
This pass in the road
What I know to be true is my character
The person that makes me me
It is that character that has brought me to this point.
This pass in the road
And so I will hold what I know to be true
And I will hold it dearly

Because it is that which will get me through these days, this pass in the road
beau
Thursday, June 10th, 2004
Partly Sunny and warm here today, lots of scattered thunderstorms. SUMMER IS HERE I GUESS! A bit early if you ask me. But nobody asked me soooo :) I guess it doesn't really matter!
Anyway, hopefully it will be a nice weekend because my dad is having a birthday party for his mother and a lot of family is coming in.
The Weather Radio give-away was a great success with over 3000 people entering the contest through WPSD TV 6. :)
and in the picture is worth a THOUSAND words DEPARTMENT

Nancy and the former leader of the
Soviet Union, Gorbachev (unknown
photographer)
So today has been a much better day than the last few weeks/month. :) I actually felt better today, but not taking Paxil today HELPED. Being SICK, EVERY single day because you are taking a pill to make you feel better? I don't get it, maybe I missed something along the way, but I don't need six pills, four pills a day making me sick or whatever in order to be better.
What I needed was a counselor and some time to adjust to the living arrangements and everything else that has been going on in my life. It has been YEARS since I have had to make these kind of adjustments. If anyone or everyone thought it was going to be easy. Well no, it has been ANYTHING BUT EASY.
It is going to take months to adjust, to get situated, to get moving but I will get there. If one thing doesn't work then I will try another, until I get it right. OK :)
That is ALL I can do.
I have made mistakes since I got here and I am trying to learn from the mistakes I make.
I am TRYING. I am TRYING to do SOMETHING different and TRYING to make it RIGHT.
I am not there yet, but I am on the right path.
I am at my window here at the apartment and a horse drawn carriage just went by with a bunch of girls in it and they are all waving at me. :) LOL
I forget sometimes that I am at the window here at the computer desk - lol
Just talked with Norman, and he is doing well. :) Things seem in order at his house. :) So that is GREAT! He has tried a new device that helps him see better when he plays the Organ.
6/11
The National Funeral For President Reagan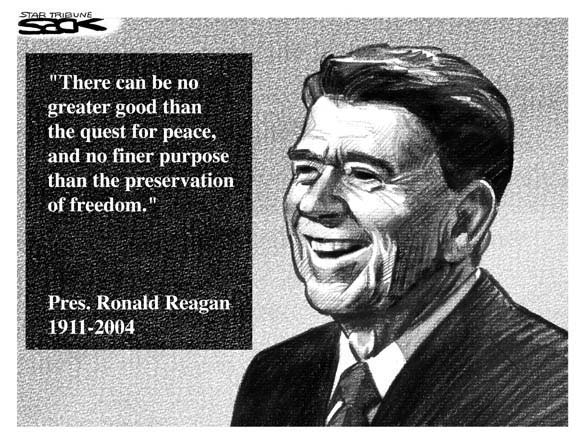 THE FREEDOM FIGHTER IS TO BE LAID TO REST TODAY. A NATIONAL HERO, A NATIONAL TREASURE, THE MOST REMARKABLE HUMAN BEING TO TAKE LEADERSHIP IN MY LIFETIME. NOWNOW HE WILL FIND HIS REST!

One can not always agree or disagree with everything a President does, but one can find honor and dignity and respect in most leaders. Reagan certainly was a man of honor, dignity and conviction. Though we will never agree with everything Ronald Reagan did or did not do, I think we can all learn from him that sense of optimism about our future (that he talked so much about) and that destiny is ours to take! :)
------------------------------------------------
CLICK HERE FOR NEXT PAGE

------------------------------------------------------
------------------------------------------------------

RETURN TO HOME PAGE

RETURN TO AUGUST 1-17th
RETURN TO AUGUST 18th-31st
RETURN TO SEPTEMBER 1-9th
RETURN TO SEPTEMBER 10-30th
RETURN TO OCTOBER 1-15th
RETURN TO OCTOBER 15-31st
RETURN TO NOVEMBER 1-15th
RETURN TO NOVEMBER 16th
RETURN TO NOVEMBER 17-30th
RETURN TO DECEMBER 1st-15th
RETURN TO DECEMBER 16th-22nd
RETURN TO DECEMBER 23rd-31st
RETURN TO JANUARY 1st-8th
RETURN TO JANUARY 9th-26th
RETURN TO JANUARY 26th-31st
RETURN TO FEBRUARY
RETURN TO MARCH 1st-9th
Return TO March 10th-27th
Return TO March 28th-30th
RETURN TO APRIL 1-11th
Return to April 12th-18th
RETURN TO APRIL 18th-27th
RETURN TO APRIL 28th-30th
RETURN TO MAY 1st-5th
RETURN TO MAY 6th
CLICK HERE TO MAY 7th-16th
RETURN TO MAY 17th-29th
RETURN TO MAY30th-June 1st

------------------------------------------------------

Email beaudodson @ usawx.com (remove spaces)