SEPTEMBER CONTINUES

SEASON OF CANE
FLORIDA DEVASTATED BY YES ANOTHER MAJOR HURRICANE...
Saturday Evening 7 p.m.
Jeanne continues to race towards Southeast Florida. The eye should move ashore late tonight and early tomorrow morning.
Jeanne remains a dangerous category three hurricane. Sustained winds of 115 miles per hour...with gusts above 150 miles per hour.
------------------------------
Sunset Tonight here in Paducah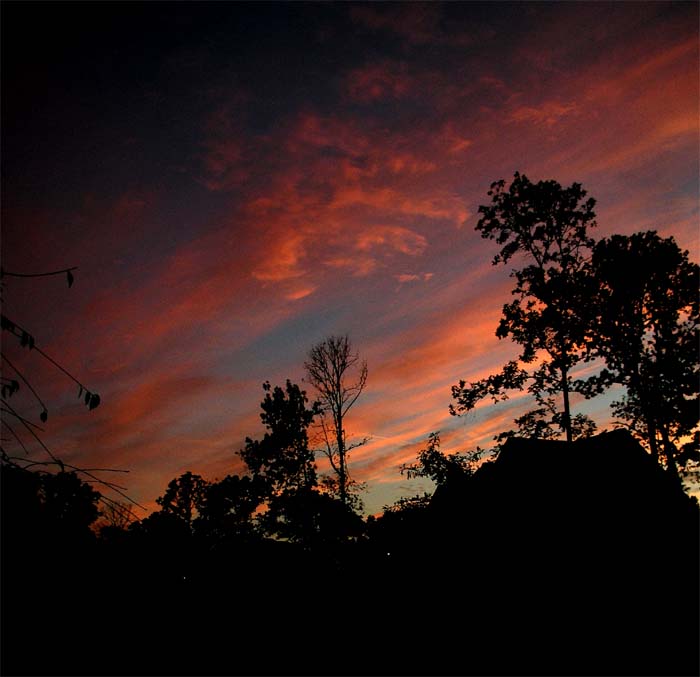 Sunset outside of my house

Port St. Lucie and South - GROUND ZERO TONIGHT

Jeanne about to make landfall...Category Three

Jeanne Approaching the Coast on radar



Eyewall...Approaching the Coast of Florida

Jeanne with NUMEROUS shear indicators...possible tornadoes

Southeast Florida Map

9 p.m. Eastern Time - Jeanne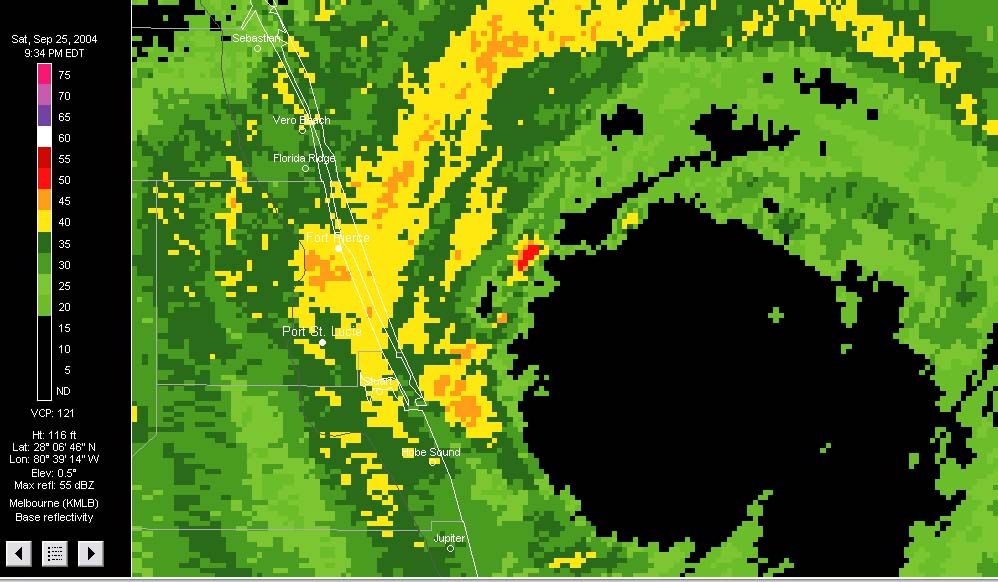 Jeanne SLAMMING FLORIDA TONIGHT - EYEWALL

JEANNE SATELLITE PHOTO...10 PM EASTERN TIME
PORT ST LUCIE BEING POUNDED...110 MPH WINDS+

HIT


JEANNE - RADAR IMAGE 11 pm EASTERN TIME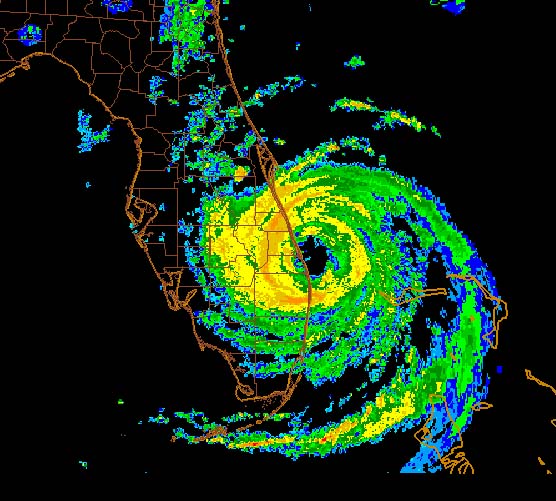 FLORIDA UNDER THE GUN TONIGHT - ONCE AGAIN
A RECORD FOUR HURRICANES HAVE NOT DEVASTATED THE STATE.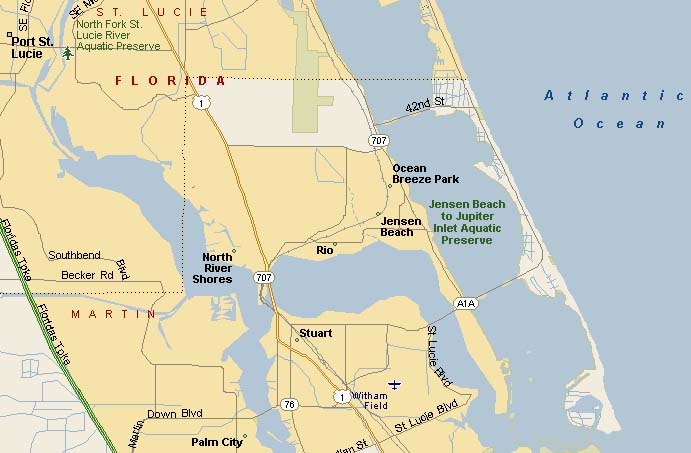 BUILDINGS HAVE COLLAPSED ALONG THE BEACH AREA....JENSON BEACH AREA PEOPLE ARE
TRAPPED INSIDE BUILDINGS THAT HAVE FALLEN.
JEANNE HAS MOVED ASHORE AT THE SAME SPOT FRANCES MOVED ASHORE.
UNHEARD OF.
SUNDAY MORNING
Hurricane Photos and info click here
EVERYONE IS SICK OF HURRICANES. FLORIDA OR OTHERWISE.
LISA IS MOVING WEST THROUGH THE ATLANTIC AND COULD BE A THREAT TO THE UNITED STATES NEXT WEEK...A TON OF UNCERTAINTY AS TO WHAT HAPPENS WITH LISA.
LET'S ALL HOPE SHE MOVES AWAY.

Cartoon in Florida Today

Daily Cartoon in Florida Today...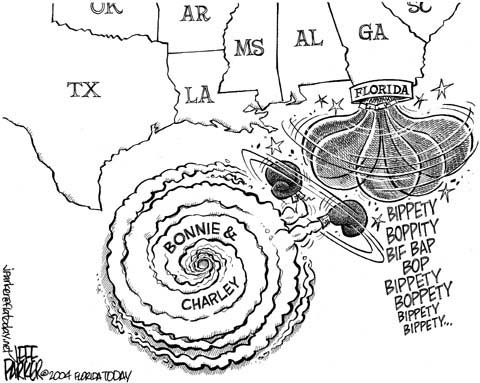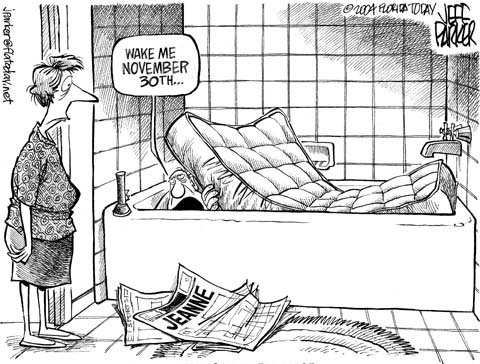 Well why not, everything else has happened lately
Mount St. Helens Notice of Volcanic Unrest


September 26, 2004 3:00 P.M., PDT


U.S. Geological Survey Cascades Volcano Observatory, Vancouver, Washington

University of Washington Dept. of Earth and Space Sciences, Seattle, Washington

Seismic activity at Mount St. Helens has changed significantly during the past 24 hours and the changes make us believe that there is an increased likelihood of a hazardous event, which warrants release of this Notice of Volcanic Unrest.

The swarm of very small, shallow earthquakes (less than Magnitude 1) that began on the morning of 23 September peaked about mid-day on 24 September and slowly declined through yesterday morning. However, since then the character of the swarm has changed to include more than ten larger earthquakes (Magnitude 2-2.8), the most in a 24-hr period since the eruption of October 1986. In addition, some of the earthquakes are of a type that suggests the involvement of pressurized fluids (water and steam) or perhaps magma. The events are still occurring at shallow depths (less than one mile) below the lava dome that formed in the crater between 1980 and 1986. The cause and outcome of the earthquake swarm are uncertain at this time. Several causes are possible, but most point toward an increased probability of explosions from the lava dome if the level of current unrest continues or escalates. During such explosions the dome and crater floor are at greatest risk from ballistic projectiles, but the rim of the crater and flanks of the volcano could also be at risk. Explosions would also be expected to produce ash clouds that drift downwind at altitudes up to several thousand feet above the crater rim. Landslides and debris flows from the crater that are large enough to reach the Pumice Plain are also possible. Such events occurred at Mount St. Helens between 1989 and 1991.

We continue to monitor the situation closely and will issue additional updates as warranted, whether activity escalates or returns to background levels.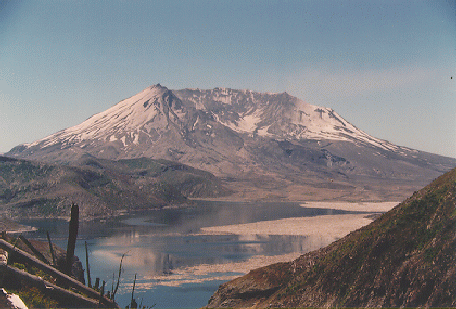 VERY dry weather here - we need rain
September, 2004 has the potential to be not only the driest September on record, but the driest month on record at Paducah. Many locations across the region have received less than one tenth of an inch of rain so far this month. Little or no rain is expected through the end of the month. Barring any additional rainfall, this would be the driest September on record at Evansville, and the driest month of any year at Paducah.
Tuesday the 28th
lalalala
Hmmm oil is above $50 a barrel now. Imagine that!
Animation click here
Beautiful fall day here in Western Kentucky and Southern Illinois. It is very dry though. Grass fires are becoming a problem. We need rain!
The trees are starting to turn :) Makes me smile to see all the colors. The next few weeks should be nice. I hope the dry weather doesn't ruin the colors.
Grandmother is doing better and better. Hopefully she can come back home soon! She is MORE than ready to get back to her normal life down in Mayfield!
Mother is doing great. She still is a bit soar but she is improving more and more.
6.0 earthquake in Central California. Quake struck just before noon their time. The Pacific Rim certainly is and has been active for about 2 months now.

Grandmother this evening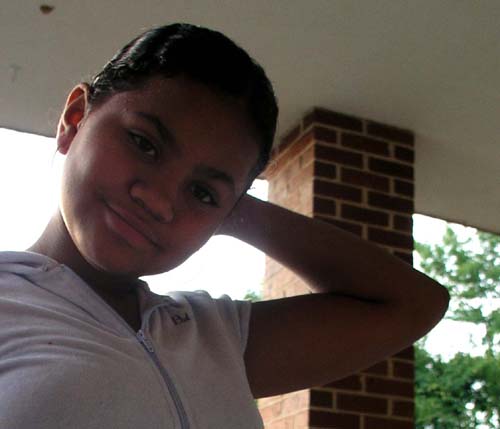 Mariah


Rick...at the nursing home
September 29. 2004
Another dry and sunny day here. No rain in sight.
I guess it is time to start a rain dance or something like that.
THE DOME ON MT. ST. HELENS IS GROWING. THIS MEANS THAT THERE IS A GOOD POSSIBILITY THAT SHE IS COMING BACK TO LIFE.
NEXT PAGE :) CLICK HERE

------------------------------------------------------
RETURN TO HOME PAGE

RETURN TO AUGUST 1-17th
RETURN TO AUGUST 18th-31st
RETURN TO SEPTEMBER 1-9th
RETURN TO SEPTEMBER 10-30th
RETURN TO OCTOBER 1-15th
RETURN TO OCTOBER 15-31st
RETURN TO NOVEMBER 1-15th
RETURN TO NOVEMBER 16th
RETURN TO NOVEMBER 17-30th
RETURN TO DECEMBER 1st-15th
RETURN TO DECEMBER 16th-22nd
RETURN TO DECEMBER 23rd-31st
RETURN TO JANUARY 1st-8th
RETURN TO JANUARY 9th-26th
RETURN TO JANUARY 26th-31st
RETURN TO FEBRUARY
RETURN TO MARCH 1st-9th
Return TO March 10th-27th
Return TO March 28th-30th
RETURN TO APRIL 1-11th
Return to April 12th-18th
RETURN TO APRIL 18th-27th
RETURN TO APRIL 28th-30th
RETURN TO MAY 1st-5th
RETURN TO MAY 6th
CLICK HERE TO MAY 7th-16th
RETURN TO MAY 17th-29th
RETURN TO MAY30th-June 1st
RETURN TO JUNE 2nd - June 11th
RETURN TO JUNE 11th-17th
RETURN TO JUNE 18th-26th
RETURN TO JUNE 27th-30th sunsets :)
RETURN TO JULY 1st-3rd - 2004
RETURN TO JULY 4th - 2004
RETURN TO JULY 4th-7th - 2004
RETURN TO JULY 7th-10th - 2004
RETURN TO JULY 11th-22nd - 2004
RETURN TO JULY 22nd-31st - 2004
RETURN TO AUGUST 1st-12th - 2004
RETURN TO AUGUST 13th-25th - 2004
RETURN TO AUGUST 26th-31st - 2004
RETURN TO SEPTEMBER 1st - 5th - 2004
RETURN TO SEPTEMBER 6th - 15th - 2004
RETURN TO SEPTEMBER 15-17th - 2004
RETURN TO SEPTEMBER 18th-26th - 2004
------------------------------------------------------

Email: beaudodson @ usawx.com (remove spaces)