JULY 2004 Continues

Summer Thunderstorm over Graves County, Kentucky
One of many photographs I have been able to take
this year so far :) Lot of weather!
Sunday...July 11th - 2004
Well Summer Continues :) woohoo and we have made it through so far without a MAJOR heat wave! :) So that is good! Plenty of storms this year. some of the more photogenic ones I have ever seen! You have to love mother nature sometimes, she can put on one heck of a show! Rainbows and thunderheads - raindrops and thunderclaps! Always something to capture on film.
I am packing, packing, and packing!
I try to do one piece of paper at a time or so it seems!
I will be through packing by Tuesday, then John and I will load the truck up on Wednesday Night.
I move into the house that night and I have to be there all day on Thursday - the movers are coming. They will be bringing all of my Toronto belongings.
David is flying in on that Friday, and he will be here one week.
David and I are then flying to Toronto on the 23rd and will be there until the 24th. We will leave for London on the night of the 24th and will be gone there for one full week. After that, well I am not sure, it depends on if David wants to go somewhere else or head back to Canada. I will then come home and start on the house. :)
So a lot going on, but all is good. I am in good spirits and the best I have been since arriving home. I am not sleeping but that is another story.
Ok more later...
HOT HOT HOT OUTSIDE - Heat Index Nearing 100 degrees!!!! Real temp in the lower 90s.
Internet will likely be DOWN Tuesday, Wednesday, and Thursday depending on when I move everything. :) So no web-page updates during that time.
-------------------------------------------------------------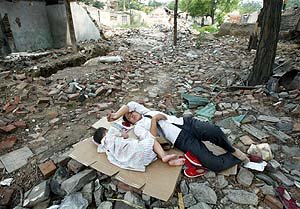 A woman rests with her daughter on bricks at a
demolition site in Beijing. Many of the city's older
neighborhoods are being destroyed to make way
for new commercial and residential buildings,
part of a drive to modernize the city ahead
of the Olympic Games in 2008.
(AP Photo/Greg Baker)


The Passport :)
The elderly American gentleman arrived in Paris by plane. At French Customs, he fumbled for his passport. "You 'ave been to France before, monsieur?" the customs officer asked sarcastically. The old gent admitted that he had been to France previously. "Zen, you should know enough to 'ave your passport ready for zee inspection." The American said, "The last time I was here, I didn't have to show it." "Impossible. You Americans alwayz 'ave to show your passports on arrival in France!" The American senior gave the Frenchman a long hard look. Then he quietly explained. "Well, when I came ashore at Omaha Beach on D-Day in '44, I couldn't find any Frenchmen to show it to."
lalalala can't sleep, this is getting old again. I was fine for about a week, not back on this stupid "I am worn out and tired but can't sleep" thingy
Let me see Fri Morn 4 a.m. Saturday morning - 7 a.m. and it is 415 a.m. now, got back up after laying there hour and 1/2.
lalalalalala heh maybe once I move into my house this will take care of itself. I sure hope so.


- - - - - - - - - - - - - - - - - - - - - - - - -
"You Light Up My Life"

So many nights, I'd sit by my window,
Waiting for someone to sing me his song.
So many dreams, I kept deep inside me,
Alone in the dark, but now you've come along.
And you light up my life,
You give me hope, to carry on.
You light up my days
And fill my nights with song.
Rollin' at sea, adrift on the waters
Could it be finally, I'm turning for home
Finally a chance to say, "Hey, I Love You"
Never again to be all alone.
And you light up my life,
You give me hope, to carry on.
You light up my days
And fill my nights with song.
You, You light up my life
You give me hope to carry on
- Leann Rimes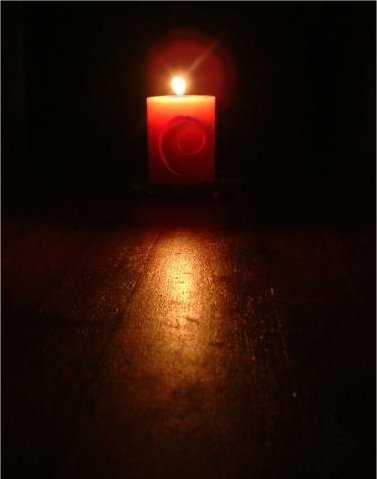 - - - - - - - - - - - - - - - - - - - - - - - - -
Monday, July 12, 2004
CAVING TO TERRORISTS...
DUBAI (Reuters) - The Philippines will withdraw its forces from Iraq (news - web sites) "as soon as possible," Philippine Deputy Foreign Minister Rafael Seguis said on Monday in a statement he read out on al Jazeera television.
"In response to your request, the Philippines ... will withdraw its humanitarian forces as soon as possible," Seguis said according to al Jazeera's Arabic translation of his remarks. His statement was addressed to the group which is holding a Filipino driver hostage.
-----------------------
Well isn't that just great first Spain and now the Philippines. Oh well, they will soon learn a much BIGGER lesson. Give a little to terrorists and they will soon ask for more.
A real shame...
Anyway off soap box on that issue for now :)
Rented the U-Haul for Wednesday and Wednesday Night. :) John and I will be moving boxes that evening.
Didn't fall asleep till 9 this morning :) lalalalala slept till 2 in the afternoon, so better than nothing I guess
------------------------------------------------------------------------------
Gail from over in Massac County sent me this tonight and told me that my name was on there! :)
I guess they will pick a winner on Monday Night!!!!
------------------------------------------------------------------------------




6 Who Make a Difference

Thank you to everyone who submitted an entry to the 6 Who Make A Difference program. Our judges are now considering the entries and will have a decision by July 12th. Check back to see who our six winners are! We will announce the winners on NewsChannel 6 at 10:00 on Monday, July 19th. The eighteen finalists are:

Amy Agyeman - Murray, KY

Dorothy Budell - Anna, IL

Ann Darnell - Kirksey, KY

Beau Dodson - Metropolis, IL

Evelyn Dollinger - Jackson, MO

Sandra Ford - Paducah, KY

Sara Hobbs - Mayfield, KY

Tammie Hoffard - Johnston City, IL

Linda Jackson - Cairo, IL

Sandy Johnson - Metropolis, IL

Kelsey Curd Ladt - Paducah, KY

Kittie Metcalf - Paducah, KY

Billy Nelms - Fulton, KY

Marshall Pennebaker - Wickliffe, KY

Lou Ann Powers - Dresden, TN

Roy Gene Rogers - Princeton, KY

Hazel Sutherland - Mayfield, KY

Frank Twente - Olmstead, IL

WPSD NewsChannel 6 will profile the winners and each will receive a $500 donation to the charity of his or her choice courtesy of our sponsors, The Southern Illinoisan, Lourdes, Union Planters Bank, Woodcrafters Galleries, Peel & Holland Financial Group and Petter Business Systems.
------------------------------------------------------------------------------

So 10 p.m. Monday Night they will announce the winners! :)
It is kewl just to be on the list.
The Six Who Make A Difference Contest.
------------------------------------
July 13, 2004
I am worn out, this sleeping problem has got to get better. It is just wearing me out.
Severe storms east of here today, lot of tornadoes in Central Illinois. Very damaging winds in many areas.

Check out the hook there west of Elizabethtown, KY
TORNADOES RIP THROUGH CENTRAL ILLINOIS. MAJOR DAMAGE REPORTED IN SEVERAL AREAS.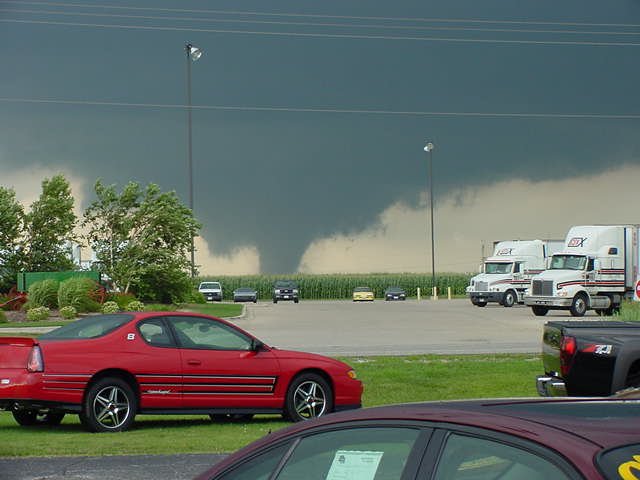 Photos taken by Sam Bertschi of Sam Leman Dodge City
Major damage throughout KY as well, many towns without power. Winds gusting to nearly 90 mph in some areas. Louisville hit hard along with Evansville.
Wednesday, July 14, 2004
MOVING DAY :)

Well today is the big day, time to move out of the Fox Briar and into my house YAYAYAY! :) I actually slept last night so that is a double good thing!
John Logeman is coming to help me load the truck and then we will unload it tonight!

The U-Haul
For some reason I think John was scared to ride with me in this clumsy vehicle. I know that because not only did he put on his shoulder strap seatbelt, BUT he also put on his lap-seatbelt!

John moving the Indian :)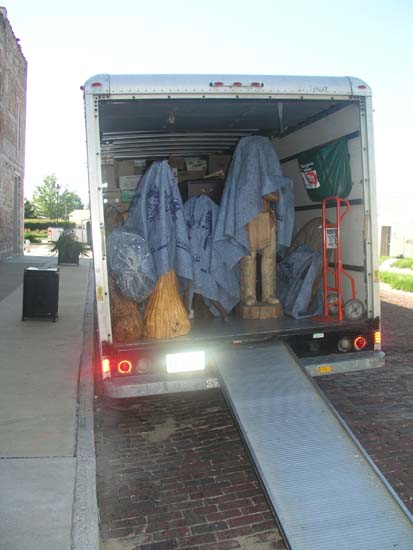 Almost packed and ready to go!!!
I will pick up the keys to the house this evening and then we will have to unload the truck!

Friday Morning EARLY :) 12:30 a.m.
Just got back in from moving everything to the house, still a few boxes left here.
This is all bitter-sweet in a way, as many of you reading this know all the circumstances surrounding this. But everything happens for a reason and we keep moving forward and we keep hoping for miracles - ALWAYS. I keep hoping that the doctors are wrong and that my friend will be okay. Cancer is a terrible disease.
:)
Sooo hmmm we got everything moved into the garage, now we have to move it into the actual house. We like to do things slowly here in Western Kentucky! :) lol
Actually we just ran out of time and we were all tired. So we called it a night.
Tomorrow will be a very long day :) lol A ton of stuff to do...sooo busy busy
I should sleep now because I have to get up early.
More later, when I get wired back up at the house!
:)
SIGNING OFF FOR THE LAST TIME AT THE FOX BRIAR INN - PADUCAH, KENTUCKY! :)
TOMORROW I WILL SLEEP AT MY NEW HOME!
AND THAT'S THE WAY IT WAS, JULY 15th, 2004
July 16th-17th
OK WE ARE ALIVE UP HERE OR DOWN HERE DEPENDING ON WHERE YOU ARE READING THIS FROM :)
David made it safely into the big city of Paducah.
We have been trying to get something done and that is an ongoing process. :)

We are going to be busy busy for a few days.
Will update when I have a chance!
Hot and humid weather around here, huge storms in Evansville tonight, they have had over six inches of rain so far. BIG FLOODING! Dione is up there with Jeremy and Mariah.
Ok more later...
July 18th 1 a.m.
Howdy Howdy everyone :) We are 1/2 way up and running here :) moving boxes around, unpacking computers, fixing everything one box or two boxes at a time. :)
HOT day here, but it is much nicer now that the cold front has gone through the area.
David has been working on the media room, while I have been working on other rooms. Tommy and April came by this evening with Deena along with Tony to scout the place out!
So anyway, that is an update from box land USA. :)
Sunday Evening
HAPPY BIRTHDAY DRU :) up in Canada!!!! Hope the Madonna concert went well. :)
Hmmm we have been extremely busy today trying to work on the weather/media room. :) So lots and lots and lots of work to finish!
Spoke with a friend from the past :) Gilda tonight! I used to live with her and her family back in 1998 or so. So it was reallllllly nice to hear her voice again. First time I have heard from her in a long long time. :)
Ok back to work here, I will try to post some pics very soon.


Monday, July 19th, 2004
The Six Who Make A Difference Awards are tonight on News Channel Six. They will announce the six people that their judges picked.
--------
Monday Evening
I will try a post of picture of some of our progress tonight :) If I get a chance.
We are anxiously awaiting the 10 p.m. news to see who they pick for the Six Who Make A Difference Awards.
Will update when it is over.
---------------------------
I was one of the winners of the Channel Six - Six Who Make A Difference. :)
They will be doing a profile on me and the other six winners in the coming weeks. I will let everyone know when that is. :)
Very exciting and humbling at the same time. The award is for all of the help we gave during the tornado.
Thank you to those who sent in letters on my behald :) I don't know who all of you are but Gail is one of them :) hehe...from Massac County!!!!!
Very nice everyone, very nice
Ok some photos of the house here in Lone Oak - it is SLOW going but we are getting the Media/Weather Room finished :)
This was the U-Haul at my house the other night!

U-Haul arrives at Beau's House :) I drove this one. :) I think John
had three seatbelts on!


MY TORONTO TRUCK YAYAYAYAY :)

MY TORONTO BOXES - WHAT A MESS!!!!

The beginning of the media room :) lot of work ahead




David working on one of the many desks that will be going in the room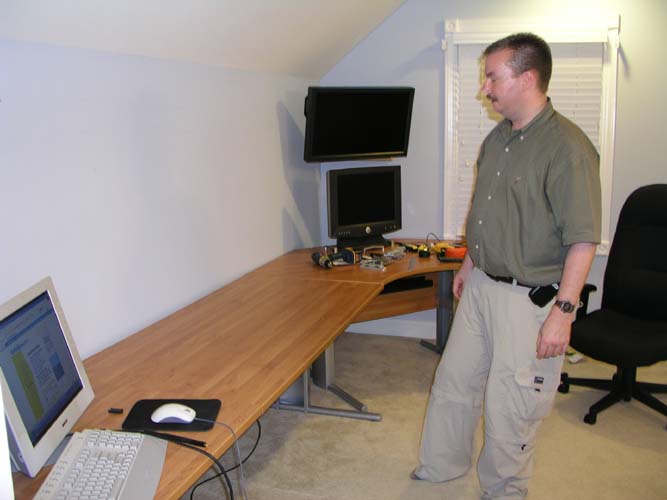 The desk gets bigger and bigger :)





Coming together
The three on the wall are for ABC - CBS - NBC for severe weather coverage or for other stations like The Weather Channel and so on. :)
The monitor in the middle top/large one is going to be used mainly for weather radar. :) You can see the radar image there, then there will be four monitors - two to the left and two to the right. These will be used for weather information and so on, then another monitor in the middle will be the main computer.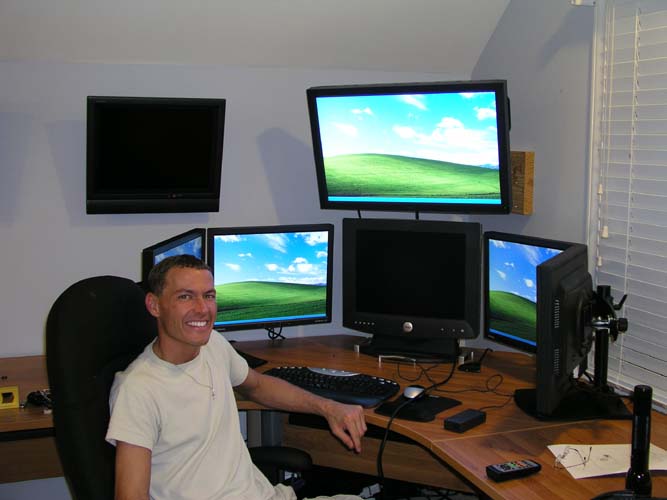 It is coming together :) A weather weenies dream

:) YAY almost done - still a lot to do though :)

Ok well I promised a couple of photos and there you go. We have been working through the day and night. Lot to do.
The News Channel Six Site has this :)
6 Who Make a Difference
WPSD News Channel 6 is pleased to announce the winners of the 6 Who Make A Difference program. The judges selected:

Beau Dodson - Metropolis, IL

Evelyn Dollinger - Jackson, MO

Sandra Ford - Paducah, KY

Sara Hobbs - Mayfield, KY

Sandy Johnson - Metropolis, IL

Lou Ann Powers - Dresden, TN

Watch News Channel 6 at 10:00 each Tuesday and Thursday night through August 5th to see profiles of the winners. Each will receive a $500 donation to the charity of his or her choice courtesy of our sponsors, The Southern Illinoisan, Lourdes, Union Planters Bank, Woodcrafters Galleries, Peel & Holland Financial Group and Petter Business Systems.
Wednesday :) July, 21st
Busy busy around here but we are making some progress!
I went to eat out with everyone tonight and then headed for the movies. IRobot was GREAT! :) I loved it!
The weather room is coming along and we are getting some other things finished around here.
Lots left to do though before I head to Canada and Europe for a week or so.
Hmm let me see not much in the news :)
I did find these protest signs - From Protest Warriors and I thought they just about summed everything up.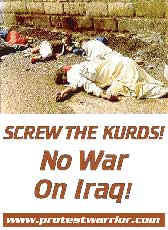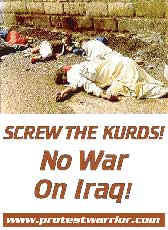 :) Well thank goodness not everyone thinks War isn't needed to solve some problems. The U.N. sure doesn't see it that way though..
Without war communism never would have fallen, without war Hitler would have killed MILLIONS more.
Without war...oh never mind
Thankfully Iraq is heading in the right direction, regardless of what the left would lead one to believe.
I am sure the average person on the street is thrilled that the madman is gone and will soon be killed. One day Iraq will remember who turned their backs on them, shame that the majority of the world would rather close their eyes - and appear blind to the deaths of hundreds of thousands of innocent men, women, and children.
Not that Iraq is the only problem in the world but it was a big one.
There are plenty of others as well.
Ok down off soap box for tonight.

------------------------------------------------------------
Thursday - July 22, 2004
Ok Dokie we have gotten a lot done around here, but lots more to do.
Channel Six is going to do my interview tomorrow at 2 p.m. I am nervous and excited. Gail is being interviewed as well, this will filmed in Massac County.
:)
--------
Thursday Afternoon
The interview with Amy Watson went great. She is a very nice person, Gail did a SUPER job and it was interesting listening to her tell the story about how everything came about.
:) THANKS GAIL!!!
The show will air on Tuesday Night at 10 p.m. :) WPSD TV Six.
TIME FOR A NEW PAGE CLICK HERE
------------------------------------------------------
RETURN TO HOME PAGE

RETURN TO AUGUST 1-17th
RETURN TO AUGUST 18th-31st
RETURN TO SEPTEMBER 1-9th
RETURN TO SEPTEMBER 10-30th
RETURN TO OCTOBER 1-15th
RETURN TO OCTOBER 15-31st
RETURN TO NOVEMBER 1-15th
RETURN TO NOVEMBER 16th
RETURN TO NOVEMBER 17-30th
RETURN TO DECEMBER 1st-15th
RETURN TO DECEMBER 16th-22nd
RETURN TO DECEMBER 23rd-31st
RETURN TO JANUARY 1st-8th
RETURN TO JANUARY 9th-26th
RETURN TO JANUARY 26th-31st
RETURN TO FEBRUARY
RETURN TO MARCH 1st-9th
Return TO March 10th-27th
Return TO March 28th-30th
RETURN TO APRIL 1-11th
Return to April 12th-18th
RETURN TO APRIL 18th-27th
RETURN TO APRIL 28th-30th
RETURN TO MAY 1st-5th
RETURN TO MAY 6th
CLICK HERE TO MAY 7th-16th
RETURN TO MAY 17th-29th
RETURN TO MAY30th-June 1st
RETURN TO JUNE 2nd - June 11th
RETURN TO JUNE 11th-17th
RETURN TO JUNE 18th-26th
RETURN TO JUNE 27th-30th sunsets :)
RETURN TO JULY 1st-3rd - 2004
RETURN TO JULY 4th - 2004
RETURN TO JULY 4th-7th - 2004
RETURN TO JULY 7th-10th - 2004
------------------------------------------------------

Email: beaudodson @ usawx.com (remove spaces)