MAY 16th - 2004
Hi everyone got my web page up and running again! So that is good. For me at least. :)
Nice day here in Western Kentucky after a few days of rain and thunderstorms, but thankfully all the tornadoes and severe weather stayed to our west and southwest. Looks like a TON of rain over the next week across the Northern Missouri Valley, Mississippi River is going to start to see some flooding I am afraid.
Otherwise, things are nice here. David is still in town. He will be leaving tomorrow. He is leaving early in the morning and will be back in Toronto by the afternoon.
Going to miss him. :(
I purchased an Indian for the basement in the new house. :)

Wooden Indian and me :)

Flower art at the outdoor festival in Paducah
Earlier in the week, I mentioned that things looked like they might get active again to our north and west and possibly here as well. Thankfully the worst stayed to the west and northwest.
These are photos taken by a storm chaser of a tornado LIFTING a house up into the air - amazing.
The house was under construction and nobody was injured, this was one of the F4 tornadoes that hit Kansas.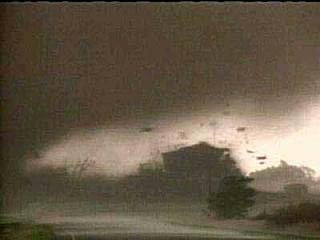 Tornado approaches the house, already debris
can be seen. If anyone knows who took these
photos then let me know. I will give them
credit. These are not my photographs.


House lifts up off the ground and gets swept into the
tornado ( that is an entire house in MIDAIR FOLKS!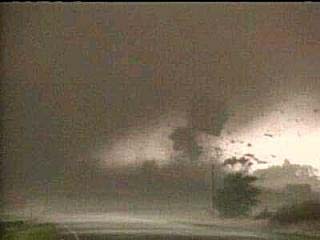 Tornado RIPS house to pieces.

Half-Mile Wide Tornado On The Ground


Tornado dissipating
As predicted this week would be active, especially to our west. Hopefully it stays that way.
The next few days look active in this area, with daily chances for showers and thunderstorms. Some storms could be strong or severe. There is several chances for strong storms. Tonight looks ok though as the system is weakening to our west. A few rain showers are possible. We will have to watch tomorrow again. We are in an active weather pattern.

Tuesday, May 18th - 2004
Hi everyone. We are on what day 30 something of being sober! :) :) :) YAY for me. I am proud of my efforts to try to get things under control. I am far from being there yet but I am getting there.
There is a BEAUTIFUL sunset, as I type this, I wish I could get a photo of it. II think it is too late I think. WOW it is AMAZING.
Let me try to take a photobut it won't do it justice!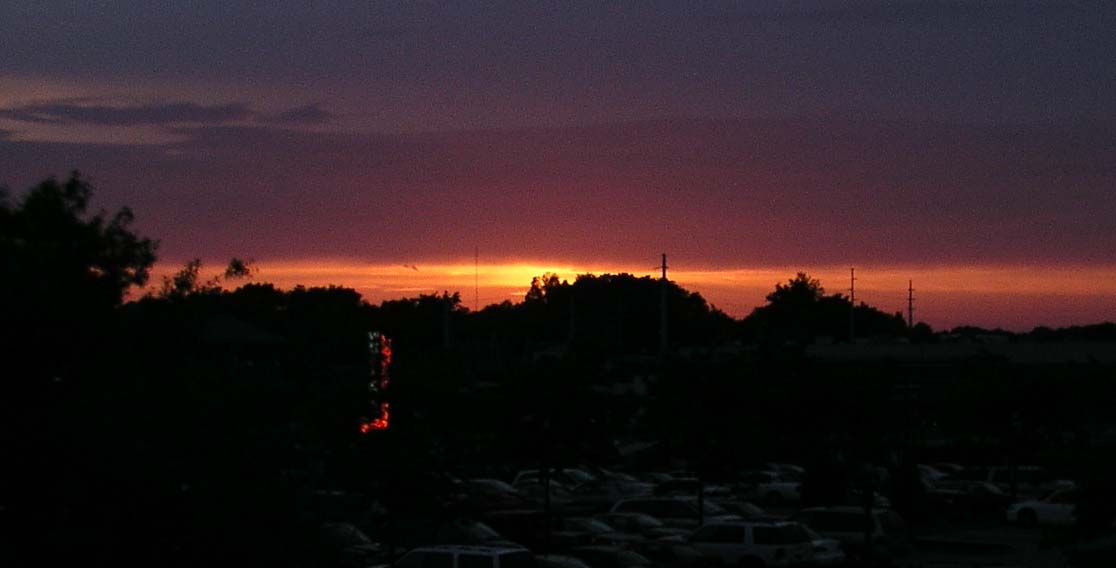 This is as good of a picture as I could take from my window! WOW look at God's painting!!!!
Another picture

WOWOWOWOWOWOWOWOWOW How beautiful it is!!!! It never |
ceases to amaze me how wonderful/beautiful a sunset can be!!!!
So anyway enough of that! :)
I spent that day doing some shopping for the house, bought several paintings, all represent something to me.
I did find a nice oil painting with dogwoods. I love dogwoods.
I bought some bookshelves for the library/music room that I am setting up. So that is good that I found the right kind of shelves.
It has been a good day. Saw Paul for awhile so that was nice. He is living in Salem but might eventually move in with me depending on how things go.
Good updates from Norman and David. Everything seems to be moving along.
We are working HARD on getting the media room put together so that we can have that ready to go for severe weather. :) I am excited about that. It will basically be nothing less than an Emergency Operation Center. It should be exciting to work on.
Nothing else new to report at this time. I am doing ok. Making it day by day.
Hope everyone is well, miss you guys up in Toronto. :( I think about you EVERY SINGLE DAY! But I have a job to do down here. ")
Took Cal and Lou some of the Metropolis Newspapers with their pictures in it. Thought they might enjoy those.
The weather radio give away continues. You can sign up through the Channel Six Web Site and try to win one. :)
On the weather front, things look active through next week. We won't have storms every day but there is a chance through the next seven days.
OK, let me be a bit sketchy here
Imagine

Imagine there's no heaven,
It's easy if you try,
No hell below us,
Above us only sky,
Imagine all the people
living for today

Imagine there's no countries,
It isnt hard to do,
Nothing to kill or die for,
No religion too,
Imagine all the people
living life in peace

Imagine no possessions,
I wonder if you can,
No need for greed or hunger,
A brotherhood of man,
Imagine all the people
Sharing all the world

You may say Im a dreamer,
but Im not the only one,
I hope some day you'll join us,
And the world will live as one.
That day fast approaches us, Something terrible is coming - Whether it be an asteroid or something else. It is going to FOREVER change this planet. Something much bigger than 9/11. Something much bigger than any disaster before. I keep saying over and over that we must teach the children a new way, we must teach them how to love even when hate prevails. Whatever this day brings in the years to come, we will make it through it and there will be A BEAUTIFUL world afterwards,

We will make it through this trial and there will be a better day coming. I told my friend Tommy, in 1994, about the prophecy concerning New York City and how that would transpire, and in the end it came true. I had dreams about the Massac Tornado for years and years, the dreams have stopped since the tornado hit. I don't know if it is a coincidence or not. Maybe there are some things we can't understand.
Now my dreams are turning to something else and it seems like something big. Really big.
But we will make it through this storm, there will be a new world, there will be no borders, there will be peace, it won't be easy but we will make it.

So you can call me crazy or you can think about what is to come. Because it is coming, whether we like or not not. The day is coming when families must be families, when neighbors must be neighbors. We won't give in, we won't leave our neighbors behind, but we will make it through the storm. There will be A BEAUTIFUL world on the other side.
Trust God, trust faith, and trust mankind that we will pull together to make it.
Well take that as you may, either I am right or wrong, but I trust my spirit and I know that in my heart a day fast approaches like a ship on the horizon.

We must be prepared for that day, we must teach out children a new way of love, not war. Because love is what gets us through difficult times.
- Beau
Wednesday, May 19th. WARM AND MUGGY DOWN HERE!!!!!
It is hot and humid here. No thunderstorms at least up to this point, they keep approaching us and then the dissipate which is probably a good thing for those who hate storms,

Well now I have my Indian and a horse. :)

That black thing in the background is not
part of the horse.



Flowers near the Fox Briar Inn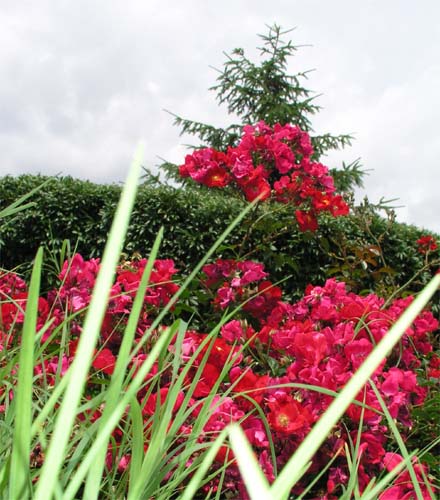 Flowers near the Fox Briar InnWednesday
Thursday. DR day and Counselor Day :)
Going to see my doctor today, then tonight John, and I am going down to Tony's new business. Should be fun.
BEAUTIFUL day here. Sun is shining. Maybe I can get a few pictures in later today. :)
More later

Paul and his new Civic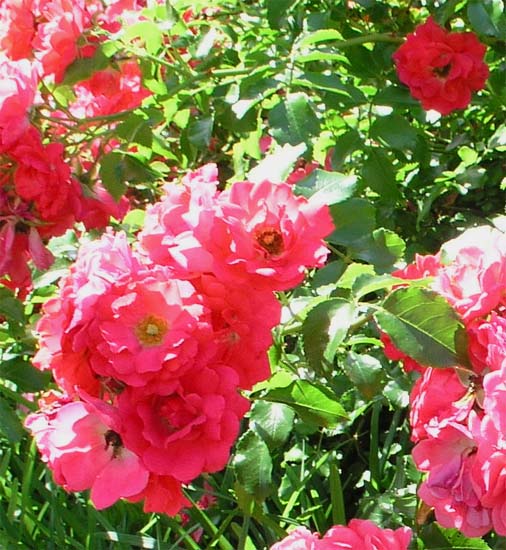 Flowers in Paducah are still Beautiful. Spring is here!
Friday, May 22nd
Oh the days they just seem to fly by so fast. I guess that is good in some ways and bad in others, the sooner I can move into my house the better. I have bought a lot of neat stuff, paintings and little things. Now we have to start thinking about furniture and the like. But that will all come in good time. Mother is moving next weekend I do believe :) So that is good news!
I am doing ok. All the doctor stuff seems to be working out and I feel good.
The weather has been hot and humid, but thankfully we have avoided the thunderstorms. They remain to our north, almost nightly severe weather up there. Things look pretty good for the weekend. We might get some storms next week.
Ok I am off to bed :)
Saturday, May 22
MAJOR TORNADO OUTBREAK CONTINUES TO ROCK AREAS JUST NORTH OF OUR REGION.
More than SIXTY tornadoes have hit tonight from Nebraska into Michigan.
Many towns report MAJOR damage.
Last nights tornadoes totally destroyed one town in Iowa.
This entire storm system could start to move south this week into our region, so far we have been fortunate others have not.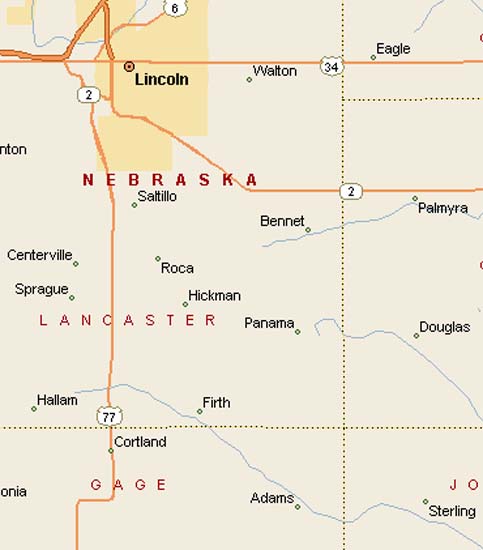 Firth Nebraska Hit Hard Tonight. Major Tornado.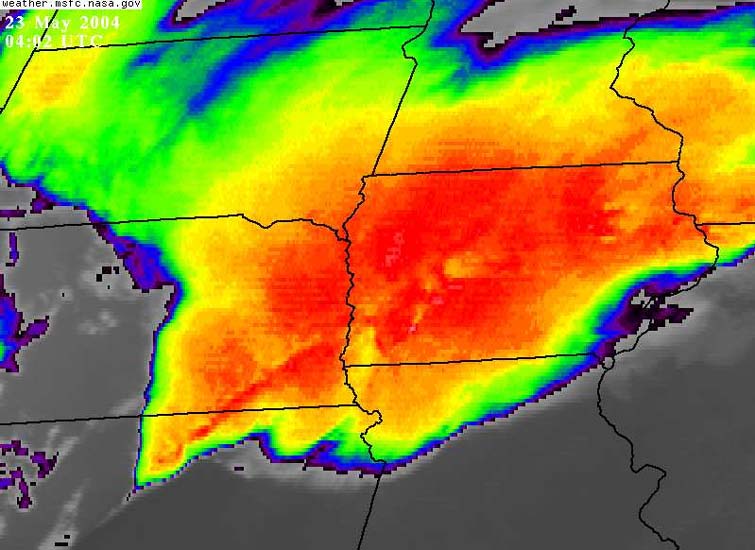 Satellite Photo Of Tornadic Storms
Sunday, May 23
Tornado Watch for out area now. MAJOR outbreak last night. Several towns totally wiped off the map in Nebraska and Iowa. F4 tornadoes.. Storms right now are just north of Paducah, hoping they stay up that way. We could see severe weather this week. Definitely a week to keep an eye on the weather.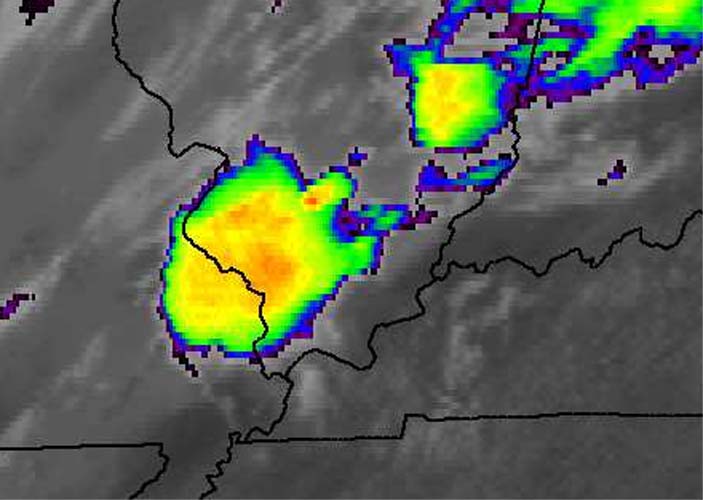 Current Satellite showing the storms blowing up in
Southern Illinois.
Latest Paducah Radar CLICK HERE
THERE WILL BE A MAJOR TORNADO OUTBREAK TODAY AND TONIGHT ACROSS PORTIONS OF MISSOURI, ILLINOIS, IOWA., SOUTHERN WISCONSIN AND INDIANA. EXPECT NUMEROUS TORNADOES. SOME VIOLENT. GOING TO BE A ROUGH NIGHT OF SEVERE WEATHER.
Monday, May 24, 2004
Sun is out here this morning. It could be stormy later today, then right on through Wednesday. About 11 tornadoes last night north of this region. Not as bad as it could have been. Looks like another VERY stormy day though from this area northward into Iowa and Illinois. Could be several significant tornadoes.
Trying to clean my apartment. :) It is a BIG mess. So many little things i have bought for the house, oh and a few big items. :) My Indian scares me sometimes when I wake up in the morning and walk into the living room.
I am excited about moving, but it is going to be awhile I guess. I have to be patient. :)
I will be in Toronto in Mid-June for a wedding, that Keri invited be to attend, and then I can also visit with all of my friends. :) So It should be fun.
Anyway, almost 90 here over the past few days. So more hot and humid weather expected. Just hope the weather does not get too severe. Hard to say at this point but definitely looking like a stormy week and the upcoming weekend as well.
I am doing really well. Been to my doctor and they have been helping me a lot, along with my counselor. I am on the right path, which is the main thing in all of this. Stay the course even it it gets rough at times.
I need to meet with Red Cross about their classes and how often they have them. Among other things I need to be doing. :)
Talked with Norman on the phone the other day and he is in very good spirits and seems to be doing better and better which makes me always smile. :) He deserves some good days.
OK, more later perhaps on the storms - stay tuned :)
Tornadoes raking Northern Missouri. 25 tornadoes reported so far tonight.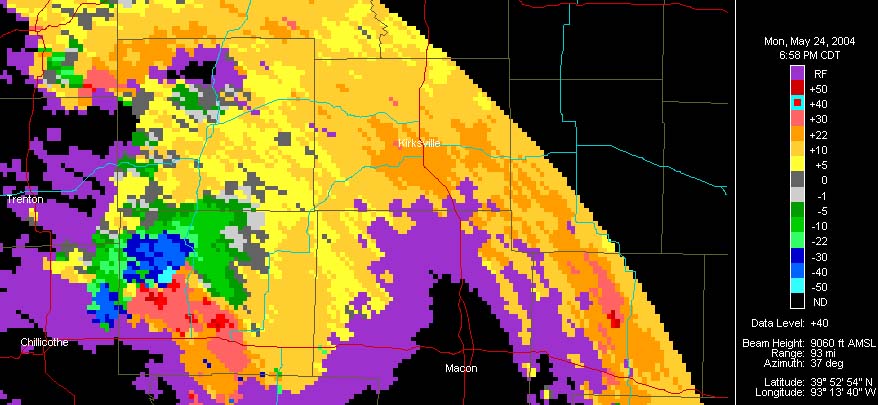 Radar showing the tornado blue next to red - wind going in different directions
Almost Sixty tornadoes last night across Kansas, Nebraska, Missouri, Iowa and Illinois.
More storms through the rest of the week. Worst weather should be Tuesday through Wednesday and again this weekend.
Tuesday, May 25th, 2004
Sunny this morning, but a lot of storms coming the next 48 hours. We will probably have 2-4 inches of rain in some area along with severe weather.
Severe Thunderstorm Watches now out for our entire area. Should be an active day or two. Looks like a lot of heavy rain and severe storms.
Wednesday, May 26th, 2004
Stormy day yesterday. Several tornadoes hit Southern Illinois. Minor damage reported here and there. Softball size hail south of St Louis. OUCH on that.
Look for more storms today in this area, and through the weekend. Looks very stormy this weekend, could be a big tornado outbreak in the Midwest. Something to watch.
I have to leave early this morning for an eye appointment then I will be back this afternoon. There should be a lot of rain today.
Yesterday was a rough day. Bad mood, don't know why, sometimes we just have bad days. :) Some days are so dark that it feels like everything is closing in around me. Like I am lost in this sea called life. I feel like nothing matters. The whole world is invisible.

I sent the NWS a nice framed photo printout of the radar image from last years May 6th tornado. They liked that.
-------------------------------------------------------------------------------------------------------------------------------------
And in those days, the sky grew dark, boiling and rolling, the clouds of smoke billowed high into the atmosphere, the people watched as the cities melted under the heat, trees burned like matchsticks, the wind blew and the world stood still and watched. Without reason, without warning, without hope, they turned to all they knew to be true. Those around them, their inner strength, their determination to survive.
And the governments became sterile, they became no more, and neighbors turned to neighbors, friends turned to friends, enemies turned to enemies and a great peace fell upon the land.
What had been important became irrelevant, what used to be irrelevant became important. The blooming flowers in the meadows, the sun setting across the western sky filled with just enough clouds to bring out the orange and red hues. A rainbow appeared in the sky, reminding people that there would be a tomorrow, that life would go on, that there would be a future. A butterfly landed on a flower and slowly flapped its beautiful colored wings and reminded everyone that life went on - the cycle continued.
Trust was formed between those who did not trust before. Enemies laid down their swords, men knelt on their knees and gave thanks for what they had and in those days leaders arose from among common people who brought hope and a message of restoration. A message of a better way, a better world. A world where children would learn to love their enemies. A world where enemies for a thousand years became brothers. A world where what counted was the rose flower blooming in the garden, the puffy white cloud floating in the sky, the yellow dandelion in the yard was no longer a weed but was a flower.
The children chased fireflies at night and made lanterns of them, to shine their way through the darkness that surrounded them.
But to get to those days the people had to endure a hardship unknown to modern civilization. They had to understand that the will power inside of them would have to be brought to force, to bring a force within to survive. Great hardship and loss would come in those days, and many lives would be lost. Leaders., great men of power, men of faith, men of our enemies, men of our friends - would be no more.
As that day approached people went about their business, everyday life continued, few were aware of what was to come, the music played, the dance went on, the wars continued, the "peace" would not come, not until that day when all was lost and powerful men realized they were no longer in charge. That their power was not real power but was nothing more than an illusion. They were no more important than the next person, they had no control. The control was a myth waiting to be exposed.
But after the loss, after the sorrow, after the grieving, the flowers they bloomed again in the meadows, the rain fell again and the crops grew and people went on as if a new planet had arose from the dust. But yet nothing had really changed, people had just simply realized their priorities were wrong, their worries were so small compared to the bigger picture.
The sailboat, it is on the horizon, it grows daily like a tiny bird far off, barely noticed, but by those who were watching, those who were told to watch the tower, it was coming like a dove, like a hawk, like an eagle it was coming.
--------------------------------------------------------------------------------------------------------------------------------------------
Severe weather today raked the area. Lots of reports of marble to golfball size hail. Damaging winds and a few tornadoes hit Southern Illinois and Western Kentucky. We had Marble Size Hail here on Broadway Street - lot of thunder and lightning as well.
Stormy week and weekend ahead of us.
Thursday, May 27, 2004
The month is almost over! :( Where does the time go????
Anyway, lots of severe weather is forecast for this area, so I am in my severe weather mode I guess. Lots to watch. We seem to be under the gun for the next few days. Hopefully the worst stays away from this area.
Not much else going on. I am going to call the Red Cross and see when their classes start.
Otherwise not much else going on. :)
Friday - May 28th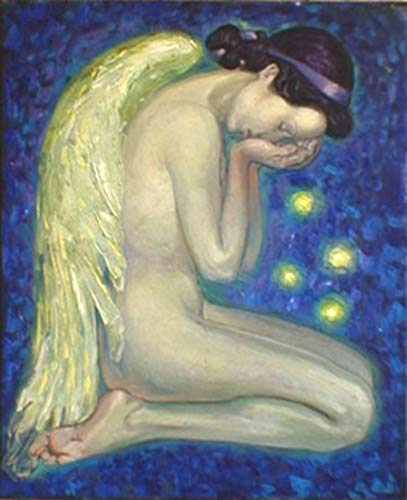 Hope


Long shadows stretch before me,
their fingers damp and cold;
the tiny flame barely flickers
as I watch the death of hope.

Tears flow unhindered,
tracing well-known paths upon my cheeks.
My ears are filled with heavy sighs --
my heart with agony and grief.

"Donít give up," Iíd told my heart
as it battled to recover
from the wounds and bruises left it
by tortuous, unloving men.

Not willing yet to bear more pain,
my heart found safe retreat,
hiding from all reality
in where ever I went.


Then you came into my life,
and immediately I knew
from the way my heart responded
that itíd take a chance with you.

You touched my heart to believe
I could be someone of worth.
You gave me a warm smile
with a gracious hug to recollect.

You were there as I softened
And memories surfaced clear.
You didnít leave as the story was told
And remained with merciful pardon.

You struck down many doubts
as soon as they appeared,
my heart again felt joy and peace
and safe from all the fear.

But as the tender blossom
requires nurturing and care,
so, too, my heart has special needs --
for love and dreams to share.

Loveís beginning is very fragile
until a commitment has been made;
silence and lack of contact is like growing
a flower in the desert or in the shade.

Some words are very powerful when said,
and the meaning is quite clear;
others left unspoken often say much more
that only the heart can hear.

Now as the shadows stretch before me
with their dampness, dark and cold,
my eyes cleave to the flickering flame
All I want is hope.
....why does my friend have to be so sick
-------------------------------------------------------
May 29th, 2004
Everything is moving along here. I got some bears for the game room but I had to travel to get them. Virginia to be exact. They are kewl though and will look kewl in the game room. Anyway HUGE outbreak of severe weather tomorrow across our area. Hopefully not as bad as it looks. Time will tell. More later.
Tornado warning for my sister tonight, funnel cloud moved right over Mayfield no damage reports as of yet.
Going to bed, tomorrow will be a long day
- night
SUNDAY, MAY 29th, 2004
MAJOR TORNADO OUTBREAK EXPECTED TODAY ACROSS THE ENTIRE AREA.
MORE INFO LATER

Tornadoes moving through Tulsa
Severer weather likely this weekend across the area.
NEW PAGE CLICK HERE
------------------------------------
RETURN TO HOME PAGE

RETURN TO AUGUST 1-17th
RETURN TO AUGUST 18th-31st
RETURN TO SEPTEMBER 1-9th
RETURN TO SEPTEMBER 10-30th
RETURN TO OCTOBER 1-15th
RETURN TO OCTOBER 15-31st
RETURN TO NOVEMBER 1-15th
RETURN TO NOVEMBER 16th
RETURN TO NOVEMBER 17-30th
RETURN TO DECEMBER 1st-15th
RETURN TO DECEMBER 16th-22nd
RETURN TO DECEMBER 23rd-31st
RETURN TO JANUARY 1st-8th
RETURN TO JANUARY 9th-26th
RETURN TO JANUARY 26th-31st
RETURN TO FEBRUARY
RETURN TO MARCH 1st-9th
Return TO March 10th-27th
Return TO March 28th-30th
RETURN TO APRIL 1-11th
Return to April 12th-18th
RETURN TO APRIL 18th-27th
RETURN TO APRIL 28th-30th
RETURN TO MAY 1st-5th
RETURN TO MAY 6th
CLICK HERE TO MAY 7th-16th
------------------------------------------------------
Email beaudodson @ usawx.com (remove spaces)