Time to decorate the tree...
November 28th, 2004 :)
I am working on getting my computer fixed. :) I think I actually figured it out! So that is good.
Grandmother and mother came over today and we went to eat at grandmothers favorite restaurant - Crackle Barrel.

After that we went to buy a Christmas Tree for my house. I figured Dione might want one. :) So we got a 7 foot tree and we decorated it. :)

Grandmother getting ready to set up the tree :)

Mother and me putting the lights onto the tree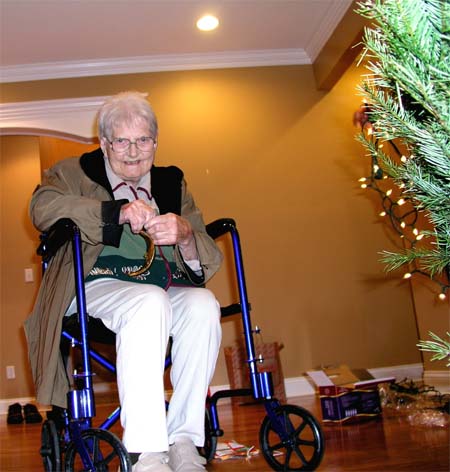 Grandmother getting ready to help decorate (is it just
me or does she look mischievous there???) :)

Grandmother and mother putting decorations on :)

Deck the halls - lalalalal lalala la la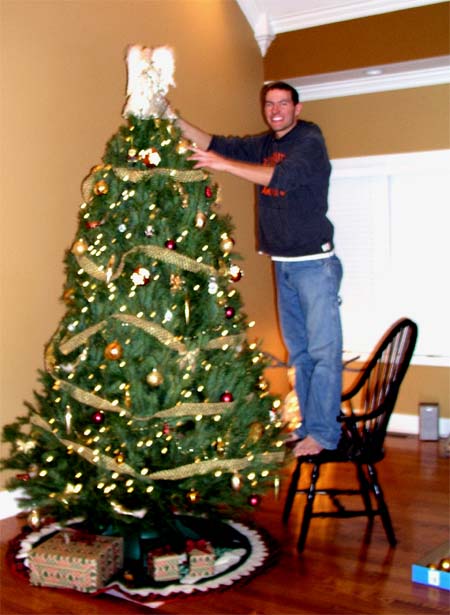 Time for the angel - no not me :)
the tree angel :) HA

Tree when the lights are turned off in the room
:) Looks pretty good! It is a bit crooked but we
fixed that. ;)

And it is finished :) YAY
November 29th
Just packing and stuff here and running lots of errands. :)
We all went to see Christmas with the Kranks tonight. Good movie and funny. :)
It is still raining - rain rain rain! I swear they are going to float away down here. Maybe eventually all of this rain will become snow snow snow! lol
Tomorrow I am going down to mother's house to decorate her tree. We are then all going out to eat for Mother and Deena's Birthday, which was a couple of weeks ago. Should be a fun day. Otherwise - hmmm what else is new :) - I got to see my friend John and we tried to catch up on everything. So that was nice.
I will be heading for much colder and snowier climate soon. :) Hopefully they will get a lot of snow down here this winter. I know one meteorologist that is praying for snow. :) :)
-----
November 30th
Flooding across our area today. We have had over 8 inches of rain during the past four weeks. It is very wet here, needless to say. A baby drowned today about 10 miles west of here. The dad and mom were in an SUV when water caused the vehicle to stall. When they tried to get out of the water the dad slipped and the baby got swept away in the water. Tragic.

Stream levels are still rising
It has been raining since noon yesterday, as of 10 p.m. it is still raining. The cold front has moved through and we are having high winds now. Winds have gusted over 40 miles per hour here at the house. It is turning cold as well.
Deena, Mother, and Grandmother and I went out to celebrate their birthday tonight. We went to Patti's 1880s Restaurant. We all had a great time. :) Grandmother enjoyed all of the Christmas decorations. Tomorrow is Tyler's Birthday. :) I will be going back down there for that.
I am not leaving tomorrow for Ontario. I am going to wait a couple of weeks
Here are some photos from tonight's dinner.

Happy Birthday Mother and Deena :)


Mile High Pie :)




Look at all the Christmas Decorations!
Time to go to December????

------------------------------------------------------
RETURN TO HOME PAGE

RETURN TO AUGUST 1-17th
RETURN TO AUGUST 18th-31st
RETURN TO SEPTEMBER 1-9th
RETURN TO SEPTEMBER 10-30th
RETURN TO OCTOBER 1-15th
RETURN TO OCTOBER 15-31st
RETURN TO NOVEMBER 1-15th
RETURN TO NOVEMBER 16th
RETURN TO NOVEMBER 17-30th
RETURN TO DECEMBER 1st-15th
RETURN TO DECEMBER 16th-22nd
RETURN TO DECEMBER 23rd-31st
RETURN TO JANUARY 1st-8th
RETURN TO JANUARY 9th-26th
RETURN TO JANUARY 26th-31st
RETURN TO FEBRUARY
RETURN TO MARCH 1st-9th
Return TO March 10th-27th
Return TO March 28th-30th
RETURN TO APRIL 1-11th
Return to April 12th-18th
RETURN TO APRIL 18th-27th
RETURN TO APRIL 28th-30th
RETURN TO MAY 1st-5th
RETURN TO MAY 6th
CLICK HERE TO MAY 7th-16th
RETURN TO MAY 17th-29th
RETURN TO MAY30th-June 1st
RETURN TO JUNE 2nd - June 11th
RETURN TO JUNE 11th-17th
RETURN TO JUNE 18th-26th
RETURN TO JUNE 27th-30th sunsets :)
RETURN TO JULY 1st-3rd - 2004
RETURN TO JULY 4th - 2004
RETURN TO JULY 4th-7th - 2004
RETURN TO JULY 7th-10th - 2004
RETURN TO JULY 11th-22nd - 2004
RETURN TO JULY 22nd-31st - 2004
RETURN TO AUGUST 1st-12th - 2004
RETURN TO AUGUST 13th-25th - 2004
RETURN TO AUGUST 26th-31st - 2004
RETURN TO SEPTEMBER 1st - 5th - 2004
RETURN TO SEPTEMBER 6th - 15th - 2004
RETURN TO SEPTEMBER 15-17th - 2004
RETURN TO SEPTEMBER 18th-26th - 2004
RETURN TO SEPTEMBER 27th - 29th - 2004
RETURN TO SEPTEMBER 30th-OCTOBER 2nd 2004
RETURN TO OCTOBER 3rd - 7th, 2004
RETURN TO OCTOBER 7th-8th
RETURN TO OCTOBER 9th - 15th
RETURN TO OCTOBER 16th-18th
RETURN TO OCTOBER 19th-23rd
RETURN TO OCTOBER 24th-26th
RETURN TO OCTOBER 27th - 28th
RETURN TO OCTOBER 27th - November 19th
RETURN TO NOVEMBER 20th - 27th
------------------------------------------------------

Email: beaudodson @ usawx.com (remove spaces to email)