Welcome To Miami.

Hi EveryoneI have left Key West, Florida, which is BEAUTIFUL, but we have driven up to Miami, South Beach to be exact.
Here is a couple of pics and I will post more later

The World Famous Key West Sunsetwith a sailboat in front :)
Beautiful to say the least. We were all out on a big sailboat when
I took this picture, (we were on a Schooner to be exact. One
built in the 1930s)

And this my friends is my signature photograph from this tripit sums up every feeling and every
emotion that I have had. It is the water, the ocean, the beautiful painting of a sunset that God has given to us down here. It simply does not get any better than this!


David. Doug, and Erick on the Schooner getting ready to go out
to sea :)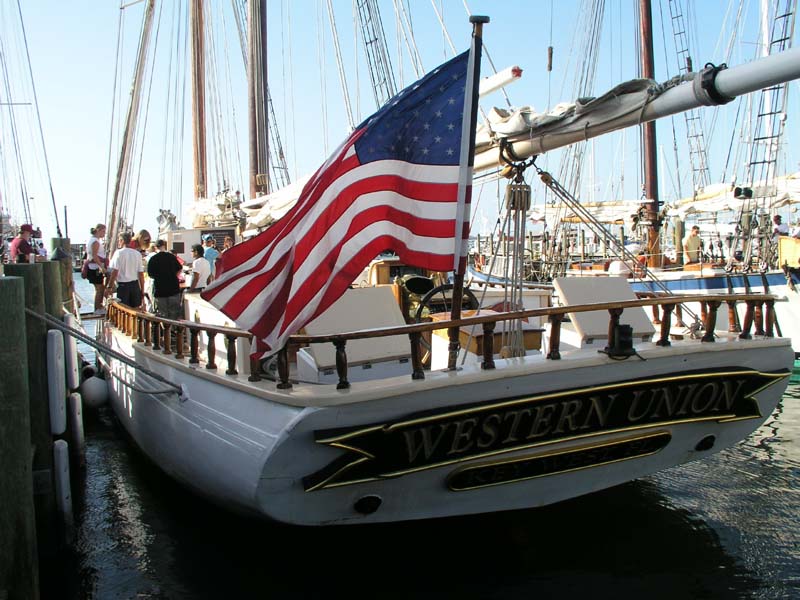 God Bless The USA :) The Schooner we all were on for the Sunset Cruise :)
Good stuff!!!! Lots of fun, lots of waves, and a few splashes of the ocean! :)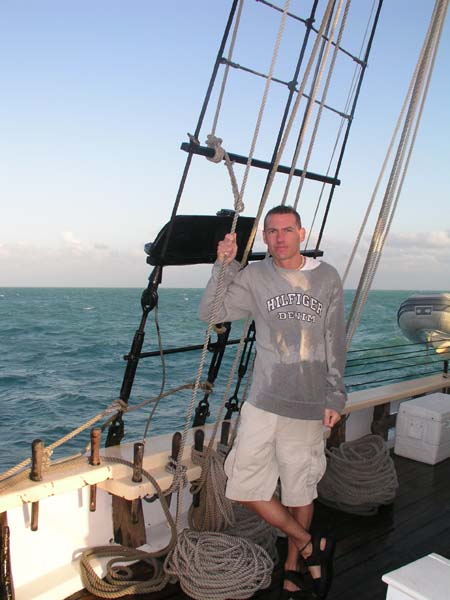 Beau on the Schooner, out to sea - the Atlantic Ocean



Classic Doug. Looking into the endless sea and thinking about today
tomorrow and the past. The sea, the sea, the sea, where the waves
never end, never begin - they just roll endlessly - and that my friends
is classic Doug!


More of the Pirate Doug :)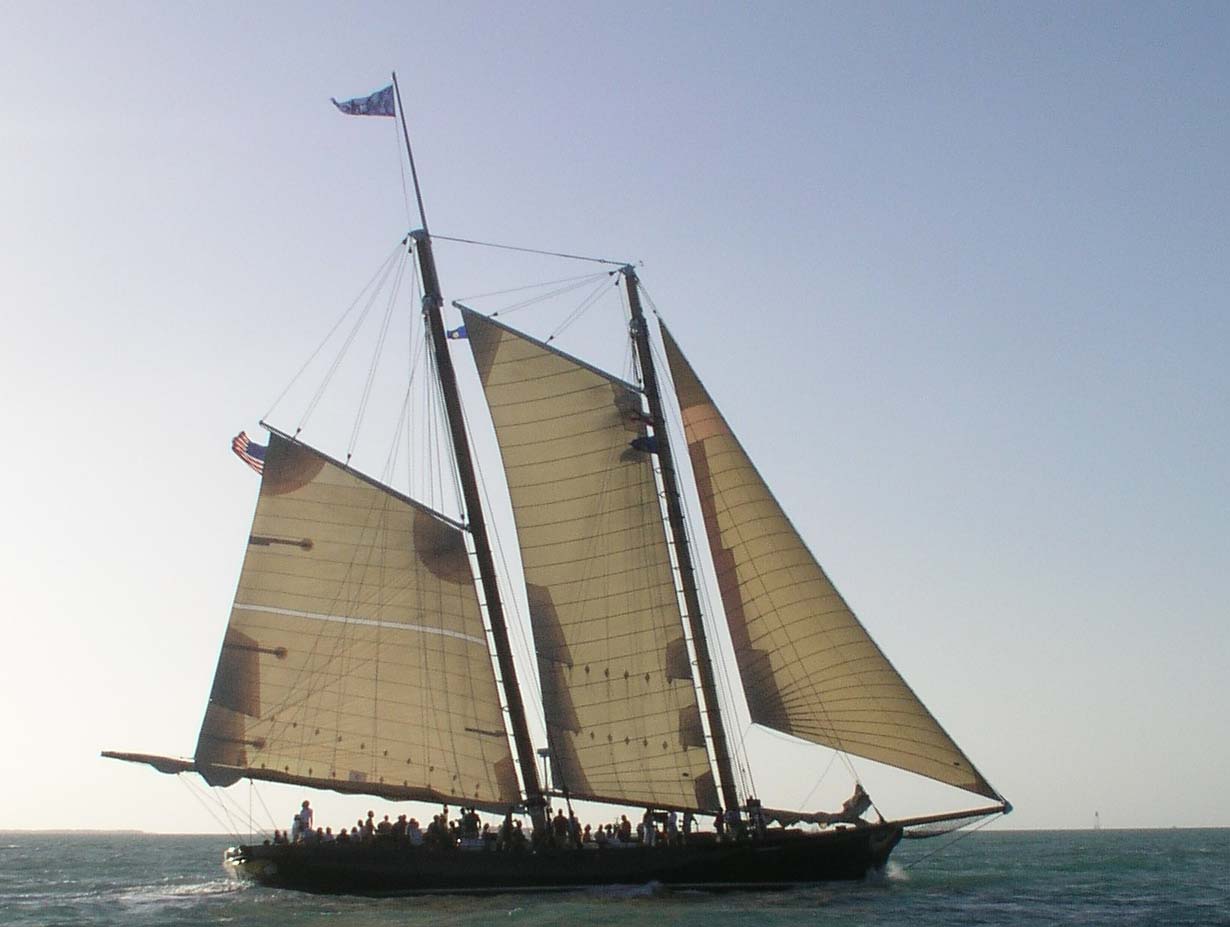 Big Sailboat and Ship off Key West :) Beautiful sailing over the open water!!!

Cheetah on her way to SOUTH BEACH :) Oh BOY!!!!!

Erick Loitering and sitting tsk tsk :)

HUGE plant - Erick in front :) A Giant Fan


David. Beau. and Doug - RELAXING in Key West, Florida




One of the many artistic churches in Key West, Florida.
Very nice!




Did I mention the Taxi Cabs are PINK down here in Key West????? :)
FUNNY STUFF!!!!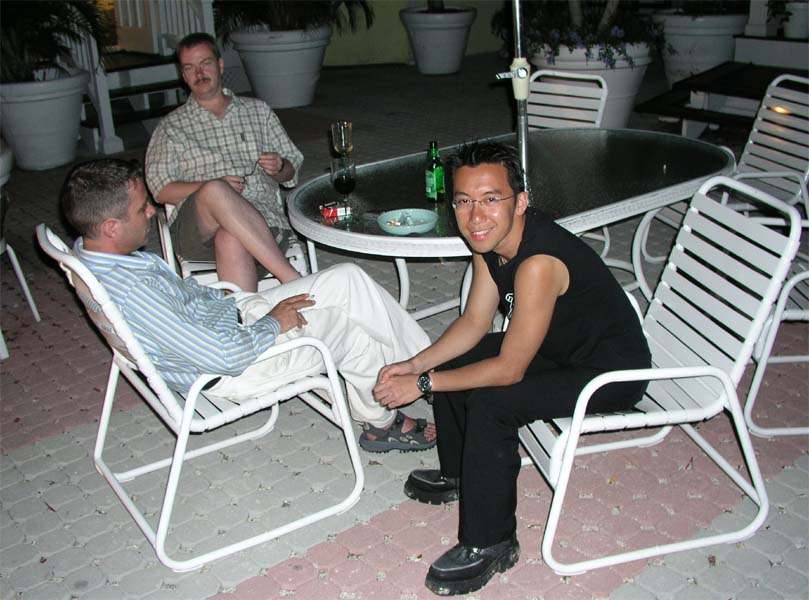 Everyone Relaxing on the patio at BIg Rubys. The guest house we were
staying at. Very nice and lots of PEACE YAY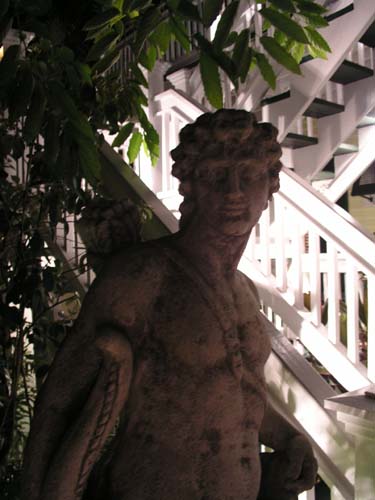 Statue - standing guard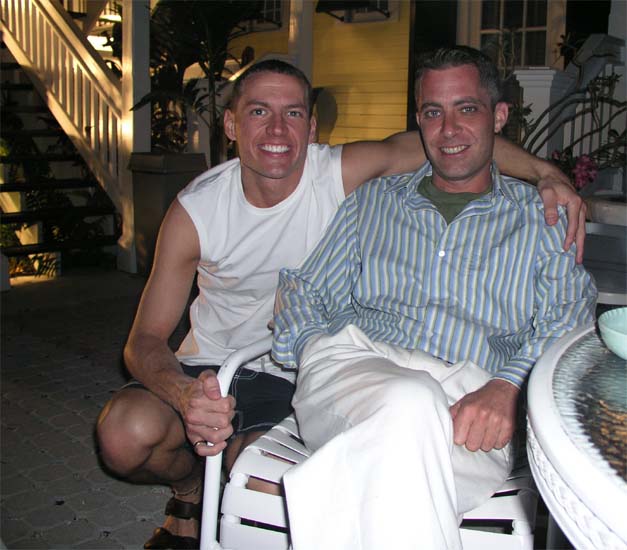 Me with my brother Doug :)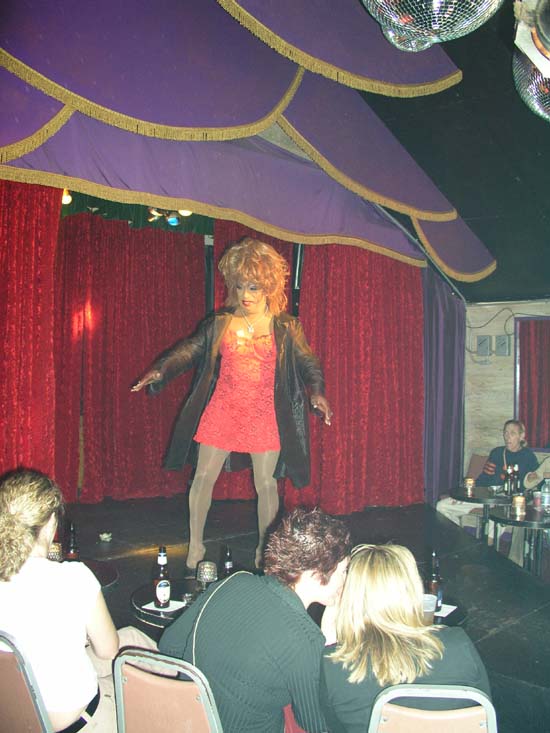 Tina Turner - ummm Don't Ask :) It was an entertaining show
though.

Erick on the boat off Key West :) with his I-Pod :)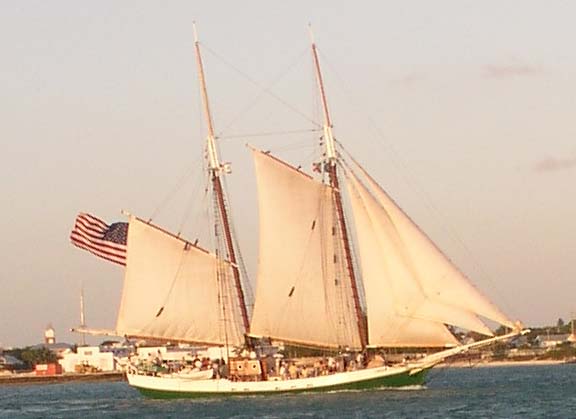 Sailing Away into the Wild Blue Yonder with no cares in the world



The American Flag The Mast of the Ship and The Moon Above :)
Doesn't get any better than that!!!!!


OFF TO SOUTH BEACH, MIAMI, FLORIDA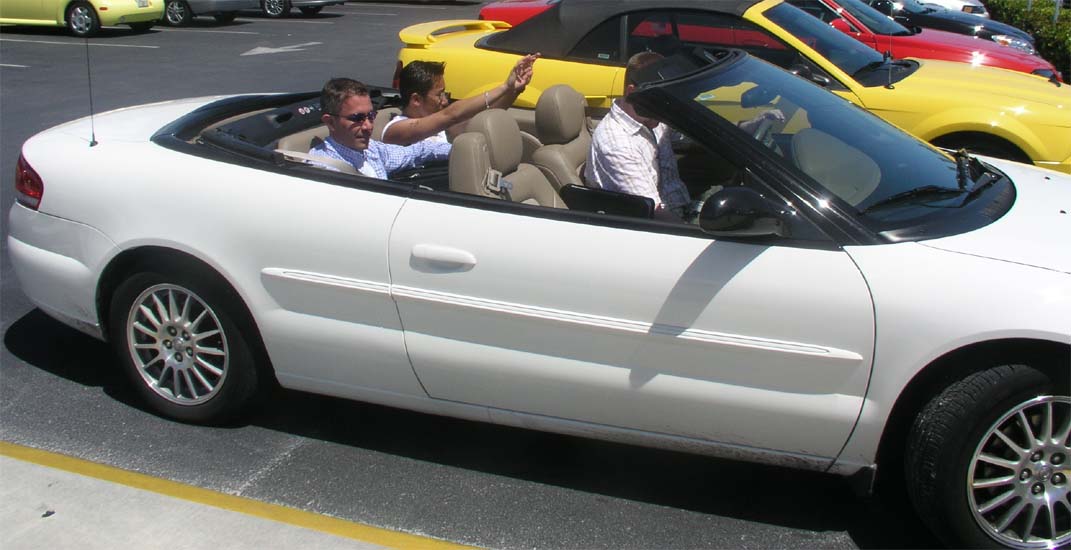 This was our Rental Car. A Sebrian. I might have spelled that WRONG :)
Anyway nice car. Fun drive.



David Driving To Miami :) YAY

Beautiful Atlantic Ocean on the way to Miami, Florida

I am just a few feet from the ocean.
The Atlantic Ocean to be exact...off the Coast of Miami, Florida.
I am sitting here, on the beach, with my laptop computer on a little white towel.
It is night and I am alone. Imagine that, being alone on the beach in Miami.

The waves are crashing before me.
The soothing eternal rhythm. The constant sound. This sound
was here yesterday and it will be here tomorrow.
The crashing of the waves the constant flow and ebb of natures lullaby.
Water that has traveled thousands of miles just for my ears tonight.
Perhaps this water came all the way from Africa. Perhaps from Spain.
A journey of crests and troughs. Some to great heights. Some to
great depths. All of that, though, is behind them now. Now they
have arrived to crash ashore onto this beach.

A century ago, perhaps someone else was sitting here
listening to this ballad of the oceans deep.
Watching the clouds drift overhead.
Thinking not - just being. Doing what I am doing.
Dreaming and thinking about what is and has been.

Even though it is night, I can still see the white puffy clouds drifting above me
they are low enough that the lights from Miami illuminate them pinkish red
and next to them, sprinkled amongst the clouds, are shiny glistening stars
flickering
twinkling
they call out my name "can you see me"
Perhaps on one of those twinkling stars there is another boy sitting on a beach
watching and listening to the ocean waves and thinking about me?
Wondering - is there someone else out there - could there be?

Perhaps he is lost in a world of confusion. Perhaps he questions why he is.
Is there a God?
Did someone create all of this?
Is there someone that created him - and if so then why?
Perhaps he is wondering who created God? I mean someone had to create the creator right?
A creator must have someone that came before him. Someone that brought him into
existence. Something can't just be. Impossible.
Wondering if there was a beginning, and if there was, then what was before that beginning?
If time ends then what happens after it ends? What is after the ending?
Perhaps he is wondering about space. Looking at our planet millions of miles away.
Wondering if there is anyone else out there.
Wondering if space ends.
And if space ends then what is on the other side of that ending? A wall?
If there is a wall what is on the other side of that wall?
I wonder if that boy has starfish on his planet, I wonder if he knows the starfish story?
I wonder if he is wondering about me. About another ocean. Other waves.
So many questions, so little time to get them answered.
Somehow I think, no I believe - I am certain that the answers will come.
They have to. Right? The complexity of this world. Our minds. Someone
has to give me the answers.
Oh they may not come today -
and they may not come tomorrow, they may not even come in my lifetime
or the lifetime of those who come after me,
but I have a feeling God is smiling down on me right now.
He is thinking about how he wishes he could let me in on all of those
secrets. Perhaps God has a story to tell. A story about how he made me
about how he made that little boy on the other planet. The one looking up
at Planet Earth. A story about who made him! A never-ending story.
But for now I will just wonder - dream about what is and what was,
and live in the moment that I have. Right now. Today. Not yesterday
and not tomorrow. Just this moment.
I will stop and watch the Cheetahs, the Muggles, the Pinky's of this
world. I will stop and listen to the ocean waves before me, here
on this little beach. Nothing more than a grain of sand in the
universe. An escape from the insanity of the world around me.
Just for this moment, I will listen to the waves crashing before me.
The soothing eternal rhythm. The constant sound. The sound
that was here yesterday and will be here tomorrow.
The constant flow and ebb of natures lullaby.

It has been a nice journey, a nice trip to Key West and now Miami.
With my brothers, with those who I call family.
They have laughed, we have cried, we have had a few small fights over nothing at all.
But we have all had fun, we have all enjoyed the days, we have enjoyed the time we have been together.
Not knowing what tomorrow will bring, not knowing if we can do this again, when we can do this again
each trip is like that you know, you have to enjoy your time that you have with your family, your friends, those that you love and care about.

You have to stop and smell those flowers I am always talking about, I am always laughing about.
You have to stop and watch the Cheetahs, the Muggles, the Sebastians, the Pinkys :) in the world, otherwise what is there? What is there out there that we can amuse ourselves with, that we can escape from the insanity of the world around us?
You don't have to come to Key West or for that matter anywhere else to smell those flowers.
They are all around us, they are in our front yards, they are our children playing games, building a pile of leaves and jumping in them :) Watching your grandmother eat breakfast at suppertime :) lol
Yep those flowers are everywhere, enjoy them, the days they grow short.
- south beach, 2 a.m. in the morning. March 29th now :)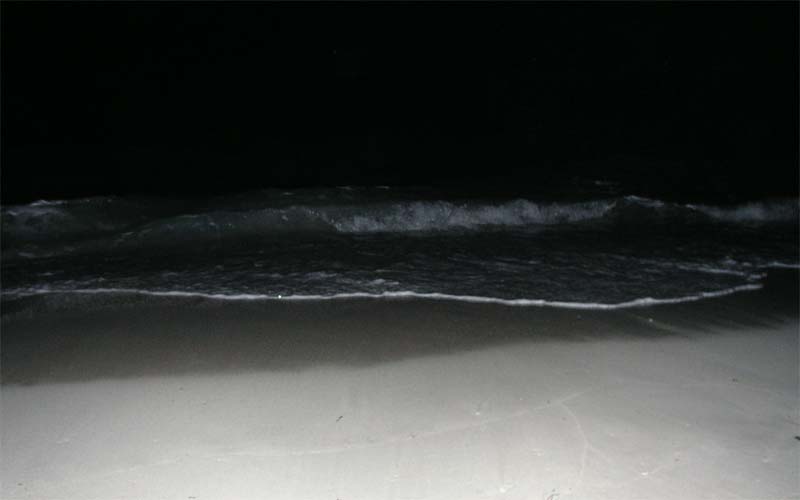 The Ocean - Sunday Night - sitting on the beach just gazing off
David and I are flying back to Toronto this afternoon. We will attempt to find my lost luggage at that time! :) I will spend the night in Toronto, then go to Waterloo for a few days and then back to Paducah. I will update the page as much as possible. I hope everyone is well.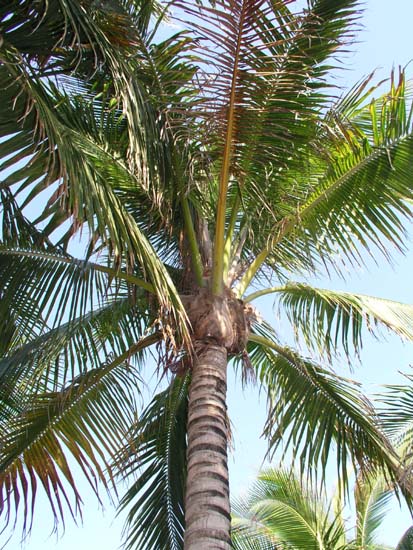 Morning in Miami, the palm trees are awake :)



Morning in South Beach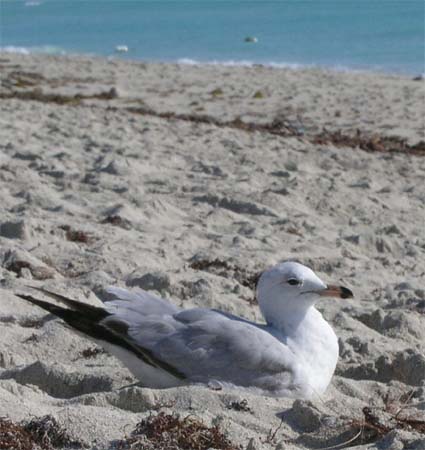 This is my little buddy who sat next to me on the beach for about
40 minutes :) Staring off into the ocean, wonder what it she was
thinking about!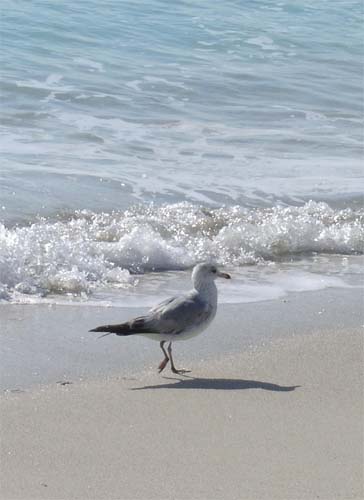 A bit later she went for a little stroll down the beach




Beau watching the storm clouds roll in and watching the waves
crash against the shore, thinking, dreaming, praying




Erick at South Beach, Miami, Florida on the beach - Monday Morning




Doug and Erick
Great morning here in South Beach, Florida, lovely weather. You can see the thunderstorms in the distance, offshore. They are moving this way :) Hopefully our flight goes well. Should
David and I are flying out at 230 or something like that! Will be in Toronto tonight packing and getting ready to go to Waterloo, then Paducah.
Ok everyone more later.
Monday Evening
I am back home and I have a renewed sense of purpose, a new dream, a vision is starting to flow through this mind of mine. The same vision that has always been there - Shadow Angels, doing good for those around me, finding peace in the midst of storms! :)
I definitely feel renewed!!!!!! For that I am HAPPY HAPPY HAPPY!!!!! YAY This is what I needed! YES!
I will spend the next couple of days packing for Paducah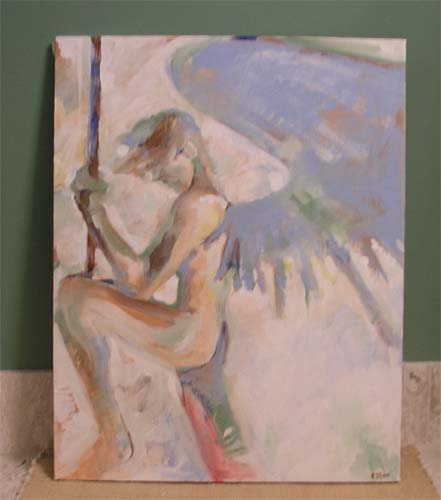 Kristy had commissioned for me this BEAUTIFUL painting. I love it I love it I love it. THIS IS SHADOW ANGEL! :)
The photo does not do the picture true justice, this is going to be THE painting in my new home! :)
Shadow Angels is coming.
TUESDAY MORNING.
Morning everyonejust trying to get straightened out around here! WHAT A MESS :) lol but I will get there!
Things are going good. I am feeling new energy, thinking about The Shadow Angel Foundation, thinking about what is it that I can do to change the world around me. Thinking about the happiness I am going to bring into peoples lives with the help of others. I need a BASEI need a house and we are going to work out of there, it is going to be great! I have waited for these days forever, there is a BEAUTIFUL SADNESS in my life, like there always has been - but that is what makes me me. That is what God has put me through, for whatever reason. Refined me over and over and over and over and over again - so He could achieve something, perhaps so I could understand others better, so that I can have compassion, so that I can feel the pain of those around me. I don't know. All I know is that everything seems to happen for a reason.
There are many needs in this world - The Shadow Angel Foundation is going to meet some of those needs. One child at a time, one starfish at a time, you change one persons life forever and then they go on to change another persons life. Pay it Forward - REMEMBER
It is a ripple on the water, a stone that will keep on sending out ripples.
We are going to rock this world.
We are going to change the world around us.
We are going to do GREAT things that you will see on the news.
We are going to do things that will make adults realize that they can make a difference.
We are going to do things that will make children realize they can make a difference.
We are going to teach people a new way to tell stories a new way to give.
Stand by because the months and years to come will bring smiles!
YES, there will be some GREAT sadness come in our lives. but from great sadness will come waves of goodness, waves that will travel around this little planet of ours, one person at a time!!
Think my mood has changed? It is amazing what one phone call can do to someone, it is amazing what the words you are forgiven can do for a person. I have waited for years to talk to one person, one person that I needed to hear from, to set me truly free and that phone call came.
Words are powerful people. you have within you the ability to change the world around you and don't ever forget it.
Simple acts of kindness
Simple words
Make all the difference
Trust me, I know, I have lived it
Evening
My room is a MESSSSSSSSS, everything is being packed, upboxed, uptaped, and upwrapped!
That has been the day so far, I am about 30% done!
:)
WOWOWOWOWOWOWOWOW
Deena has told me that NBC 6 in Paducah just did a big story on our tornado book!!!!!! They were talking about how many people it has helped and how much money has been raised from the sales. YAY GOOD STUFF

Erick kept the music going when he got home from
Miami - SPINNING THOSE RECORDS!!!!!!!


It is Wednesday
I am sitting on the floor trying to type on this laptop, my room is a MESS but it is getting there! PACKING PACKING and MORE PACKING - fun fun.
Erick and Doug and Dru have been helping me a lot, well at least they have been laughing at me while I do all of this. They are cheering me on.
Dru brought in breakfast this morning. Eggs, bacon, pancakes - all of it! :) That was good. The construction workers woke me up at 7 a.m. They are building new houses across the street. OK, well - BUSY around here that is for sure.
Let me see if I can find some photos

Boxes and more boxes and more boxes


and more boxes!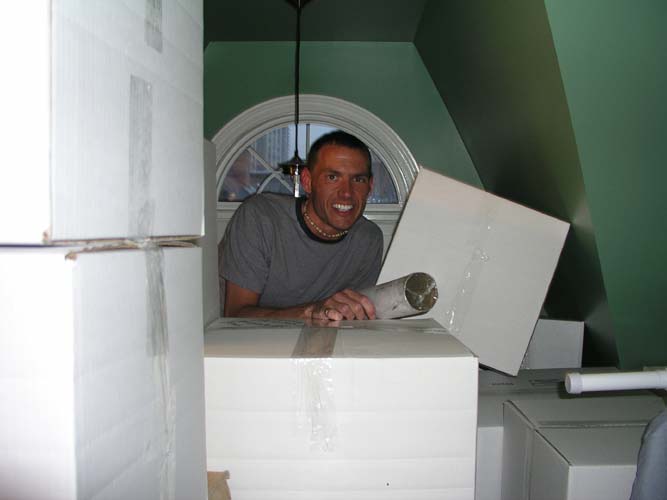 Ok now FOR REAL my bathroom is full of boxes..
We have packed everything that was in the closet!! :) :) LOL I AM NOT KIDDING - where does all of this stuff come from?

OK, back to work. :)
END OF MARCH ONTO APRIL. APRIL
------------------------------------------------------
------------------------------------------------------
RETURN TO HOME PAGE

RETURN TO AUGUST 1-17th
RETURN TO AUGUST 18th-31st
RETURN TO SEPTEMBER 1-9th
RETURN TO SEPTEMBER 10-30th
RETURN TO OCTOBER 1-15th
RETURN TO OCTOBER 15-31st
RETURN TO NOVEMBER 1-15th
RETURN TO NOVEMBER 16th
RETURN TO NOVEMBER 17-30th
RETURN TO DECEMBER 1st-15th
RETURN TO DECEMBER 16th-22nd
RETURN TO DECEMBER 23rd-31st
RETURN TO JANUARY 1st-8th
RETURN TO JANUARY 9th-26th
RETURN TO JANUARY 26th-31st
RETURN TO FEBRUARY
RETURN TO MARCH 1st-9th
Return TO March 10th-27th

------------------------------------------------------

Email beaudodson @ usawx.com (remove spaces)