January 26th, 2004
Sorry the other page is way too long. I have been so busy that I update it and just try to keep it going. :)
I will try to not make the pictures so big. When I am on my laptop they look smaller. I didn't realize
how big they are.
Email me when things are too long or big and I will start a new page!
Toronto is in the midst of what could be one of the worst winter storms in many years
We already have a lot of snow on the ground and they are calling for 15 more inches through
tomorrow. I wouldn't even guess how much snow we will end up with by the weekend.
I have never witnessed the computer models spitting out so many winter storms, not just here
but everywhere. This is going to be a wild week of weather for a lot of people.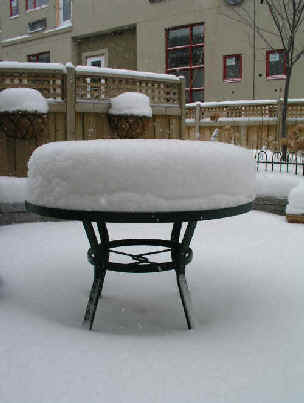 Look how much snow is on our patio. I took
this photo earlier today. Lot of snow.
Snow is falling hard here in Toronto, and the winds are strong. 4 p.m. and my patio is disappearing
under all the snow.
9 p.m.
Deena says they have Lightning and Sleet back home in Western Kentucky! Wicked weather.
Snow continues to fall here in Toronto :)

STILL SNOWING!


AND MORE!

Thunderstorm with sleet back home. Paducah Radar
All I can say is there is going to be some severe winter weather over the next week or so. Everyone
can hang on for the ride.
January 27th
Heavy snow and thundersnow is blasting Toronto. We had thundersnow overnight, heavy snow is
falling now. Visibility is about one block. An impressive winter storm - even for Toronto.
Power outages reported across the city

Snow in Mayfield, KentuckyTony sent me this photo

We are buried here - I took this photo - my bedroom
balcony.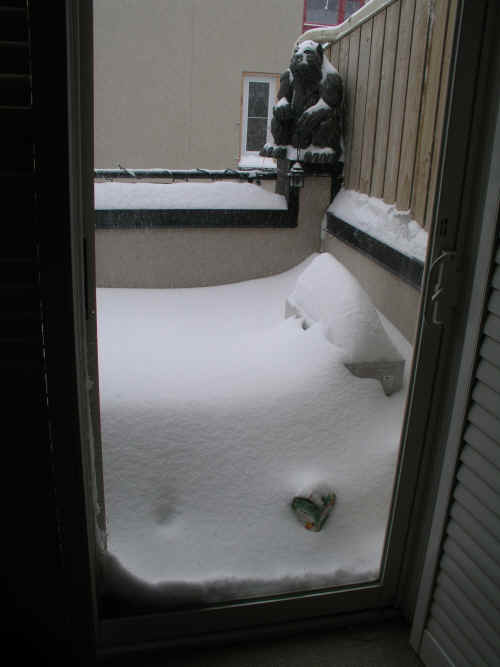 Snow Patio!
Hundreds of thousands of people across the Eastern US are without power because of the
snow and ice storms.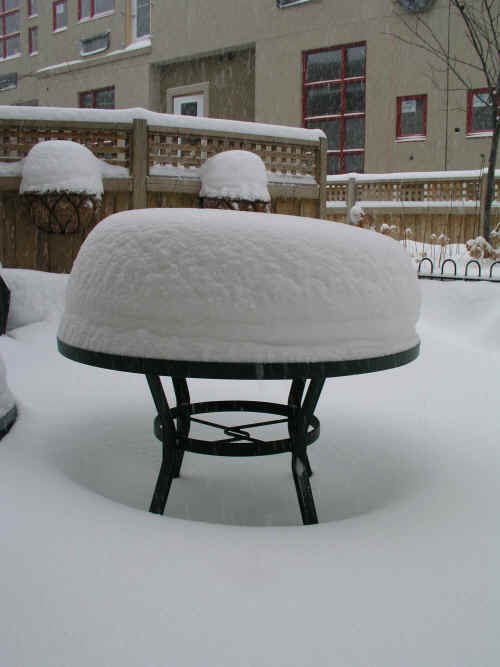 And it keeps on coming. Outside my townhouse.

We are buried here in Toronto!

7 p.m.
Snow has ended for now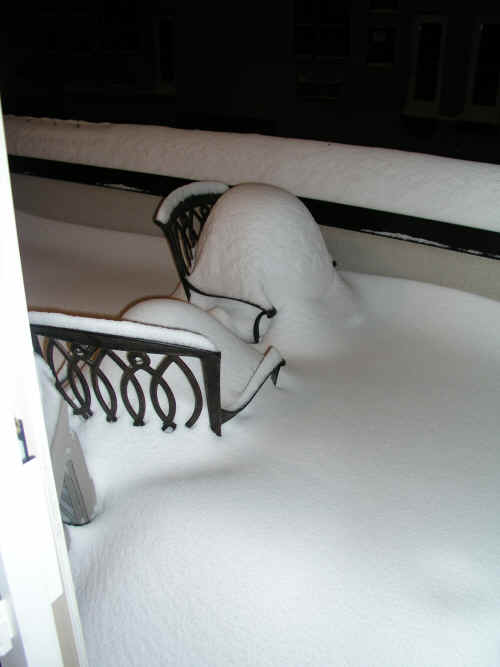 Buried up over the seats of the chairs

Erick seems to enjoy watching me enjoy the snow! :) He asked me if it would ever end! I said nope! I guess it will
EVENTUALLY end. Spring will be here...one day!
Dru stayed over the last few days. Not sure this has been a good thing. I seem to find myself in trouble when he stays.
It isn't his fault though, it is mine. I let these things happen. You know there are times when I feel controlled by these addictions.
It is as if I am out of control - as hard as I try to stop, I can't. It is like a dragon that swallows you whole. You fight it but in the endit is something that is bigger than me. You can't escape the grip - you can't escape the fire breathing dragon. He burns you everytime. You can run from it...you can hide from it...but in the end it will find you. It will destroy you. Either all at once or slowly. It takes what little life you have left and then spits you out - back on the streets. Until you do it all over again - it is a never ending cycle of substance abuse. Why can't I find control. Why can't I slay this beast.
It is killing me to see my friend battle cancer. I don't think I have ever experience pain like this. Not for another human
being. It is like every ounce of me is being ripped apart into a million pieces. It is like god is pouring acid over me. It
is something that I wish I could beat for him, but yet I can't. I can't do anything but watch his pain. I can't make
him feel better. I can't say anything that makes it go away. I can't express these emotions in a way that helps at all.

All I can do is watch him. All I can do is try and stay positive. He tells me that he will likely never survive this. He
tells me that it will kill him. That his days are short. It could be weeks or months. How can this be? For someone who
has done so much for me. How can something like this happen. I don't understand it. I don't understand it.
My whole body screams. My whole being screams. My spirit screams. I need a miracle for my friend.
January 28th
You know you have had enough snow when
You find yourself looking for the tape measure instead of the ruler

Free snowcones - pouring grape juice over a cup of snow

You look out over your patio and not only can you not find your
shovel you can't find your lawn chairs, table, or BBQ Grill!

You no longer need the fire ladder to climb out your third story balcony

You find yourself storing perishables outside your back door

Instead of making ice in the freezer you simply open your backdoor
and scoop up a glass of snow

Your downtown home begins to look like your cottage getaway in ski country

Instead of asking your neighbor if you can borrow his shovel, you find
yourself asking to borrow the backhoe

You yawn when Jim Cantore (off The Weather Channel) says another foot is
expected

You find yourself bored at the promo of "The Day After Tomorrow" (the weather
disaster movie coming out this summer)

You begin to think that global warming is a good thing
January 29
They are keeping Norman in the hospital one more day, as they try to get
everything situated for him at home. There is some equipment that
they are waiting onbefore they release him. I will be seeing him today
and will post an update later!

Pictures from Omaha, Nebraska (winter is not just here in Toronto)
Unknown photographer - not my photo



Nebraska - unknown photographer - not my photo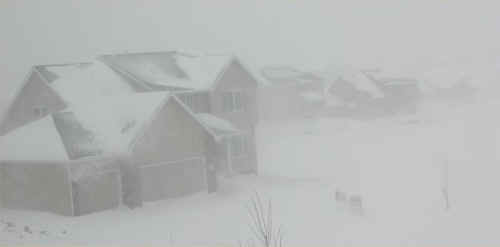 Nebraska Blizzard - unknown photographer - not my photo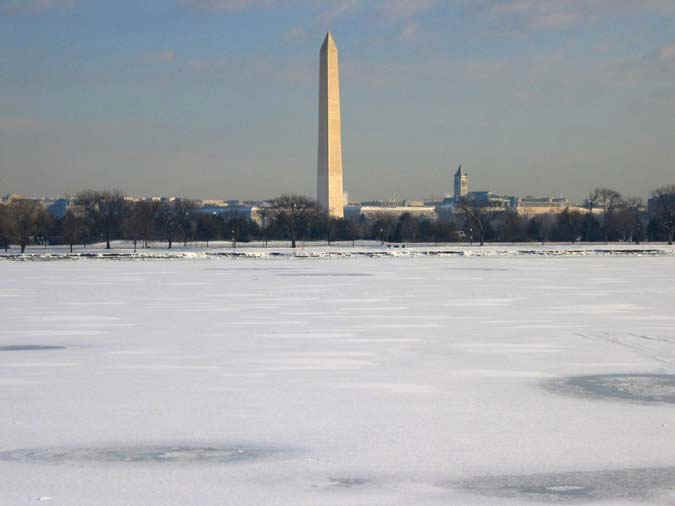 Potomac River. - Unknown photographer - not my photo

Potomac River. - unknown photographer - not my photo

Hudson River, New York - unknown photographer
not my photo

Hudson River, unknown photographer - not my
photo
FROM EUROPE
LONDON (Reuters) - Thousands of air and rail passengers have been
left stranded and road traffic has been paralyzed across Europe after
a cold snap brought heavy snow and bitterly cold temperatures from
London to Moscow.
The severe winter weather seems to be everywhere.

Canada
Observed at Key Lake, Canada
Temperature -62 °F / -52 °C

Can you imagine it that cold????
This weekend a BIG storm moves into the Ohio Valley, it may be mainly rain in the Paducah
area changing to snow. BIG snows north of there though, a real winter storm.
Meanwhile, temperatures will be minus thirty and below, in the Northern Plains and very cold
air for the Ohio Valley as well.
Well, when I said a few weeks ago that some extreme weather was coming I didn't imagine it
would be this bad. The signs were there though and so here we are. It isn't going to get better, the
next 10 days look cold and stormy. Stay tuned.
Read this
The Pentagon's Weather Nightmare
January 31
Hi everyone, sorry I have not been updating as much. Things have been busy and a bit stressful. I feel
a little lost at times (probably an understatement). I am struggling and fighting those things that cause
me grief the most.
David and I spent the day taking pictures of Lake Ontario and running errands. Just having fun
doing nothing in particular. :)
We decided we would have steaks for supper and so we bought four. When Doug came home he said,
he would start up the grill. :) I was like GRILL???? Yes grill! :) So we had a BBQ :) in the SNOW and
falling snow! We picked up another inch or two of snow tonight. It seems like the snow never ends.
Norman is our of the hospital and is at home. YAY finally! I thought they had kidnapped him or
something and were not going to let him go! :) Anyway, I am sure he is THRILLED to be back home
and getting in the groove of things!
David is leaving for Hong Kong this morning and will return on Thursday. I am going to stay
here in Toronto for now. The reason for this change of plans is that David wasn't feeling well and
we thought it best just to have a shorter trip. He has been sick for awhile now. Hopefully everything will be
okay.
Hmmm, what else what else - it was a difficult week. There are a lot of things going on but I do feel a
lot better now especially since some of the people around me are in a better space. :) Life isn't always easy,
nobody said it would be. I try to take it one day at a time. There are major battles in my life with addiction.
I can't seem to get control. It is my battle to fight though. Nobody can fight it for me.
Mother is excited about her house. I am happy for her.

I will post some pictures later.
More weather information about global change
The greatest environmental catastrophe in recorded history is now unfolding. The Woods Hole Oceanographic
Institute has announced that the North Atlantic Oscillation is failing, and, along with it, the Gulf Stream. The
Institute has observed "the largest and most dramatic oceanic change ever measured in the era of modern
instruments," in an analysis of Atlantic ocean currents from pole to pole. Woods Hole has found that salinity
levels are changing in ways that they have changed in the past leading to periods of abrupt climate change.
Is it for real? It is interesting to read.

Doug going to BBQ Last Night :)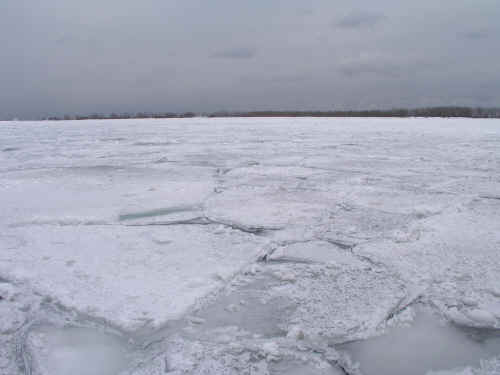 Lake Ontario - photo I took when David and I went out to
check on the ice. Lots of ice to see.

Lake Ontario = another photo I took while out.

Lake Ontario - ICE!
CLICK HERE FOR NEXT CHAPTER

------------------------------------------------------
RETURN TO HOME PAGE

RETURN TO AUGUST 1-17th
RETURN TO AUGUST 18th-31st
RETURN TO SEPTEMBER 1-9th
RETURN TO SEPTEMBER 10-30th
RETURN TO OCTOBER 1-15th
RETURN TO OCTOBER 15-31st
RETURN TO NOVEMBER 1-15th
RETURN TO NOVEMBER 16th
RETURN TO NOVEMBER 17-30th
RETURN TO DECEMBER 1st-15th
RETURN TO DECEMBER 16th-22nd
RETURN TO DECEMBER 23rd-31st
RETURN TO JANUARY 1st-8th
RETURN TO JANUARY 9th-26th
------------------------------------------------------
------------------------------------------------------

Email beaudodson @ usawx.com (remove spaces)