MARCH 2004
SPRING SPRING SPRING
Big Mud Puddles and Sunny Yellow Dandelions


When I look at a patch of dandelions, I see a bunch of weeds that are going to take over my yard. Children see flowers for Mom and white fluff you can blow and you can wish on.
When I look at an old drunk and he smiles at me, I see a smelly, dirty person who probably wants money and I look away. Kids see someone smiling at them and they smile back.
When we hear music we love, we know we can't carry a tune and don't have much rhythm so we sit self-consciously and listen. Kids feel the beat and move to it. They sing out the words. If they don't know them, they make up their own.
When I feel wind on my face, I brace myself against it. I feel it messing up my hair and pulling me back when I walk. Kids close their eyes, spread their arms and fly with it, until they fall to the ground laughing.

When we pray, we say Thee and Thou and grant me this, give me that.
Kids say, "Hi God! Thanks for my toys and my friends. Please keep the bad dreams away tonight. Sorry, I don't want to go to Heaven yet. I would miss my Mommy and Daddy."
When I see a mud puddle I step around it. I see muddy shoes and dirty carpets. Kids sit in it. They see dams to build, rivers to cross, and worms to play with.
I wonder if we are given kids to teach or to learn from? No wonder God loves the little children! Enjoy the little things in life, for one day you may look back and realize they were the big things.
I wish you Big Mud Puddles and Sunny Yellow Dandelions!

"Life is not measured by the number of breaths we take but by the moments that take our breath away."

author unknown
Norman sent me the above in an email and I thought it was WONDERFUL!!

THANKS NORMAN!
Welcome Spring, we have waited for you so long, our moods smile upon your arrival!
With spring comes thunderstorms, it could be a bad week for some areas. Severe weather and tornadoes down south. I expect a tornado outbreak Wednesday and Thursday, across the Lower Mississippi Valley.
March 2, 2004
I have been in Waterloo all day. :) Tired and worn out, trying to rest. Still some snow on the ground here but it continues to melt. I thought we were going to get some rain but in the end the rain didn't show up.
Working on those photographs still, maybe later tonight will get some of them finished. :) Will try at least!
OK CATCHING UP ON PHOTOS FROM THE PAST THREE OR FOUR DAYS.
IT TOOK ME AWHILE. HERE ARE A FEW, I WILL POST MORE TOMORROW WHEN I HAVE TIME!!


Sitting out on the patio Sunday. There
was a lot of snow still, but it was really
nice outside! :)
SPRING IS IN THE AIR UP HERE!!!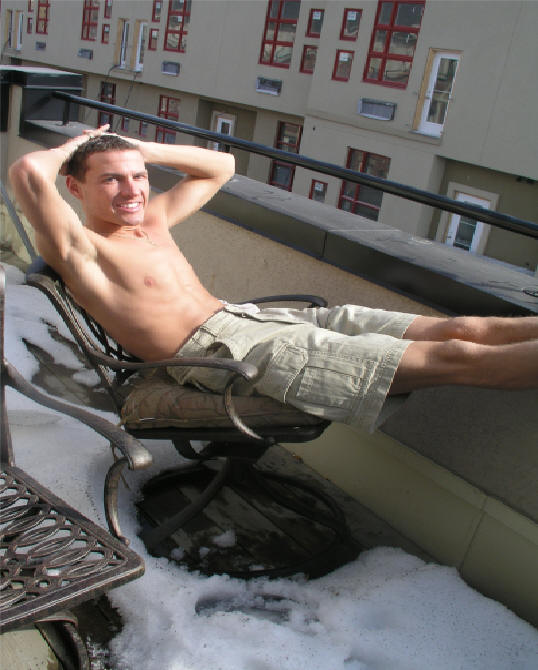 Outside on Sunday. SNOW still on the ground, but it was
almost hot on the patio! :) Nice for later February!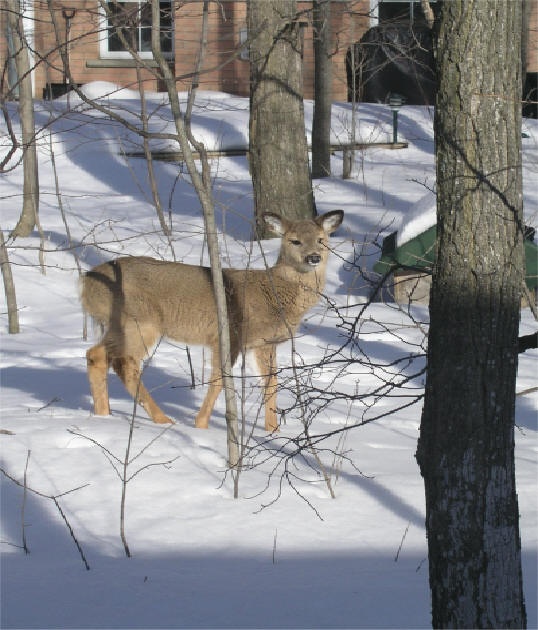 Deer behind David's House in Waterloo, Saturday Afternoon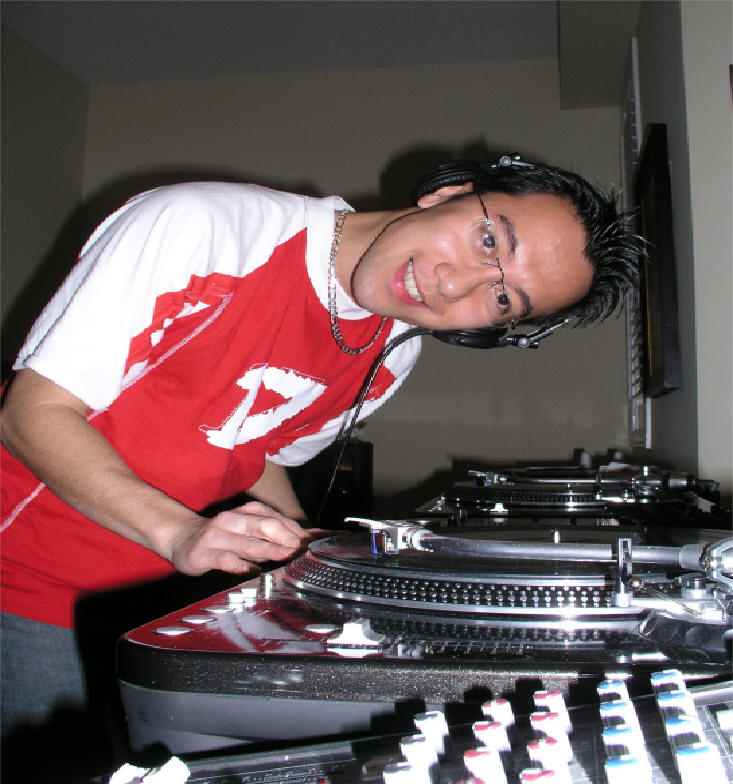 Saturday Night DJ Erick and Doug spun a lot of records!
:) This was after we got back from eating out.
David and the rest of us were there. Lot of fun. I will post more pictures tomorrow. :)
KRISTY SENT DAVID SOME FLOWERS.
Wednesday March 3, 2004
Well I am definitely watching the weather for Kentucky and Illinois for tomorrow and Friday. There could be some serious severe weather. Looks to me like a tornado and severe thunderstorm outbreak. Still early though, but I will keep watching it.
I will try and post some more pictures later today, if I have time.
Hmmm, being told I have to go to New York City to meet with Canadian Immigration. This is for my Visa application.
Target for tornado outbreak is Arkansas tomorrow, although severe thunderstorms will also move into West Kentucky and Southern Illinois late in the evening hours.
Could be a nasty tornado outbreak.

Keri and Erick at the Morton's of
Chicago Restaurant - Sat Night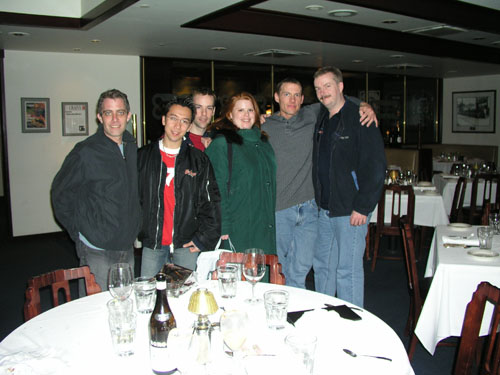 Everyone at Morton's Restaurant, after we were finished! :)
It was a lot of fun, a bit too much fun maybe :) Good memories though.
Oh and there was even a surprise guest at the house, Bling Bling, not sure where Bling Bling is from! :) But she was very entertaining.
Grandmother is doing well...she is able to talk again and understand conversation.
Thursday March 4, 2004 - Stormy Day
Well I have been calling for these thunderstorms for about a week or so now. It appears the forecast is on target.
It appears a severe weather outbreak is likely today across portions of Texas, Arkansas, Oklahoma, and then north and east of there into the Ohio Valley. Biggest threat for tornadoes still appears to be Arkansas, part of East Oklahoma and Northeast Texas. Could be some big ones. There is some question as to how much sunshine there will be down there. The more sun the worst the weather will be.
Appears the biggest threat for Western Kentucky and Southern Illinois will be a squall line later this evening and into tonight. Main threat with the squall line would be strong damaging winds and some hail. Can't rule out some isolated tornadoes though. Heavy rainfall is also a problem. Flash Flood Watches are already in effect and probably will continue. As much as three inches of rain had fallen as of midnight last night, more heavy rainfall is likely later this evening and tonight. So the flood problem could be pretty bad in some areas. Rivers will continue to rise as well - they are already high.
You will actually see temperatures go up through the evening and night, as strong southerly winds wrap into the deep low pressure area.
I will keep an eye on it through the day. I plan on being around the computer.

Kristy sent me an awesome painting, it is a painting of ShadowAngel! Very nice, I will have to post a photograph when I get one taken.

Norman is doing ok, he went back to the DR yesterday and got good reports all the way around. He is having eye surgery again on the 17th of March. He has asked everyone to keep him in their prayers on that day. Hopefully the DR will be able to restore some of his sight in that eye. We will all hope for the best! Meanwhile, his foot is doing better and better. He should be out of his wheelchair in perhaps two weeks or so. That is the goal at least.
Mother closed on her house, that was last Friday. She should take possession around the 28th or so of March. David and I are currently planning on being down in Western Kentucky during that time.
I am having to travel to New York City for a meeting with Canadian Immigration. This meeting is schedule for Tuesday. I am not really looking forward to this. I have to go. Hopefully they will finally approve my visa. If not, then we will regroup and figure something out. We always do.
In the meantime I am traveling to Providence, Rhode Island. I am leaving (I think) on Saturday and will be there at least a week.
Hopefully I will like this area? :) Who knows, it is near the ocean so that is good. :) Not many storms though, but some snow. Anyway we shall see.
Hmmm what else is going on...
Nothing I can really talk about on the web-site right now. Most of you know some of the other things to pray about or that we are working on or dealing with day by day. So keep praying and hoping on those subjects.
NOON WEATHER UPDATE
Check out the squall line...a line of severe thunderstorms from Oklahoma down into Texas, it is a mean one.
Tornado Risk today is the greatest from Texas, Oklahoma, Arkansas, and now Southwest and Southern Missouri.
Looks like Southern Illinois and Western Kentucky will see a line of thunderstorms. A squall line later tonight. High winds being the main threat with this line of storms.

3 p.m. radar, major squall line moving through Oklahoma and Texas
More than SIXTEEN tornadoes so far in Texas, lot of damage to houses and farm buildings, more than 50 reports of severe weather including large hail and high winds.
Wichita Falls, Texas homes and businesses damaged, some cars overturned, and some homes destroyed. School gym caved in just east of the city.
Storms continue to race northeast and east at about 60 miles per hour! Very fast...
New tornado watches now cover all of Southwest Missouri and all of Western Arkansas. As of 3:30 p.m.
Appears the storms won't move into Kentucky and Illinois until well after dark. The main line at least. Still looks like mainly a squall line by the time it reaches that area. Mainly high winds with the line of storms. Hopefully the tornado threat will have diminished.

3:30 p.m. Tornado Watch Graphic

Evening...
New tornado watch now for Southeast Missouri and Western Tennessee...
Looks like this is still going to be a squall line event, line of thunderstorms into Kentucky and Illinois later tonight. High winds being the main threat...

Tornado Watches - Evening

7 p.m. Line of storms has moved well into Arkansas
now and Southern Missouri.
Late Evening: Storms moving into Missouri and Eastern Arkansas. They have lost a lot of their intensity and mainly just a line of strong thunderstorms with heavy rain, some lightning, and some strong winds. Looks like that will be the most anyone can expect in Western Ky and Southern Illinois.

Late evening - storms have died down a lot since
earlier this afternoon
Friday, March 5th

Storms as they hit Paducah and Metropolis, line intensified pretty fast nearing severe levels in some areas.

This was early this morning around 3 a.m. down there

SQUALL LINE AS IT MOVED THROUGH
PADUCAH, MAYFIELD, AND METROPOLIS
Lots of severe weather yesterday, mostly down in Texas, Oklahoma, and Arkansas. Lot of tornadoes and damage. Fortunately the worst stayed down there. Just a lot of heavy rain and some lightning across Southern Illinois and Western Kentucky as the squall line moved through. Not that those areas need more rain.
If there are storms today they should be east of Paducah and moving away from the area. That is good! I don't see any other real threats for severe weather for awhile.
Going to Toronto this afternoon. I have a meeting with my immigration attorney. We have to discuss the New York City meeting.
I am leaving on a plane tomorrow for Providence, Rhode Island. David is going with me there and to the New York City meeting, Then he is coming back here to Waterloo. Not sure what I am doing after that. I will be in Providence though until next Friday or Saturday.

NOON

We are leaving shortly for Toronto. Radar is showing lots of showers and thunderstorms down in Arkansas, moving into Missouri and Western Kentucky. A bit more than expected actually. There could be some heavy downpours, lightning, and strong winds with these storms. They should remain right below severe levels, although there could be a few warnings especially as the storms move a bit further east.
SATURDAY, MARCH 6 2004
PROVIDENCE, RHODE ISLAND
WOW First impression are GREAT! :) A nice little sea side town. Newport is where I am. David is with me. We flew straight in from Toronto on a TINY plane. One of the smallest planes I have been on since my dad used to fly when I was a little kid!
It is a beautiful area, from what I have seen so far (which isn't much) It is nice! The ocean, lots of sailboats, an historic area. One of the countries oldest towns. We will go to Providence tomorrow. Providence is about 20 minutes north of Newport.
Talked with grandmother on the phone earlier today, she is doing ok. She is not of the same mind she was back in the fall. The stroke has taken a toll on her. She is kind of like talking to a little kid, which is sad but at least she can talk and understand you. Her birthday is next week, she will be 89 years old!
I saw Norman this morning, he was in GOOD SPIRITS! :) LOTS OF SMILES! :) So that made me happy! He was getting ready for a dinner this evening with one of his friends. So I am sure they will have PLENTY of good food. Norman is a great cook, perhaps now that Martha is going away for an extended vacation Norman could take over her show? Well maybe just the cooking part of the show - just kidding Norman.
SUNDAY, MARCH 7 2004
Heading out here, will post some pics tonight if I get a chance!
Sunny and nice here on the east coast.

View from my hotel room :) - the harbor


On the coast in Newport, south coast


Newport by the shore

This is looking across the harbor at Newport, you can see the church steeples if you look closely :)

Looking across at Middleton, which is right north of Newport. Rhode Island, also on the water

Middleton - beautiful cliff walk area. You can walk all along the seashore on the cliff. I love it.


One of the many BEAUTIFUL CHURCHES here in Newport!!!!
Love those churches!!!!

SO DAVID AND I HAD A GREAT TIME TODAY JUST DRIVING AROUND AND LOOKING AT ALL THE NEAT HOUSES HERE IN NEWPORT. WE ALSO DROVE UP TO PROVIDENCE BUT I WAS NOT AS IMPRESSED WITH THAT AREA.
I LOVE THE NEWPORT AREA THOUGH :) IT IS VERY NICE, PEACEFUL, BY THE WATER, BY THE CRASHING WAVES! :) ALL VERY NICE!
I COULD SEE LIVING HERE! :)
It was almost 50 degrees here today, meanwhile in Toronto, it is SNOWING! :)
Monday, March 8th
All is well here, going to see more of the Newport area today. David and I leave for New York City this evening on a train. We have an immigration hearing tomorrow. I will post something later tonight if I get a chance once I get into New York.
:)

The train ride, looking out the back window

WE HAVE ARRIVED IN NEW YORK CITY :) THE BIG APPLE, ALWAYS EXCITING TO BE HERE!! YOU CAN ALWAYS FEEL THE ENERGY IN THE AIR HERE!

SO WE ARE GOING TO HAVE THE IMMIGRATION MEETING TOMORROW AFTER 1 P.M. I WILL TRY TO POST AN UPDATE AS SOON AS I CAN.
SNOWING HERE - LIGHTLY :)

David and I ate at Planet Hollywood, Strawberry
Shortcake for dessert :)
It is snowing here this evening, it is about 11 p.m. now. We just got back in. I am anxious to get through tomorrow. It is a big day trying to get the Visa. It is a big deal for all of us.
TUESDAY. MARCH 9th - 2004 IMMIGRATION HEARING DAY
Early this afternoon, we will know whether or not I will be getting a visa. At least that is the plan. They may or may not tell us right then.
I will post an update as soon as possible.
HUGE Noreaster forecast for Rhode Island and the Northeast tomorrow night into Thursday. So I will get to see my second Noreaster this year - second ever in my life!
There is supposed to be heavy snow and rain, winds over 50 miles per hour in the island.
Evening
One moment comes...and goes
Like the seasons of the years...that pass us by
Laughter...tears
Joys...and fears
So much time is wasted...on things gone past
This moment won't last...any longer than the last
But yet sometimes it seems like it all stand still
So yeah...mud puddles and dandelions
Tear drops...and smiling faces
This was my day

Waiting...to hear
Waiting...once again
- beau
----------------------------------------------------------
So hmmm, yeah today was a big day. It was a day that we have been trying to see since last summer even before my court victory.
Waiting to get my visa, waiting to be able to travel to Canada legally. Waiting to be through with the sketch of worrying about what will or will not happen at the border.
And so David and I we stood in line at 1:30 p.m. outside of this big building, in the chilly New York air, a hint of a raindrop here and there.
We made our way through the line and into the building.
I met with Pat Thompson, the immigration agent. She talked with me for over two hours. It was a long two hours but I was at ease through the process. We discussed my, hmm well my entire life from the time I was 18 all the way through today. She tried to get a grasp of what is was I was trying to do with my Visa. She was trying to get a grasp as to why David has helped me so much, what Norman and Doug and others see in me. She was trying to understand all of my work over the years with the church, the youth center, the tornado victims in Birmingham and Massac County.
It was a process
In the end, she was on our side. She indicated that she wanted to give me this visa and she wanted to work with us. She said that it would take some time for her to go through all of her notes, everything she had written down during the interview. She did say though that she does not make decisions based on whether she likes or dislikes me. She has to make a decision based on whether or not I am a risk to anyone in Canada.
So I left the meeting feeling like we have a good chance of obtaining the visa.
David talked with her for about 1/2 hour. She asked him a lot of questions about our friendship and about his help that he has given to me.
......
I am now back on a train, taking me to Newport, Rhode Island.
David is at the hotel in New York. He was going to go back to Waterloo tomorrow.
I feel hmmm, I feel as if I am on the right track. I feel like that I am about to make a decision on where I am going to live. I am moving forward. I am moving forward with what David, Doug, Norman, Erick, Kristy, Brett, my family, my friends have wanted for me since this all started - getting on with my life, being free, getting settled somewhere, starting over - flying.
And so here I am on the train surrounded by lots of people. I am at peace with the immigration subject. I am peace with where I am at in my life. I have many things that are going on that make life bitter sweet. Some of them everyone that reads this page knows about others many of you do not. But I know in my heart that I am no longer in the midst of a great storm, but rather that storm has passed us by long ago. Now life is dealing with life. Dealing with those things that all of us have to deal with. Doubts, fears, concerns, the normal stuff that each and every one of us have to worry about.
God has been with me through all of this and I know he will continue to be with us through the storms that do come our way.
As I always say...
One day at a time, one day at a time. Don't forget to stop and smell the flowers.

DRUM ROLL
NEXT CHAPTER
BEGINS HERE - CLICK HERE

------------------------------------------------------
RETURN TO HOME PAGE

RETURN TO AUGUST 1-17th
RETURN TO AUGUST 18th-31st
RETURN TO SEPTEMBER 1-9th
RETURN TO SEPTEMBER 10-30th
RETURN TO OCTOBER 1-15th
RETURN TO OCTOBER 15-31st
RETURN TO NOVEMBER 1-15th
RETURN TO NOVEMBER 16th
RETURN TO NOVEMBER 17-30th
RETURN TO DECEMBER 1st-15th
RETURN TO DECEMBER 16th-22nd
RETURN TO DECEMBER 23rd-31st
RETURN TO JANUARY 1st-8th
RETURN TO JANUARY 9th-26th
RETURN TO JANUARY 26th-31st
RETURN TO FEBRUARY

------------------------------------------------------

Email beaudodson @ usawx.com (remove spaces from email)