SEPTEMBER 2004 - IVAN CONTINUES TO RIP ACROSS
THE EASTERN UNITED STATES
Saturday...
MASSIVE FLOODING IN PITTSBURGH, PA. Incredible pictures coming out of that region. Some of the worst flooding in recent times. Historic flooding.
The photos below were not taken by me - they are from the news media: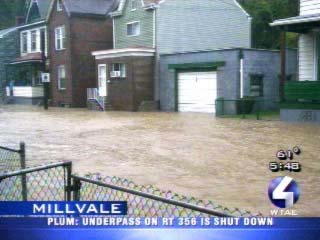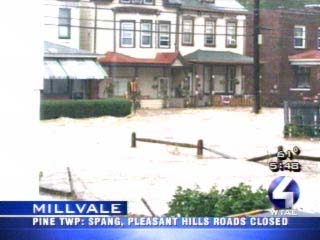 Above photos from the Pittsburgh area news media!
THE OHIO RIVER IS GOING TO FLOOD.
FOR THE OHIO RIVER AT PITTSBURGH, THE LATEST STAGE IS 25.1 FEET AT 1130 PM FRIDAY. MAJOR FLOODING IS FORECAST, WITH A MAXIMUM STAGE OF 30.5 FEET TOMORROW EVENING, WHICH IS 5.5 FEET ABOVE FLOOD STAGE. THE STAGE WILL RISE ABOVE THE FLOOD STAGE OF 25.0 FEET AFTER MIDNIGHT TOMORROW. THE STAGE WILL FALL BELOW FLOOD STAGE SUNDAY EVENING. AT 30.0 FEET, WIDESPREAD FLOODING OCCURS IN THE DOWNTOWN BUSINESS DISTRICT.
MAJOR tornado outbreak yesterday. The Washington D.C. area witnessed over 50 (YES FIFTY) TORNADOES! Just unreal.
Ivan has produced over ONE HUNDRED TWISTERS SO FAR! That makes it the third largest tornado outbreak EVER from a hurricane.



DC TWISTERS - news media photos



DC TWISTERS - RECORD OUTBREAK

TWISTERS SMACK THE WASHINGTON DC AREA
(news media photos)

DAY OF THE TWISTERS - 50+ TORNADOES
This all comes after Frances produced 100+ tornadoes.
There has been a RECORD number of tornadoes this year across the entire nation.
No visa yet so no trip to Toronto. :)
It may be a few weeks before my visa arrives.
Current plans are to go to Florida or Alabama and soon. Will post updates as I get information!
UPDATE ON NORMAN:
I spoke with Norman on the phone and he is doing really well. He will not have to have another surgery. So that is very good news!
Still watching the next hurricane. Jeanne. Hopefully she misses the United States.

IVAN PHOTOS FROM FLORIDA - PENSACOLA AREA.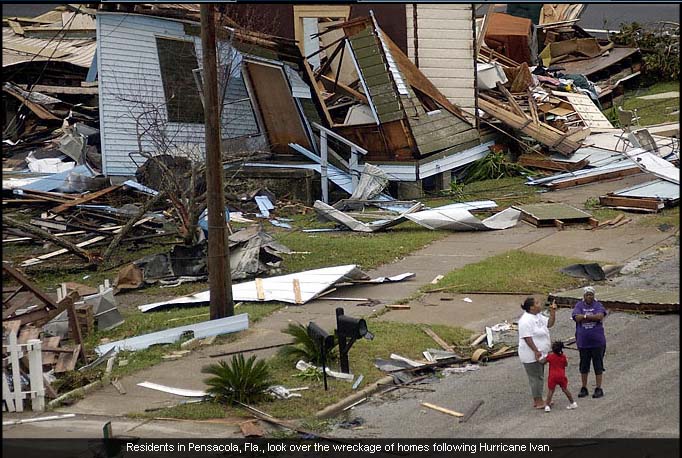 News media photos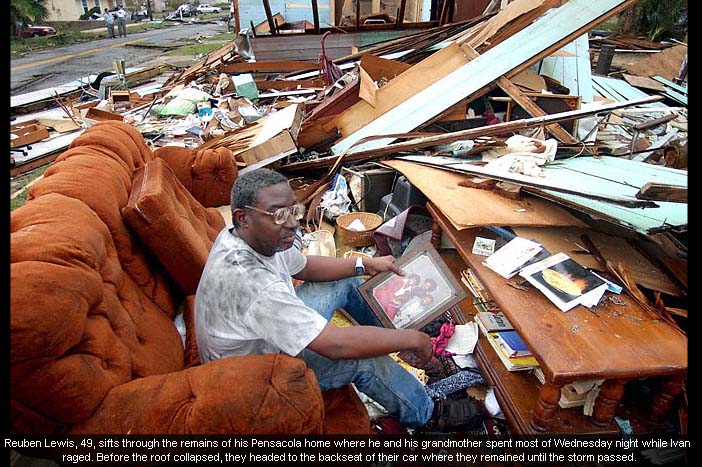 News media photos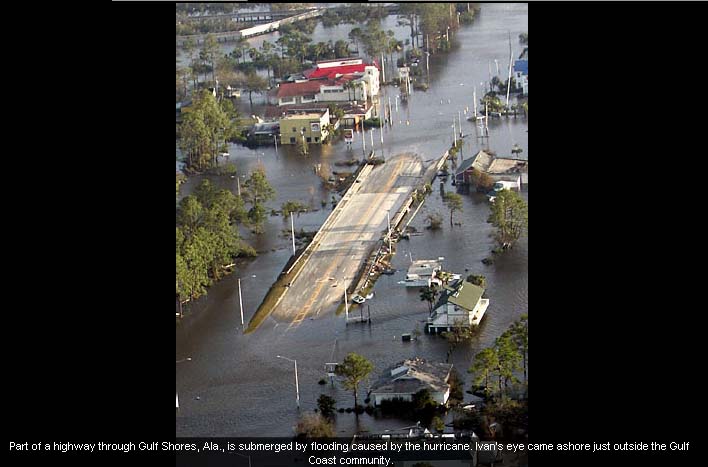 News media photos

News media photos

PENNSYLVANIA FLOODING (news photos)


funnel cloud is seen as it passes toward Boonesboro, Md.,
Friday, Sept. 17, 2004. The remnants of Hurricane Ivan
brought tornados and rain to Virginia and Maryland.
(AP Photo/Rick Fulks)

James Abney, left, hugs his sister Jinnie Batts at the site of his home which
was destroyed by a tornado associated with Hurricane Ivan, in
Marianna, Fla., Saturday, Sept. 18, 2004. Abney was in his home when
the tornado struck earlier in the week. (AP Photo/Eric Gay)
ONE MONTH OF RED CROSS RESPONSE FOR
HURRICANES FRANCES, AND CHARLEY
AND THIS DOESN'T EVEN INCLUDE IVAN
620 shelters opened, housing more than 286,200 people; more than 5 million meals served.
The American Red Cross has been providing support to those affected by Hurricanes Bonnie, Charley and Frances since August 13th, the first storm occurring one month ago. The following are the latest Red Cross response numbers as of noon on Monday, September 13, 2004.
Red Cross Response to Hurricanes Charley , Frances and Ivan – Starting August 13
| | |
| --- | --- |
| | AUG. 11 TO PRESENT |
| Shelters | 620 |
| Shelter Population | 286,286 |
| Meals/Snacks Served | 5,527,551 |
| Emergency Response Vehicles | 311 |
| Health Services Contacts | 13,925 |
| Mental Health Contacts | 23,293 |
Hurricanes Charley , Frances - As of 11 a.m. ET , Sept. 13, 2004
| | | |
| --- | --- | --- |
| | CHARLEY | FRANCES |
| Shelters | 253 | 340 |
| Shelter Population | 101,744 | 183,979 |
| Meals/Snacks Served | 3,239,763 | 2,257,440 |
| Emergency Response Vehicles | 154 | 118 |

Red Cross Disaster Services (media photos)

A Red Cross worker surveys damage caused by
Hurricane Ivan near Orange Beach. (media
photo)


Red Cross Delivers Water to hurricane victims
(media photo)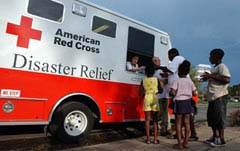 Emergency Response Vehicles distribute much
needed food and water to victims of Hurricane Frances.
(media photo)


Ice being handed out to residents (media
photo)


The Red Cross is mounting and has been mounting its biggest
relief effort in the history of the organization. (media photo)
Sunday, September 19, 2004
Beautiful weather down here - cool :)
Cold in Toronto. :) Temps in the 30s up there! Hard Frost at David's parents!
We are going down into the 40s tonight. Good stuff!
HAPPY BIRTHDAY TO JOHN :) His birthday was yesterday :)

John with his cake that Ricky baked :)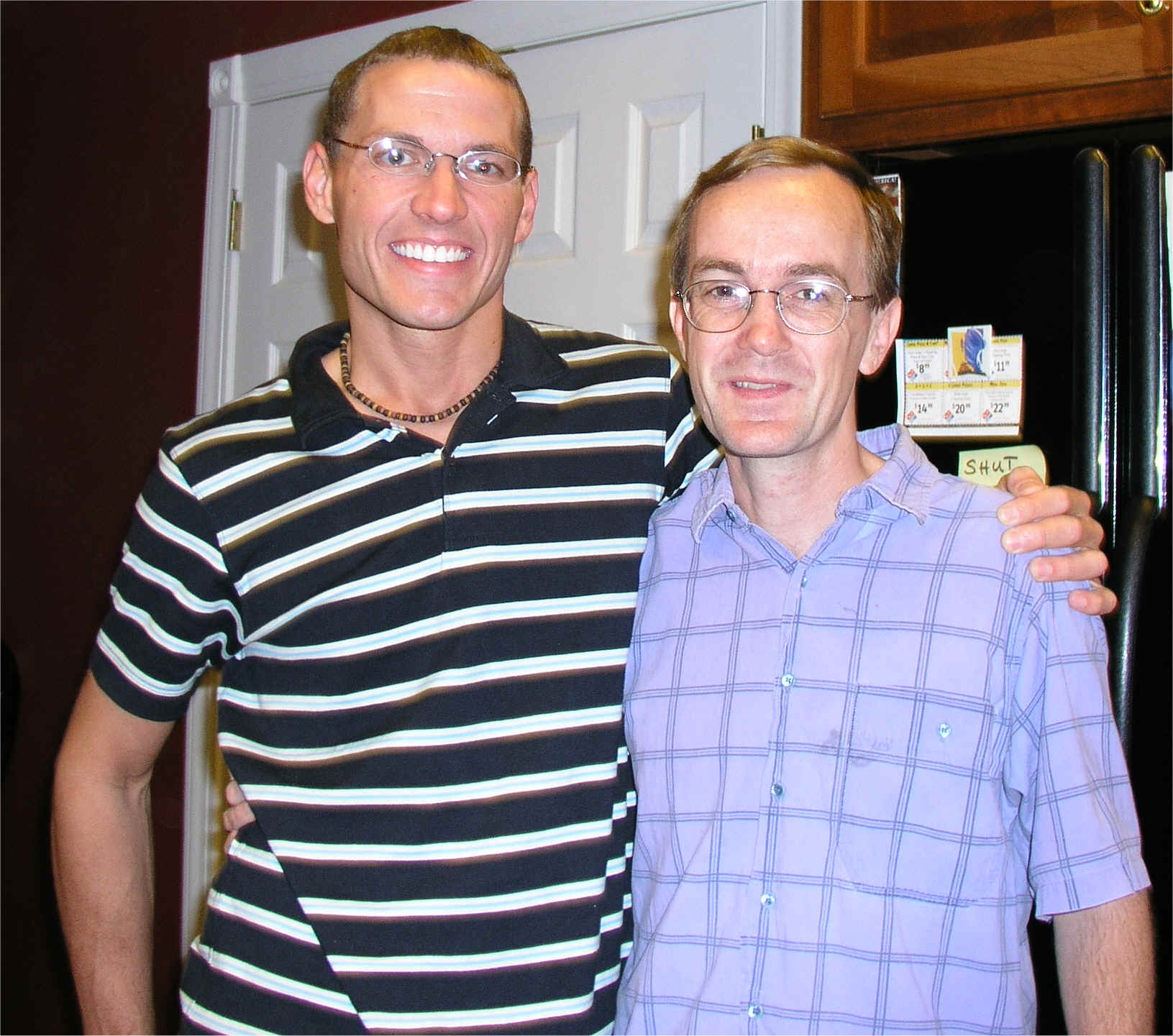 John and Beau :)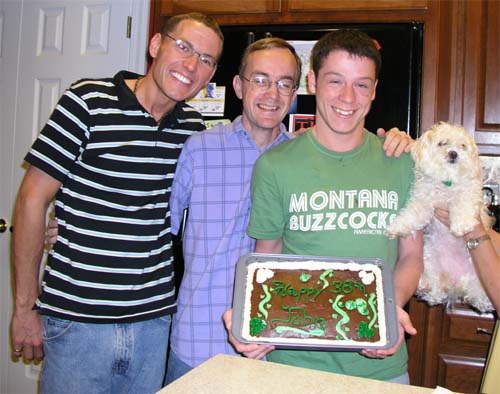 Beau, John, and Rick oh yeah and Angel :)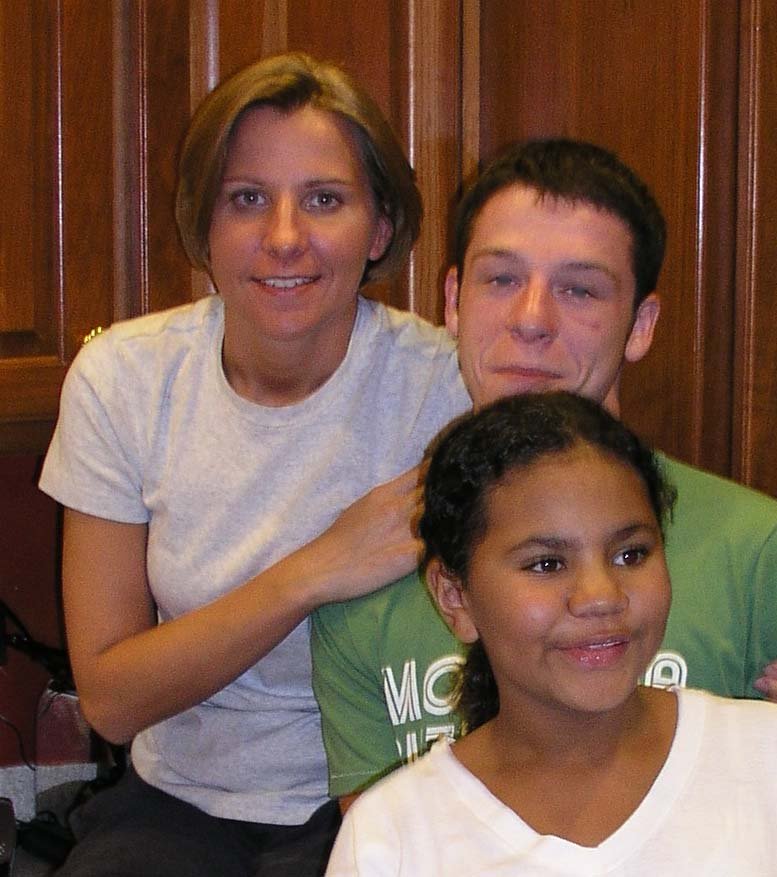 Dione, Rick, and Mariah at John's Birthday


John's Birthday
Monday, September 20, 2004
Another beautiful day down here in Southern Illinois and West Kentucky. Temps are in the 40s this morning! Fall is in the air...more and more with each passing day. :) good stuff!
HURRICANE SEASON IS EXTREMELY EXTREMELY BUSY...
Jeanne is gaining strength again off the Coast of Florida.
Karl is nearing category four strength out in the Atlantic.
Lisa is gaining strength behind Karl.
AND A NEW SYSTEM which partially came off of Ivan last week is forming off the Coast of Southern Florida.

Jeanne...Karl...Lisa ALL LINE UP IN THE ATLANTIC and a new one right over Florida may form soon.
There is also one behind Lisa way to the right that may form. INSANE CANE SEASON
Haiti's Death Toll Exceeds 500
From Tropical Storm Jeanne

Associated Press
September 20, 2004 9:11 p.m.

GONAIVES, Haiti -- Rescuers pulled bodies from floodwaters in Haiti's third largest city, dragging people from their homes and forcing survivors to spend the night in trees, atop cars and on rooftops following Tropical Storm Jeanne. At least 556 were killed.

The bodies of more than 500 people were filling morgues in Gonaives, according to Touissant Kong-Doudou, a spokesman for the U.N. mission. Another 56 were in northern Port-de-Paix.

Been gone allll day :) It is Tuesday and I will update tonight.
We are going to have a little bbq/grill here. :) Errrr I think I have to cook or something like that. Just hamburgers though. :) so I can handle that? no? :)
NEXT PAGE CLICK HERE :)

------------------------------------------------------
RETURN TO HOME PAGE

RETURN TO AUGUST 1-17th
RETURN TO AUGUST 18th-31st
RETURN TO SEPTEMBER 1-9th
RETURN TO SEPTEMBER 10-30th
RETURN TO OCTOBER 1-15th
RETURN TO OCTOBER 15-31st
RETURN TO NOVEMBER 1-15th
RETURN TO NOVEMBER 16th
RETURN TO NOVEMBER 17-30th
RETURN TO DECEMBER 1st-15th
RETURN TO DECEMBER 16th-22nd
RETURN TO DECEMBER 23rd-31st
RETURN TO JANUARY 1st-8th
RETURN TO JANUARY 9th-26th
RETURN TO JANUARY 26th-31st
RETURN TO FEBRUARY
RETURN TO MARCH 1st-9th
Return TO March 10th-27th
Return TO March 28th-30th
RETURN TO APRIL 1-11th
Return to April 12th-18th
RETURN TO APRIL 18th-27th
RETURN TO APRIL 28th-30th
RETURN TO MAY 1st-5th
RETURN TO MAY 6th
CLICK HERE TO MAY 7th-16th
RETURN TO MAY 17th-29th
RETURN TO MAY30th-June 1st
RETURN TO JUNE 2nd - June 11th
RETURN TO JUNE 11th-17th
RETURN TO JUNE 18th-26th
RETURN TO JUNE 27th-30th sunsets :)
RETURN TO JULY 1st-3rd - 2004
RETURN TO JULY 4th - 2004
RETURN TO JULY 4th-7th - 2004
RETURN TO JULY 7th-10th - 2004
RETURN TO JULY 11th-22nd - 2004
RETURN TO JULY 22nd-31st - 2004
RETURN TO AUGUST 1st-12th - 2004
RETURN TO AUGUST 13th-25th - 2004
RETURN TO AUGUST 26th-31st - 2004
RETURN TO SEPTEMBER 1st - 5th - 2004
RETURN TO SEPTEMBER 6th - 15th - 2004
RETURN TO SEPTEMBER 15-17th - 2004
------------------------------------------------------
------------------------------------------------------


Email: beaudodson @ usawx.com (remove spaces)