LATE JUNE 2004
June 18, 2004
I see my reflection
I see my reflection
I see my reflection, I don't like what I see
I see my reflection

I'm losing my way
I need someone to find me
and do me right and keep me safe from harm

I need protection
to find me a way out
Somebody to hold me
so I see the day out
To the night and keep me safe from harm

I see my reflection, I don't like what I see
I'm losing my way
I need someone to find me
And do me right and keep me safe from harm

I need protection
to find me a way out
Somebody to hold me
so I see the day out
To the night and keep me safe from harm

I'm losing my way.. I'm losing my way..
I'm losing my way, I need someone to find me
I'm losing my way way.. I need someone to find me

I'm losing my way, I need someone to find me
I'm losing my way
I'm losing my way, I need someone to find me,
and do me right and keep me safe from harm

I see my reflection
I don't like what I see

I'm losing my way
I need someone to find me
and do me right and keep me safe from harm

I need protection
to find me a way out
Somebody to hold me
so I see the day out
To the night and keep me safe from harm


-
narcotic thrust - Safe From Harm lyric
Song I like

---------------------
Severe storms hitting hard here, reports of BASEBALL SIZE HAIL entering Massac County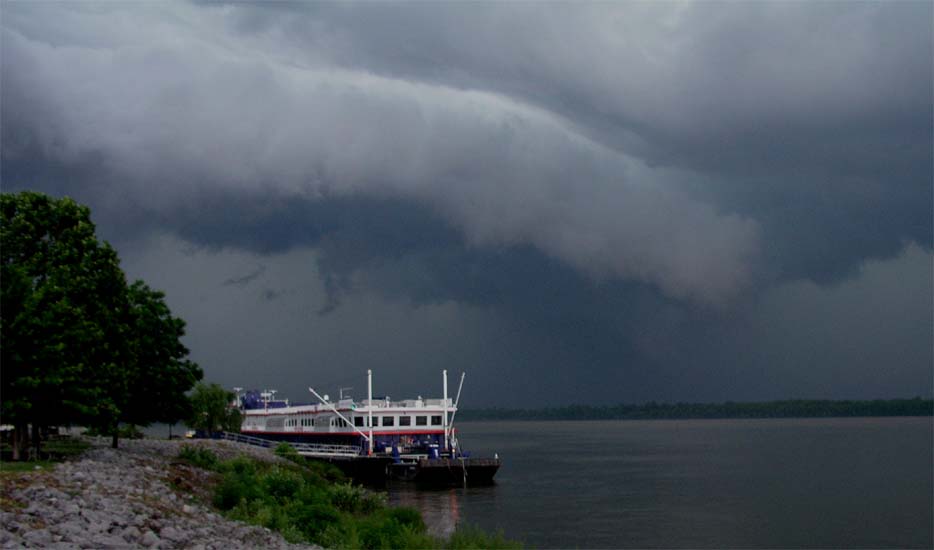 Very intense storm heading towards Paducah

Here we go AGAIN! This is the third week of severe storms

Stormy stormy stormy stormy

OMINOUS CLOUD OVER LONE OAK, PADUCAH, KENTUCKY
REPORTS OF DAMAGE ACROSS SOUTHERN ILLINOIS, SOUTHEAST MISSOURI, AND WEST KENTUCKY.
REPORTS OF BASEBALL SIZE HAIL IN PORTIONS OF JOHNSON AND MASSAC COUNTIES
REPORTS OF CAR FLOATING OFF THE ROAD IN MASSAC COUNTY

REPORTS OF WIND DAMAGE, TREES DOWN IN METROPOLIS AND MASSAC COUNTY

REPORTS OF SOME WIND DAMAGE IN THE LONE OAK AREA, WEST KENTUCKY (PADUCAH)

FLASH FLOOD WARNINGS FOR ALL THE COUNTIES AROUND PADUCAH, INCLUDING PADUCAH
THIS IS WEEK THREE FOR SEVERE WEATHER!
MORE SEVERE WEATHER LIKELY INTO NEXT WEEK.
Saturday, June 19
Today is Saturday, had I been in Toronto I would have been with Keri and at a wedding. I know Keri and everyone is disappointed that I didn't make it up there. Tomorrow is Erick's big day, as he has his CD Release. :) I wish I was there to hear that, I know it will be GREAT.
He has named the CD Twister

Hopefully I will get a copy soon. :)
Hmmm, what else is new. Norman is doing good, as I have talked with him online a few times. Things are going well for him and we are all happy about that. :)
I have not talked with anyone else.
It was cooler here today, for once! More storms are on the way though, Sunday Night into Tuesday. Could be more severe weather and heavy rain.
Sunday, June 20
Well Erick had his big CD Release today. :) I can't wait to hear it. I am sure it is fabulous!
Here is the cover for the CD :)

Twister Dance Mix - CD :)
Erick I can't wait to hear it :) :) :) :) :) :) :) :) :) :) :) :) :)
------------------------------
------------------------------
The music plays
the notes
they float through the air like bubbles
slowly drifting away

We dance
as an emotion
Slowly to the beat of the drum
we dance
We close our eyes
We imagine another world
We drift away into the notes, into the music, into
the song
For a time we are lost
as if in another time, another place
caught up in the moment, in the movement
in the dance
We are reminded of years gone past
a time of innocence
a time of peace
We forget about today
We forget about tomorrow
for now
we dance
and
The music plays
the notes
they float through the air, like bubbles
slowly drifting away
- beau
------------------------------
Monday, June 21st
You know, I never realized how easy it is to lose yourself
to become absorbed with everything around you
to try to be something for someone else
How easy it is to give up yourself, in order to be "something" or "someone"
in order to forget the reality around us
to lose yourself in the madness
to lose yourself in the chaos of everyday life
how easy it is
We become so
so fragile inside
we concern ourselves with how someone else might see us
might think about us
we forget to just be who we were meant to be, nothing more
nothing less

It is easy you know, to become someone else
I have had to do it many times
in order just to survive, in order to just make it to the next day
the other side
We wear this mask and that mask and somehow we forget
we forget who we really are
we forget what makes us us
And when we lose ourselves we take away from this world, the very purpose we were put here for
somehow we cause a quake, a quake that rumbles through the halls of Heaven
we "mess" with destiny, we risk changing the course of the way things are or were supposed to be
we lose ourselves
Once you are lost, it is not easy to find yourself again
it becomes harder and harder each time you try

Oh you get flashes of reality, of truth, flashes of who you were or who you are
you struggle to find your way back
to where you are or were supposed to be
It is that "road less traveled" that Robert Frost talked about in his poem
that road less traveled is where we are supposed to be
but most of the time we try to take other paths or "shortcuts"

for some reason
we make it difficult on ourselves
by trying to be something we are not
by trying to be someone else
I can remember my first few nights in Acapulco
How scared I was, how lonely I was, how sad I was
I remember how lost I felt
I waited for days on Rick to arrive, phoning his house, not being able to speak Spanish and trying to communicate with his mother
I was alone in another world, another country, another land
I was alone until Rick arrived to join me on this journey out of America and into the wilderness
Sitting on the beach in Acapulco, wondering how we were ever going to make it
How we were going to find work
How we were going to eat the next day
It was difficult and I had to put up all of these walls in my heart, in my soul, and in my mind

Walls
trying to hold back the thoughts of what was going on back home
Walls
trying to hold back the thought of what was going to happen to the both of us
always worrying about yesterday, thinking about today, and pushing away tomorrow

Who knew
Who knew where we would be four years down the road
I never thought we would make it
I never thought we would be alive
Taking a bus from Acapulco to Monterey, Mexico, through the day and into the night, we rode that bus
boarded in the middle of the desert by military men carrying machine guns
Me trying to ask Rick, what was going on and Rick trying to tell me that this is normal
not to worry
It wasn't hard for me to lose myself in Mexico
because I was lost

But I survived, we survived, and we made it to the next day
we did this because we had to what other choice did we have
and those days that I could just not go on any further
well
those days I did it for Rick

Life was simple back then, one might laugh at that, and wonder aloud - How could life be simple when you are on the run
How can life be anything other than complete chaos

I don't have the answer for that, perhaps it was the Grace of God
all I know is what I know
and what it was
and how simple it all seemed

We were true, you know
we were true to each other
we cried together, we laughed together, and we fought together
but we always made it
to see another sunrise
another sunset
I think back on all that I have been through
all the pain these eyes have seen
all the hurt this heart has felt

Through it all, one thing has not changed
and that is me, that which makes me me, that which makes me find hope when all hope is gone
that which makes me fight when others retreat
that which makes me stand when others fall

I am not special, I am not alone
my friends, they are the same way, always taking one more step - forward
I learn from each of them, keep moving forward - no matter what the cost, how difficult the journey
how alone you might feel, just keep moving forward

I doubt I will ever be what I want to be
that will have to wait till this life is over
perhaps another world, another place, another time
but in the meanwhile I will just be me, whatever that is, whoever that is
I will just be me, true to myself - if no one else
Monday, June 21st
For those who think it is funny or cute to play games with my emotions or my heart, well you are in for a rude awakening. I have the patience of a 1000 men. I can forgive even my worst enemies, I will overlook many things, but what I won't allow someone to do to me again is to pull me onto an emotional rollercoaster for their cheap thrills.
And make no mistake about it this time around I am going to protect my heart and I don't really care how that will impact anyone else.
I am going to my first N.A. Meeting tonight. :) It is down the street from here, so I am kinda excited about that. Not sure what to expect though.

(info on N.A. can be found here CLICK HERE )
I also have a new counselor and will be seeing her on Wednesday. :)
Going to the Ham Shack tomorrow with one of my friends, that is in Evansville. :) Checking out some scanner equipment.

Then going to see HARRY POTTER on Wednesday Night with my friend Bobby and maybe Quinton or his girlfriend.

Then going to Tennessee to see a movie this weekend. :) with a new friend, Dustin.
Otherwise, trying to get stuff done for the house, for mothers house, and everything else that life is bringing my way. :)
Tuesday, June 22nd
Happy happy:) suuurrrreeeeeee :)
So I went to my first N.A. Meeting last night. :) Nobody asked me to go or made me go, I just decided it was probably something I should do. :) I am proud of myself for going and it is just another step along the way that needed to be taken. :)
I really did not know what to expect, but it was interesting. There were about 30 people there and the meetings are held in the basement of a church. Most of the meeting was people telling about their week and how they have been drug free. :)
I didn't say anything, being shy and all. :)
Today I am going to Evansville with one of my friends, we are going to the Ham Radio Shack to look at scanners and get some other information about a radio tower. :) Should be a fun trip!
I still have to figure out what I am doing for 4th of July. :) I might go somewhere with my friend Dustin.

The Rainbow Connection
Kermit The Frog


Why are there so many
Songs about
rainbows
And what's on the other side
Rainbows are visions
They're only illusions
And rainbows have nothing to hide
So we've been told and some chose to
Believe it
But I know they're wrong wait and see
Someday we'll find it

The Rainbow Connection

The lovers, the dreamers and me

Who said that every wish
Would be heard and answered
When wished on the morning star
Somebody thought of that
And someone believed it
And look what its done so far
What's so amazing
That keeps us star gazing
What do we think we might see
Someday we'll find it
That Rainbow Connection
The lovers, the dreamers and me
all of us under it's spell
we know that it's probably magic.

Have you been half asleep
And have you heard voices
I've heard them calling my name
Is this the sweet sounds
That calls the young sailors
The voice might be one and the same
I've heard it too many times to ignore it
There's something that I'm supposed to be

Someday we'll find it

The Rainbow Connection

The lovers, the dreamers and me
:) Things are moving along down here in West Kentucky. :) Trying to get things ready to move into my new house. I am really excited and I think I will be even more excited as the days go by. :) I can't wait to move in and figure out which room is which, what goes here, what will go there.
David and I are working on putting together my media/weather room. :) This will be a state of the art weather weeniegeekwired to the hilt, REMOTE CONTROLS COMING OUT MY EARS ROOM. :) Radar, satellite internet, abc nbc and cbs television monitors, one larger tv for the weather channel and or other channels that might be interesting, if something major is going on. :) Ham radio equipment, shortwave radio and scanner equipment, and my weather station! It is going to be AWESOME!!!!! Certainly a weather weenies dream room. :P One wall will be for maps of the local area. Eventually we will have a backup power supply for this room.
It will take some time, but we are trying to get everything ordered and in place, then we will have to find a big desk that should be fun. :)
Hmmm, what else is going on - not much I guess. SUMMER IS HERE :) YAY, that means only a few months till it starts to SNOW again! I think I should start praying for snow now, it was impossible to get snow last year. :) SOOOOOO who knows what this year will bring.
My severe weather forecast for this past Spring ended up being right on the money. Another very active May and June, just like 2003.
We seem to be stuck in this "new" tornado alley, at least it has shifted from the midwest to more over this way over the past few years.
Bought some scanner equipment today for the media room.
So things are coming together nicely, but A LOT of stuff to do still. :)
For some reason I am on an impossible sleep schedule, not able to fall asleep till 4 or 5 in the morning, or 8 this morning. So I am starting to feel sleep deprivation. I am HOPING this is a temp thing. :) I have never had this many days in a row that I could not sleep. Maybe tonight will be better, I hope so!
And the final show of the evening. :) :) :) was right outside my window!!!!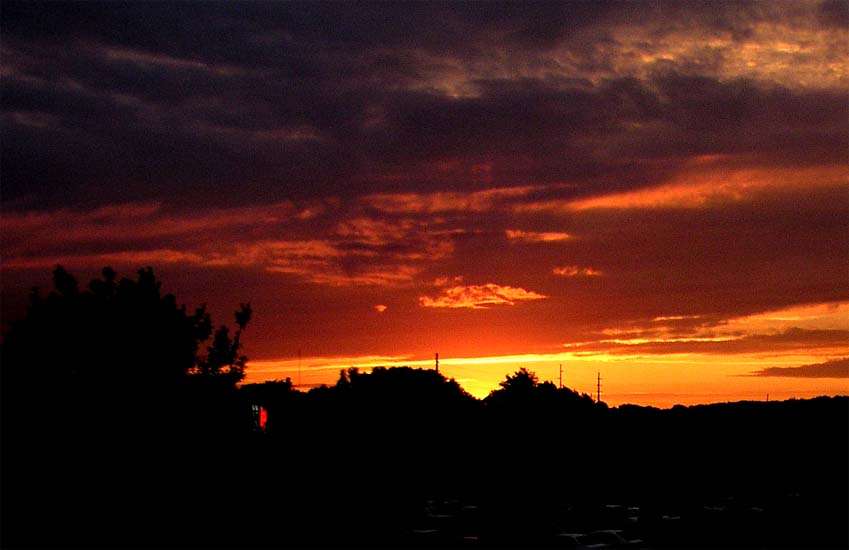 Sunset over Paducah :) WOW This is a picture to make someone special smile :)
Wednesday, June 23rd
A new dawn :) CLICK HERE

------------------------------------------------------
RETURN TO HOME PAGE


RETURN TO AUGUST 1-17th
RETURN TO AUGUST 18th-31st
RETURN TO SEPTEMBER 1-9th
RETURN TO SEPTEMBER 10-30th
RETURN TO OCTOBER 1-15th
RETURN TO OCTOBER 15-31st
RETURN TO NOVEMBER 1-15th
RETURN TO NOVEMBER 16th
RETURN TO NOVEMBER 17-30th
RETURN TO DECEMBER 1st-15th
RETURN TO DECEMBER 16th-22nd
RETURN TO DECEMBER 23rd-31st
RETURN TO JANUARY 1st-8th
RETURN TO JANUARY 9th-26th
RETURN TO JANUARY 26th-31st
RETURN TO FEBRUARY
RETURN TO MARCH 1st-9th
Return TO March 10th-27th
Return TO March 28th-30th
RETURN TO APRIL 1-11th
Return to April 12th-18th
RETURN TO APRIL 18th-27th
RETURN TO APRIL 28th-30th
RETURN TO MAY 1st-5th
RETURN TO MAY 6th
CLICK HERE TO MAY 7th-16th
RETURN TO MAY 17th-29th
RETURN TO MAY30th-June 1st
RETURN TO JUNE 2nd - June 11th
RETURN TO JUNE 11th-17th


Email beaudodson@ usawx.com (remove spaces)