December 2006 Continues...
December 20, 2006
Teddy bears finally arrived today!  Now I need to go through all of them.  These bears
will be divided between the Rape Crisis Center and Child Watch.  500 bears arrived today!

They both are down to about a dozen bears.  Sooooo guess we better get them to their new homes
as soon as possible!

THE TEDDY BEARS ARRIVE!!!!

UNLOADING THE TRUCK OF BEARS!


JUST HOW MANY BOXES ARE THERE?  They just keep coming!

I think he is almost finished.

Now for the hard part...:)

And more....

And more......

And some extra help is always a good thing!

And now my little room is filled with boxes.  Now we have to go through them
all and seperate them.  Sounds like a Christmas Project to me.

I had to open a couple of boxes to check them out :)

Ready for their new homes!
December 21, 2006
WINTER HAS ARRIVED!!!!! YES WINTER HAS ARRIVED!
It will be SIXTY degrees today with thunderstorms! NOW that is NOT winter. I am working on it though! I have been doing my snow dance and I believe we might be able to get some snow next week. Will it be in time for Christmas? :) I hope so!
Unpacking teddy bears today. There are a lot of teddy bears to unpack. :) I figure it I do a few boxes each day for the next few days...well eventually they will all be out of their boxes!
---------------
Remember the motto for now and 2007 is FORCE CHANGE! Do what has to be done in order to pursue those dreams that you have set for yourself. Set yourself free! Don't be afraid to take risks. Just do it!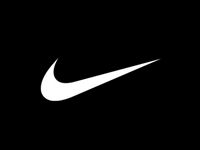 THUNDERSTORMS MOVING INTO PADUCAH THIS EVENING!
ALMOST 60 DEGREES AS OF 9 p.m.
LIGHTNING STRIKES!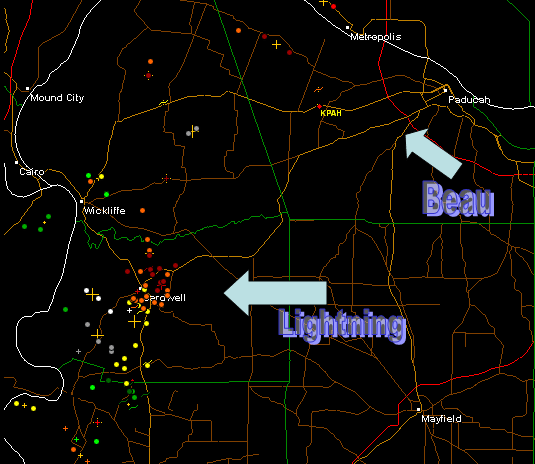 WINTER BEGINS WITH THUNDERSTORMS!  CAN WE GET 
SNOW BY MONDAY?

Paducah Radar
this evening
Looks like Lucy is alive and well down in Birmingham :)

Friday, December 22, 2006
MAJOR CHRISTMAS WINTER STORM CHANCES GROWING
I first hinted at a white Christmas 2 weeks ago! I am now forecasting the potential for a 
major winter storm across portions of the Ohio Valley on Christmas Day and the day after.  
Moderate to Heavy snow and wind is likely across portions of the region starting on Christmas 
Day and continuing into the morning hours of the 26th.  Snowfall amounts of 6-12 inches will be 
possible across portions of Illinois, Indiana, Kentucky, Ohio and Northeastward.  The exact track of this storm is
still uncertain.  Stay tuned for updated information if you are traveling on Christmas Day.
and of course someone will miss the snow :) and prob hear something like this on Christmas Day


BEARS BEARS AND MORRRRRE BEARS - They are starting to pile up.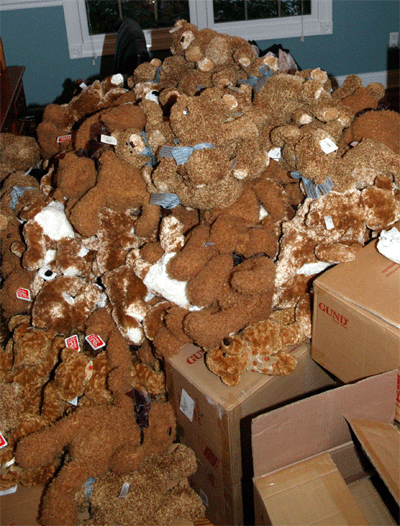 The mound of bears grows :) Time to separate

Friday Evening Models - Showing a SNOWSTORM on Christmas Day :)

SNOWSTORM FOR CHRISTMAS :)
Dark White = 6"+ Light White=1-4"

CHRISTMAS
MERRY CHRISTMAS EVERYONE FROM NORTH TO SOUTH AND EAST TO WEST! HOPE YOU
ALL HAVE A WONDERFUL HOLIDAY SEASON AND AN AMAZING 2007!
Couple of cute gifts I got ;)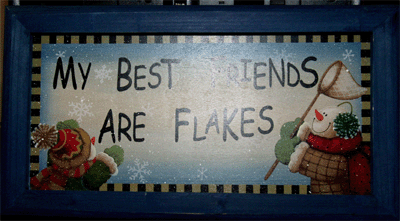 MY BEST FRIENDS ARE FLAKES :)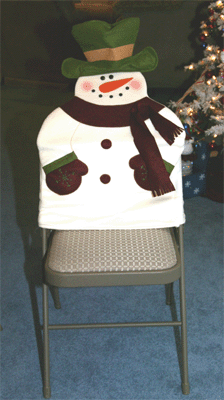 And who can live without
snowman seat covers :)

Yesterday we went to my Aunt's House in Brookport, IL

Going to chase a blizzard...or that is the hope :)  TURN PAGE
------------------------------------------------------
  
------------------------------------------------------

LIVE: VIEW 
FROM ATOP BEAU'S HOUSE
 
------------------------------------------------------
------------------------------------------------------
MAILING ADDRESS
BEAU DODSON
465 Ashcreek Road
Paducah, Kentucky
42001
-
Phone Number
Home 270-554-6715
Cell 270-970-1202

Email beaudodson@hotmail.com