WELCOME TO MARCH 2006!!!
March 1, 2006
METEOROLOGICAL SPRING HAS ARRIVED! With it WARM temperatures here in Paducah. Temperature this afternoon reached 77 degrees! A new record. It feels like spring! Two days in a row for 70+ temperatures.
I think the big excitement around here for the new few weeks will be the $3400 yes that is THREE THOUSAND FOUR HUNDRED DOLLAR gas bill that arrived in the mail! Obviously something is not right in gas land! They are going to investigate. They have already sent two guys out to check the meter and both said the meter was read correctly. The manager said I could have heated all of Paducah with that amount of gas. I am hoping for a NICE resolution. :) lol
SO anyhoo life in Paducah is going well. I am dreaming of New England though. I don't know when but at some point I want to make the move. I know I will love the Fall Season up there (not to mention all of the snow). The big question will be where? I don't know. My heart has always been in New England. I needed to come back to Paducah for MULTIPLE reasons. All of those reasons have worked out...and have proven that it was the right decision to come back here. Now some of those reasons are either gone or have/are being resolved. This certainly opens up my thoughts to where I want to live later...later meaning? I don't know :) Just later. For now I am staying here though.
I have to teach a class this Saturday for the Red Cross. The Heroes Breakfast is on Monday. Congressman Whitfield will be there speaking. Sounds fun :) I have to get up early though. EEK :) I am not a morning person...and everyone knows that. It will be a nice breakfast though.
WELCOME TO METEOROLOGICAL SPRING!

David sent me this photo from Zurich :) Beautiful!!!!!
Friday, March 3, 2006
SIGNIFICANT INCREASE IN STORMINESS OVER THE UPCOMING WEEK...POTENTIAL FOR SEVERAL OUTBREAKS OF SEVERE THUNDERSTORMS BETWEEN WEDNESDAY AND SUNDAY. SOMETHING TO KEEP AN EYE ON.
Sunday, March 5, 2006
VERY CONCERNED about the potential for severe thunderstorms tornadoes, and heavy rainfall on Wednesday through Saturday of this week. There could be several rounds of significant weather across the four state area. Everyone should stay tuned during the mid to late week for changing weather conditions.
Monday, March 6, 2006
RED CROSS HEROES Kickoff Breakfast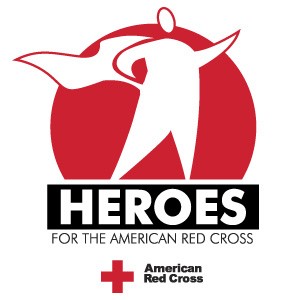 The Red Cross Heroes Campaign had their kickoff breakfast this morning at the Four Rivers Center here in Paducah. U.S. Representative Ed Whitfield was one of the speakers. We had a large turnout.
Some photos from the event :)

Red Cross Heroes Breakfast Kickoff

Jennifer and Tracy gretting everyone as they arrive at the event




Sue Henry - our Chapter President introduces some of the speakers




The Mayor of Paducah introduces Representative Whitfield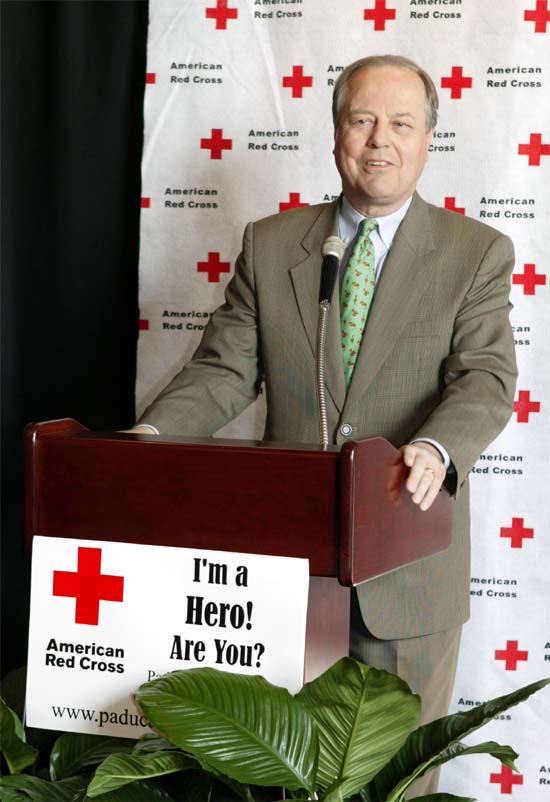 U.S. Representative Ed Whitfield


Glenn Denten Campaign Chair, Ed Whitfield, and Sue Henry





MARCH IS THE MONTH TO TURN IN MONEY AND WRAP EVERYTHING UP! SO GET BUSY EVERYONE!!!!


These are the teams and the money that has been turned in already!


01. First Hero - Grandma Blanche $1000.00
02. Team Justice - $0.00
03. Team America - $230.00
04. Shadow Angels - $1000.00
05. Team Ca

nada - $1000.00 (held a benefit in November - no update on amount raised at this time and several individuals have already donated $1000 to the hurricane relief)
06. Team Reds - $635.99
07. Team Birmingham - $0.00
08. Team Murray - $291.00
09. Team Gov - $650.00
10. Team Mexico - $650.00

Wednesday, March 8, 2006

SEVERE WEATHER OUTBREAK EXPECTED ACROSS MUCH OF THE LOWER OHIO VALLEY AND MISSISSIPPI VALLEY TODAY THROUGH THURSDAY EVENING. TORNADOES ARE POSSIBLE ACROSS THE REGION. VERY HIGH WINDS WILL ALSO BE POSSIBLE WITH A LINE OF THUNDERSTORMS.

HIGHEST RISK FOR THIS REGION WILL BE ON THURSDAY. I FULLY EXPECT A SIGNIFICANT OUTBREAK OF SEVERE WEATHER WITH THIS SYSTEM.

SEVERE WEATHER OUTLOOK - DAY 2
Thursday...Severe Storms

Line of strong thunderstorms at 2 a.m. this morning

Storms at 8 a.m. thi smorning - second big line
Squall line rapidly moving through this area...wind damage reported in Missouri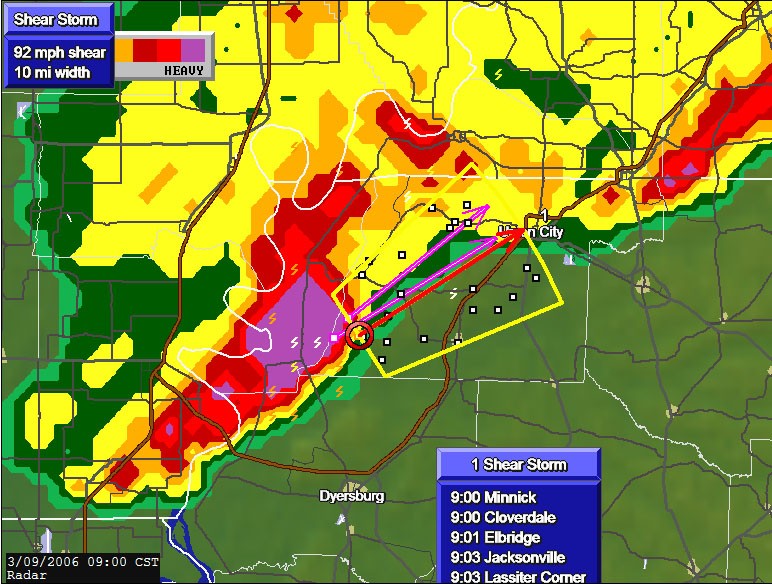 Tornado Warning for Obion County...Northwest Tennessee - this storm will move through Mayfield with high winds

Scary Day
Geesh...tornado sirens went off here three times tonight. The kids had to take shelter THREE times today down in Graves County and once in Massac County. Dione and Tommy ended up here taking shelter this evening. Tornado touched down just southwest of Lone Oak and moved through this region. Winds gusted to 65 here. Trees down throughout the area. Power is out for a lot of people. Deena and the kids don't have power this evening.
Scary night to say the least. There was a roar as loud as you can imagine around 7 p.m. as the storm went through...that coupled with the tornado sirens - well it made for a good scare.
Here is the Tornado Warning from Paducah

BULLETIN - EAS ACTIVATION REQUESTED
TORNADO WARNING
NATIONAL WEATHER SERVICE PADUCAH KY
643 PM CST THU MAR 9 2006

THE NATIONAL WEATHER SERVICE IN PADUCAH KENTUCKY HAS ISSUED A

* TORNADO WARNING FOR...
CARLISLE COUNTY IN WESTERN KENTUCKY.
GRAVES COUNTY IN WESTERN KENTUCKY.
MCCRACKEN COUNTY IN WESTERN KENTUCKY.

* UNTIL 730 PM CST.

* AT 637 PM CST...TRAINED WEATHER SPOTTERS REPORTED A TORNADO NEAR
KIRBYTON...MOVING NORTHEAST AT 70 MPH.

* THE TORNADO IS EXPECTED TO BE...
NEAR LONE OAK BY 650 PM CST.
NEAR WOODLAWN-OAKDALE...REIDLAND...PADUCAH AND 9 MILES NORTHWEST OF
SYMSONIA BY 655 PM CST.

Reports of damage thruoghout the entire area. A truck was flipped over near Sikeston. Nursing home had windows blown out near Sikeston as well. Reports of structural damage in Ballard and McCracken County. Trees down in Mayfield. Joey had nickel size hail cover the road. Reports of windshields busted out in Massac County by hail and wind. Trees and power lines down in Massac County and almost every county in Western Kentucky.
Here is the map (incomplete still) of the severe weather reports today!
TON OF SEVERE WEATHER REPORTS TODAY.
Certainly the forecast for severe weather came true.
MORE SEVERE WEATHER IS LIKELY THIS WEEKEND

Some flooding photos from today - I recorded FOUR inches+ of rainfall.

MAYFIELD ROAD AND LINCOLN
Photo by Beau Dodson





Mayfield Road and Lincoln
Photo By Beau Dodson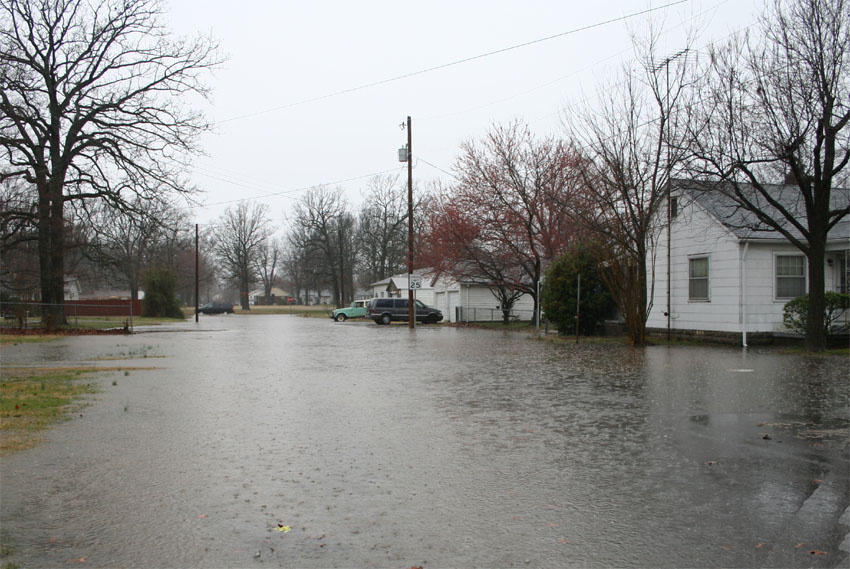 Mayfield Road and Wheeler Photo by Joseph Dillon

Mayfield Road and Wheeler photo by Joseph Dillon




Mayfield Road and Wheeler - Photo by Joseph Dillon





Mayfield Road and Wheeler photo by Joseph Dillon


TURN THE PAGE CLICK HERE
HOME PAGE
------------------------------------------------------

------------------------------------------------------

LIVE: VIEW 
FROM DOWNTOWN PADUCAH

...VIA WEB CAM FROM WPSD NEWS CHANNEL  6
------------------------------------------------------
------------------------------------------------------
MAILING ADDRESS
BEAU DODSON
465 Ashcreek Road
Paducah, Kentucky
42001
-
Phone Number
Home 270-554-6715
Cell 270-970-1202

Email beaudodson@hotmail.com