May 6, 2005


May 7, 2005
Wow the sun is shinging to beat the band! It is WARM outside and we are heading for 80 degrees!!!! WOOHOO :) I guess I get one of my birthday wishes...warmer temps!
Went out to eat with Julie last night. Mother, Grandmother, and Ricky went also. We went to the Japanese Steak House. That is the place where they cook it in front of you. Pretty kewl. Good food and great company! Always good to see Julie. I can't wait to see her new house. I am heading over there on Sunday.
My birthday is tomorrow...yay :) I will turn 21 again. I have lost track as to how many times I have turned 21. :)
We are working on a huge project for the Red Cross here in Paducah. It will be one of the largest fund raisers ever. It is called the Heroes Campaign.
I will be posting some more information as time goes by. The goal is going to be to raise between $60,000-70.000. It should be a great project.
Stormy weather for Monday. We have a slight risk of severe thunderstorms. The main threat will be hail. More stormy weather is in store later next week. We are not entering a stormy pattern.
DING DING DING WE HAVE A WINNER!!!!
81 DEGREES IN PADUCAH THIS AFTERNOON! This is MY first 80 of the season (I was in Canada when it was warm down here last time) yay!
May 8, 2005!
Birthday :) YAY It is 10 a.m. and it is already almost 80 degrees!!!!! This might be the warmest day of the year. Sun is out! Blue sky out there. It will be a good Mother's Day and Birthday!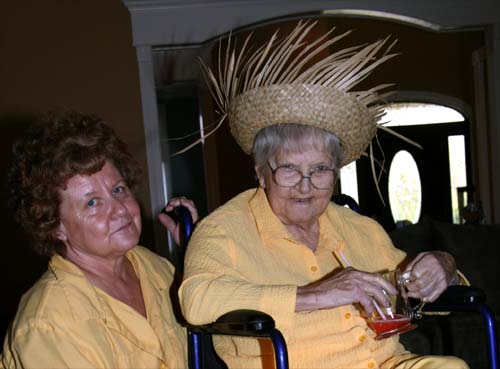 Mother's Day 2005 :) Mother and grandmother. Grandmother with her
virgin strawberry daiquiri! :)




Beau's Birthday 2005 and Mother's Day :)
Ok I swear grandmother is not tipsy in this picture :)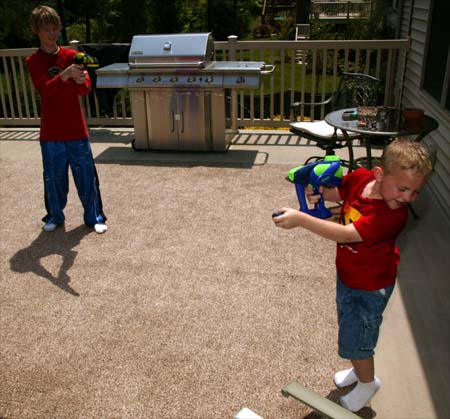 Little Dylan and Tyler playing with their water guns.





Tyler taking aim at me :)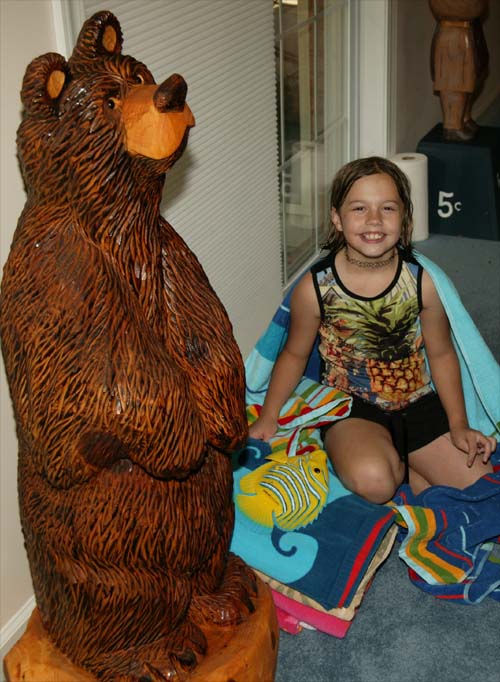 Danielle :) all wet from the water gun fights.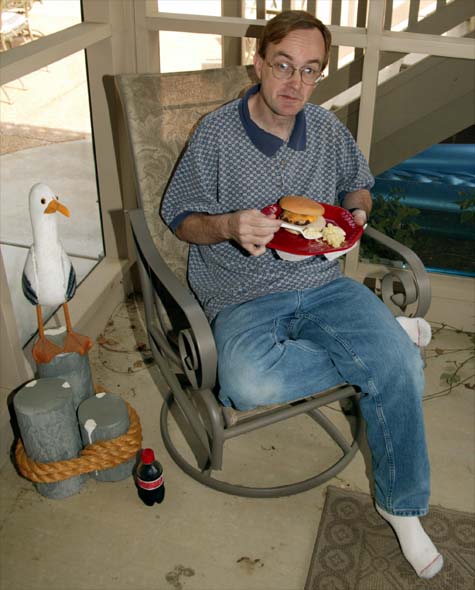 John Logeman...





Tyler eating his hot dog...Tony cooked :)




Dylan my oldest nephew :) He graduates Junior
High this Thursday! YAY :)




Deena and Tony relaxing...





Grandma Blanche...enjoying her Sprite :)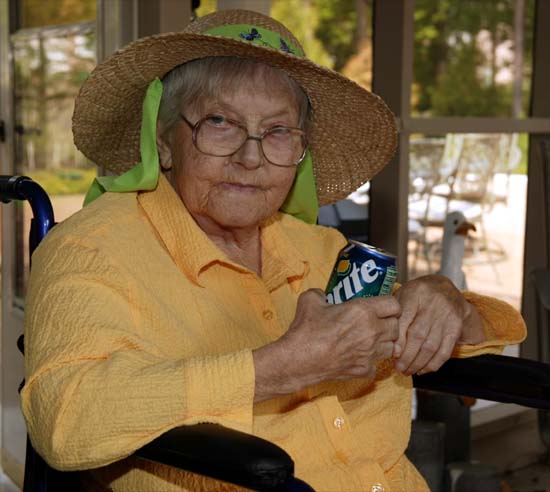 Grandmother...:)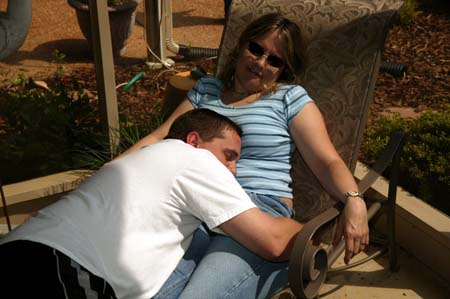 My sister Deena and her husband Tony :) AWWWW isn't that cute :P

Insert missing photos of Dione and Tommy here :) Ummm they came late.






Mother with the lace that I bought her in Romania :)





Tony and me putting together a telescope that David got me for my
birthday! Thanks David - it is very nice. Now I have to learn how
to use it ;)
:)
Well I had a super birthday with lots of fun. The weather was nice and warm...lots of family and friends! A great Mother's Day and Birthday!


May 9, 2005
Raining this morning :) Nice to wake up to rain! It is warm and muggy out. Looks like a few storms this afternoon. No major severe weather expected.
Mother bought me this angel for the front of my house...looks very nice. This was a birthday gift :)

Little Angel...




Angel in my garden out front...


Wednesday I will be doing a Tornado Safety Show with Sue Henry from the Red Cross. It will be a 30 minute television program. I am not sure when it will air. It will be on several times though over the upcoming months. We will be talking about NOAA Weather Radios and the Paducah, NWS, warning process. We will also talk about the May 6th tornado and how the warning process worked for that severe weather event. It should be a good program. Oh and we are going to talk about "Safe Rooms." I will be talking about the Birmingham, Alabama, F5 Tornado and how the safe roofs were implemented after that event. We got the plans for Julie and Danny's Safe Room from Birmingham.
My friend Joey bought me this painting for my birthday. It is showing people taking shelter in a storm cellar. Prob in Kansas or Oklahoma.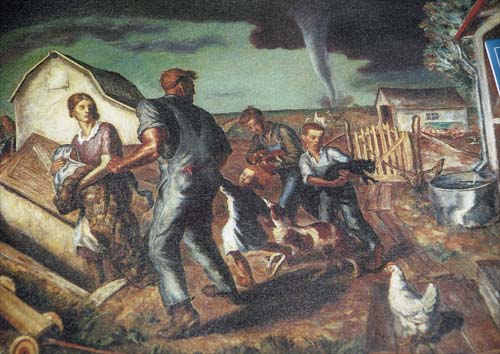 TURN THE PAGE CLICK HERE

See PADUCAH Live View Web-Cam Below

------------------------------------------------------



------------------------------------------------------
LIVE: VIEW FROM DOWNTOWN PADUCAH
...VIA WEB CAM FROM WPSD NEWS CHANNEL 6
------------------------------------------------------
------------------------------------------------------
MAILING ADDRESS
BEAU DODSON
465 Ashcreek Road
Paducah, Kentucky
42001

Phone Number
Home 270-554-6715
Cell 270-970-1202

Email beaudodson@hotmail.com