July, 6 2007
Had a SUPER time with Kristy down in Florida. She will not be home until this weekend. I will have to play catch up with her later. I miss her already! Hopefully we will get to see each other again in December or January.
LONG drive today. Left the house at 6 a.m. and arrived in Detroit around 2 p.m. - now that is making some good time! Stopped once to fill up. Made it to Canada on less than two tanks of gas! Pretty good for the SUV...I would imagine a lot of cars wouldn't even do that. 740 miles of driving.
This is what that looks like on a map :)
Took awhile to get to Waterloo though...lost an hour because of time change and there were several wrecks along the way. Feels good to be here though!!!!
7-7-07
Hey it's a lucky day I guess!
Going to see Oceans 13 tonight - would seeing Ocean's 13 on 7-7-07 be unlucky???
David and I went to one of the parks (Victoria Park) here in Waterloo...nice park. There were TON of weeping willow trees. This one was a BIG one! Check out the size of the trunk. BIG. This is probably one of the larger weeping willow trees that I can remember seeing.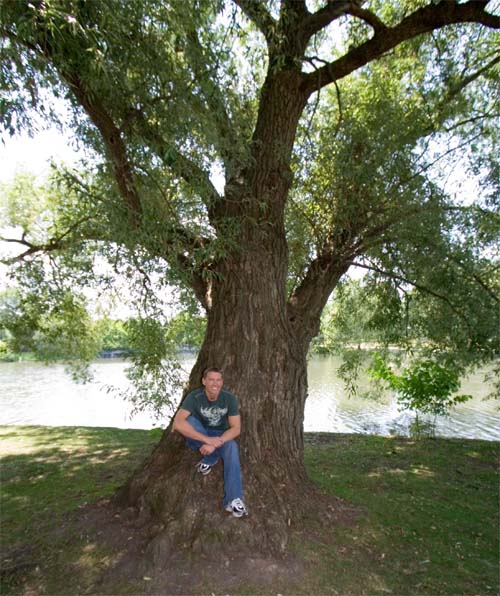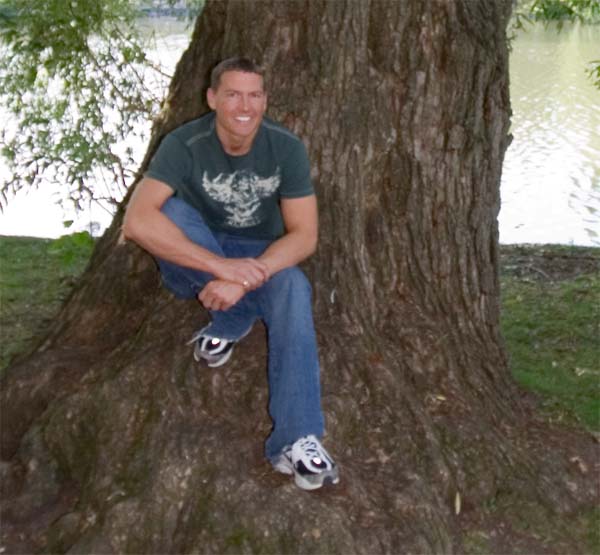 Victoria Park

This mother goose was keeping a close eye on her babies.

So a GREAT day in Waterloo. The movie was awesome. I enjoyed the first two movies, of that series, so this one was not a disappointment either! Well worth seeing on the big screen.

We are going to a coin show on Thursday or Friday...I am looking forward to that. Then there is some uncertainty beyond as to what we are doing beyond this Friday. Perhaps Romania or perhaps Croatia. Time will tell.
July, 8 2007
Storms moving into Waterloo this morning...
Kitchener - Cambridge - Region of Waterloo
8:58 AM EDT Sunday 8 July 2007
Severe thunderstorm warning for
Kitchener - Cambridge - Region of Waterloo issued

At 8:55 AM weather radar indicates a line of strong to severe thunderstorms extending from Arthur to near lucknow with motion southeastwards at around 40 km/h. The main threats from these storms is large hail..Torrential rain and intense frequent lightning. There is also a slight risk of brief damaging wind gusts.
CCN10 CWTO 082124
CONVECTIVE WEATHER FORECAST FOR THE PROVINCE OF ONTARIO
ISSUED BY ENVIRONMENT CANADA AT 5:24 PM EDT SUNDAY 8 JULY 2007
THIS FORECAST IS ISSUED AT 4 AM AND 4.30 PM DAILY BETWEEN MAY 1
AND SEPTEMBER 30.

NOTE:  THIS IS NOT A SEVERE WEATHER WATCH WARNING OR SPECIAL WEATHER
       STATEMENT.

DISCUSSION OF THUNDERSTORM POTENTIAL.

TONIGHT..SCATTERED THUNDERSTORMS WITH A MODERATE RISK OF A FEW
ORGANIZED SEVERE THUNDERSTORMS STRETCHING FROM LAKE HURON AND THE
BRUCE PENINSULA SOUTHEASTWARDS TO THE GOLDEN HORSESHOE. THIS IS
ASSOCIATED WITH A LOW MOVING ACROSS THE CENTRAL GREAT LAKES AND
ITS ATTENDANT WAVE CREST AND WARM AND COLD FRONTS. SOME OF THESE
STORMS MAY REACH AS FAR EAST AS GEORGIAN BAY AND EASTERN LAKE
ONTARIO OVERNIGHT. TORRENTIAL RAINFALL..LARGE HAIL..FREQUENT
DANGEROUS LIGHTNING AND DAMAGING WIND GUSTS ARE ALL CONCERNS WITH
THESE STORMS. THERE IS ALSO THE RISK OF AN ISOLATED TORNADO MAINLY
THIS EVENING.

MONDAY..SCATTERED THUNDERSTORMS WITH A SLIGHT RISK OF SEVERE OVER
SOUTHERN ONTARIO NEAR THE LOWER GREAT LAKES. DAMAGING WINDS AND LARGE
HAIL WOULD BE THE MAIN THREATS WITH THESE STORMS AS THE COLD FRONT
PASSES THROUGH. THEY WILL ALSO BE ACCOMPANIED BY TORRENTIAL
DOWNPOURS AND INTENSE FREQUENT LIGHTNING. ADDITIONALLY ISOLATED
NON-SEVERE THUNDERSTORMS OVER FAR NORTHERN ONTARIO.

TUESDAY..THERE IS A SLIGHT RISK OF SEVERE THUNDERSTORMS OVER
NORTHWESTERN ONTARIO AS A SIGNIFICANT DYNAMIC DISTURBANCE ARRIVES
FROM SOUTHERN MANITOBA. THE MAIN THREAT WOULD BE CLOSE TO THE
INTERNATIONAL BORDER WITH LARGE HAIL AND DAMAGING WINDS. ISOLATED
NON-SEVERE THUNDERSTORMS ARE POSSIBLE IN SOUTHWESTERN ONTARIO LATE
IN THE DAY OR EVENING.

A SEVERE THUNDERSTORM IS DEFINED AS HAVING ONE OR MORE OF THE
FOLLOWING

 - WIND GUSTS OF 90 KM/H OR GREATER.
 - HAIL OF 2 CENTIMETRES DIAMETER OR GREATER.
 - RAINFALL RATE GREATER THAN 50 MILLIMETRES IN 1 HOUR OR
   LESS OR 75 MILLIMETRES IN 3 HOURS OR LESS.
 - TORNADOES

END/ASHTON
SUNDAY EVENING TORNADO CHASE! SOUTHERN ONTARIO
There were several tornadoes near my location this evening. Most of the photos below were taken a few miles to the north of Waterloo, Ontario. David and I went storm chasing and managed to catch the storm - hail and wall clouds. It had IMPRESSIVE storm structure. This storm reminded me of something you would see in Oklahoma or Kansas...not Ontario. We had hail up to the size of quarters. There were reports of tennis ball size hail to our north and west by just a few miles...same storm. Two tornadoes were reported. We were able to see an impressive series of wall clouds and a few small funnels!

Gibson Ridge Radar showed a number of chasers near the supercell. Unsure as to whether anyone got photographs of the two tornadoes that touched down.

I took the photos below.

Mount Forest - Arthur - Northern Wellington County
7:46 PM EDT Sunday 8 July 2007
Tornado warning for
Mount Forest - Arthur - Northern Wellington County continued

At 7:30 PM Doppler weather radar and spotter reports continue to indicate strong rotation associated with a tornado producing storm east of Wallace near Listowel. This is a long-tracked rotating storm which has produced tornadoes for close to an hour and a half. Torrential rain and large hail is also occurring. There have been reports of hail larger than tennis ball sized. There have been reports of hail damage and some trees down along the storm swath. The tornado is tracking southeastward and will likely be in the conestoga lake area towards 8:30 PM.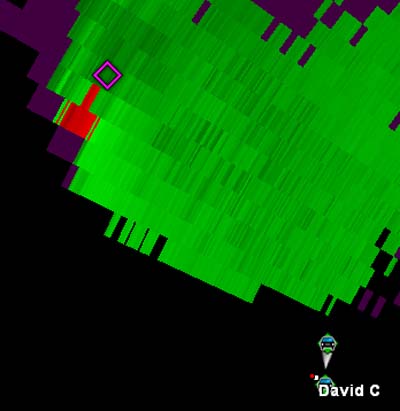 Meso on radar - tornado warnings issued. Red on Green
is the area of rotation.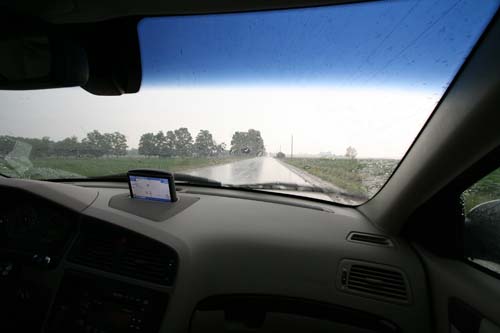 David drove while I took pics...we ran into the rain and eventually hail.
It hailed for awhile. Started out as pea size and got larger as time
passed.




Storm to the southwest...with a wall cloud. You can see the striations to the left above the wall cloud - nice storm structure.

Wall Cloud to the west/northwest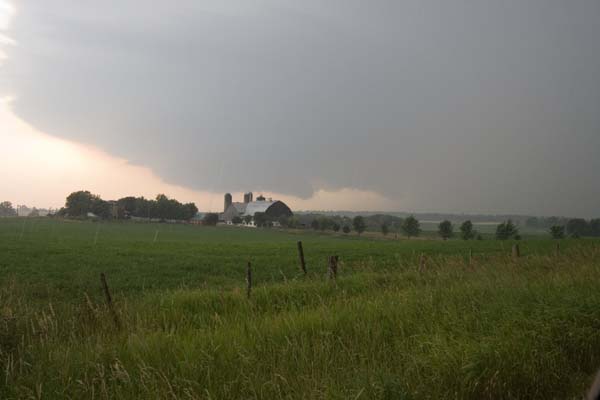 You can see the rain and hail to the east of the wall cloud - we were experiencing hail up to the size of quarters.
Hail fell on us for about 15 minutes...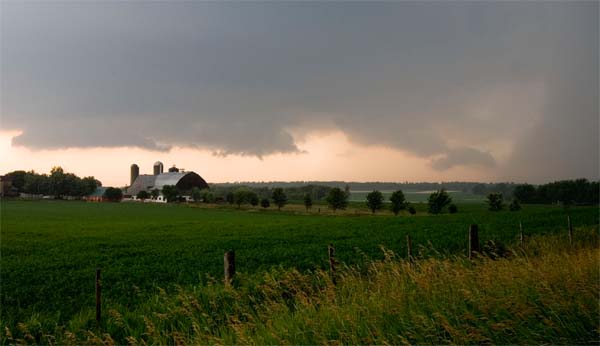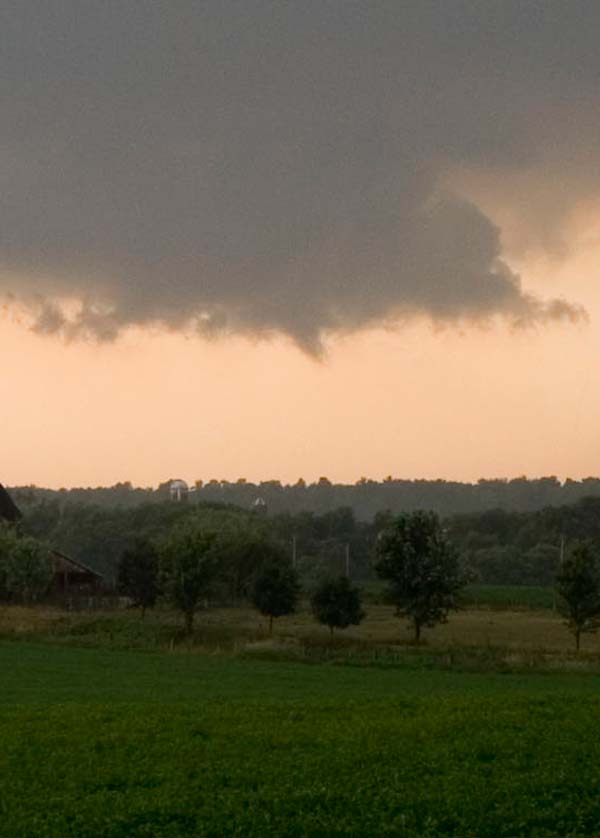 Funnel Cloud and Wall Cloud north of Waterloo, Ontario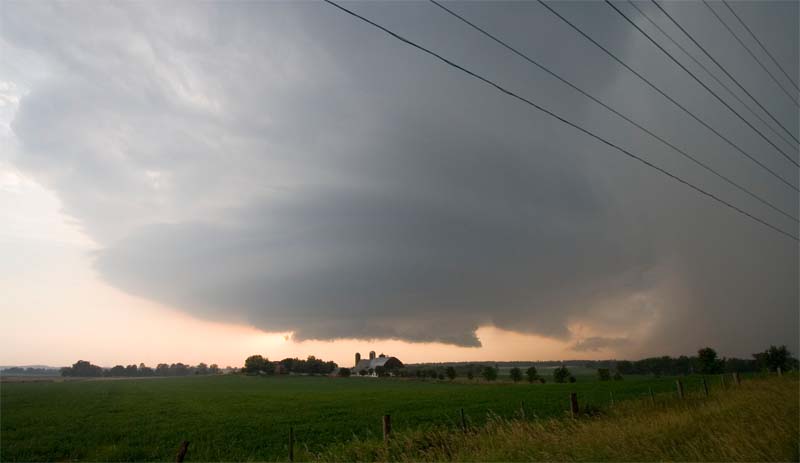 Large wall cloud on the southwest side of the severe thunderstorm. Large hail was falling to the north of this wall cloud...we were experiencing hail up to the size of quarters.
You can see the striations in the clouds and it spins...
Nice bowl shape to the meso

Just to the east of the meso...mean looking clouds - the sky was pretty amazing

A new meso rapidly formed after the first one dissipated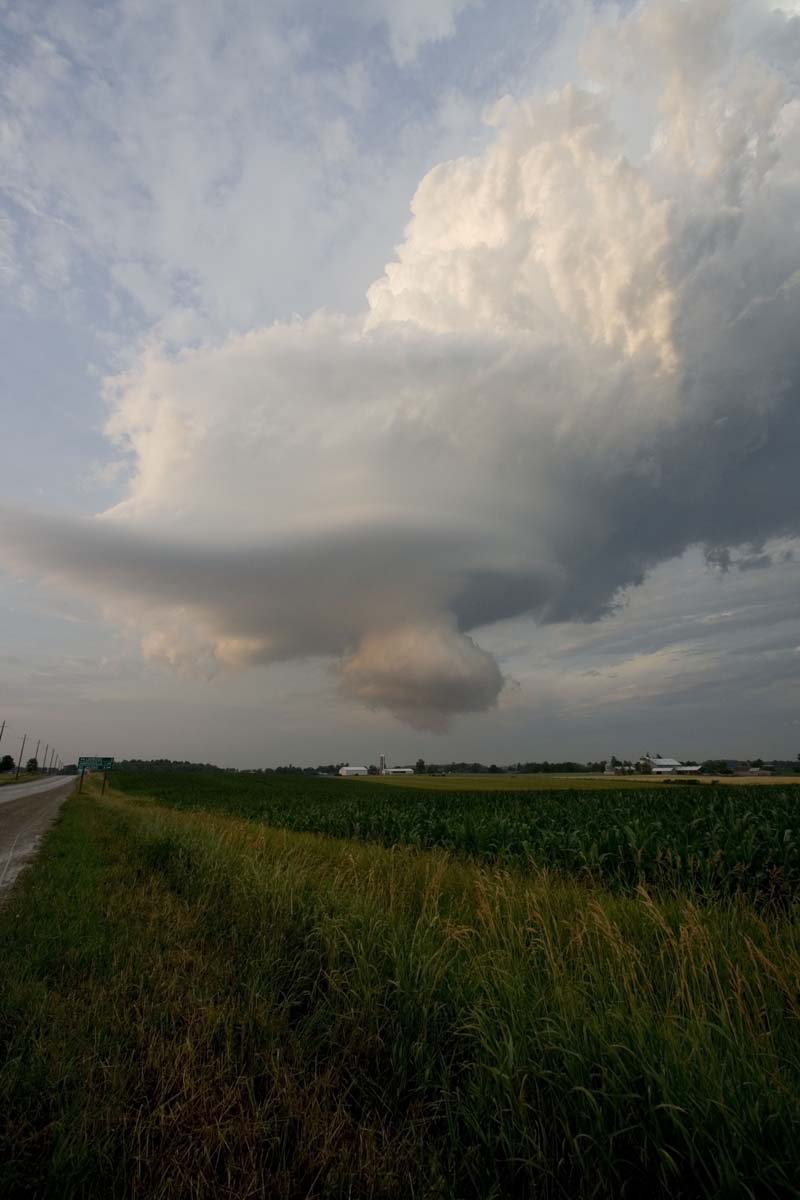 Coolness factor of 10 :)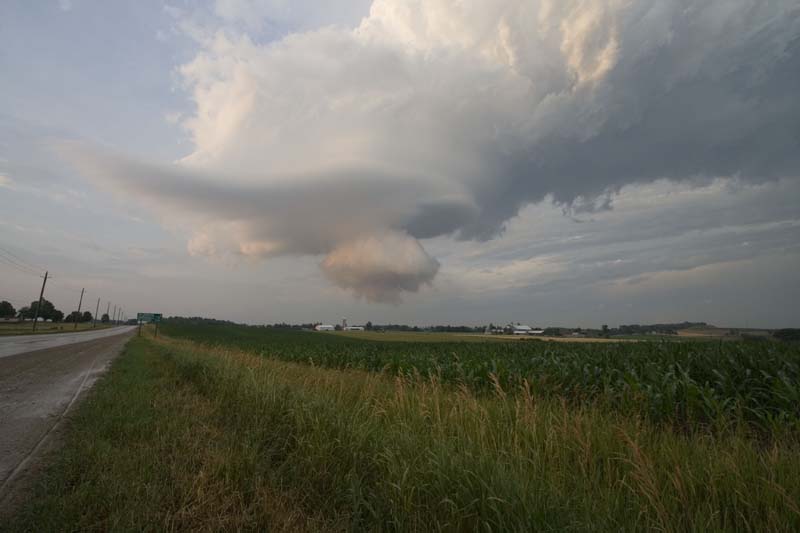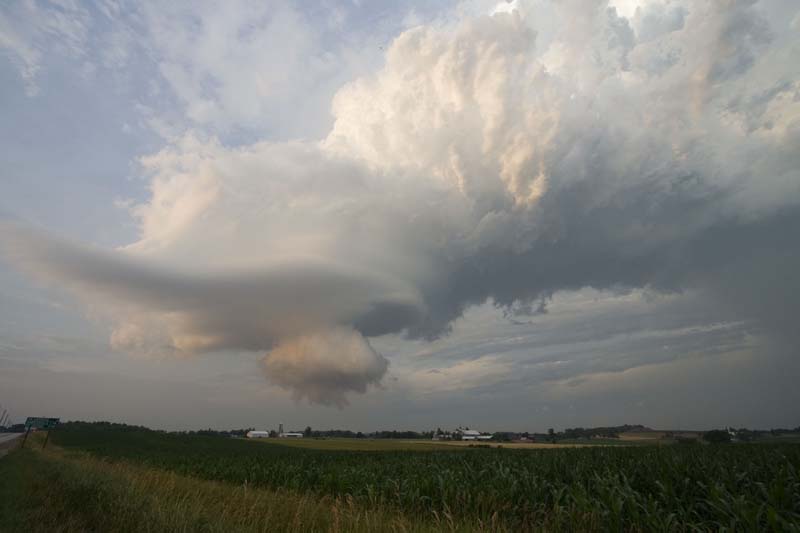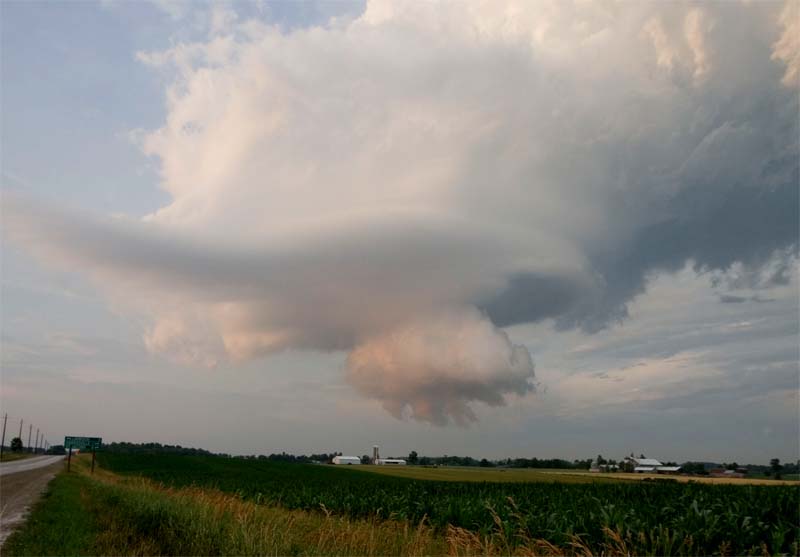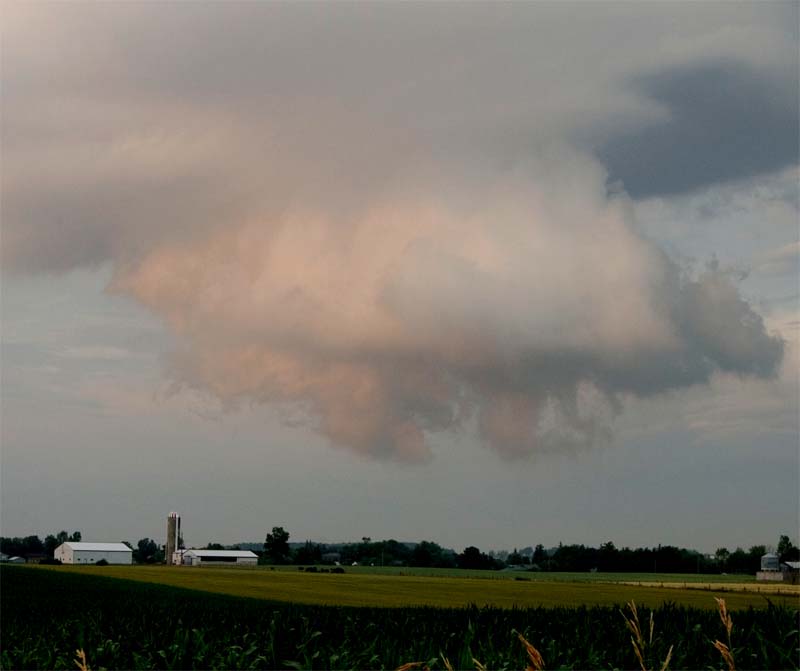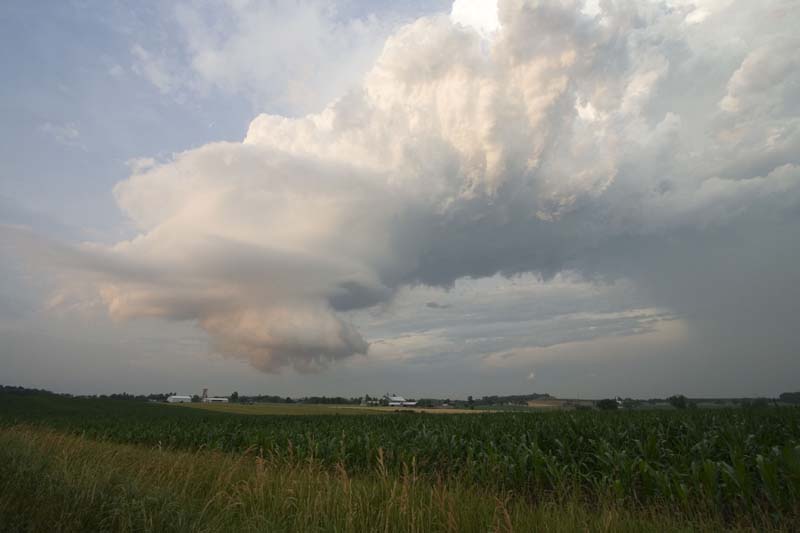 One of the best storm structures I believe I have ever seen! TO TOTALLY amazing for Ontario. Still waiting to watch the news to see what kind of damage was reported. We know that two tornadoes touched down - according to spotters. Hail damage was reported with the storm - the tennis ball size hail most likely broke some cars windshields. Will post more later.

There were a number of chasers on the storm - I am sure someone photographed the tornadoes.

MEGA thank you to Jason Darnall for helping cover radar and get us into the right spot!!!!!
TURN THE PAGE FOR MORE STORMS AND CANADA :)
Email me
Return Home