June continues...


June 28, 2006
It is Wednesday! Hot day ahead...prob going to be in the upper 80s. Yikes! Still waiting to post a few big announcements! Very exciting.
Busy day. Went to speak at an assisted living home this morning. Nice crowd. They asked a lot of questions! I did a power-point on my experience down on the Gulf Coast last year. Everyone seemed interested. Several people had relatives that went through the hurricanes.
The name of the residence was Gaither Suites. It is located by Kentucky Oaks Mall. I had a GREAT time!

Here are some photos




Paducah Chapter of the American Red Cross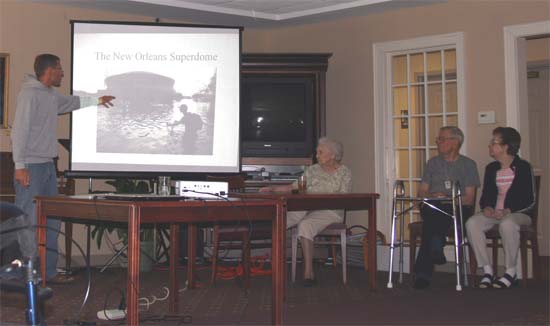 Showing photos of the Superdome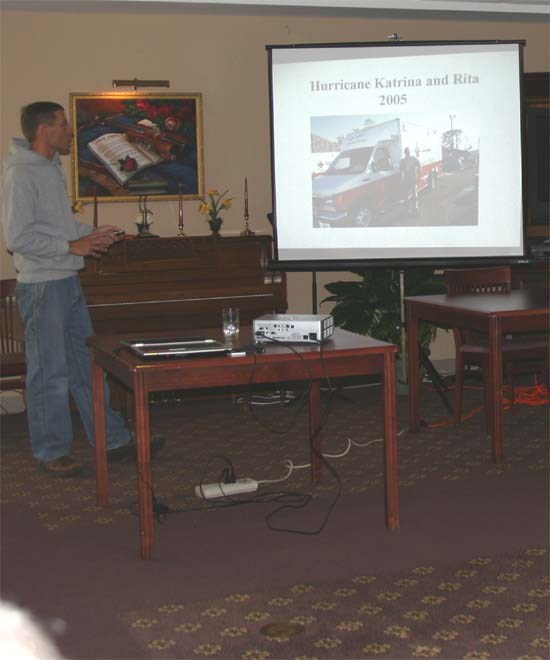 Showing off the ERV - Dee usually has this ERV :)




Showing one of the Casino River Boats that was destroyed by the hurricane




Some of the audience :) There were around 15-20 people. They did ask a lot
of questions :)

-----------------------



The TOWER :) This is going to carry my weather instruments, tower cam,
emergency management antennas - and so on! I am sure we will have
fun putting this up.




The Red Cross, gave the volunteers that helped out in Katrina and Rita, certificates
of appreciation. I had mine framed along with the photo of me with the ERV.
Now I have to find some wall space!

2005 Hurricane Season - brutal - hopefully we don't go through
this again in 2006.

June 29, 2006
"MASSIVE FLOODING HITS THE EASTERN UNITED STATE"
"300 YEAR FLOOD IN SOME AREAS"
Rainfall totals have exceeded one foot in some regions. Multiple states have been impacted by the severe flooding. The worst hit areas have been the Middle Atlantic into the Northeast Corridor. More than a dozen people have been killed. Dozens of Red Cross Shelters have been opened.



Severe flooding across the Eastern United States - AP Photo

Reading Pennsylvania - AP Photo




New York Flooding - AP Photo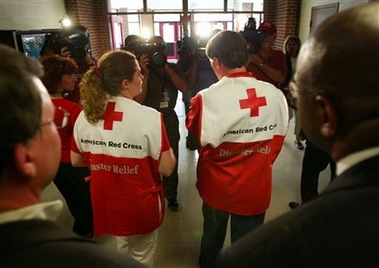 Wheaton Maryland - Red Cross Volunteers - AP Photo

Reading Pennsylvania - AP Photo




New York Floods
AP Photo




Pennsylvania Floods - AP Photo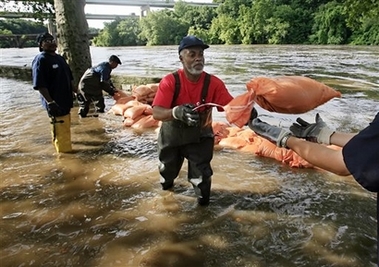 Pennsylvania Flooding - AP Photo




Laurel Maryland - AP Photo



New York Floods - AP Photo





Thursday...
Went to visit Tabatha and her baby this morning :)
Few photos :) of the little boy.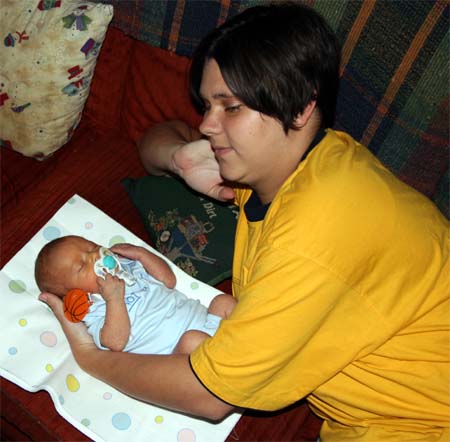 Tabatha and her baby boy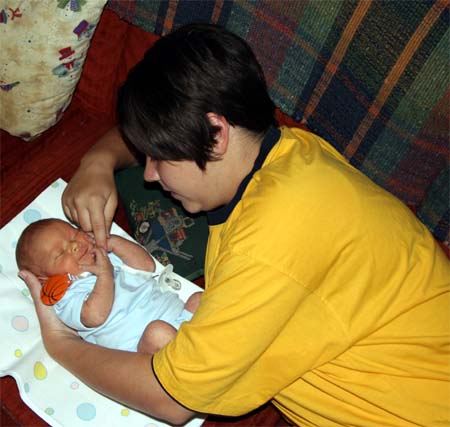 The new baby boy!!!!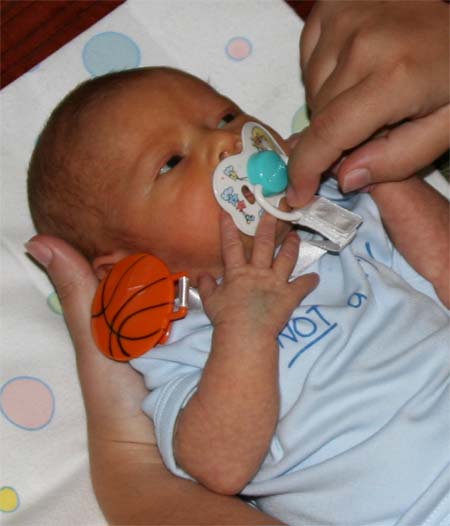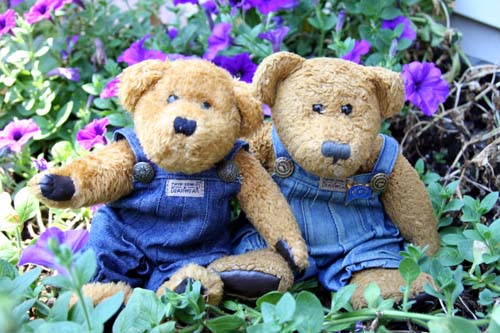 Cheetahs new cousin - ummm I am pretty sure this is
exactly what Cheetah looked like a few years back!
Severe Flooding continues tonight across the Eastern United States...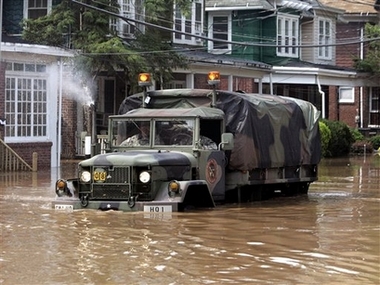 Trneton New Jersey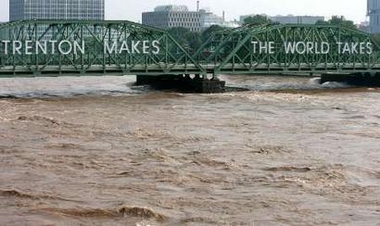 Jersey flooding




Wilkes Barre PA Floods




Flooding in the Northeastern United States

The American Red Cross has opened over 37 shelters as of last night. Several hundred thousand people have been impacted by this flood event. A large area remains flooded this evening.

A few of the states being impacted (many others as well)

Maryland- Flooding Update
Massive flooding and rising waters caused three confirmed fatalities and two people reported missing. The Needwood dam is still unstable and is being monitored by authorities. 2,200 residents can not return to their homes.

New York – Flooding Update
Widespread flooding caused authorities to issue a state of emergency for Broome, Chenango, Cortland, Delaware, Herkimer, Montgomery, Otsego, Schoharie, and Tioga Counties.

Delaware – Flooding
Wide spread flooding submerged roads and caused flooding in homes and businesses in Hockessin, Yorklyn, and Stanton.
EASTERN CORRIDOR UNDER WATER

Red Cross Information Update
American Red Cross urges flood safety while providing food and shelter to evacuees
WASHINGTON, Wednesday, June 28, 2006 — Almost one month into this year's hurricane season intense rain has soaked much of the east coast, with the possibility of more rain expected in the next twenty-four hours. Throughout the past week, heavy rain and rising waters have produced flooding from Virginia to New England. Mandatory evacuations have been issued in some areas, while some residents are voluntarily seeking dry ground.
More than 40 American Red Cross shelters are open to provide food and accommodations to nearly 1500 people throughout the affected areas. Since flash floods are a potential threat that may cause more residents to leave their homes, additional Red Cross shelters are opening hourly and others are on standby to provide a safe dry haven to those in need. As thousands more evacuate their homes, the Red Cross will work with local chapters and community partners across the Mid Atlantic and New England to open as many shelters as necessary over the next several hours.
Red Cross preparedness experts urge residents to never underestimate the power of water and heed evacuation orders when issued. Flash floods can develop very quickly and the rapid accumulation can be extremely dangerous
TURN THE PAGE FOR THE LAUNCH! CLICK HERE
HOME PAGE
------------------------------------------------------

------------------------------------------------------

LIVE: VIEW 
FROM DOWNTOWN PADUCAH

...VIA WEB CAM FROM WPSD NEWS CHANNEL  6
------------------------------------------------------
------------------------------------------------------
MAILING ADDRESS
BEAU DODSON
465 Ashcreek Road
Paducah, Kentucky
42001
-
Phone Number
Home 270-554-6715
Cell 270-970-1202

Email beaudodson@hotmail.com