WELCOME TO FEBRUARY 2006!!!!!
Will Winter Finally Arrive?
February 1, 2006
Well February is here. I guess we can expect snow and cold...lol I will keep SOME hope alive at least.
Supposed to take the teddy bears to the Rape Crisis Center this afternoon. That is the plan at least. We didn't make it yesterday.
This ad will appear in Paducah Parenting Magazine - the February Issue - Weather Radio Awareness Ad

Shadow Angel Ad - February Issue of Paducah Parenting Magazine

Paducah, NWS - Tied Warmest January Ever - now day 41 of above normal temps

FROM THE PADUCAH, KY NWS OFFICE



January tied for the warmest on record at Paducah; warmest since 1933 at Evansville

A very mild winter continues across the Lower Ohio Valley and southeast Missouri.

Based on preliminary figures, January of 2006 tied January of 1950 as the warmest January on record at Paducah. It should be noted that records at Paducah only go back to 1949. The preliminary average monthly temperature for January at Paducah was 44.0 degrees.

At Evansville, preliminary figures indicate January of 2006 was the third warmest on record and the warmest January since 1933. The warmest January on record at Evansville was in 1933, when the average temperature was 43.8. The second warmest was in 1932, when the average temperature was 43.3. Preliminary data for 2006 indicate the average monthly temperature was 42.8. Records at Evansville extend back to 1897.

Preliminary, unofficial rankings for Carbondale, Poplar Bluff, and Cape Girardeau are very similar. At Carbondale, only the Januarys of 1932 and 1933 were warmer than January of 2006. At Poplar Bluff, this was the second warmest January. Only January of 1950 was warmer. At Cape Girardeau, the Januarys of 1950 and 1990 were about tied with 2006.

January was also a wet month. The total monthly precipitation at Paducah was 6.28 inches, which is 2.93 inches above normal. This places January of 2006 as the eighth wettest on record. Total precipitation at Evansville was 4.09 inches, which is not one of the ten wettest months.

January 31st marks the 40th consecutive day of above normal average temperatures at Evansville, Cape Girardeau, and Poplar Bluff. At Paducah, daily temperatures averaged above normal on 40 of 41 days.



TEDDY BEAR DAY :)

SHADOW ANGEL FOUNDATION


We finally were able to deliver the teddy bears to the Rape Crisis Center :) They received 150 Bears and were thrilled to receive them. They were down to just a few bears. So good deal. I believe they are going to need closer to 200 bears a year.




Ready to pack the bears into the car...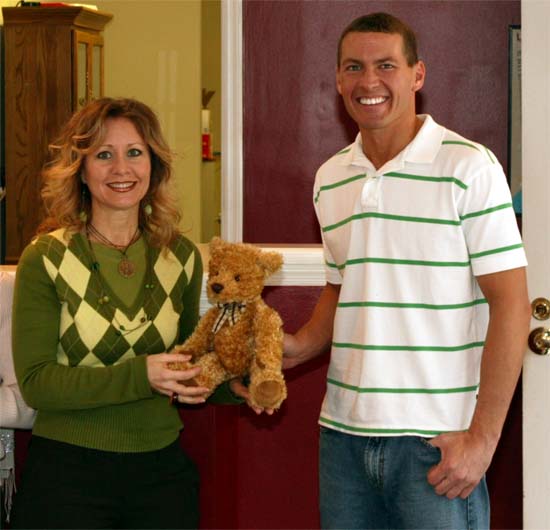 Beau giving Lori Brown one of the teddy bears for the children that
they work with at the Rape Crisis Center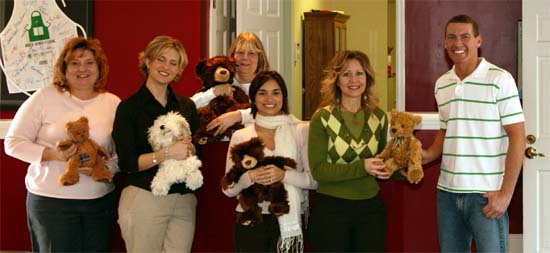 Teddy Bears Galore :)


Now we have to get the bears to Child Watch here in Paducah :)



Thursday, February 2, 2006
GROUNDHOG DAY :)
Official groundhog handler Bill Deeley (in file photo) holds Punxsutawney Phil as he
talks to the local media Feb. 2 in Punxsutawney, Penn. As is traditional on
Groundhog Day, the furry little weather forecaster comes out of his burrow, looks
for his shadow and utters his prediction on how much longer winter will last in "groundhogese."
This year, Phil predicted six more weeks of winter.

WELL six more weeks of winter! We have not even had winter yet. LOL


RAIN RAIN RAIN RAIN RAIN RAIN RAIN RAIN RAIN AND MORE RAIN! There is water standing everywhere around here in Ashcreek! The creek is also pretty high. We have received over 8 YES EIGHT inches of rain since the first part of January. I wish that would have all been snow :) I would be one happy snow camper. I am still hoping for a shot at snow on Sunday Night and Monday. I will keep hope alive that winter WILL arrive.
Meanwhile we have light to moderate rain across the entire area this morning and that will continue through the afternoon. We should pick up between 1 and 2 inches of rainfall. As of noon we had received 1.30" - pretty impressive.
Red Cross meeting on Saturday. Disaster volunteer get-together.

-----------------

Paducah Parenting and Family Magazine has a four page article about Hurricane Katrina. They have devoted two of their pages about my experience in Gulfport and Houston! :) I didn't know they were going to run an article like that. They mention my Web Journal as well. :) Good stuff!
Saturday, February 4, 2006
Well it is cold at least. No real snow here for the rest of the foreseeable future. Tough break. Snowing east of us and it will snow to our south. Flurries here right now. That is as good as it is going to get I am afraid. Once again we miss the snow. I give up. BRING ME SPRING! lol
Maybe next winter will be better...:)
Wednesday, February 8, 2006
It is snowing today. YAY Light snow and flurries. Nothing will stick though because it is took warm outside. Cape Girardeau did receive three inches...yay for them. lol :) Oh well maybe Spring will arrive early - I hope so. I am through with this winter! LEAVE ALREADY and stop mocking me ;)
Anyway...life is good here in Paducah right now. Staying very busy with the coin business and doing Shadow Angel projects. We are going to deliver Child Watch their teddy bears on Thursday. They will receive 150 bears. That should last them through the next 10 months or so. I am sure they will be happy to receive their bears!
The new Shadow Angel logo is almost finished. Hopefully it will be ready in the next few weeks.
Everything at the Red Cross is moving along. We have a disaster meeting on Saturday. I believe I am going to end up in charge of that meeting. Caesar has to go out of town...so I might be winging it by myself.
HEROES campaign will be here SOON - March to be exact. Everyone who has money to send in might want to think about doing that sooner than later. Still waiting on the Canada Fund Raiser Money. I am hoping to have that wrapped up in the next week or so. There was some confusion on the Canadian side with the Red Cross. We are handling it though and everything should be fine. I can update totals at that time.
Well I guess I could update them now :)
RED CROSS HEROES UPDATED TOTALS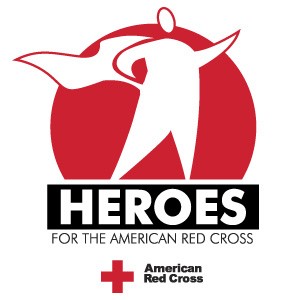 These are the teams and the money that has been turned in already!
01. First Hero - Grandma Blanche $1000.00
02. Team Justice - $0.00
03. Team America - $230.00
04. Shadow Angels - $1000.00
05. Team Canada - $100.00 (held a benefit in November - no update on amount raised at this time and several individuals have already donated $1000 to the hurricane relief)
06. Team Reds - $420.00
07. Team Birmingham - $0.00
08. Team Murray - $291.00
09. Team Gov - $650.00
10. Team Mexico - $650.00

-------------------------------------------------------------
Things are moving slowly here at the house. I am still waiting for the painting to show up. I am about to give up on her. :( heh
SOS to Kristy...where are you????? HELLLLOOOOOOOO - LUCY YOU OUT THERE????
No complaints from Paducah - so life must be going well!
More later...
Thursday, February 9, 2006
YAY A snowstorm is coming. Hopefully we will get more than just flurries. It appears that we might see 1-4 inches across Western Kentucky on Friday and Friday Night. I am keeping my fingers crossed!
We took the rest of the Teddy Bears to Child Watch today :) They were happy to receive them.

Beau giving on of the teddy bears to Sandy at Child Watch in Paducah




Beau and Sandy

Lucy had her one year birthday YAY - not sure who her little friend is :)
cute hat though :P



HAPPY BIRTHDAY LUCY :) :) :)





Lucy I will apologize for your mother...I am so sorry that
she made you wear that. GEEEEEZZZZZ that is NOT
Prada honey. The other pictures are fab
February 10, 2006
SNOW :) YAY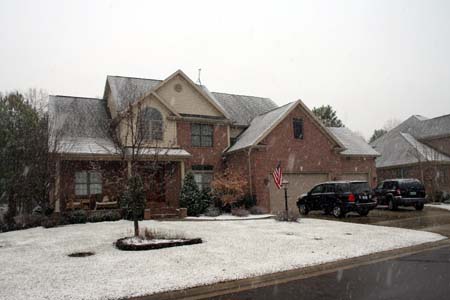 Snowing as of 1 p.m. :) Sticking to the ground now! We might get
an inch or two.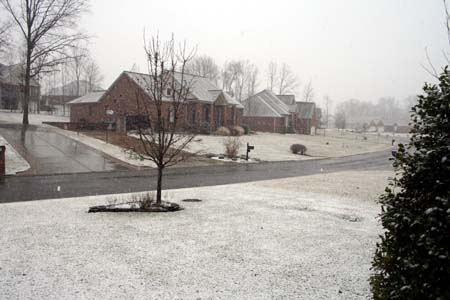 Ashcreek Snow
Still Snowing at 3 pm


Front of house


Neighborhood snow...
February  12, 2006
BLIZZARD HITS THE NORTHEAST...NYC HAS NEAR RECORD SNOWFALL - TWENTY+ INCHES!!!!
Few pictures from the Northeast...from EasternUSwx

Photo by BucksCO PA - Feasterville, Pennsylvania

BEAUTIFLU PHOTOGRAPH BY Big Mike - Annandale, Virginia



Millersville, MD - photo by 3dcg


Westfield, NJ - photo by MerguryMan on EasternUSwx



Jogiba from EasternUSwx took this photo - Millstone, NJ

From KML67  DANG - THAT IS SOME SERIOUS SNOW!!!!  Hoboken, New Jersey


Same poster and town...just WOW!!!!!


kdxken photo - Cambridge, Mass


WASHINGTON D.C. PHOTO - from EasternUSwx  lightningshot
OK NOW FOR ASHCREEK - KINDA LAME AFTER ALL OF THAT!
lol

Snowing again...



SNOWING HARD AGAIN!  YAY  
SURPRISE - SURPRISE  :)
THIS IS THE MOST SNOW WE HAVE HAD ALL SEASON...lol
Almost 1 1/2 inches!  heh

Sunday Snowfall Surprise!


Ashcreek



SNOWING AT ASHCREEK  YAY




OUR OWN BLIZZARD - NOT  lol



Joey with his nephew Riley :)
TURN THE PAGE FOR MORE OF FEBRUARY MADNESS :)  CLICK HERE
HOME PAGE
------------------------------------------------------

------------------------------------------------------

LIVE: VIEW 
FROM DOWNTOWN PADUCAH

...VIA WEB CAM FROM WPSD NEWS CHANNEL  6
------------------------------------------------------
------------------------------------------------------
MAILING ADDRESS
BEAU DODSON
465 Ashcreek Road
Paducah, Kentucky
42001
-
Phone Number
Home 270-554-6715
Cell 270-970-1202

Email beaudodson@hotmail.com