SUPER HURRICANE KATRINA

2 a.m. KATRINA ABOUT TO HIT LOUISIANA WITH 155 MPH WINDS
click for larger image
KATRINA - MONDAY MORNING
2 a.m. Bulletin
000
WTNT32 KNHC 290656
TCPAT2
BULLETIN
HURRICANE KATRINA INTERMEDIATE ADVISORY NUMBER  25B
NWS TPC/NATIONAL HURRICANE CENTER MIAMI FL
2 AM CDT MON AUG 29 2005
 
...POTENTIALLY CATASTROPHIC HURRICANE KATRINA BEGINNING TO TURN
   NORTHWARD TOWARD SOUTHEASTERN LOUISIANA AND THE NORTHERN GULF
   COAST...
...SUSTAINED HURRICANE-FORCE WINDS OCCURRING ALONG THE 
   SOUTHEASTERN LOUISIANA COAST...
 
A HURRICANE WARNING IS IN EFFECT FOR THE NORTH CENTRAL GULF COAST
FROM MORGAN CITY LOUISIANA EASTWARD TO THE ALABAMA/FLORIDA
BORDER...INCLUDING THE CITY OF NEW ORLEANS AND LAKE PONTCHARTRAIN.
PREPARATIONS TO PROTECT LIFE AND PROPERTY SHOULD BE RUSHED TO
COMPLETION.
 
A TROPICAL STORM WARNING AND A HURRICANE WATCH ARE IN EFFECT FROM
EAST OF THE ALABAMA/FLORIDA BORDER TO DESTIN FLORIDA...AND FROM
WEST OF MORGAN CITY TO INTRACOASTAL CITY LOUISIANA.
 
A TROPICAL STORM WARNING IS ALSO IN EFFECT FROM DESTIN FLORIDA
EASTWARD TO INDIAN PASS FLORIDA...AND FROM INTRACOASTAL CITY
LOUISIANA WESTWARD TO CAMERON LOUISIANA.
 
FOR STORM INFORMATION SPECIFIC TO YOUR AREA...INCLUDING POSSIBLE
INLAND WATCHES AND WARNINGS...PLEASE MONITOR PRODUCTS ISSUED
BY YOUR LOCAL WEATHER OFFICE.
 
AT 2 AM CDT...0700Z...THE CENTER OF HURRICANE KATRINA WAS
LOCATED NEAR LATITUDE 28.2 NORTH...LONGITUDE 89.6 WEST OR ABOUT
70 MILES SOUTH-SOUTHWEST OF THE MOUTH OF THE MISSISSIPPI RIVER
AND ABOUT 130 MILES SOUTH-SOUTHEAST OF NEW ORLEANS LOUISIANA.
 
KATRINA IS NOW MOVING TOWARD THE NORTH NEAR 12 MPH. THIS MOTION IS
FORECAST TO CONTINUE TODAY WITH A GRADUAL INCREASE IN FORWARD
SPEED.  A TURN TOWARD THE NORTH-NORTHEAST IS EXPECTED LATER TONIGHT
AND ON TUESDAY. ON THE FORECAST TRACK THE CENTER OF THE HURRICANE
WILL BE VERY NEAR THE NORTHERN GULF COAST LATER THIS MORNING.
HOWEVER... CONDITIONS ARE GRADUALLY DETERIORATING ALONG PORTIONS OF
THE CENTRAL AND NORTHEASTERN GULF COAST...AND WILL CONTINUE TO
WORSEN THROUGHOUT THE DAY.
 
MAXIMUM SUSTAINED WINDS ARE NEAR 155 MPH WITH HIGHER GUSTS.
KATRINA IS NOW A STRONG CATEGORY FOUR HURRICANE ON THE
SAFFIR-SIMPSON SCALE. SOME FLUCTUATIONS IN STRENGTH ARE LIKELY
PRIOR TO LANDFALL...BUT KATRINA IS EXPECTED TO MAKE LANDFALL AS
EITHER A CATEGORY FOUR OR POSSIBLY A CATEGORY FIVE HURRICANE. 
WINDS AFFECTING THE UPPER FLOORS OF HIGH-RISE BUILDINGS WILL BE
SIGNIFICANTLY STRONGER THAN THOSE NEAR GROUND LEVEL.
 
KATRINA REMAINS A VERY LARGE HURRICANE. HURRICANE FORCE WINDS EXTEND
OUTWARD UP TO 105 MILES FROM THE CENTER...AND TROPICAL STORM FORCE
WINDS EXTEND OUTWARD UP TO 230 MILES. DURING THE PAST HOUR...A WIND
GUST TO 83 MPH WAS REPORTED FROM A UNIVERSITY OF SOUTHERN
MISSISSIPPI BUOY LOCATED JUST EAST OF THE CHANDELEUR ISLANDS...A
GUST TO 75 MPH WAS REPORTED AT GRAND ISLE LOUISIANA...AND A WIND
GUST TO 60 MPH WAS REPORTED IN NEW ORLEANS.
 
THE MINIMUM CENTRAL PRESSURE RECENTLY REPORTED BY AN AIR FORCE
RESERVE UNIT RECONNAISSANCE AIRCRAFT WAS  910 MB...26.87 INCHES.
 
COASTAL STORM SURGE FLOODING OF 18 TO 22 FEET ABOVE NORMAL TIDE
LEVELS...LOCALLY AS HIGH AS 28 FEET...ALONG WITH LARGE AND DANGEROUS
BATTERING WAVES...CAN BE EXPECTED NEAR AND TO THE EAST OF WHERE THE
CENTER MAKES LANDFALL.  SOME LEVEES IN THE GREATER NEW ORLEANS AREA
COULD BE OVERTOPPED.  SIGNIFICANT STORM SURGE FLOODING WILL OCCUR
ELSEWHERE ALONG THE CENTRAL AND NORTHEASTERN GULF OF MEXICO COAST.
NOAA BUOY 42040 LOCATED ABOUT 50 MILES EAST OF THE MOUTH OF THE
MISSISSIPPI RIVER RECENTLY REPORTED WAVES HEIGHTS OF AT LEAST 40
FEET.
 
RAINFALL TOTALS OF 5 TO 10 INCHES...WITH ISOLATED MAXIMUM AMOUNTS OF
15 INCHES...ARE POSSIBLE ALONG THE PATH OF KATRINA ACROSS THE GULF
COAST AND THE TENNESSEE VALLEY.  RAINFALL TOTALS OF 4 TO 8 INCHES
ARE POSSIBLE ACROSS THE OHIO VALLEY INTO THE EASTERN GREAT LAKES
REGION TUESDAY AND WEDNESDAY.
 
THE TORNADO THREAT AHEAD OF KATRINA IS INCREASING AND SCATTERED
TORNADOES WILL BE POSSIBLE TODAY OVER SOUTHEASTERN LOUISIANA...
SOUTHERN MISSISSIPPI...SOUTHERN ALABAMA...AND OVER THE FLORIDA
PANHANDLE TONIGHT.
 
REPEATING THE 2 AM CDT POSITION...28.2 N... 89.6 W.  MOVEMENT
TOWARD...NORTH NEAR 12 MPH.  MAXIMUM SUSTAINED
WINDS...155 MPH.  MINIMUM CENTRAL PRESSURE... 910 MB.
 
THE NEXT ADVISORY WILL BE ISSUED BY THE NATIONAL HURRICANE CENTER 
AT 4 AM CDT.
 
FORECASTER STEWART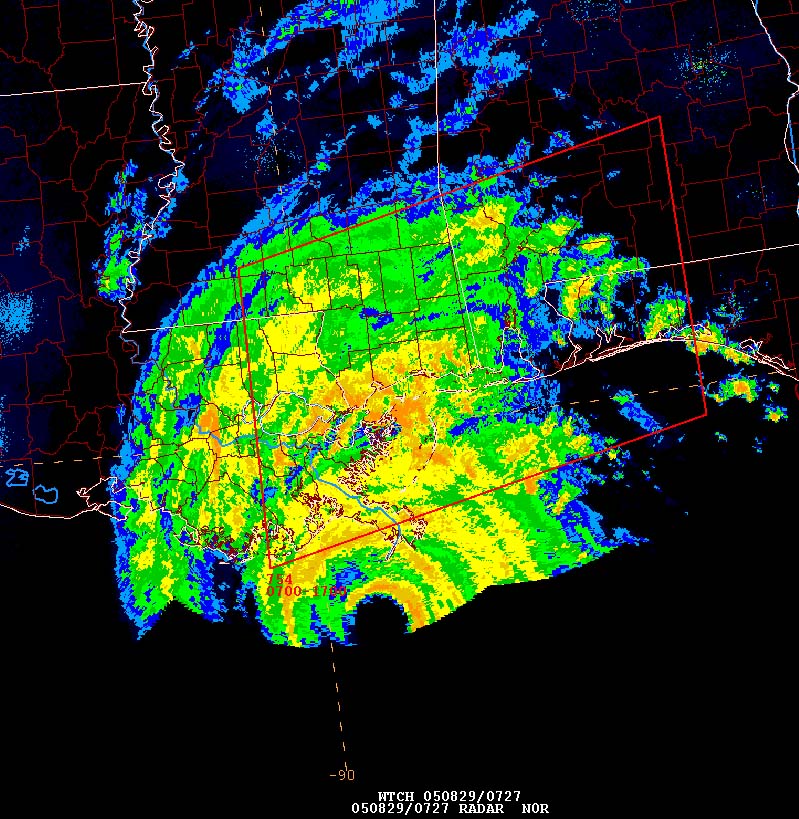 MORNING RADAR SHOWS THE MONSTER HURRICANE APPROACHING SHORE

3 a.m. KATRINA

KATRINA COMING ASHORE


000
WTNT62 KNHC 291116
TCUAT2
HURRICANE KATRINA TROPICAL CYCLONE UPDATE
NWS TPC/NATIONAL HURRICANE CENTER MIAMI FL
610 AM CDT MON AUG 29 2005

...KATRINA MAKES LANDFALL IN SOUTHEASTERN LOUISIANA...

AT 610 AM CDT...1110Z...HURRICANE KATRINA HAS MADE LANDFALL IN
SOUTHERN PLAQUEMINES PARISH LOUISIANA...JUST SOUTH OF BURAS...AS A
CATEGORY FOUR HURRICANE. MAXIMUM WINDS ARE ESTIMATED AT 140 MPH TO
THE EAST OF THE CENTER.

FORECASTER PASCH

$$
7:30 a.m. Radar - eye southeast of New Orleans

EYE WALL APPROACHING THE SUPERDOME AND DOWNTOWN N.O.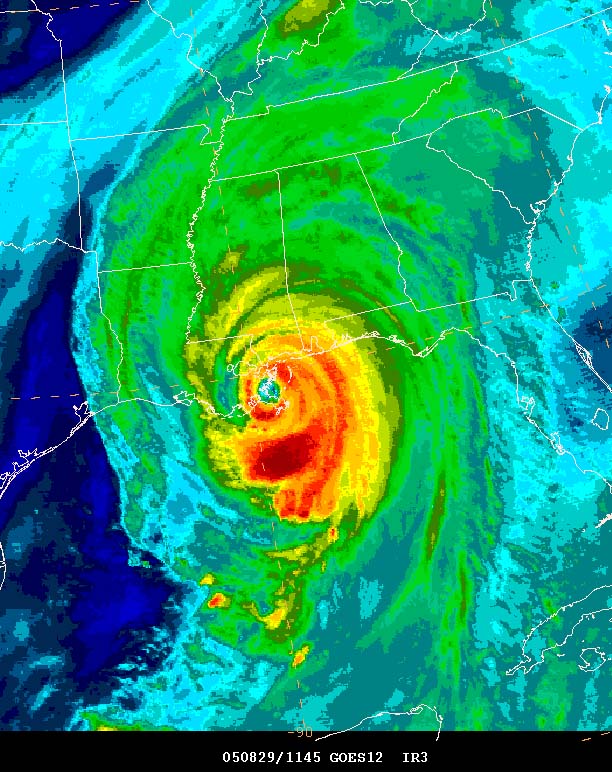 MORNING SATELLITE AS SHE WHIPS LOUISIANA AND MISSISSIPPI




ZOOMED IN SATELLITE IMAGE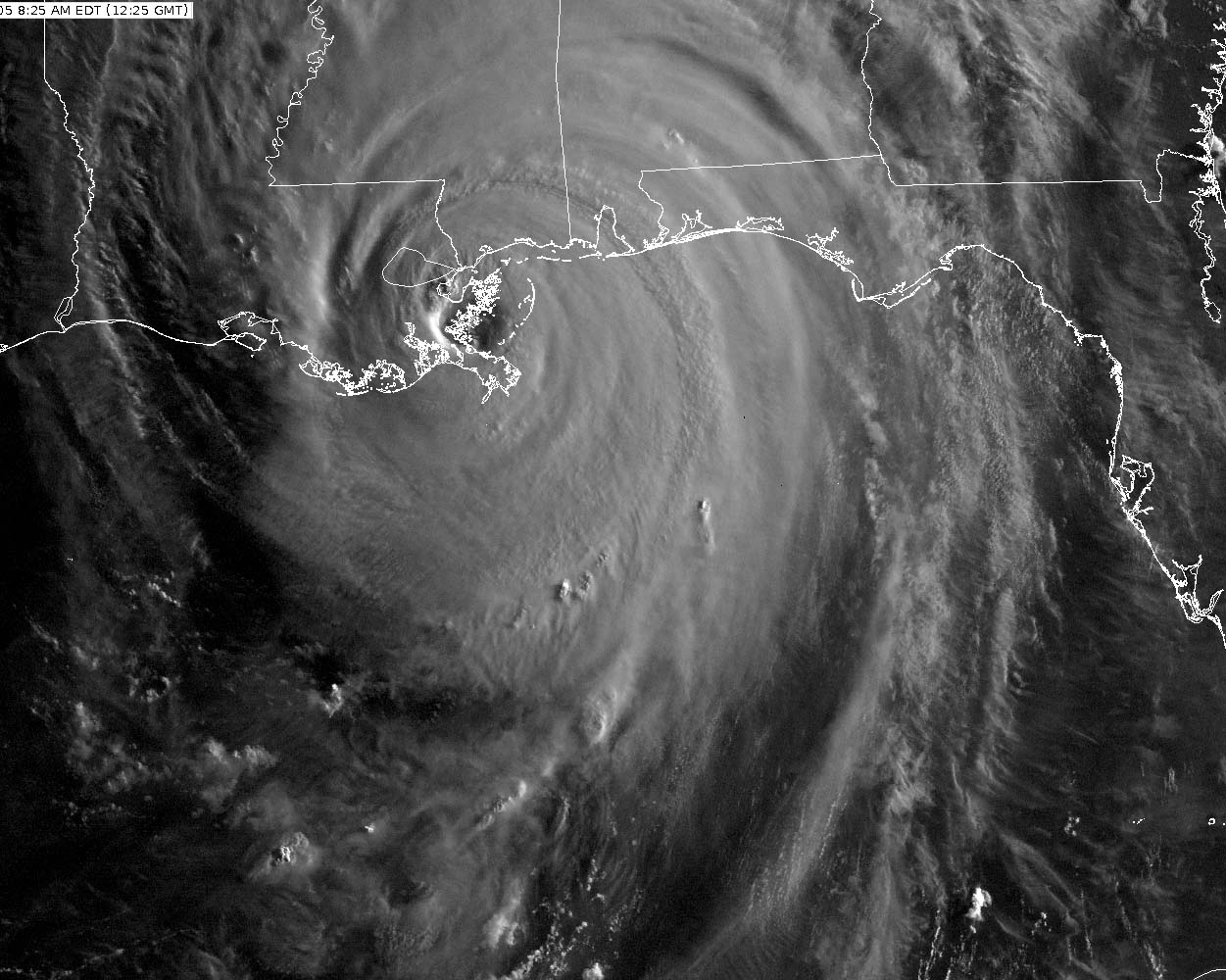 VISIBLE SATELLITE - 7:30 A.M. KATRINA MOVES ASHORE


SERIOUS FLOOD THREAT SHAPING UP HERE IN WESTERN KENTUCKY. RAINFALL TOTALS OF SEVEN INCHES HAS ALREADY BEEN REPORTED ACROSS SOME COUNTIES.
FLASH FLOOD WATCH THROUGH TOMORROW FOR ALL OF THIS AREA.
KATRINA HAS CAUSED EXTENSIVE DAMAGE ACROSS LOUISIANA, MISSISSIPPI, AND ALABAMA. REPORTS OF WATER 30 FEET DEEP - STORM SURGE. EXTREME DAMAGE.

11:30 A.M HURRICANE KATRINA RAKING THE GULF COAST


THUNDERSTORMS DUMPING HEAVY RAIN ACROSS KENTUCKY
KATRINA RAKING THE GULF COAST AND MOVING NORTH/NORTHEASTWARD

Storm Mode here :)

KATRINA IS A MASSIVE HURRICANE...COVERING ALMOST THE ENTIRE
SOUTHERN UNITED STATES AND OHIO VALLEY.

A Red Cross truck sits flooded with other vehicles in front of a hotel just off Interstate 10 in Pascagoula, Miss.


TURN THE PAGE - I AM BEING SENT OUT TO THE DISASTER AREA

CLICK HERE